Winegrowing in Sonoma County: a Modal of the Whole
Winemaking had been tried by almost every imaginable sort of person or agency in nineteenth-century California—rich men, poor men, large companies and small companies, Godless cooperatives and religious communities. But the standard remained the relatively small independent grower, more likely to be tending a vineyard of ten or twenty acres than of a hundred or more. These were the people who had been attracted into the industry in the sixties and seventies, and not many of them would have moved beyond their modest beginnings into any thing very large or impressive. As George Husmann wrote in 1887:
We have thousands, perhaps the large majority of our wine growers . . . who are com paratively poor men, many of whom have to plant their vineyards, nay, even clear the land for them with their own hands, make their first wine in a wooden shanty with a rough lever press, and work their way up by slow degrees to that competence which they hope to gain by the sweat of their brow.[94]
To get an idea of the character of California winegrowing in the eighties one may look in some detail at the scene in a particular region. Sonoma County, a larger and more diverse winegrowing region than any other of the north coastal counties, provides a rich source, a sample of which will provide the flavor of the whole.
The king of Sonoma County in those days was Isaac De Turk, of Santa Rosa, who came to California from Indiana in 1858, began planting vines in 1862, and a quarter of a century later presided over the biggest business in Santa Rosa: his winery had a capacity of a million gallons, and took up an entire block along the
---
railroad tracks on the west side of town, where, the historian reports, it was "no uncommon thing to see a train load of cars leave his warehouse loaded with wine for Chicago, St. Louis or New York."[95] "Claret" was De Turk's great speciality, made from the Zinfandel for which Sonoma was already famous. Other wineries in the state bought their claret from De Turk to sell under their own labels.[96] His standing in the industry was recognized by his appointment to the original State Board of Viticultural Commissioners in 1880.
At the other extreme from De Turk's large, factory-scale enterprise were great numbers of individual farmers, still unspecialized, who grew grapes among other crops and who perhaps made wine themselves or sold their crops to nearby wineries. Such farmers were scattered all over Sonoma County and represent hundreds of others like them to be found up and down California. These are typical descriptions: Joseph Wilson, near Santa Rosa, had "forty-five acres . . . devoted to the cultivation of wine grapes of the Zinfandel and Grey Riesling varieties. . . . Twelve acres are planted with apples, pears, cherries, and plums. . . . The rest of his land is devoted to hay and grain." John Laughlin, of Mark West Creek, had "twenty acres of orchard, twelve acres of wine and table grapes, and seventy acres of alfalfa." Edward Surrhyne, in the Vine Hill district west of Santa Rosa, tended a little of everything. His orchard grew peaches, pears, apples, prunes, "and other fruit." He had fifty acres of grapes, including Zinfandel and something called Ferdeges for wine, which he made on his own property.[97]
A few of these farmers, incidentally, were women: Mrs. Eliza Hood, widow of the Scotsman William Hood, ran the Los Guilicos Ranch, including its winery and 100 acres of vines; Mrs. Ellen Stuart presided over the Glen Ellen Ranch at the little town named for her, Glen Ellen, where her neighbor Mrs. Kate Warfield operated the Ten Oaks Ranch. Both of these ranches included grape growing and wine-making in their activity.[98]
In between De Turk's huge enterprise and the domestic operations of the Sonoma farmers, there were a number of substantial wineries going back to the days of Haraszthy's Buena Vista in the 1860s. Buena Vista was now much decayed, but others were prospering. Jacob Gundlach, for example, made highly regarded wines on his Rhinefarm, neighboring Buena Vista, and sold them through wine vaults in San Francisco and New York. At Glen Ellen the pioneer Los Angeles wine man, Charles Kohler, had made a showplace of his Tokay Vineyard and winery, producing all kinds of wine on a large scale for sale through his own agencies.[99]
Most striking of all in the survey of Sonoma's winegrowing industry as it stood in 1889 is the mix of nationalities, which contains most of the elements already identified in California's history. There were Italians other than those at the Italian Swiss Colony: the Simi brothers, whose winery still operates today, had set up at Healdsburg in 1881; not far away, and beginning in the same year, the brothers Peter and Julius Gobbi ran their Sotoyome Winery; at Windsor, to the south, B. Arata had settled in 1884 and set out a vineyard of 18 acres (he was, like the
---
Simi brothers, from Genoa, and like so many Genoese he had been a sailor; now he tended Zinfandels in the valley of the Russian River).[100] There were, rather unusually, several Englishmen in the business. Thomas Winter, a sailor originally from Nottingham, raised vines on his ranch on Dry Creek. Near Sonoma, Thomas Glaister, a north countryman from Cumberland, after episodes in Chicago, New York, and Australia, had built up an estate including 150 acres of vines and a winery of 100,000 gallons' capacity specializing in white wine. Another native of Nottinghamshire, John Champion, raised grapes near Cloverdale and also man aged the Gunn Winery near Windsor, a small new property owned by an absentee proprietor. Earliest of the Englishmen was John Gibson, a Kentishman, who settled in the Sonoma Valley in 1856, planted a vineyard, built a winery, and operated a hotel halfway between the towns of Sonoma and Santa Rosa.[101]
There was a higher than usual proportion of French to be found too. The little community at Icaria has already been described, and it may be that it was attracted to the county in part by the example of the French growers and winemakers al ready established there. The first to come was Camille Aguillon, the son of a wine-maker from the Basse Alpes. Aguillon had been drawn to California by the Gold Rush, but worked mostly as a gardener before making his way to the town of Sonoma. He planted no vineyard, but instead specialized in making wine in a building on the town plaza; it eventually became the town's largest—"Aguillon's famous winery," Frona Wait calls it.[102] Next was the Alsatian George Bloch, who made the transition from a restaurant in San Francisco to a vineyard at Dry Creek in Sonoma in 1870. With another Frenchman, Alexander Colson, Bloch founded the small Dry Creek Winery in 1872. Bloch continued to operate it after Colson left the partnership in 1884, when with his brother John he founded a winery, also on Dry Creek, called Colson Brothers. The brothers were from the Department of Haute Saâne, the sons of a vigneron and winemaker. Jean Chauvet, a native of Champagne, had been settled near Glen Ellen since 1856 but did not begin wine-making until 1875; by 1888 he was producing 175,000 gallons, making him one of the major individual producers in the county. In the same year that the Colson brothers built their winery, another pair of French brothers, Auguste and N. C. Drayeur, natives of Lorraine, opened their "Two Brothers Wine Store Vaults" in Healdsburg. Like Aguillon, they grew no grapes but selected from the local vine yards. Finally, there was Jean Baptiste Trapet, a native of the Côte d'Or brought up in viticulture; he had a five-year adventure in California in the 1850s but returned to France, lived as a vine grower, and served on the town council of Beaune. The phylloxera drove him back to California in 1877, where he settled as a neighbor of the other Frenchmen in the Dry Creek region, growing his own vines and making his own wine.[103]
Despite the presence of the French, English, and Italians, Sonoma County was in the first generation after Haraszthy preeminently a region of Germans. Gundlach has already been mentioned. To his one might add a long list of good German names, many of them borne by men who had come from the winegrowing regions
---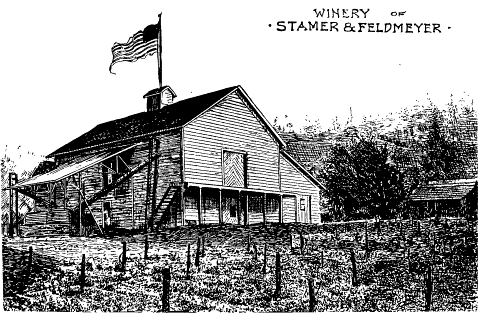 [
Full Size
]
of the old country. Conrad Haehl, for example, of the Mount Vineyard and Winery near Cloverdale, though not German-born, was the son of a Bavarian winegrower. George Friedrich Fischer, who operated a small vineyard and winery south of the town of Sonoma, came from Baden, where he had been the winemaker on the family farm. Charles Knust, owner of the Sulphur Creek Vineyard and Winery near Cloverdale, though born in Hamburg, learned the wine business along the Rhine before emigrating to America. Conrad Wagele, who cultivated twenty acres of grapes and made his own wine in the Dry Creek region, came, like George Fischer, from Baden. But it was not necessary to have that sort of background, and more often than not the Sonoma Germans did not. They included Frank Bohlin, a Hanoverian who managed the Stegeman Winery at Cloverdale; Henry Weyl, a cooper from Bingen (close enough to winemaking), who owned a vineyard in the county; Charles Lehn, of Frankfurt-am-Main, who grew grapes and made wine near Wind sor; Ernst Rufus, one of the very early settlers in Sonoma (he was imprisoned with Vallejo during the bumbling Bear Flag Revolt) came from Württemberg and ended his days as a vineyardist; Charles Schnittger, another of the Dry Creek vineyardists, came from Hanover, as did L. Michaelson in the Alexander Valley; the pro-
---
prietors of the Geyserville Winery were Julius Stamer, of Hamburg, and B. W. Feldmeyer, of Oldenburg—they too grew their grapes on Dry Creek; finally, one may add another Dry Creek German, though this one was in fact a Swiss—Charles Dunz, a native of the canton of Berne, the proprietor of the Laurel Hill Vineyard and Winery.[104]
According to the directory of winegrowers and winemakers compiled by the Board of State Viticultural Commissioners in 1891, there were some 736 vineyard proprietors in Sonoma County in that year. By far the greater part of them were growers only, but 118 growers made wine as well, in quantities varying from a few thousand to hundreds of thousands of gallons each year, the average running per haps to around 15,000 gallons.[105] Individual, small-scale, unspecialized in the midst of a general agricultural economy: that was the character of the winegrowing trade in Sonoma County in the eighties, and by and large that was its character in the state as a whole.
---