The Contribution of Continental Emigrants: the Huguenots and St. Pierre
Many individuals of all European nations made their way to the English colonies of North America from the earliest days. In addition, there were many organized efforts—often for speculative rather than philanthropic purposes—to settle whole groups of non-English Protestant peoples to help develop the colonial economy. France, Switzerland, and the German-speaking territories were the prime sources, and more often than not it was winemaking, a work no Englishman was born to, that furnished the main object of such settlements. In this history, the French Huguenots come first.
The earliest group of Huguenot emigrés has already been mentioned, the group that was sent at the expense of King Charles II to South Carolina in 1680 to undertake "ye manufacture of silkes, oyles, wines, etc."[57] The forty-five persons. who came for that purpose seem to have been diverted to other work very quickly, and, as we know, no winegrowing tradition was ever established in Carolina. The
---
idea always persisted, though, and in the promotional literature attending any effort to bring over continental emigrés, the prospect of a flourishing viticulture was inevitably made one of the leading attractions. The settlement arranged by the Swiss promoter Jean Pierre Purry at Purrysburgh in South Carolina is an example. Beginning in 1724 Purry proposed various schemes to the British authorities to bring over large numbers of Swiss, including exiled Huguenots living in Switzerland. After some false starts, he succeeded in 1731 in bringing over a contingent of mixed French and Swiss Protestants, who were settled on land granted to Purry on the banks of the Savannah, not very many miles up the river from the spot that was to be the site of Oglethorpe's Savannah in 1733. The kind of blandishment by which Purry attracted his colonists appears in his tract entitled Proposals of Mr. Peter Purry, of Newfchatel, For Encouragement of Such Swiss Protestants as Should Agree to Accompany him to Carolina , published in 1731. "The woods are full of wild vines, bearing 5 or 6 sorts of grapes naturally," Purry wrote; for want of vine dressers, no wine but Madeira was drunk in South Carolina, and there, he suggested, lay the opportunity for the French and Swiss. They could take over from the Portuguese the lucrative task of supplying wine to the colony.[58] Purry's project was assisted by Governor Robert Johnson, who was interested in winegrowing for South Carolina (see above, p. 55). The contemporary reports of Purrysburgh make no mention of viticulture, however, and it seems safe to conclude that it was not even seriously begun, despite the expectations and the traditions of the Huguenots.
A third organized migration of Huguenots to South Carolina did make a determined effort to establish vineyards there. This was the community called New Bordeaux, whose origins may be traced to 1763, when some of the many Huguenots still living in London petitioned the Board of Trade for lands along the Savannah River, where they proposed "to apply themselves principally to the cultivation of vines and of silk."[59] The petition was favorably received, and in 1764 some 132 French Protestants were sent to land lying near the Savannah River on Long Cane Creek, many miles above the Purrysburgh settlement. There, amidst the 26,000 acres of their grant, the French laid out their town of New Bordeaux; as the still-surviving map of the original survey shows, of the 800 acres of the town tract, 175 acres were reserved, "to be divided into 4-acre lots for vineyards and olive gardens."[60] It may have been of these settlers' early efforts at winemaking that William Stork spoke in his Description of East Florida (1769), saying: "I have drank a red of the growth of that province [South Carolina] little inferior to Burgundy."[61]
Whatever effort they made towards developing their vineyards was powerfully reinforced in 1768, when the community was joined by another migration of French Protestants under the leadership of Louis de Mesnil de St. Pierre.[62] St. Pierre's original intention had been to take his people to Nova Scotia, but accident brought them to South Carolina instead. They could not have had viticulture in mind from the beginning: Nova Scotia was no place for the vine (though there are now vineyards and several small wineries there), and St. Pierre, a Norman, did not belong to the wine regions of France. Once in New Bordeaux, however, he devoted himself
---
to viticulture with a determined zeal. The land, he wrote enthusiastically, "rose into gentle declivities, interspersed with delightful vales of small extent": soil, water, climate, all were perfect for growing wine grapes, so that—the conclusion is painfully familiar—"we may venture to pronounce the success infallible."[63]
The immediate effect of St. Pierre's work was evident in the next year, when the colonists of New Bordeaux petitioned the colonial assembly for new vines and were granted ~700 for their purchase.[64] By 1771 St. Pierre had formed a plan to promote the cultivation of vines at New Bordeaux through an ambitious scheme of importing both cuttings and professional vignerons from Europe. St. Pierre first took his proposals to the governor and assembly of South Carolina for the necessary appropriation, and though a committee reported favorably and the assembly was sympathetic, he did not get his money. Nevertheless, he was already importing vines from Europe and planting them at New Bordeaux.[65]
His next step was to go to England to press his ideas upon the home authorities. According to his own report, St. Pierre took wine from South Carolina with him to London and submitted it to Lord Hillsborough, then secretary for the American colonies, but received no encouragement.[66] It was later said that Hillsborough was paid £ 250,000 by the French to dampen the enterprise, since the French were terrified lest South Carolina take away the American wine trade! How likely a story this is need not be argued.[67] St. Pierre had better success with the Society for the Encouragement of the Arts, for those gentlemen in January 1772 awarded him a gold medal in recognition of his samples of wines, indigo, and silk.[68]
Though disappointed in his first effort to gain official support, St. Pierre was not a man to give up without a struggle; from the offices of the minister he appealed directly to the public by attempting to float a public subscription of £ 4,000 for the "Society for the Encouragement of the Culture of Vine Yards at New Bordeaux," which would undertake to plant not less than fifty acres of vines within three years.[69] A fellow South Carolinian, the retired merchant and statesman Henry Laurens, was then in London and had at first acted as St. Pierre's patron. When St. Pierre determined on his scheme of a public subscription, however, he and Laurens differed: Laurens refused to "subscribe Money in order to induce and lead on other People," and St. Pierre turned from him in anger.[70] Since Laurens, as we have seen, dreamed of a time when South Carolina's wines would float down its rivers to the markets of the world, his refusal to assist St. Pierre's speculation was obviously not that of a man ill-disposed to winegrowing. St. Pierre's enthusiasm evidently could not persuade the more experienced Laurens.
The public subscription failed, but St. Pierre kept up the fight. Some weeks afterwards he published a second proposal under the emphatic heading of The Great Utility of establishing the Culture of Vines . . . And the absolute Necessity of Supporting the Infant Colony of Wrench Protestants settled at New Bordeaux in South Carolina, who have brought the Culture of Vines, and the Art of raising Silk to Perfection .[71] This appeal assured the British public that it need not fear the same failure that had overtaken all other such ventures: the difference at New Bordeaux lay in the French—"At
---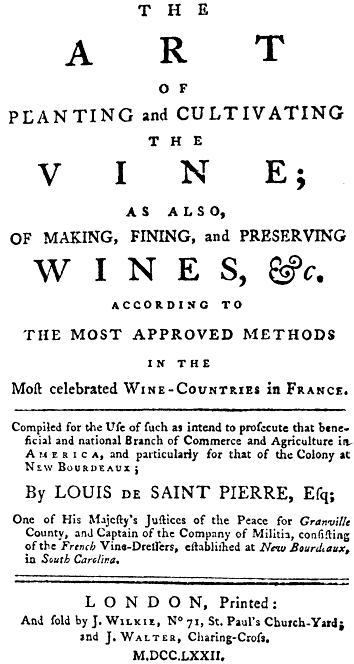 [
Full Size
]
---
New Bordeaux the Vine is taken care of, and properly cultivated, by Persons bred from their Cradles in Vineyards." He had sent 60,000 Burgundian vines to South Carolina since his first proposals were made, St. Pierre said, and had another 100,000 at his disposal, as well as a number of rigneron families ready to go.[72]
When the response to this offer was again unsatisfactory, St. Pierre turned back to the government, this time appealing to Parliament for a grant to pay for the expenses of shipping out his 100,000 plants and 150 new settlers, "all vignerons to a man." What he asked from Parliament was £ 4,200 at 5 percent interest for ten years, and that was but a part of the expense that he envisaged.[73] At the same time he addressed the Treasury, praying for "encouragement upon him and his infant colony." The Board of Trade endorsed St. Pierre's claim, saying that it "could not fail of being usefull to this kingdom," but these good words were all that St. Pierre got for his pains.[74] Or rather, almost all: he did receive a grant of 5,000 acres, an extraordinary grant to an individual at that time.
His energetic campaign against English pockets kept St. Pierre busy with his pen. Besides his two appeals to the public at large, his petition to Parliament, and various other supporting memorials and petitions to the Treasury and the Board of Trade, he produced for potential subscribers and emigrants alike an apology and a treatise combined, entitled The Art of Planting and Cultivating the Fine, as also of Making, Fining, and Preserving Wines, etc . (London, 1772). His strategy in the book is to stress the good that winegrowing in Carolina will create for England: it will divert the colonists away from competition with England's manufactures; it will improve the breed and increase the population—for "whence is France so fruitful in men, but by the use of the juice of the grape?"; by the trade in wine, British seamen and shipbuilders will gain employment, thereby improving the national defense as well; so, too, the employment created will prevent British workers from being lost to foreign parts. With all this to follow from planting vines at New Bordeaux, how could one hesitate? Especially when the flourishing of native vines gave "sure proof of the success of the present enterprise"?[75]
The part of St. Pierre's book given over to viticultural instruction follows European practices. Though St. Pierre says that he visited France for the purpose, and though he seems to have done a conscientious piece of homework, he is not aware of any inadequacy in stating, as he does, that "I have confined my researches to the three wine countries of Orleans, Champagne, and Burgundy."[76] The convergence of dates for the first three treatises by American winegrowers on viticulture—Antill's essay in 1771, St. Pierre's book in 1772, and Bolling's MS in 1774—is striking evidence of how interest in the subject was intensifying immediately before the Revolution. But it is also notable that all three of these take for granted that American viticulture will be founded on the European grape, and that no special reference to American conditions is therefore necessary. St. Pierre's book is now chiefly interesting for its expression of the author's entire confidence in what he is doing: winegrowing must succeed in America, St. Pierre insists, even though he cannot put much wine of his own making into evidence.
Neither the English government nor the English public came through for St.
---
Pierre, though it was said that King George requested him to carry on under the king's private patronage.[77] Somehow he managed to complete a part of his scheme. He returned to South Carolina at the end of 1772 with a group of vignerons recruited for his project. They had travelled by way of Madeira, where St. Pierre had acquired another large collection of vines. And at New Bordeaux they would have found things in flourishing condition, for we learn from a report written in June of 1772 that the vineyards already planted there were doing extremely well, so well that no one doubted of ultimate success. A shipment of European vines had also arrived in Charleston, the correspondent noted, where they had been set out to root and where, he added, people were stealing them, so popular was the idea of winegrowing.[78]
"My vineyard is thriving," St. Pierre wrote after his return to New Bordeaux: "Others beside mine are in perfect good order, and next year we shall have a good deal of wine as well as silk made here .... of all the vines planted last March, some of which I brought from Madeira, none have miscarried but are now in full growth."[79] Two, at least, of the "others" who were cultivating the vine at New Bordeaux may be identified. One was not a Frenchman but a neighboring German named Christopher Sherb, a native of the valley of the Neckar in Württemberg, who had planted a vineyard on his farm at Broad River, not far from New Bordeaux. Starting with a few cuttings of German vines obtained from settlers in Orangeburg, by 1770 he had a vineyard of 1,539 vines, including both vinifera and natives. The yield was tiny—25 gallons in 1768 and 80 gallons of "tolerable white wine" in 1769, good enough to be sold at a dollar a gallon and to win a £ 50 bounty from the always attentive London Society for the Encouragement of the Arts in 1770.[80] Sherb's example helped to confirm St. Pierre in his belief that South Carolina was a region destined for winemaking.
The other identifiable grower from the region of New Bordeaux was John Lewis Gervais (1741-95), a Frenchman of Huguenot origin who came to South Carolina in 1764. There he was befriended by Henry Laurens, always interested in viticulture in Carolina, who gave him land at New Bordeaux.[81] Gervais seems to have made vine plantings there for Laurens as well as for himself. When he was visited by the official surveyor to the English Board of Trade, John De Brahm, Gervais had his vines trained according to a method that De Brahm thought admirably adapted to the conditions of the South. The growers of New Bordeaux, De Brahm says, had discovered that
the grape vine needs no support, neither of sticks or frames, but prospers by being winded on the ground, and piled up in a manner, that the vine itself forms a kind of close bower, (or as the French call it a chapele) where, under it shades its own ground to retain all moisture, which also covers and preserves the blossom of the grapes against vernal Frost, and the grapes themselves against the violent scorching summer heat.[82]
Writing about 1771, De Brahm was not able to say anything about the wine of New Bordeaux. As usual in the colonial story, it was just around the corner: "As
---
for the goodness of the wine itself, its decovery [the discovery of its qualities?] may, without doubt be very shortly expected." So wrote De Brahm, who visited New Bordeaux and believed in its future; he thought that since South Carolina lay between 30 and 35 degrees of latitude, and since the Jesuit fathers were known to have produced wine in Mexico between 25 and 30 degrees of latitude for the refreshment of the Acapulco galleons, winegrowing must succeed in South Carolina.[83]
When William Bartram travelled through South Carolina in June 1775, he was entertained at St. Pierre's residence, Orange Hill, which stood on a hill looking out over the Savannah River and into Georgia, where winegrowing had been tried years before; Bartram found St. Pierre tending "a very thriving vineyard consisting of about five acres" at New Bordeaux.[84] Since St. Pierre had been there since 1768, he was one of the very few of colonial vineyardists who actually persisted long enough to have produced anything (Robert Beverley in Virginia and the Carrolls in Maryland were others). Whether he was as hopeful in 1775 as he had been at the beginning of the decade we do not know. Bartram says nothing about St. Pierre's wine, if there was any. In any case, the Revolution put an end to the enterprise. St. Pierre joined the South Carolinian patriots in the war and was, according to a contemporary note, made "Lieutenant to a Small Fort in the back Country where he lives upon his pay of £ 30-a year."[85] St. Pierre was killed on an expedition against the Indians, and that "untimely end," as a later memorialist wrote, "overturned the establishment in its infancy."[86] New Bordeaux itself, never very flourishing, dwindled to the crossroads that it now is, where a marker records the site of the old Huguenot church.