Relationalism
The term relationalism applies to structuralism more than to anything else. Consider a book by French structuralist critic Claude Bremond called Logique du récit (The logic of narrative).[8] Bremond's purpose is to analyze stories into a determinate number of "functions," that is, roles played by the characters in stories. The idea is that an overarching logic governs the events of all stories and that the critic with sufficient scientific acumen can find it and thus show its universality. So Bremond spends most of his book listing the different roles and the various directions that the action of a story can take. There are beneficiary and victim, voluntary agent and involuntary agent, informer and dissimulator, seducer and intimidator, obligator and interdictor, improver and worsener, and so on. To get a sense of where all this goes, take a look at one of Bremond's many diagrams (see page 13). He is talking about the "frustrator," and the diagram he offers us is meant to show the relations between this and other roles. Criticism for this school often becomes something like an exercise in algebra, and that's not surprising since algebra is one source of structuralist thought. Some of the books and essays produced in this movement look like something out of a mathematics or logic textbook, filled as they are with symbols and arrows and plus signs and minus signs. The diagram is the structuralist's favorite tool because it conveniently reduces the object (a novel, a story, a poem) to a visual network, far removed from the literary work it started out as.
But isn't this just another form of mystical essentialism in a secular-
---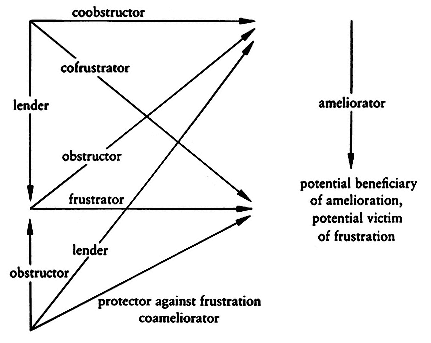 ized form? The structuralist retrieves abstract, networks of relations in literary texts, with the result that the text is often reduced to a relational structure, as the name structuralism suggests. The characteristic mode of reading is thus one that involves a mystical penetration behind the "text" to something insubstantial, invisible, or abstract, like the essence that hides in a sacred object. When we look back at the turn of the century and right afterward, we see that much of this thinking is prefigured in the poets I'll be discussing. We also find an important link between overtly theological thought and modern relationalism in the figure of Roman Jakobson. He will provide the transition between Part II and Part III, and relationalism will be the subject of Part III.