Art for Politics' Sake
There is some evidence to show that already in the early days of the Chinese Communist Party, leaders like Mao recognized the potential of art as a propaganda medium. While serving as director of the Peasant Movement Training Institute (Nongmin yundong jianxisuo) in Guangzhou in 1926, for instance, Mao is said to have introduced courses on peasant art to its curriculum.[55] In his "Report on an Investigation of the Peasant Movement in Hunan" (1927), Mao reminded people that "simple slogans, cartoons and speeches have produced such a widespread and speedy effect among the peasants that every one of them seems to have been through a political school.[56] A certain amount of artistic activity was also apparent in the Jiangxi Soviet period.[57] Such efforts, however, were scattered and unorganized. It was not until the Yan'an era that a coherent ideology embracing various forms of art was constructed, one that came to occupy a strategic position in the political education of the people. The influx of artists from the Guomindang areas breathed new life into the Communist art crusade.
In comparison with most Guomindang publications, such as the Central Daily with its unappealing layout and poor use of visual effects, Communist publications employed a variety of art forms to produce a more dramatic and striking appearance. During the war, a host of pictorials were printed and distributed in the border regions—even despite the acute paper shortage[58] —and in them Communist artists demonstrated a real knack for using art to spark patriotic fervor in China. As early as 1937, the National Salvation Daily —first published in Shanghai and subsequently moved to Guangzhou and later Guilin, with the prominent left-wing writers Guo Moruo and Xia Yan as its publisher and editor, respectively—had devoted considerable space to patriotic cartoons.[59] But that was not enough: beginning on 15 January 1938, a special weekly "National Salvation Art Section" was added, indicating the enormous significance cartoons carried for the Communists.[60]
The Yan'an cartoon campaign gained new momentum with the arrival of such artists as Hu Kao, Zhang E, Cai Ruohong, Hua Junwu (1915-), and Zhang Ding in the late 1930s and early 1940s. Many of them—Cai Ruohong, for instance—had been affiliated with the
---
League of Left-Wing Artists. Others, such as Hua Junwu, were disillusioned with the Guomindang rule and made the trek to the Communist capital to seek a new life and fulfill a new dream.
Hua Junwu was already a veteran cartoonist when he arrived in Yan'an in late 1938 at the age of twenty-three, but predictably his style became more political. Revealing the influence of the German artist E. O. Plauen, creator of the cartoon strip "Vater und Sohn" (Father and Son), and the Russian cartoonist Sapajou, who worked for the British-owned Shanghai newspaper North China Daily News, Hua's early works were a bleak chronicle of urban life, depicting the chaos, hedonism, and alienation of modern society, especially in Shanghai—though without the bitterness and sarcasm that so marked Cai Ruohong's works.[61] Hua found a new life in Yan'an. Moved by the mission of emancipating the proletariat and fascinated by the vision of a worker's paradise, Hua joined the CCP in 1940.
Realizing the enormous political potential of cartoons, Hua Junwu and his fellow cartoonists began to offer classes at Luyi.[62] In 1941 Hua, together with Jiang Feng (1910–1982), set up an art workshop to promote cartoons and other artistic designs.[63] He also designed a cartoon cloth banner (which he called a "wall paper") for public display.[64] Cartoons began to appear everywhere. They could be found in pictorials such as Yan'an's Resistance Pictorial (Kangdi huabao) and Jin-Cha-Ji Border Region's Shanxi-Chahar-Hebei Pictorial (Jin-Cha-Ji huabao). The work of Hua Junwu, Zhang E, and Cai Ruohong also became a constant feature in Yan'an's Liberation Daily, the CCP's official newspaper.[65] The New China Daily, which was published in Guomindang-controlled Hankou and later in Chongqing, gave this powerful art even more prominence, frequently devoting its front page to biting cartoons. Hu Kao's "Japanese People Under the Oppression of the [Japanese] Warlords," which appeared in the 24 January 1938 issue of the New China Daily, heralded a new pictorial format for this Communist paper.[66] In addition to promoting cartoons, Zhang E, art editor of the New China Daily, also labored hard to bring a variety of other art forms like woodcuts and comic strips to this influential newspaper, blending forceful messages with simple images. Yan'an and Chongqing, of course, were not the only places where cartoons were thriving. In the Jin-Cha-Ji Border Region the political cartoons of Li Jiefu (1913–1976) and Ding Li (1916-) also reaped critical acclaim.[67]
The Yan'an wartime cartoons drew the attention of the Communist leaders, especially Mao Zedong. In the eyes of Mao, however, the
---
early Yan'an drawings had some serious shortcomings. They focused too heavily on problems existing within the CCP, paying insufficient attention to the Communists' political struggle against external foes. In short, as one modern Communist art critic put it, the artists had failed to realize that there were two major enemies: "the national enemy [Japan] and the class enemy [the Guomindang]."[68]
For Mao, nowhere was this deficiency more evident than in the famous "Three Man Satirical Cartoon Show" (Sanren fengci manhua zhan) held in Yan'an in February 1942. In their introduction to this exhibition, Hua Junwu, Zhang E, and Cai Ruohong declared their purpose in holding such a show: "We have seen the beauty and radiance of the new society. But we have also witnessed its ugly and dark sides, which are inherited from the past. These archaic dregs cling to the new society and are gradually corrupting us. Our responsibility as cartoonists is to root them out and bury them."[69]
True to these words, the well-publicized show focused mainly on exposing the social and political problems that the three artists saw in Yan'an. Hua Junwu's "Modern Decoration," for example, criticized the casual attitude of party cadres in learning Marxism-Leninism, treating it as nothing more than "an ornament." Zhang E's "I Am No. 6 in the World" described the insolence of these same cadres, who consider themselves on top of the world—ranked right next to Marx, Engels, Lenin, Stalin, and Mao.[70] The show was an overwhelming success, creating a sensation in Yan'an because of both its novelty and its boldness in pinpointing problems within the Party. The three artists' attack on the arrogance, insensitivity, and incompetence of party cadres no doubt struck a chord among the audience. "Like a scalpel, satirical cartoons cure the sickness," hailed one critic.[71]
But exposing the Party's weaknesses also touched a sensitive nerve among party officials. Unhappy with what he saw, Mao summoned the three artists to his residence for a discussion late one steamy summer afternoon. Over dinner, he criticized them for their incorrect attitude. Granted that the Party had its shortcomings, Mao said, one should not dwell on its demerits without simultaneously pointing out its merits.[72] More serious still, the artists' attitude was also at variance with, if not totally contradictory to, the views Mao expressed in his "Talks": "For revolutionary writers and artists the targets for exposure can never be the masses, but only the aggressors, exploiters and oppressors and the evil influence they have on the people."[73] In short, the three artists had committed a grave error by lumping friends and
---
foes together and by turning their criticisms against their own people rather than their enemies.
The significance of Mao's meeting with Hua Junwu, Zhang E, and Cai Ruohong can be understood only within the context of the Rectification Campaign. It was, in essence, a reaffirmation of what Mao called "concrete Marxism." Different forms of art, according to Mao, must be channeled or refashioned to meet the current needs. And in this task, the CCP had a responsibility to take command. He once again asserted the Party's authority to dictate the direction of art in the Communist areas. In a socialist revolution, he said, the political purpose had to be solved before the aesthetic: art was not to be judged by its quality, but by its intention. In reflecting CCP policy, art in turn reaffirmed ideological certitudes. The building of a new society, in the end, would follow radically restructured aesthetic principles that adhered to socialist ideals. Mao's meeting with Hua Junwu, Zhang E, and Cai Ruohong demonstrated once again that the Party was the final arbiter of right and wrong in art, and that artists had no choice but to show active support for the Party. Thus Mao instilled a rigid formalism in the artistic world that left little room for individual expression.
The style and content of cartoonists' work underwent a series of adjustments after Mao's "Talks." Instead of focusing on party cadres, cartoons now targeted "the aggressors, exploiters, and oppressed," and artists took pains to reach a wider audience through a closer and more realistic portrayal of the people's life (the practice of "popularization" that Mao stipulated). While Cai Ruohong, a diehard Marxist, was so affected by Mao's criticism that he admitted his past ideological errors and almost completely abandoned cartooning,[74] Hua Junwu took a more positive step: as Communist dramatists had done with their foreign models, he relinquished the style of Sapajou and Plauen from his Shanghai days and attempted to "sinicize" his art, incorporating folk idioms (such as proverbs) into his cartoons to present a more familiar look to the peasants. He and Zhang E also turned their drawing pens against the Guomindang.
As the relationship between the CCP and the GMD continued to deteriorate, especially after the New Fourth Army Incident of January 1941, criticism of the Guomindang government mounted. Cartoonists depicted the ruling party as a corrupt regime that failed to take measures to improve the lot of the people. It is here that the Communist cartoonists left their strongest mark. Hua Junwu's memorable piece "Bumper Harvest" (1944, fig. 44) paints an anthropomorphic locust
---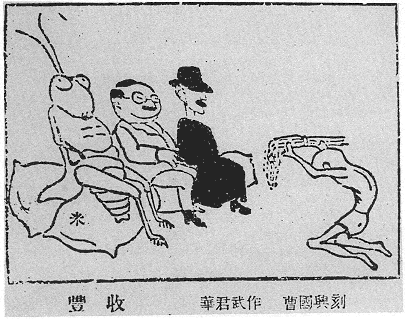 who, atop a bulging rice sack, sits comfortably with Jiang Jieshi and Kong Xiangxi (1880–1967), the minister of finance and Jiang's brother-in-law. Before them is a starving man delivering his last grain—a biting image of exploitation. Zhang Ding's "The Warlock 'Leader'" (1945, fig. 45) portrays another cruel aspect of Guomindang rule: a blatant breach of democracy. Here Jiang Jieshi is depicted as a wizard who holds up a wooden placard inscribed "Jiang's Democracy" as he mercilessly whips a crying, bound woman who embodies the people in the areas under Guomindang control. In another piece, "Close Resemblance," Hua Junwu compares the Guomindang's secret police with the Gestapo, and the Nationalist labor camps with Nazi concentration camps. "If European fascism meets its end, will its Chinese counterpart be far behind?" he asks.[75]
The critical bite of Communist art was further enhanced by another powerful medium: the woodcut. During the war, if Communist cartoons excelled at painting the Guomindang as villains, woodcuts took a fresh course: they, like yangge, were at their best portraying the bright future China would enjoy under Communist rule. Woodcut art
---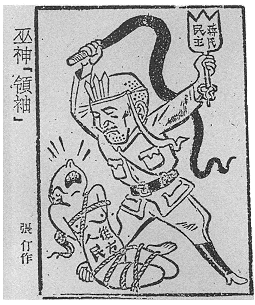 became extremely well loved in the Communist border regions, surpassing even the cartoon as the most innovative and forceful form of popular art. Not only did woodcuts draw the attention of millions of Chinese throughout China; they also earned Chinese artists international recognition when foreign magazines such as Life (9 April 1945) reproduced patriotic works to illustrate the combatant spirit and artistic ferment in that war-torn country. Indeed, the eight-year war against Japan has been called "the golden age of Chinese woodcut."[76] For Communist artists, the cartoon and woodcut were twin developments that provided mutual nourishment and affirmation in a period of crisis.
In October 1942, after visiting a woodcut exhibition of left-wing artists from the Communist-controlled areas in Chongqing, the painter Xu Beihong made an interesting observation: "There is no doubt that right-leaning people never go near woodcut—a peculiar phenomenon in China."[77] Xu's statement was no doubt exaggerated, for he overlooked woodcut artists like Fang Xiang (1920-) who were sympathetic to the Guomindang cause.[78] Nevertheless, it is true that the woodcut circle was dominated by left-wing artists. The reason lies in the origin of the Chinese woodcut movement.
Although the art of engraving has a long history in China, the woodcut did not come on the scene until the 1930s.[79] Its motivating
---
force was Lu Xun, "the father of the Chinese woodcut movement." In the late 1920s and early 1930s, at a time when he felt strong sympathy for the CCP and helped to launch the League of Left-Wing Writers, Lu Xun avidly introduced the work of Käthe Kollwitz, the Russian engraver Vladimir A. Favorsky (1886–1964), and the Belgian woodcut artist Frans Masereel (1889–1971) to China. He mounted woodcut exhibitions, published graphic art collections, and drew a group of devoted young followers, whom he urged to use their newly acquired craft to portray social ills and to represent the voice of the lower orders. To him, woodcut art, like the cartoon, should never be confined to the ivory tower. Instead it should be used to foster social change and promote political reforms.[80]
Under Lu Xun's influence and inspired by the work of such Western masters as Kollwitz, a new generation of Chinese woodcut artists made their appearance: Li Hua (1907-), Yefu (Zheng Yefu, 1909–1973), Chen Yanqiao (1911–1970), and Li Qun (1912-), among others, became key figures in introducing this powerful art to a wider audience. Numerous woodcut associations were founded, including the influential Eighteen Society (Yiba yishe) and MK Woodcut Study Association (MK muke yanjiuhui, "MK" coming from the Chinese characters for woodcut, muke). Most of these organizations, however, were ephemeral. The government quickly suppressed them because of their close ties to Lu Xun and the League of Left-Wing Writers, and also because of the radical, sometimes subversive, content of their art. On the eve of the Sino-Japanese War, therefore, the young Chinese woodcut movement, despite its thorny start, had already assumed a revolutionary outlook, and this tradition continued with added fervor in Yan'an.
Communist woodcut art made great strides after the artists Hu Yichuan (1910-), Jiang Feng, and Wo Zha (1905–1974) arrived in Yan'an in the late 1930s.[81] Luyi began to offer systematic courses in the subject, later producing such prized students as Gu Yuan (1919-), a young virtuoso whom Xu Beihong praised as "the great artist in the Chinese Communist Party."[82] The institute also sent woodcut teams to other areas to teach the techniques.[83]
The potential of the woodcut medium was recognized early. "Relying only on black and white and no other colors," one art critic observed in 1933, "woodcuts can present the most moving and vivid pictures."[84] To Communist artists, the woodcut was a convenient propaganda tool with endless possibilities. Its distinct, simple lines seemed austere and were well suited, as the German graphic artist
---
Max Klinger (1857–1920) once argued, to portraying the agony and sufferings of the people.[85] Cheap and quick to produce, woodcut prints were readily available for low prices—a most economic mode of popularization. "It was the most convenient and the most combatant form of propaganda weapon [in the border regions]," one Communist artist later recalled.[86] Even cartoonists, owing to the acute shortage of zinc plates and the high availability of wood in Yan'an, came to rely heavily on woodcut artists to prepare their work for publication in the newspaper.[87] Many of Hua Junwu's pieces in the Liberation Daily were the result of help from woodcut artists, including his classmate and friend Gu Yuan.[88]
The enthusiasm for woodcuts was apparent from the start of the Yan'an period. Woodcuts appeared in practically every newspaper, magazine, and book published by the Communists. The New China Daily even created a special "Woodcut Front" beginning on 11 February 1942. Their ease of production allowed soldiers in the New Fourth Army to turn out a deluge of woodcuts about the war.[89]
Though their techniques might be largely foreign, the artists' work was rooted firmly in China's present. Like cartoons, Communist woodcuts had a strong anti-Japanese spirit. Li Shaoyan's' "Struggle," for instance, shows an unarmed peasant woman's fierce resistance against a Japanese soldier.[90] An overwhelmingly large number, however, depicted a new society undergoing rapid change. Negative anti-Japanese slogans were often overshadowed by effusive praise of the CCP and its wise leaders, and tributes to devoted, unselfish cadres in turn led to repeated condemnation of the hopelessly corrupt and faction-ridden Chongqing government. Zhang Wang's (1916-) piece depicting "two different worlds" (fig. 46) employed a familiar technique of contrast: in the great interior, people's lives were miserable, under constant threat from the tyrannical Guomindang police; in the border areas, by contrast, peasants enjoyed a life of peace and abundance.[91] The importance of production, land reform, the caring relationship between soldiers and the people, and a democratic government were perennial themes. Wo Zha's "The Eighth Route Army Helps the People at the Wheat Harvest" (fig. 47), for example, reinforces the good nature of the Communist troops, whose job it was not only to fight the invaders, but also to aid the humble masses in every conceivable way. Niu Wen's (1922-) "Measuring Land" (fig. 48) describes a happy and just social order under Communism where land has been distributed and landlordism eliminated. It is a society in which peasants no longer suffer; on the contrary, poor people who
---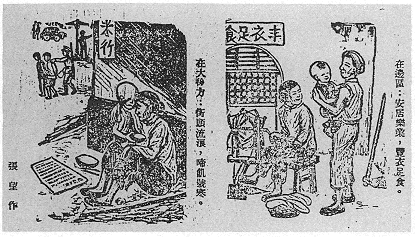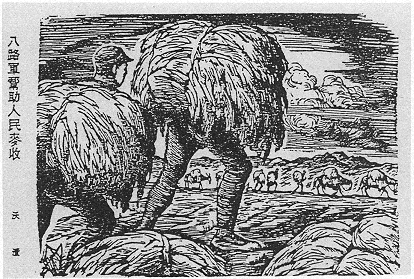 ---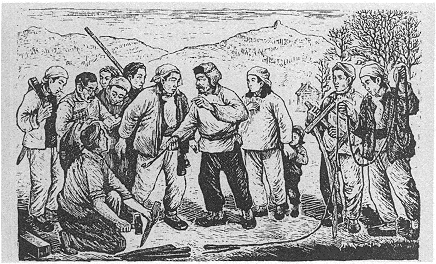 were denied learning in the past can now study during the winter off-season (Li Qun's "Attending Winter School"),[92] and they are eager to contribute to the public good for a noble cause (Li Qun's "Delivering Public Grain").[93]
What made Communist woodcuts especially effective is that their themes were simple and drawn directly from local experience, and, most important, they were presented in a framework of optimism.[94] Gu Yuan was a master at presenting this sense of vivacity under Communist rule. A Cantonese who arrived in Yan'an in January 1939 and became a student at the newly established Luyi, Gu Yuan was trained entirely under the new Communist artistic doctrines. Such early pieces as "A Cartload of Straw," "A Flock of Sheep," and "Home" (all 1940) showed a world in which people lived close to the soil, simple yet buoyed by confidence and joy. Subsequently, to portray a society full of promise, Gu Yuan turned to clearer lines and patterns to give a more optimistic appearance. This change can be seen well in "A Divorce Suit." While the 1941 version (fig. 49b) bears the unmistakable influence of Kollwitz with its dark shading and solemn air, two years later a simpler background and a brighter outlook convey a completely different message (fig. 49a); in this piece, the artist acknowledges his indebtedness not to the West, but to Chinese folk art.[95] To Gu Yuan, more than a change in technique was at issue; rather, his new
---
approach was a testimony to Mao's call for the sinification of Western art. Although their world might seem idyllic, his work proclaimed, the peasants earned a good living through sheer hard work and determination. Gu Yuan "is a singer of the border region," lauded the poet Ai Qing (1910-).[96] On the surface, Gu Yuan's pieces were simple and apolitical, yet they raised a fundamental political question: what made this cheerful life possible in a time of crisis?
Optimism was equally evident in other forms of popular art: comic strips (lianhuantu), wall paintings (qianghua), New Year pictures, and papercuts (jianzhi).[97] The New Fourth Army even unleashed a "Wall Painting Campaign" to gain support for the CCP.[98] Long popular in rural China, New Year pictures employed the bold lines and bright colors characteristic of Chinese folk art.[99] Now, though, instead of traditional designs of heroes, gods, and good-luck charms, the pictures celebrated the glory of joining the Red Army, the jovial image of a hardworking peasant ready to devote his life to the Communist Party, and a multitude of boisterous rural activities centering on the collective goal. Such notions were applied also to door pictures, where fierce-looking generals from the past were replaced by soldiers carrying loaded rifles and standing side by side with peasant volunteers, exuding determination in defending their land against outside invaders.[100]