By 9:15 a.m. two men arrive, one bearing an accordion. These musicians have been hired to play music that will entice the spirits to come. They will take turns playing and will split the 5,000 fmg Jean will pay them. Five mediums have also been invited to attend; Jean will pay between 750 and 2,000 fmg for each spirit that has been invited to officiate at the ceremony, the amount being determined by the spirit's stature (see figure 5.1). The first of the mediums to arrive at the house is Dady Soa, a woman in her early sixties. She is possessed by a powerful spirit named Ndramarofaly, and it is this spirit that will officiate at the ceremony. Dady Soa is accompanied by a man named Anton, who will serve as the rangahy or interpreter for her spirit. He, like Dady Soa, will be paid 2,000 fmg. No one knows Dady Soa personally, but she has been recommended to Jean's mother by several friends as an accomplished medium. Within half an hour four other mediums arrive. These include two women in their forties: one named Mona, who is a cousin of Jean's mother, and Alice, Mona's friend. The other two are Marie and Jeanette, who were Angeline's schoolmates and who are now her neighbors. All five mediums carry small baskets that hold the costumes for their respective spirits.
The mediums sit down in the house and face the eastern wall. This direction is associated with the ancestors and the location of the royal tombs.[8] Dady Soa occupies the northeast corner. Anton, her rangahy, is seated slightly behind her and to her left, and the other mediums are to her right. In front of the mediums is a short-legged table that Jean's mother has set up to serve as an altar for the spirits. On this she has placed items needed to summon the spirits: an incense burner in which a piece of resin now burns, issuing a sweet aroma into the air; a plate holding water and crumbled kaolin (tany malandy); a small cup with more kaolin that has been crumbled and mixed with water to make a paste; several bottles that are painted with designs of white kaolin and which hold a mixture of burnt honey and water (SAK: barisa generally refers to the container; the contents is tô mainty/joby; HP: toaka mainty);[9] and an assortment of goods that will be given to the spirits to "eat" (mihinana) or consume. These include a small vial of honey, a small bottle of local rum, three one-liter bottles of beer and two others of soda pop, and two packets of cigarettes. Other similar supplies rest on the floor in a basket, waiting to be added to the table when needed. The mediums have already bathed before coming to the house, but Jean's mother has placed a pitcher of water beneath the table for periodic hand washing and drinking during the cermony.
The house soon fills with other people. The two musicians sit to oneside, while Angeline, Jean, and Jean's mother approach the front and sit next to the rangahy along the north wall. Friends and neighbors have also begun to assemble in the room. The majority are teenage girls and adult women, several of whom hold babies on their laps. Out of respect for the ancestors all present are barefoot, have their heads uncovered, and wear lambahoany, a body wrap that is an essential element of Sakalava dress. A dozen children crowd in the doorway and crane their necks inside the windows to watch the ceremony just inside.
When all are seated, the rangahy and mediums consult with Jean's mother to review the reasons for why the ceremony has been arranged. Dady Soa, Mona, and Alice untie their knots of hair so that their long plaits hang down to their shoulders. This is a gesture they make in deference to the royal spirits that will soon arrive. They then assume a cross-legged position and, while facing east, they hold their palms up in deference to the ancestors; several members of the audience do this as well. The rangahy says the invocation (sadrana), asking the ancestors for their assistance. He first addresses the Zanahary, or Gods on High, and then those spirits who have been requested to attend this ceremony. As he does this, Jean's mother hands him two 100-fmg coins made of nickel, which serve as an offering of "silver" (vola fotsy) for the spirits. The rangahy places these in the plate that is filled with water and kaolin. A musican then begins to play a lively tune on the accordion.
The atmosphere in the room is not calm, nor are the members of the audience austere. This is a time for excitement and rejoicing, for if the spirits are pleased, Angeline's spirit will make its debut in her. When the musicians begin to play, one woman begins to sing and three others soon join her, while two additional women each pick up a rattle (faray) and beat out the rhythms of the tune. The time between the prayer and the arrival of any spirit is always one of great anticipation, for no one is ever sure how long the wait will be or if the spirit will come at all.
The first medium to go into trance is Dady Soa, and this she does with ease. She trembles slightly and then, abruptly, she stands. She is now possessed and has become the male spirit NDRAMAROFALY.[10] Jean's mother jumps up to help this spirit, who draws his clothes from Dady Soa's basket and begins to dress. As Jean's mother holds up a cloth between Ndramarofaly and the spectators, the spirit drops Dady Soa's waist wrap and puts on an old peasant-style white shirt and two tattered and faded pieces of red cloth, one of which he wraps around his waist, draping the other over his shoulders. He then sits down andwashes his hands. Then the rangahy hands him a wooden baton (mapingo) that is tipped with silver. Jean and his mother speak to the spirit with the assistance of the rangahy, who repeats what each party says. In this way the spirit learns why he has been summoned. Throughout this Angeline is silent. The spirit takes the plate of water and blesses Angeline by pouring a bit onto her head, and then pours some more into his palm, which he wipes on her face.
Tromba spirits are arranged hierarchically in relation to one another, according to their positions in the royal genealogies. The order in which they arrive at Angeline's ceremony reflects these positions: the Grandparents (dady; dadilahy), who are the oldest and most powerful spirits arrive first, followed in turn by younger generations, the Children (zanaka) and Grandchildren (zafy). Thus, Ndramarofaly, who is the most powerful spirit to attend this ceremony, must arrive before other mediums can enter trance. Now Mona and Alice begin to draw on their bodies with kaolin paste. These markings designate which spirits will arrive in them. Alice also ties a white cloth around her chest. Within a few minutes both of these mediums show signs of possession. First their bodies shake violently, then Mona begins to shake only her head, and then she falls on her belly, with her hands behind her back. Alice, meanwhile, begins to hiss, holding one trembling arm outstretched before her. She, too, falls on the ground, and then they each draw a white cloth over their bodies and heads. Two other young women come to their aid, helping them to rise and dress and shielding them with draped cloths. They emerge as two brothers, RAOVOAY ("Crocodile Man") and RALEVA, who are both young affines of Ndramarofaly. These are the spirits of royalty who served under the colonial administration and their clothes reflect a European flair: in addition to a small baton and a red-print lambahoany waist wrap, each wears a white, four-pocketed shirt and a fedora.
Upon arriving these spirits must greet their elder, and so they approach Ndramarofaly and put their heads on his lap. He then blesses them by placing his hand on their heads. While Grandparents like Ndramarofaly remain calm and somewhat detached throughout tromba ceremonies, younger spirits interact with the living. Typically, a Child or Grandchild will light up a cigarette and then greet members of the audience with a special tromba handshake; this is just what Raovoay and Raleva do.
Again, the spirits confer. All wait and watch Angeline, who now sitscalmly behind the spirits. She has recently untied her long, braided tresses and they now hang down onto her shoulders and back. She sits cross-legged and has a lambahoany draped over her shoulders. The music continues, people chat, and children come in and out of the room. Still, nothing happens.
An hour later one of the two youngest mediums, Marie, starts to go into trance. Grunting, she violently spins her head from side to side, so that her tresses fly. A young woman runs to grab her: first she smears white kaolin along Marie's jawbone, and then she wraps a towel firmly under her chin and up over her head. All know by now that this is the spirit of MAMPIARY, the cowherd and the son of Raleva, who is trying to make his entrance. When this spirit died he broke his jaw, and so when he arrives the medium's head must be supported so that she will not be injured in a similar way. The young woman holds Marie, who is kneeling and whose body begins to jerk while her head moves up and down. Meanwhile Jeanette has drawn lines of white kaolin on the backs of her fingers, hands, and up her arms, and she now begins to box the air. When members of the audience realize she is aiming for one wall, they laugh and nervously jump away, while Jean's mother quickly smears kaolin on the wall. Just as she withdraws, Jeanette strikes the wall with her fists and falls—she is possessed by the boxer, BE ONDRY ("Big Fist"), who is the brother-in-law of Mampiary (see plate 4). Marie and Jeanette, possessed by their respective spirits, each stand and dress. Their clothes are similiar to those of Raovoay and Raleva: they, too, wear lambahoany, although Marie's is green and Jeanette's is orange, and they wear boater or panama hats. Once dressed, they greet the other spirits and then turn to the audience and playfully shake each person's hand. Mampiary also jingles a collection of bottle caps that he has in one of his pockets. Although in appearance these two Grandchildren resemble the Children who are their elders, they are playful and reckless in their actions. These two spirits speak in high voices, and throughout the ceremony they will drink, smoke, and dance with members of the audience. When clowning Grandchildren are present, it is the dead who are the life of the party.
These five spirits will play important roles during Angeline's ceremony, having been summoned because her spirit is believed to be a member of their lineage (again, see figure 5.1). These spirits appear frequently in Ambanja, each possessing mediums of ages that correspond to those present at Angeline's ceremony. Throughout this ceremony other spirits will arrive and depart in these and other mediums, so that any medium may undergo a series of transformations, changing personae as different spirits arrive and depart in her body. Since tromba spirits are powerful healers, passersby may also drop in and request their services. Most of these clients are adults who bring small children by for treatment. Periodically there are breaks in the ceremony; at these times the musicians pause to rest or to eat with members of Angeline's household. Anyone else who is present will be invited to join them. Sometimes mediums leave trance so that they can eat, but more often they refrain, remaining possessed throughout the ceremony.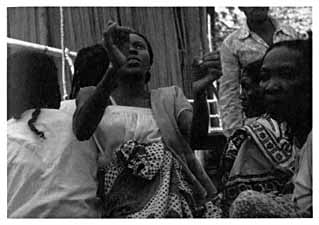 4. Medium entering trance. The medium is making two fists, which indicates she is about to be possessed by one of the boxer spirits, Djao Kondry or Be Ondry.
[
Full Size
]
Once these five spirits have assembled, all attention is again focused on Angeline in anticipation of her spirit's arrival. Occasionally she shows signs of possession, shaking and moaning, but she only collapses, exhausted, on the floor. These moments are tense and exciting. The musicians, anticipating the spirit's arrival, play faster, and the beat of the rattles grows harder and louder. Women also begin to ululate or sing loudly, hoping to excite the spirit and encourage it to arrive. Each time, too, the younger spirits run quickly to Angeline's aid, holding her up, consoling her, and asking her spirit to be kind to her and arrive smoothly and quickly. This continues throughout the afternoon and into the night, but still her spirit does not arrive. When she shows signs of fatigue following fits of partial possession, the spirits have her drink from the plate of water, or they wipe her face and arms with kaolin paste: both have healing properties because they are cool (manintsy) and because they are sacred, being associated with the spirits. The spirits and a number of observers begin to suspect that Angeline may be possessed by Mampiary since, at one point, when Marie was temporarily possessed by another spirit, Angeline waved her head up and down when showing signs of possession. Mampiary is instructed by Ndramarofaly to leave Marie, who then becomes possessed by another spirit, MAMPIAMIN̂Y ("Limpness"), Mampiary's brother. His style of dress is slightly different: he wears a purple cloth that is similar to Ndramarofaly's and a shirt and hat like that of the Children. Also, unlike Mampiary, he is quiet, sitting limply on the ground at the front of the room. By this time Angeline is exhausted and she retires for an hour to the bedroom next door.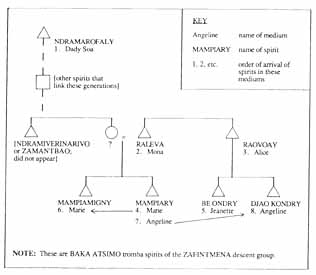 5.1. Spirits and Mediums Present at Angeline's Ceremony.
[
Full Size
]
Around dawn Angeline's spirit finally arrives. This is the moment of the day that is, in J. Mack's words, "the most auspicious time in the Malagasy calendar" (1989). Since the spirit is making its debut in Angeline, it is important that it be identified, stating its name and position in one of many genealogies. In this way its relationship to other spirits and to Angeline can be determined. Possessed, Angeline is brought to the front of the room to consult with Ndramarofaly and the other tromba. After much discussion, her spirit finally utters its name: it is, indeed, MAMPIARY. A series of additional conferences are then held, involving Ndramarofaly, the rangahy, and members of Angeline's household.
The arrival of the long-awaited spirit is the climax of the ceremony. The neophyte may remain possessed for less than an hour, her spirit quickly departing, or her spirit may stay and enjoy the celebration, clowning with other spirits and members of the audience. In Angeline's case, it leaves quickly, but soon she shows signs of being possessed by yet another spirit. She assumes a boxing position, and at this time others prepare her in the same way as was done for Jeanette. Angeline suddenly hits the wall with her fists, collapses, and then sits up. The spirits and her kin confer and determine that Angeline is possessed by a second spirit, DJAO KONDRY ("The Guy Who Boxes"), the brother of Be Ondry.
After this second spirit departs from Angeline, the ceremony is nearly completed. The spirits that remain must depart in an order that mirrors their arrival, the youngest leaving first, the most powerful departing last. Angeline's ceremony lasts for another hour because Be Ondry refuses to leave until Jean has bought him yet another bottle of beer. Since it is early in the morning, Jean has to wait for a nearby store to open before he can send a child to purchase a bottle for the spirit. Be Ondry guzzles this down, and then he is cajoled into leaving by the other, more powerful spirits. He finally agrees to leave so that other spirits may follow. Each spirit leaves in a style similar to the way it arrived. As the younger and more active spirits depart, unpossessed members of the audience run to catch each medium, massaging her arms and back with quick slaps and jerks in order to relieve her somewhat of the pain and stiffness she will feel afterward. All mediums are in a daze when they reenter their own bodies and they ask for a summary of what happened, since they do not recall what came to pass. Although they are tired, they do not feel the effects of any alcohol they consumed.
This ceremony will be followed by another equally expensive ceremony called manondro ny lamba ("to give the clothes"), when the spirits will be presented with their appropriate attire and they will be given items they like to eat. For Mampiary and Djao Kondry these goods are beer and cigarettes. They also will be properly introduced to Jean, since he is a member of Angeline's household, and they will be paraded seven times around the courtyard of the house. Anytime that a major change occurs in Angeline's life—if she bears a child, or if she moves to another residence, for example—she must hold a ceremony to officially inform her spirits of this. Since these ceremonies are expensive, mediums are often forced to postpone them for a year or more until they can assemble the necessary capital or gain the assistance of kin to help pay for the ceremony. Postponement is dangerous, however, and causes the medium much anxiety, since her spirit may become angry with her and decide to harm her or others close to her. Throughout her life she may accumulate several other spirits, and generally the stature and power of these new spirits increase as she herself ages. If she wishes, she may participate in similar ceremonies held for other neophytes.
In addition to the large-scale ceremonies such as the one described above, many established mediums work alone at home, holding private sessions, by appointment, with clients. These ceremonies are more austere than the larger, public ceremonies, and they are always held in a quiet and dark room. They are attended by the client, the medium and her assistant or rangahy (who is usually her husband, although it may be a woman who is a friend or a relative), and, perhaps, an assortment of other observers such as friends or kin of the medium or client. In addition to prearranged ceremonies, tromba spirits occasionally arrive suddenly and unannounced. This almost always occurs when the spirit has been angered, either by the medium or by someone who is close to her.