Apartment Alternatives
From the 1880s to the 1930s, neighborhoods like Nob Hill were ideal for expensive apartments as well as palace hotels. Yet even when they stood on the same street corners, hotels retained some advantages over apartments. At best, an exclusive apartment building gave its residents a good address on a fashionable street and perhaps a well-known name. A hotel or apartment hotel, however, could add the reputation of its ballroom, the popularity of its chef, and the notoriously high price of its dining room. Hotels also gave nouveau riche residents more opportunities to show off clothing or packages from expensive stores. In apartment lobbies, no one saw these things.[60] In the 1920s, when most of present-day Nob Hill was completed, a luxury apartment of five to seven rooms might have cost $250—about the same price as a multiroom suite in the Mark Hopkins or the Fairmont but not including the food (see table 2, Appendix).
It is hardly surprising that expensive apartments and expensive hotels like the Mark Hopkins would stand on opposite corners, since the two building types had closely intertwining histories. The fashionable apartment's role in reinforcing social class, its architectural form, its facade styles, and especially its mechanical accoutrements before 1900 owed far more to the American residential hotel than to the distant Parisian flat (fig. 2.13). Nineteenth-century apartments in France mixed people of different economic classes; the higher the floor, the cheaper the rent. In America, the availability of the elevator and the
---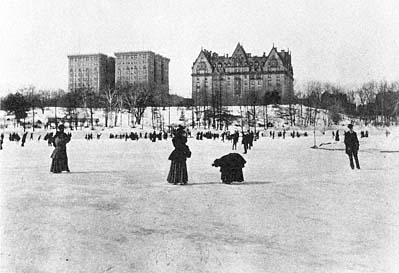 relative insecurity of social position reinforced the desire to build apartment buildings as class-specific as were new hotels.[61] To keep good tenants happy, apartment promoters had to offer a series of features that tenants had come to expect from their stays in palace hotels: wider air shafts, fast and quiet elevators, "the hottest radiators and the most gleaming plumbing in the world," electricity in all rooms, twenty-four-hour telephone service, and all-night elevator service.[62] The intertwining evolution of hotels and apartments also meant that Americans interchanged words for them as well. The earliest American apartment buildings, aimed at wealthy tenants, usually had "hotel" in their title. Before World War I, journalists interchangeably applied terms such as "French flat," "decker," "hotel," "apartment," "apartment hotel," and "family hotel" in articles about a single building that could have been either a hotel or an apartment building. Not until 1930 did some city directories show a heading of simply "Apartment Buildings" and not a listing of "Apartment Houses (see also Hotels)," linking hotels and apartments.[63]