Cycles of Life at Palace Hotels
On a day-to-day basis, the visible signs of achieving and maintaining membership in upper-class hotel life seemed to consist of wearing stylish clothes and following other avenues of conspicuous consumption as social competition strategies. One hotel resident of the 1920s, disgruntled with the system of buying one's status, complained to an interviewer about the hidden expenses of hotel life:
In order to be recognized as an admirable person, you need a constant shower of money to the help, expensive and very up-to-date clothes, and one must entertain at dinner, play cards, order motors [motorcars], and rush about to theaters and parties.[46]
Another guest, who could afford the expenses and enjoyed hotel life, admitted that the only possible drawback in comparison to life in a private house or apartment was that one had to "constantly be dressed up."[47] Extravagant and stylish clothes did mean a great deal in the palace hotel world. The vast marble-columned lobbies and dining rooms set suitable stages for the daily parade of wealth. Society columnists regularly reserved space to cover hotel visitors and entertainments. Hotel residents helped to redefine a city's social ranks by showing the new canons of consumption and its essential public display; such people had money to spend and the need to display it, as Thorstein Veblen explained. In 1875, Countess Maria Yelverton presaged Veblen as she rather jaundicedly noted that palace hotels permitted the wealthy "to display their riches to the greatest advantage, and make as much show as possible for their money."[48] In 1920, a Chicago society reporter ob-
---
served the continuity of tradition as she reported that women could give inexpensive parties, "amounting to no more than afternoon tea," followed by a grand announcement in the newspaper that "Mrs. So-and-So entertained 50 guests at luncheon at the Plaza Hotel, the company afterwards playing bridge."[49]
The displays of wealth and the system of "social-position-for-cash-and-appearance" also had unwanted side effects. The instant status conferred by proper clothes, manners, and spending money meant that intelligent thieves could efficiently establish an assumed identity at a hotel, deftly meet officers and employees of large firms, and then extract precise tips about their payrolls and company deliveries. The rich, feeling that they were in a protected environment, inadvertently advertised their enticing jewelry in the lobbies and dining rooms. Hotel people of high social standing were also easy targets for blackmail.[50]
Outnumbering the outright thieves in hotel life were the professional gamblers. Porters quite rightfully described palace and midpriced hotels as the "worst gambling places in the world"; in the 1920s, staff reported that when they took men's bags to a room, one of the more frequent inquiries was, "Say, can you lead me to a little game?"[51] San Francisco's Palace Hotel had many small "committee rooms" devoted largely to card games for large stakes. Women, too, joined the hotel ranks of professional cardsharpers and gamblers. At one palace hotel in the 1920s, an attractive and well-mannered woman met three other women residents. Over a period of days she invited them to her suite for competitive games of bridge and a week later, made off with $9,000 from her victims, who were obviously fond of playing cards for high stakes.[52]
Prostitutes—both men and women but most commonly women—were another socially marginal group who lived and worked in all ranks of hotels, including palace hotels. Hotels were also notoriously convenient places for men to keep mistresses or for women to keep paramours. As late as the 1890s, hotel managers barred single women from registering and staying alone for fear they would be prostitutes and damage the respectability of a proper hotel.[53] Into the 1950s, comments about and images of "loose women" continued to mix with hotel life. The fact that the phrase "loose men" was not common indicates a cultural double standard more than a more abstinent male population. The presence of thieves, professional gamblers, and prostitutes continu-
---
ally proved that even the exclusivity of palace hotels was not absolute.
If palace hotel residents were looking for a gaming or sexual or retail venue not available at the hotel, they could avail themselves of the full diversions of the surrounding city. That was true for other services as well. Yet, technically, palace hotels needed their neighborhoods only for a labor supply and deliveries. Hotels of such scale and complexity could conceivably exist with minimal reliance on outside services or independent shops on the surrounding streets. With four or five restaurants, three bars, dozens of shops, and several promenade hallways in the interior of their hotel, palace residents were not forced to walk outside.
The locations of palace hotels, more scattered than midpriced hotels, attested both to their insularity and to the fact that only in a few places of the city could people assemble a single plot of land socially appropriate and large enough for a palace hotel. In San Francisco, these locational directives indicated Union Square (established very early as the retail shopping center of the city) or Nob Hill. At the end of the nineteenth century, Nob Hill was the most prestigious address in the western United States; it was famous as the home of several of California's and the world's richest families. New downtown mansions were still being built not far away. Flamboyant Victorian piles, like the multitowered mansion of Mark Hopkins, were looking like haunted houses; their owners had died or moved, and the children wanted to live elsewhere. Not surprisingly, between 1900 and 1920 (just before and after the great fire of San Francisco), landowners on Nob Hill transformed their properties from an exclusive private neighborhood to the quintessential palace hotel neighborhood, with several parallels to areas like Fifth Avenue in New York and the Gold Coast of Chicago. Nob Hill's real estate developers, often children of the famous families, could see that their sites offered all the necessary neighborhood elements for fashionable hotels, apartments, clubs, and restaurants. In a sense, in replacing the individual private opulence of the Nob Hill mansions, the new palace hotels and clubs helped to create and reinforce elite class position with a more conspicuously social opulence. The optimum stage to display social opulence was at the center of the city, not buried behind shrubbery and trees on a private estate road twenty miles from town.
Nob Hill's location was central, and its transportation was excellent. The best office and retail blocks were within walking distance but not
---
so close as to bring hoi polloi right to the doors of the hotel. The hill's elevation gave commanding views of the rest of the city and beyond to San Francisco Bay. Several of the city's most expensive boutiques were either inside the hotels or around the block; fine restaurants were close by; the opera house and elite museums were a short cab ride away. The site of the Crocker mansion had become the city's new Episcopal cathedral. (A preponderant share of California's pioneer business families were at least socially Episcopalian). At the top of the hill, a small park gave an urbane and European focus to the district; next to the park was the one remaining prefire mansion in the area, converted into an exclusive men's club. By the 1920s, three palace hotels (the Mark Hopkins, the Fairmont, and the Huntington) and several lavish apartment blocks surrounded the park and club. Although there was no public coercion, virtually no retail stores were visible from the side-walk. The mixture of residential and commercial activity occurred but in hidden and guarded interiors. The only outwardly visible signs for the restaurants were tiny brass plaques; insiders already knew their locations. In the early 1920s, polite hotel districts like these were so accepted and growing so rapidly that utility engineers made plans for 1940 assuming other zones fully occupied by high-class residential hotels. Hotel keepers, too, expected a "Nob Hill/Gold Coast/Fifth Avenue" future for urban residential life.[54]
For social status, leaving a palace hotel and its neighborhood could be as important as being there. Elite downtown living figured as only one phase in an annual cycle of different residences. A hotel suite served as a center city pied-à-terre complementing homes in the country and world tours or business expeditions. So few palace hotel guests stayed at one hotel for the entire year that they were well known among the staff. Wealthy hotel residents moved heavily and ostentatiously from place to place with servants, piles of trunks, valets, and governesses for their children. Some of these shifts of residence were for health reasons: to a resort hotel in Florida, in California, or in the Southwest to avoid the winter; perhaps a trip in the fall to a family house in rural New England; then back to a major city for the opera season, shopping, or business.[55]
Important stops in the annual rounds of residences were a handful of exclusive resort hotels. Compared to downtown palace hotels, upper-class resort hotels were more likely to be sheathed in wood rather
---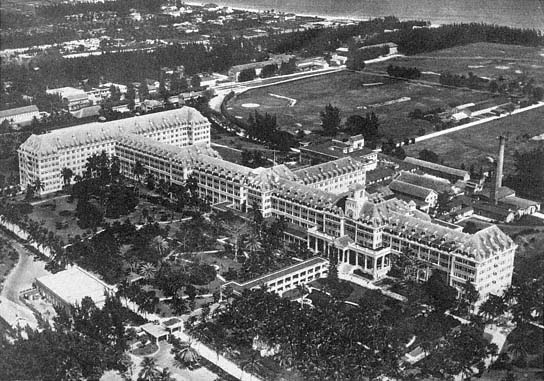 than marble and horizontally impressive rather than vertically imposing (fig. 2.11). However, the best resort hotels matched the downtown opulence of food, service, and furnishings and added spectacularly beautiful and healthful rural settings and multiple outdoor amusements. The Hotel Del Monte, built in 1880 on a 7,000-acre site at the edge of Monterey, California, offered the requisite amenities: scenic vistas, elegant public rooms, 26 acres of landscaped gardens, a golf course, a polo field, a racetrack, tennis courts, and a 17-mile private carriage road through the Del Monte forests to Pebble Beach and Carmel. Wherever possible, the sites of palace resort hotels included prominent sidings and landings for the conspicuous arrivals of private railroad cars and yachts (fig. 2.12). As Robert Louis Stevenson said in reference to the Del Monte, there one would be sure to find "the millionaire vulgarians of the Big Bonanza."[56]
Like downtown palace hotels, upper-class resort hotels offered a constant round of social entertainments but with a more closed set of participants. Of the vast Royal Poinciana in Palm Beach, which flourished from 1893 to the 1920s, Henry James wrote that "there, as nowhere
---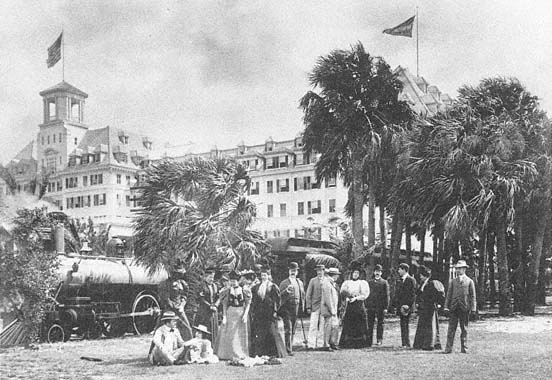 else in America, one would find Vanity Fair in full blast . . . compressed under one vast cover." Both men and women had to bring trunkloads of different outfits appropriate for a daily cycle of events that might consist of breakfast, a morning stroll, swimming or boating, lunch, bicycling or carriage riding, golf, tea, an afternoon stroll, a very formal dinner, an evening promenade, and dancing. One dared not repeat an outfit too often during the summer's stay. Because theaters and clubs were not immediately adjacent, the summer resort had to offer lavish entertainment as part of the program.[57] Palace resorts were as expensive as downtown palace hotels. One account cites the cost during the 1890s at Mohonk Mountain House in the Catskills at $125 a week for two parents, a daughter, a maid, and two horses versus $6 to $12 a week per person for modest boardinghouses in the valley for middle-income vacationers.[58]
At palace resorts, dress codes and high prices screened out most people who were economically undesirable, as in downtown palace hotels. But exclusive resorts screened out undesired guests much more overtly than the downtown hostelries. The code word restricted , some-
---
times seen in advertisements or road signs, meant that Jews, blacks, Asians, or blatantly practicing Catholics (Italians and Irish, especially) would be accepted as servants but not as guests. A few resort hotels advertised all-white kitchen staffs. These restrictions lasted in some resort hotels until World War II.[59] The tightly drawn social circle pointed to a major role for the best resort hotels: because they were so much more insular than downtown hotels, they were the perfect place for the young people of America's elite to meet strictly appropriate people of the opposite sex. Resort hotels also played a recruiting role for hotel residence in the city. While on holiday, summer guests could have their initial conversion experience to the comforts and convenience of more extended hotel life.
Summer vacations notwithstanding, other downtown living options away from a mansion were also appealing to wealthy Americans.