Apartment Hotels and Efficiency Units
Furtively cooking in one's room or continually eating in restaurants could be major irritations and expenses of hotel life. Residents who liked other aspects of downtown life often welcomed the development of affordable downtown housing units that offered private kitchens. By the 1920s, apartment hotels and efficiency units, often rented complete with furniture and dishes, were the principal downtown competition for midpriced residential hotels.[64] The typical mix of services is shown in this advertising copy from a 1920s brochure:
Exclusive Apartments—Hotel Service: The Plaisance contains 126 apartments of one to four rooms, all beautifully furnished and completely equipped. All with private baths—the four-room apartments with two baths. A large lobby, parlor, ladies parlor, and general dining room are situated on the main floor. There are shops necessary to insure comfort and convenience for the guests of the hotel. . . . Every apartment has a breakfast room and buffet kitchen completely equipped.[65]
In apartment hotels, buffet kitchens or service pantries were small kitchens with a minimum of counter space but a full-sized sink, an ice-box or refrigerator, and at least a double hot plate and a warming oven, if not a full cooking stove. Tenants in an apartment hotel could cook, take their meals in the public dining room, or (for an extra fee) have meals served in their own suite using their own silver, linen, and china if they chose. The staff of apartment hotels often took over window washing and making the beds along with periodically scouring the sink, icebox, and cupboards.[66]
Apartment hotels were often outside of downtown on parks or parkways, along major avenues and streetcar lines, adjoining new suburban apartments, or replacing former downtown mansions. In 1929, a nationwide survey revealed that apartment hotel buildings were typically large—100 units with an average of 2.7 rooms each—and most rooms
---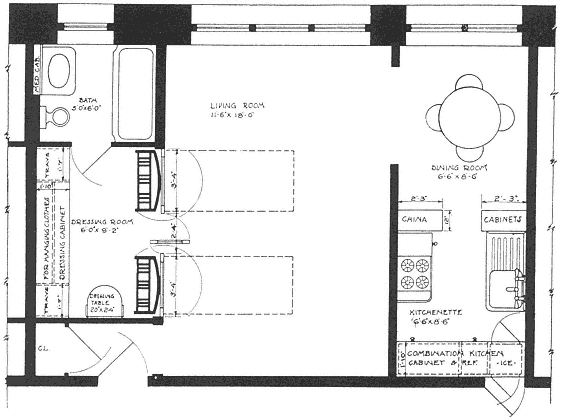 [
Full Size
]
were rented furnished. About half of the buildings had separate maid's rooms and garage space available to tenants.[67] By the 1920s, design guides identified three distinct price ranges. Expensive examples offered full apartments with all the public rooms and services of midpriced hotels. Medium-priced examples had a lobby, desk staff, a ballroom, a billiard table or two, and a roof garden. The least expensive buildings had only switchboard service and porters for ice, groceries, garbage, and errands. These buildings more closely resembled average efficiency apartments.[68]
The minimum apartment for the middle-income household was the efficiency apartment, perfected between 1900 and 1930 (fig. 3.20). At about $25 a week (in 1920s prices) efficiency apartments were bargain versions of the apartment hotel, which started at about $50 a week (table 2, Appendix). The central innovations of efficiency apartment designs were folding beds—doors with attached, spring-loaded bed frames. These allowed tenants to turn the bed upright and pivot it into a closet or dressing room. The most common brand, the Murphy bed,
---
was named after a San Francisco manufacturer. Rebuilding after the 1906 fire, together with the general population and building boom on the West Coast, created such a large initial market for Murphy's new folding beds (and for a host of early imitators) that journalists reported the efficiency apartment itself had originated in California. Like so many other apartment innovations, Murphy beds had been initially marketed primarily to hotels.[69]
By 1911, the tiny kitchen areas in efficiency apartments (originally called buffet kitchens) were common enough and socially correct enough in San Francisco apartments so that local housing reformers gave them special consideration in proposed housing laws. By the 1920s, similar six-foot by eight-foot rooms were popularly called kitchenettes. They epitomized the simplifications in cooking and reliance on packaged foods that also marked smaller kitchens in new single-family houses.[70] Unskilled women working in canneries and food processing plants were doing many of the food preparation steps formerly done in individual kitchens.
Compared to tenement flats, apartment hotels and efficiency apartments were expensive. To live cheaply and comfortably in a middle-income apartment, single people either had to have quite a high income or had to relinquish their independence and team up with roommates. Group living proffered certain benefits—among them, regular company at meals and better space. Not everyone, however, wanted a roommate, and few apartment landlords wanted to rent to nontraditional household groups. Edge-of-the-city apartment complexes of the time were not a strong alternative for single people. As late as 1942, Parkchester, with its 12,000 units in the Bronx, had fewer than a dozen single people living in their own apartment, and those residents were mostly retired. The adjacent Hillside Homes project had 1,410 families but only 14 unattached people.[71]