Residence Clubs
At the least expensive end of the midpriced hotel social spectrum were residence clubs offering midprice hotel amenities at a budget price. Like their plebeian cousins (the YMCA or YWCA) and also their rich uncles (exclusive private clubs), commercial residence clubs usually were tailored for single men or single women. A few clubs accommodated both single men and women by having them live on separate floors—a policy rarely used in public hotels.[60] Allerton Houses, Ltd., seems to have built the first large buildings of this type in New York just after 1900; developers in other large cities followed suit. Managers pared costs by providing very small rooms—almost exclu-
---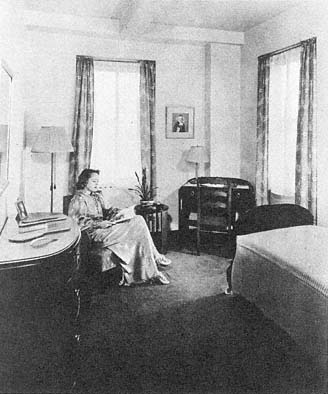 [
Full Size
]
sively single rooms—with day beds that converted to couches. Typically, about three-fourths of the rooms had a private bath.
Life in the residence clubs was like life in a YMCA but without the "C." The clubs kept staff to a minimum, especially in food service. Typically each club had its own restaurant and cafeteria or a restaurant that ran on self-service lines for breakfast and lunch and provided table service for dinner.[61] Perelman remembered a rather upscale residence club with a ground-floor coffee shop with waitresses in peach-colored uniforms who served a thrifty club breakfast costing 65 cents. "You had a choice of juice—orange or tomato," he wrote, "but not of the glass it came in, which was a heavy green goblet. The coffee, it goes without saying, was unspeakable."[62] Compared to private boardinghouses, residence clubs offered more flexible dining hours in addition to lower costs; compared to the Ys, clubs were a hefty notch higher in cost but offered more privacy and less supervision. New York's twenty-two-story Barbizon Hotel, built in 1927 and operated as a women's hotel until 1981, stood at the top of the midprice residence club scale (fig. 3.19). The women who lived there had at their disposal musical
---
evenings in the lobbies, a swimming pool, a gym, and a library. In hard times, a cherished tradition of the better clubs was a free daily teatime in the lobby. At one club, which tended toward a literary crowd, during teatime the lobby was said to take on the air of a book-and-author luncheon. At the Barbizon, girls on a tight budget frequently made their largest meal of the day out of the bite-size complimentary sandwiches.[63]