Immediate Places for New Job Holders
The occasional shortage of single-family houses in rapidly growing cities was one factor that sent middle-income families who were new to a city to a hotel. House prices and mortgage terms were high. Also, from 1870 to the 1920s, the building of new suburban houses did not consistently match demand. Families waiting for a house often lived in a hotel for a year or more. In 1880, the family of San Francisco stockbroker Daniel Stein (including his daughter Gertrude Stein) lived for over a year in a suite in a commodious wooden hotel in Oakland while they waited to move a dozen blocks away into a suburban house with a ten-acre garden (fig. 3.1).[5]
Temporary jobs created other middle-income hotel dwellers. From the Civil War through World War II, people in rapidly expanding business markets were often sojourners. The expansion of trade and railroad links throughout the United States opened thousands of white-collar positions in manufacturing, marketing, and managing chain store and branch store businesses. Engineers, accountants, lawyers, and other professionals flocked to assist these new operations.[6] Many people very tentatively began their stay in a new company or city; they expected to live there only for a period of a few months to two or three years. Such sojourners made up a significant share of the permanent residents in midpriced hotels, and their initial visit often stretched into lifelong hotel residence.
Epitomizing the sojourner household were Mr. and Mrs. Walters, a couple interviewed in the 1920s. They had lived in hotels in small cities near Chicago for a succession of years. In each place, Mr. Walters spent
---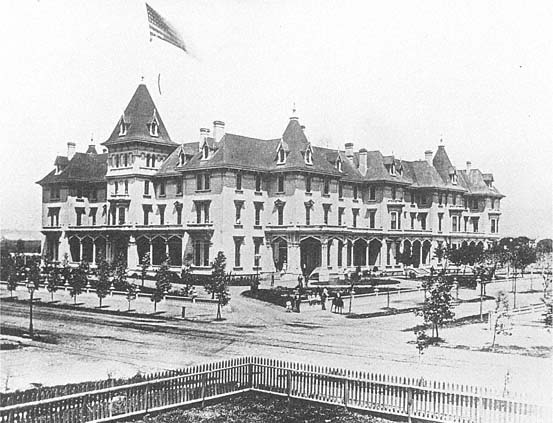 [
Full Size
]
four or five months establishing a branch sales department for electrical appliances; then he placed a sales person in charge and moved to another town.[7] Similarly, construction projects required experts who stayed for months or years of planning and building. Architects flocked to cities after major fires, then moved on a few years later. It was not unusual for sojourning architects to live in hotels; in a few cases, they also set up offices in the same building. Louis Sullivan's life was not as peripatetic as some of his lesser-known colleagues, but the famous architect lived in hotels much of his life.[8] Because of their centrality, hotels made ideal temporary office sites. In certain midpriced hotels, traveling sales people set up temporary offices in sample rooms purposely built and reserved for the display of wares. Some business people rented rooms in a residential hotel in the winter simply to avoid cold-weather commuting from their houses in distant suburbs. People serving on temporary government or business committees also relied on hotels in the midprice range.[9]
---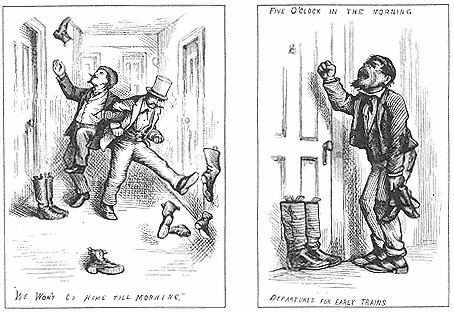 [
Full Size
]
For sojourners in a new city, moving into a hotel simplified the housing search. Hotels required commitments of only a month (at most), rather than the long-term leases required of apartment and house renters. Another inherent advantage of hotel life was avoiding the packing and lugging of household goods and large pieces of furniture. As one hotel observer put it, when a family had to move frequently, "even a large wardrobe is a nuisance, and a collection of furniture would be as appropriate as a drove of elephants."[10]
Like palace hotel residents, residents in midpriced hotels were well positioned to weave themselves into the social groups they needed for their work or personal ambitions. Hotels combined central location, maximum information availability, and high potentials for human contact with influential people of the middle and upper class. Hotel lobbies and dining rooms—in the early nineteenth century the official stock exchanges in many cities (and official slave markets in the South)—were alive with business and gossip. In other hotels, informal and openended social groups formed around billiards, dice, and card tables. In the 1920s, one young hotel resident wrote that her businessman father fortuitously met many other men of affairs in the lobby and in the smoke-filled billiards room after dinner.[11] Not all social aspects of hotel life were positive, but for a distinct minority of households, the advantages outweighed the problems (figs. 3.2, 3.3).
---