Supplement—
How a Chief from Another "Great House"[en11] Enticed the Women from Casa Grande (Thin Leather)Supplement—
How a Chief from Another "Great House"[11] Enticed the Women from Casa Grande (Thin Leather)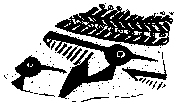 Morning Green, chief of Casa Grande, invited Chief Tcernatsing[m] and his women to visit him. Tcernatsing lived in a great house situated by Gila Crossing, which is so far away [40 miles downstream] from Casa Grande that he found it necessary to camp one night en route at the settlement on the Gila River opposite Sacaton [present-day Gila River Reservation headquarters]. When the visitors arrived at Casa Grande a dance was held in the open space north of Compound A, somewhere between it and the circular wall enclosing a reservoir or "well."[12] Here the women who accompanied Tcernatsing danced with those of Casa Grande, singing the song:
Ta sai nu wu wu[13]
Sun shade sing with me
My body will become a hummingbird.
When Tcernatsing came and witnessed the women dancing, he shook his rattle and sang a magic song, which enticed the women of Casa Grande to follow him to another dance place, nearer the Gila. Morning Green, who also sang a magic song, found it powerless to prevent the departure of the women, and he
[m] Jenasat[*] , the name of a lizard species. See footnote d.
---
went back to his house for a more powerful "medicine," after which he returned to the dance and ordered his women back to their dwellings; but they were so bewitched by the songs of Tcernatsing that they could not, or would not, obey him. Farther and farther from their home Tcernatsing enticed the women, dancing first in one place and then in another until they came to his compound. Among the women who abandoned their home was the wife of Morning Green, who refused to return even after he sent a special messenger to her.
The sequel of the legend is that Tcernatsing married Natci,[n] a daughter of Morning Green, making him so angry that he sent a spider to bite his own grandson, offspring of the union. When the boy was sick unto death, Tcernatsing invited Morning Green to visit his grandson before the boy died. Morning Green relented and sent his daughter an herb (the name of which is now lost) powerful enough to cure the spider's bite, and thus the child's life was spared. (Fewkes 1912: 45–46)
[n] Possibly the same name that is sometimes encountered in myths and ceremonial speeches as Nasia. The word does not sound like Pima-Papago, and there are no myths with this person as a central character. She only appears in cameos. See note 6 for part 9 for more on her.
---