Supplement
Origin of Irrigation (Thin Leather)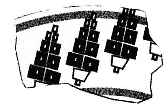 White Feather and his people lived at a settlement called Sturavik Sivanavaaki[g] near Tempe,[5] the site of which is now a large mound. According to some legends, this chief was the first man who taught the Pimas irrigation, and he showed them also how to plant corn. Through his guidance his people became prosperous, and all the Pima congregated at his settlement to trade.
The people of a settlement near Mesa could not build a canal because the ground in the vicinity was too hard, so they asked Tcuhu [S-e'ehe, Siuuhu] to aid them. He sang magic songs for four days, and at the fourth song the ground softened and the people easily excavated the ditch, but the water would not run in it. Tcuhu found he was powerless to make it do so and advised them to invite Towa Quaatam Ochse,[6] an old woman who lived in the west by the great water, to aid them. She was summoned and sent word to the Mesa people to assemble in their council-house and await her coming. They gathered and awaited her coming, but she did not appear. At night a man passing that way saw her standing at the highest point of the canal blowing "medicine"
[g] S-tua Vi:g Siwañ Wa'aki, 'White Down-feather Chief Great-house'.
---
along the ditch. Later there came a great wind that dug out a wide channel, and water ran in the canal. The Casa Grande people, it is said, learned the art of irrigating from those living on the site of Tempe, who were taught by Tcuhu. (Fewkes 1912: 51)