Story 29—
Interlude:
Arrows from the South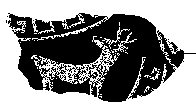 [
Full Size
]
After they destroyed this house (Pueblo Grande) where Huamanui lived, they made their camp there and asked another medicine man to find out what was ahead of them (Juan doesn't remember what power this man had). He looked west and saw a distant cyclone or whirlwind that was pulling out trees by their roots. This frightened the Wooshkam. They decided to stay there for a while and make plenty of arrows to prepare to fight the people who were ahead of them.
All this time there was another company of Wooshkum who had gone south from here [see story 18] and were not fighting very hard. They had plenty of weapons with them because there were not so many
---
people in that country. Among this group was a medicine man called Siu duk wy nam kum, Power of the blue deer.[q] He saw that the people who had come this way [now resting at Pueblo Grande] had been fighting hard, that their weapons were getting scarce, and that most of them were killed. He sent a woman to bring them some arrows.
When the medicine man (one of those to the north) saw her coming with arrows, he knew they were for the Wooshkam, and he sang:
The woman is getting closer
The woman is getting closer
Don't you see her 


All you people 

She brought the arrows, and they distributed them.