Story 24—
Siuuhu's Revenge:
Yellow Soft Feather Plume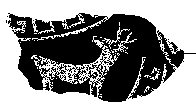 [
Full Size
]
When they killed all those people, they came to a place just east of Casa Blanca (where there is a small mound). The man who lived there was a sharp-shooter who always hit his mark, didn't know what missing was, and always killed what he hit. His name was Suam veek sil da kum—Yellow soft feather plume.[i] When they got there, they surrounded his house, but they didn't come very close.
The man came from his house, and he shot arrows and killed people. The Wooshkam told their captives to go first, so the man was killing his own people. They saw that his arrows were as fast as lightning. They were frightened and sang:
Another land,
Yellow soft feather plume,
Around your arrows
Are flying fast.
Another mountain
I give you a white bead
In that a striped bow
Is running near.
---
Then a medicine man who had the power of thunder worked and killed the sharpshooter, but he had killed a lot of people.[9]