Supplement
How Morning Green Lost his Power over the Winds and the Rain Gods (Thin Leather)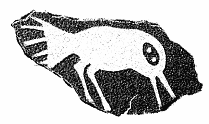 [
Full Size
]
Morning Green [mythic successor to Siba] is reputed to have had special magic power over two supernatural beings known as Wind-man and Rain-man. It happened at one time that many people were playing a game with canes in the main plaza of Morning Green's settlement (Casa Grande), on the south side of the compound; among these were Rain-man and Wind-man. The latter laid a wager that if he lost, his opponent should look on the charms of a certain maid. When Wind-man lost, in revenge he sent a great wind that blew aside her blanket, at which indignity she cried and complained of Wind-man to Morning Green, who was so angry that he made Rain-man blind, obliging him to be led about by his servant, the wind; and he also banished both from Casa Grande. They went to the San Bernardino Mountains in what is now California and lived at Eagle Mountain, near the present town of Wadsworth, where as a consequence it rains continuously.
After the banishment of these two the rain ceased at Casa Grande for four years, and Morning Green sent Hummingbird to the mountains where Wind-man and Rain-man resided. Hummingbird carried with
---
him a white feather, which he held aloft to detect the presence of the wind. Three times he tried to discover Wind-man by the movement of this feather but was not successful. When at last Hummingbird came to a place where there was much green grass, he again held up the feather to see whether it showed any movement of air. It responded by indicating a slight wind, and later he came to the spot where Wind-man and Rain-man were but found them asleep.
Hummingbird dropped a little medicine on the breasts of Wind-man and Rain-man, which caused them after a time to move and later to awake. When they had risen from their sleep, Hummingbird informed them that Morning Green had sent him to ask them to return and again take up their abode with him at Casa Grande. Rain-man, who had no desire to return, answered, "Why did Morning Green send us away 

" and Wind-man said, "Return to Morning Green and tell him to cut off his daughter's hair and make from it a rope. Bring the rope to me and I will tie it about my loins, that Rain-man, who is blind, can catch hold of it while I am leading him. But advise all in Casa Grande to take precaution to repair the roofs of their houses so they will not leak, for when we arrive it will rain violently." Hummingbird delivered the message to the chief of Casa Grande and later brought back the twisted rope of human hair. Wind-man and Rain-man had barely
---
started for Casa Grande when it began to rain, and for four days the downpour was so great that every roof leaked. Morning Green vainly used all his power to stop the rain, but the magic availed him but little. (Fewkes 1912: 47–48)
---