The Foyers in France
The foyer is a ubiquitous aspect of the French urban and architectural landscape wherever there are high concentrations of foreign workers. The term foyer, or "home," with its domestic connotations, is ironic, in that the foyers rarely house families and typically forbid couples and children. The migrants in the foyer are frequently married, but they have left their families in their countries of origin. The foyer is a social universe of non-French males, an island of workers, usually unskilled or low-skilled, away from their homelands and isolated from their families. In fact, foreign workers have had high rates of unemployment in recent years, so that the foyer has become a kind of reservoir of cheap foreign labor.
The function of the foyer is to provide sleeping accommodations and common facilities for its inhabitants. Several workers may share a room or a group of small individual bedrooms, grouped around a shared kitchen/dining facility and a bathroom.
A single building or group of buildings with multiple clusters like this forms the foyer. The foyer may also have common rooms, such as a room for Muslims to perform their daily prayers, like the makeshift room shown in figure 15. The foyer tends to be isolated—located away from the urban center, contiguous to places such as cemeteries and garbage dumps, typically found at urban peripheries. To compare the foyers to concentration camps or minimum security prisons or urban reservations would be too harsh. To compare them with youth hostels and student residences seems too mild.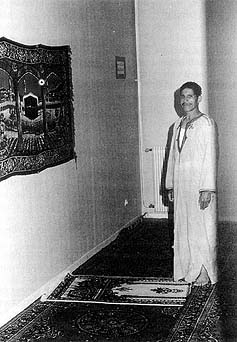 Figure 15. A makeshift room for prayer in a foyer in the Var region of southeastern France. Note the rugs and the hanging with the Ka'ba image to indicate the direction of prayer. Photograph by Laurence Michalak.
The first modern foyers for migrant workers in France date from the early 1950s, but their rapid spread began when the French government passed a law (Article 116 of Law No. 56–780 of August 4, 1956), creating SONACOTRAL, the Societé nationale de construction de logements pour les travailleurs algériens (National Company for the Construction of Housing for Algerian Workers), to finance, construct, and manage housing for "Muslim French from Algeria come to work in metropolitan [France], and for their families." SONACOTRAL was clearly expected to help keep closer control over Algerian workers in France, but algérien was dropped from the name in 1963, and the organization is now called SONACOTRA. By the early 1980s, other organizations—such as the ADEF (for management of construction-workers' foyers), AFTAM (which included students and had a mainly sub-Saharan clientèle), and AFRP (for North Africans in the Paris region)—together accounted for another 128 foyers with 35,338 beds (Ginesy-Galano 1984: 28–48). By the end of 1988, SONACOTRA controlled 69,000 rooms and 1,800 apartments in 330 establishments, with a staff of 1,100 (Gagneux 1989). SONACOTRA today justly describes itself as "France's Number One Host"—it is the largest entity in France in the field of hotels and housing. Figure 16 shows a small room in a SONACOTRA foyer. The next largest foyer organization is an umbrella group of organizations called UNAFO, the Union nationale des Associations gestionnaires des foyers des travailleurs migrants (National Union of Associations Managing Foyers for Migrant Workers), which includes most of the smaller foyer chains, totaling nearly 50 associations with about 260 foyers, 52,000 beds, and 2,200 staff, housing a mobile population (Brun-Melin 1989).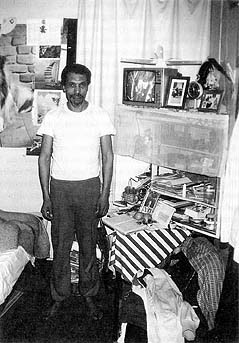 Figure 16. A Tunisian worker in a room in a SONACOTRA foyer. Photograph by Laurence Michalak.