Little Istanbul
Both Sunni and Alevi migrants from Turkey take great care to prevent the moral contamination that they believe threatens them in Germany particularly in the form of haram (forbidden) meat, pork. Helal (that which is obligatory or permitted) dietary laws, nearly unconscious in Turkey, have moved to the forefront of concerns in gurbet (exile). Clever entrepreneurs have used the fear of haram to their advantage and have had great success with their helal industries, which sell everything from "helal" sausage to "helal" bread. Elsewhere (Mandel 1988), I have discussed the explicit association many Turks make between pork and promiscuity, which lends still greater fervor to the conspicuous avoidance of German food, restaurants, grocery stores, and butchers. The result has been a proliferation of shops catering nearly exclusively to Turks. Like the British fish-and-chips shop pictured in figure 2, Turkish food shops in Germany typically put the word helal on their signboards, or even post a certificate guaranteeing helal meat.
One of the central Turkish commercial districts is near Schlesisches Tor, the terminus of the subway. The area boasts dozens of Turkish-owned and -operated businesses, carrying Turkish products for Turkish customers: bakeries, tailors, coffeehouses catering exclusively to Turkish men (for card-playing, gambling, drinking), butchers, greengrocers, grocery stores, restaurants, video rental shops, and Turkish travel agencies, some of which also perform several other functions, such as those of insurance agency, realtor, and translation bureau. There is a storefront office housing the Turkish branch of the German Social Democratic Party. Several "Import-Export" shops sell items such as the coffee cups and tea glasses favored by Turks, colorful shiny fabrics, assorted knickknacks, electronic goods, music cassettes, and jewelry. Some of these shops do an excellent business in items for the dowry and baslik, the brideprice.
German-owned shops close promptly at the legal time, whereas Turkish shops have gained a reputation for staying open late. This is widely appreciated, not only by Turks, but by working Germans as well. Furthermore, Turkish greengrocers have acquired a reputation for produce of much higher quality than that offered by their German counterparts. For example, the greengrocer (manav) I patronized received shipments of good fresh produce twice weekly from Turkey. Many Turks in Berlin, and, increasingly some Germans as well, shop at the weekly Friday Turkish open market (pazar) at the Kottbüsser Tor neighborhood of Kreuzberg, winding several blocks along a canal. Stands sell produce, dairy products, meat, flowers, bread, and spices, as well as olives, feta cheese, Turkish tea, and pork-free Turkish sausages. A major social event, this weekly outdoor market is reminiscent of markets held in Turkish towns and cities. Shoppers exchange news, gossip, glances, recipes, and information, and the mood is one of noisy chatter, bargaining, and busyness. Not far from the market are several mosques. In recent years, attendance at mosques has escalated, and after Friday prayers, the streets around them are filled with Turkish men, many identifiable as Muslim by their skullcaps or hats and characteristic beards.
The oldest mosque in Berlin is not in the heart of Kreuzberg, however. Founded in the nineteenth century, Turk Sehitliki Camii served Berlin's small Muslim community as a house of worship and a cemetery, now overflowing to a huge adjacent area. Even so, many prefer to repatriate bodies for burial "at home." Figure 29 shows the mosque's minaret rising above the burial ground.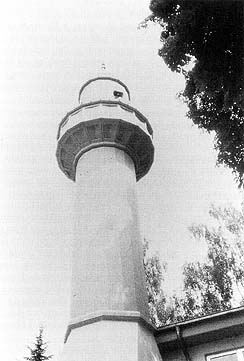 Figure 29. Minaret at Berlin's oldest mosque and cemetery complex. Photograph by Ruth Mandel.
[
Full Size
]
Islamic organizations and parties coexist with the mosques and businesses in Kreuzberg. For example, Refah (Prosperity), Turkey's main religious party, maintains an active storefront shop and local headquarters in the heart of Kreuzberg. It looks like a bookshop from outside, its windows stocked with books and pamphlets in Turkish on subjects like "Marriage and Wedding in Islam"; "Youth and Marriage: A Marriage Guide"; and "How to Pray" (a manual for children). Juxtaposed with this literature are banners and busts won in sports competitions by the organization's teams. Inside, a few young men may be milling around drinking tea in the book-filled front room, some wearing Refa lapel pins. A heavy curtain separates the front room from an inside room, which is set up for meetings and lectures, with a large Turkish flag in the front.