Historical Vegetation Change in the Owens River Riparian Woodland[1]
Timothy S. Brothers[2]
Abstract.—This study evaluates human-caused vegetation change in the riparian woodland of Owens River (Inyo Co., Calif.). The greatest change has occurred below the intake of the Los Angeles Aqueduct, where drying of the channel has eliminated most native riparian cover and allowed invasion by salt cedar (Tamarixramosissima ) and Russian olive (Elaeagnusangustifolia ). Fire, water management, and other factors may have reduced tree cover above the aqueduct intake and encouraged proliferation of weedy native shrubs. The present scarcity of tree seedlings suggests that one or more of these factors continues to inhibit tree regeneration.
Introduction
Owens River has long been an important source of water for an otherwise arid region. Since settlement of Owens Valley by Europeans in the 1860's it has supported a mix of farming, mining, stock raising, and other economic activities common in the West. Its waters have been diverted for agriculture within Owens Valley and for export to Los Angeles. This study examines how these activities have changed the character and extent of the riparian woodland bordering Owens River.
Physical Setting
Owens River runs from just south of Mono Lake through Owens River Gorge to the head of Owens Valley, and from there the length of Owens Valley to Owens Lake. This study was limited to Owens Valley.
Below Owens River Gorge, Owens River is a meandering, low-gradient stream (fig. 1), winding over a floodplain whose width varies from less than 100 m. to more than 1 km. The floodplain lies at a lower elevation than the rest of the valley floor and is bounded by abrupt bluffs along much of the river. The floodplain surface is crisscrossed in many places by abandoned river meanders, but is otherwise fairly level. The river channel is relatively deep and narrow, bordered in many places by steep banks composed of fine-textured, cohesive alluvium.
The Owens River system is fed almost entirely by runoff from the Sierra Nevada, but even before man altered the hydrologic regime only about a third of its Sierra tributaries maintained perennial flow to the river. The rest normally disappeared short of the river channel as a result of percolation and evaporation. Much Sierra runoff thus reaches the river as subsurface flow. South of the Poverty Hills, however, the 1872 earthquake fault (fig. 1) restricts eastward groundwater movement (Los Angeles Department of Water and Power 1966). No groundwater reaches the river channel where it lies well east of the fault, but seepage increases gradually above the intersection of river and fault near Manzanar Road. From there south to Lone Pine many small springs occur in and along the channel, probably the combined result of channel entrenchment, proximity of the earthquake fault, and inflow from the alluvial fan of Lone Pine Creek.
Under natural conditions, maximum monthly discharge of Owens River normally occurred in June or July with melting of the Sierra snowpack; minimum discharge usually came in August or September. River flow was comparatively regular: the ratio of maximum to minimum monthly discharge at Pleasant Valley from 1919 through 1940 was 2.8 to 1[3] —much lower than, for example, the Kings River at Piedra (46.4 to 1); the Kern at Bakersfield (13.4 to 1); and the Kaweah at Three Rivers (53.6 to 1) (USDI Geological Survey 1959). Factors responsible for this low variation may
[1] Paper presented at the California Riparian Systems Conference. [University of California, Davis, September 17–19, 1981].
[2] Timothy S. Brothers is a Graduate Student in the Department of Geography, University of California, Los Angeles, Calif.
[3] Unpublished streamflow records, Los Angeles Department of Water and Power (LADWP).
---

have included the gentle gradient of the river channel; low precipitation east of the Sierra crest and regulation of the discharge by the Sierra snowpack and groundwater. River regime and channel morphology suggest that most floods were relatively mild events, causing little disturbance of the floodplain surface.
Present Vegetation
Sampling Methods
Field sampling of the present riparian woodland was carried out in August, 1979, and in April, May, and June, 1980. (Only data from 1980 are included here.) At each of 20 systemically spaced sites, three parallel l-m.-wide belt transects were extended 20 m. apart at right angles to the river channel. Presence of woody perennial species was noted in each meter of the transect. At sites below the aqueduct intake, transects extended across the channel and 35 m. outward from the bank top on each side. Above the intake, water in the channel limited sites to one side of the river; transects at these sites extended 35 m. from the bank top.
Trees were counted at each site within a plot 50 m. wide, ending 50 m. from the bank on each side of the river (one side only at sites 1–10). Plots thus measured 50 m. by 50 m. above the bank on each side, but area of the channel section at sites 11–20 varied with channel width. Trees less than 2 m. tall were counted as a subset of the total tree population at each site to provide a rough measure of recent reproduction from seed.
Species Composition and Patterning
The Owens River riparian woodland is somewhat species-poor compared to many other riparian areas in California (Roberts, Howe, and Major 1977). Of the 17 woody perennials observed in 1980 (tables 1 and 2), only 10 are primarily members of the riparian woodland: valley willow (Salixgooddingii ), black willow (S . laevigata ), and cottonwood (Populusfremontii ), which make up the tree stratum; and the shrubs narrowleaf willow (Salixexigua ), Rosawoodsii , rabbitbrush (Chrysothamnus nauseosus ), Nevada saltbush (Atriplextorreyi ), salt cedar (Tamarixramosissima ), Russian olive (Elaeagnusangustifolia ), and desert olive (Forestieraneomexicana ). The remaining species are found more often as members of desert scrub communities bordering the floodplain. Of these ten, all except rabbitbrush and Nevada saltbush grow mostly near the present river channel. The latter two also grow down to the water's edge, but they are more abundant on higher ground and are the only woody species present on much of the floodplain outside the immediate vicinity of the river.
Herbaceous species form an understory throughout the riparian woodland. Areas that remain wet most of the year support marsh vegeta-
---
Table 1.—Percentage frequency of riparian woodland species above channel banks.1

Site

1

2

3

4

5

6

7

8

9

10

11

12

13

14

15

16

17

18

19

20

Bank

W

W

E

E

W

E

E

W

W

E

W/E

W/E

W/E

W/E

W/E

W/E

W/E

W/E

W/E

W/E

Artemisia
     spinescens

–

–

–

–

–

–

–

–

7

–

–

–

–

–

–

–

–

–

–

–

Atriplex
     canescens

–

–

–

–

–

–

–

–

–

–

–

–

3/

–

–

–

–

–

–

–

Atriplex
     confertifolia

–

–

–

–

–

–

–

–

14

–

/31

–

–

–

–

–

–

–

–

–

Atriplex
     parryi

–

–

–

–

–

–

–

–

26

–

/3

–

–

–

–

–

–

–

–

–

Atriplex
    torreyi

–

–

–

44

11

13

19

–

+

–

38/9

18/11

28/41

17/38

30/16

11/44

47/43

15/27

15/

+/

Chrysothamnus
     nauseosus

27

46

–

53

18

44

31

–

–

11

5/10

–

–

/3

56/21

11/18

8/

23/15

15/

+/

Populus
    fremontii

–

1

–

–

–

–

–

–

–

–

–

–

–

–

–

–

–

–

–

–

Rosa
     woodsii

11

22

+

6

2

1

–

–

–

16

–

–

–

–

–

–

–

–

–

–

Salix
     exigua

–

22

93

8

2

1

2

–

–

19

–

–

–

–

–

–

–

–

2/2

–

Salix
     gooddingii

–

–

–

–

–

21

5

85

+

44

–

–

–

–

/2

1/1

2/9

1/1

1/13

31/6

Salix
    laevigata

–

–

5

–

–

–

16

–

–

–

–

–

–

–

–

–

–

–

–

–

Sarcobatus
     vermiculatus

–

2

–

7

–

–

14

–

37

–

/+

–

–

–

–

–

–

/+

–

1/38

Tamarix
     ramosissima *

–

–

–

–

–

+

–

–

–

+

–

/6

14/

–

–

5/

–

/+

/3

–

Tetradymia
    axillaris

–

–

–

–

–

–

–

–

–

–

/2

–

–

–

–

–

–

–

–

–

1 Frequency is expressed as percentage of meters transected (105 m. per bank) in which species is present.
* Introduced species.
+ Present on site but not on transect.
Table 2.—Percentage frequency of riparian woodland species in channel.1

Site

11

12

13

14

15

16

17

18

19

20

No. of m. transected

76

90

79

168

115

174

97

119

115

83

Artemisiatridentata

–

–

–

–

–

–

–

+

–

–

Atriplexcanescens

–

–

–

2

–

–

–

–

–

–

Atriplexconfertifolia

1

1

–

–

–

–

–

–

–

–

Atriplextorreyi

4

10

30

8

2

5

5

6

–

10

Chrysothamnusnauseosus

–

–

–

5

5

4

2

9

–

–

Elaeagnusangustifolia *

–

–

–

+

–

–

–

–

–

–

Forestieraneomexicana

–

–

–

–

–

2

–

+

–

+

Rosawoodsii

–

–

–

–

–

–

+

+

–

–

Salixexigua

–

–

–

–

–

–

–

–

2

–

Salixgooddingii

–

–

13

7

42

24

25

42

26

61

Tamarixramosissima

–

14

18

4

17

3

–

–

–

–

1 Frequency is expressed as percentage of meters transected in which species is present.
* Introduced species.
+ Present on site but not on transect.
---
tion dominated by Typha , Scirpus , Carex , and Juncus . On much of the floodplain, however, the herb layer is a dense perennial sod of Distichlisspicata , Sporobolusairoides , and Juncus balticus .
At the boundary between floodplain and valley floor, vegetation on both sides of the river changes in most areas to a desert scrub dominated by Sarcobatusvermiculatus , Atriplexconfertifolia , and A . parryi . Less frequently encountered are Artemisiaspinescens , A . tridentata , Atriplexcanescens , A . polycarpa , Daleafremontii , D . polyadenia , Tetradymiaglabrata , and T . axillaris .
Species turnover along Owens River is low: eight of the ten most common riparian woodland species occur at least sporadically throughout the study area. The exceptions are desert olive, not observed north of Manzanar Road, and Russian olive, encountered only between the aqueduct intake and Mazourka Canyon Road. Nevertheless, the character of the woodland varies greatly from one end of Owens Valley to the other because of differences in the abundance of the few species present, as shown in tables 1 and 2. (Sites 11–20 are separated into above-bank and channel sections to allow better comparison with sites 1–10, where transects did not extend into the channel.)
North of Bishop, the woodland consists mostly of dense stands of Rosawoodsii , narrowleaf willow, and rabbitbrush that extend well back from the river on low ground (fig. 2). Tree cover (mostly valley willow) increases below Bishop, and the frequency of R . woodsii and narrowleaf willow declines, though both remain common to the aqueduct intake. Rabbitbrush and Nevada saltbush are abundant everywhere; both were observed at or near all sites north of the intake.
Below the intake an immediate change occurs. Few trees grow on the floodplain surface south to Mazourka Canyon Road; woody vegetation above the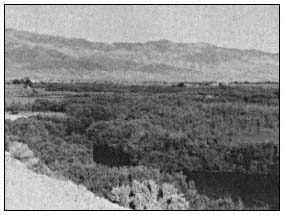 banks consists almost entirely of Nevada saltbush and rabbitbrush, with salt cedar scattered along dry washes (fig. 3). The dry channel bottom is lined with Atriplex and Tamarix , though trees become more frequent southward. Russian olive grows sparsely on the floor of the channel for several kilometers north of Mazourka Canyon Road. Narrowleaf willow and R . woodsii were observed only in the channel, at places where damp soil indicated a shallow groundwater table.
Below Mazourka Canyon Road, tree cover continues to increase both in the channel and along the banks (fig. 4). Salt cedar becomes less frequent and rabbitbrush more so; Rosa woodsii and narrowleaf willow are also more common, but for the most part do not occur in the large stands found in the Bishop region.
Like the woody overstory, most herbaceous species become less abundant along the dry channel. In contrast to the thick sod present in other areas, much of the floodplain surface in this section is bare except for Salsola iberica , Bassiahyssopifolia , and other weedy annuals.
Few tree seedlings were seen north of the aqueduct intake except at site 8 (table 3). Seedlings are also absent in most of the dry section below the intake, but become more common from site 14 south in the channel bottom.
Human Impact
Early Descriptions of the Riparian Woodland
Descriptions of the riparian woodland as it appeared before European settlement are few and somewhat contradictory. Expeditions escorted by Joseph Walker passed through Owens Valley in 1834, 1843, and 1845 (Goetzmann 1966; Davidson 1976), but apparently none left a first-hand account of vegetation along the river. The 1845 expedition was directed, but not accompanied, by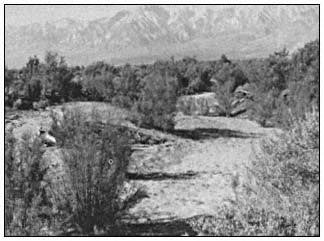 ---
Table 3.—Riparian tree density.1

 
 
 
 
 
 
 
 
 
 
 

Above banks

 
 
 
 
 
 
 

Site

1

2

3

4

5

6

7

8

9

10

11

12

13

14

15

16

17

18

19

20

Bank

W

W

E

E

W

E

E

W

W

E

W/E

W/E

W/E

W/E

W/E

W/E

W/E

W/E

W/E

W/E

Salix
     gooddingii

 
 
 
 
 
 
 
 
 
 
 
 
 
 
 
 
 
 
 
 

Taller than 2 m.

–

–

–

–

–

29

2

71

1

9

–

–

–

–

–

1/1

2/13

/1

4/38

10/4

Less than 2 m.

–

–

–

–

–

2

–

44

–

–

–

–

–

–

–

–

–

–

–

–

Salix
     Laevigata

 
 
 
 
 
 
 
 
 
 
 
 
 
 
 
 
 
 
 
 

Taller than 2 m.

–

–

–

–

–

–

9

–

–

–

–

–

–

–

–

–

–

–

–

–

Populus
     Fremontii

 
 
 
 
 
 
 
 
 
 
 
 
 
 
 
 
 
 
 
 

Less than 2m.

–

2

–

–

–

–

–

–

–

–

–

–

–

–

–

–

–

–

–

–

 
 
 
 
 
 
 
 
 
 
 

In channel

Site

 
 
 
 
 
 
 
 
 
 

11

12

13

14

15

16

17

18

19

20

Salix
     gooddingii

 
 
 
 
 
 
 
 
 
 
 
 
 
 
 
 
 
 
 
 

Taller than 2 m.

 
 
 
 
 
 
 
 
 
 

–

–

1

19

24

26

7

48

4

8

Less than 2 m.

 
 
 
 
 
 
 
 
 
 

–

–

–

2

–

2

9

4

3

1

1 Area sampled above bank at each site is 2500 m2 (0.25 ha.) per bank. Area sampled in channel varies between 1200 and 2900 m2 .
John C. Fremont, who later described Owens River as "wooded with willow and cottonwood" (Fremont 1849), perhaps on the basis of descriptions furnished him by members of the expedition. Much of Owens Valley was surveyed by A.W. von Schmidt in 1855, but his field notes only mention riparian vegetation near Lone Pine, where von Schmidt encountered willows along the river.[4] A cor-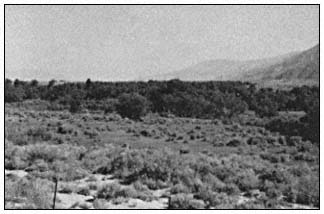 respondent accompanying a military expedition through Owens Valley in 1859 described it as untimbered except for a few small cottonwoods (Davidson 1976). William Brewer, of the California Geological Survey, encountered no trees at all in the valley in 1864 (Brewer 1930). An 1886 settler's tract states that before settlement there was "no timber of any kind" in Owens Valley; the river was bordered by "grassy plains" dotted with occasional shrubs (Anon. 1886). An early inhabitant of the valley, however, recalled large willows lining the river east of Independence (Earl 1976).
These accounts suggest that tree cover has always been sparse along Owens River, though it seems unlikely that trees were ever entirely absent. Early explorers may have kept mostly to the west side of the valley, where travel is easier but the river is often hidden from view. Although no clear picture of the presettlement riparian woodland emerges from these descriptions, examination of the history of land use and water management in Owens Valley provides indirect evidence of the changes that may have occurred since settlement.
Mining
Between 1860 and 1864 numerous claims were located in the Inyo and White Mountains, and four mining towns were established near Owens River (Chalfant 1922). Reduction works were built at five sites near the river, at least two of them
[4] USDI Bureau of Land Management. Surveyor General of California. 1855. Unpublished surveyor's field notes, books 115, 203, 296. On file at Bureau of Land Management, Sacramento, Calif.
---
requiring wood or charcoal for operation (Raymond 1869). Although additional discoveries were made in the valley after 1864, the early excitement died out rapidly. By 1870, three and perhaps all four of the small mining towns were deserted, and most of the mills were idle (California State Mining Bureau 1888). The impact of this short-lived mining boom on the riparian vegetation of Owens River was probably small. Canals were dug from the river to at least two mills, but their construction entailed little disturbance of the riparian zone. Trees may have been cut near the river to supply the mills, but most wood no doubt came from the mountain slopes flanking Owens Valley.
Browsing
Livestock
Livestock were driven through the valley as early as 1859; by 1861 permanent ranches were established near present-day Bishop (Chalfant 1922; Davidson 1976). Local stock were wintered on the meadows of the Owens River floodplain and other shallow-groundwater areas on the valley floor, then moved to mountain pastures in summer (Earl 1976). In addition, large herds of sheep were driven through Owens Valley to mountain ranges each spring (Anon. 1886), and in dry years cattle and sheep were driven into the valley to take advantage of its subirrigated grasslands (California State Mining Bureau 1888).
Stock raising suffered along with the rest of the valley economy as Los Angeles bought up land for the Los Angeles Aqueduct. The greatest decline took place after 1923, when the city began to buy land in the Bishop-Big Pine region. Collapse of the industry was averted by Los Angeles' decision to lease some land back to ranchers. Expansion of the lease program was encouraged by a series of wet years beginning in 1936 and by completion of the aqueduct extension to Mono Lake in 1940 (Los Angeles Department of Water and Power 1966). Most of the valley floor, including the floodplain of Owens River, is now occupied by large grazing leases devoted almost entirely to cattle production. Animals are still moved seasonally to mountain range, but some ranchers keep stock in the valley year-round. In general, stock graze the river lands from October or November to March or April, and are absent the rest of the year.
Without detailed historical records, the impact of livestock on the riparian woodland must largely be surmised. The river grasslands provide a perennial water supply and abundant forage, and have probably always been used more heavily than the surrounding desert range. Grazing pressure may have become severe in dry years before institution of the present lease program, but if overgrazing occurred it seems not to have been recorded. Creation of large leases reduced fluctuations in the size of the valley's livestock population, and probably also reduced summer grazing intensity near the river. Determination of range carrying capacity has been left to leaseholders, however, and some overstocking may have occurred since leasing began.
Regardless of past stocking levels, livestock have probably exercised selective pressure on the composition of the riparian woodland. All of the shrub species in the woodland are browsed, but some are of low palatability or have weedy characters that enable them to persist despite browsing. Narrowleaf willow spreads by means of root suckers, in some areas forming dense stands that appear to exclude livestock. Rabbitbrush is well known as an invader of overgrazed rangeland and other disturbed areas in the West. Presence of livestock in the riparian zone may have favored these shrubs at the expense of other species. Livestock browse mature willow trees very lightly, according to local ranchers—perhaps partly because most animals are removed from bottomland pastures when the trees are in leaf. Browsing does not appear to injure mature trees greatly, though some have browse lines. Damage to seedlings may be greater: many of those observed during field work appeared to have been cropped by browsing animals.
Tule Elk
An initial herd of 54 tule elk (Cervuselaphus nannodes Merriam) was released north of Independence in 1933 and 1934. The herd multiplied to 189 head by 1943, but has since fluctuated between 150 and 500 because of hunts held to control population size (McCullough 1969). At least four herds of elk now browse near Owens River. Although seasonal movements vary from one herd to the next, elk may use most of the bottomland from Owens Lake to the bend north of Bishop in the course of a year (Curtis etal . 1977).
The elk subsist on browse plants, particularly on willows, to a much greater degree than do livestock (McCullough 1969). They may have contributed to development of browse lines on some trees, but like livestock are more likely to have damaged seedlings than mature trees. Nevertheless, the elk population is small in relation to the livestock population, and its effect on the riparian woodland is probably small by comparison.
Beaver
Beaver were introduced to Owens Valley by the California Department of Fish and Game at Baker Creek in 1948.[5] They have since spread to Owens River, both above the aqueduct intake and in the spring-fed section below it.
Beaver feed on cottonwood and on both willow tree species. They often gnaw willows completely through, but the willows are able to stump-sprout if not further disturbed. Large cottonwoods are often girdled and completely killed. Beaver are
[5] Unpublished records, California Department of Fish and Game.
---
found the entire length of the upper river, but their activity is localized. In some areas almost all trees have been affected; in others they remain untouched. Approximately 24% of the trees at sites 1–10 showed signs of gnawing by beaver. Despite the presence of beaver in the lower river, none of the trees at sites 16–20 appeared to have been damaged.
Crop Cultivation
Cultivation of crops began in the 1860's, largely as an adjunct to the livestock industry. Farms were at first clustered along creeks on the west side of the valley, but later spread onto the valley floor following construction of large irrigation canals from Owens River. Expansion of irrigated cropland was greatest near Bishop and Big Pine, where approximately 17 canals began operation between 1872 and 1890.[6]
Los Angeles' acquisition of valley lands halted irrigation of cropland from Owens River by about 1930.[7] Although Los Angeles began to make water available again in the late thirties for irrigation of pasture and fodder crops on grazing leases, local irrigation allotment has depended on annual runoff and cultivated acreage has remained small (Los Angeles Department of Water and Power 1979).
Land-use maps compiled for most of the valley floor early in this century[8] suggest that, despite the extensive canal system, little land was ever farmed near Owens River. A few fields were cultivated on the floodplain at Big Pine and Bishop, but there as elsewhere most of the bottomland was left in native pasture, probably because of its shallow water table and salt-affected soils.
Agricultural land clearing thus caused no wholesale reduction of the riparian woodland in Owens Valley. Cultivation and abandonment of the few fields on the floodplain may have encouraged the growth of rabbitbrush—a frequent invader of abandoned fields in the Bishop area—but the maps cited above show vegetation patterns approximating those of today: the floodplain largely covered by herbaceous growth, with willows confined to the river and other runoff channels.
Fire
Intentional burning has been practiced at one time or another along most of Owens River. Ranchers probably burned the bottomland pastures occasionally in pre-aqueduct days, and present leaseholders say that intentional burning occurred on many leases from shortly after institution of the lease system until about 1970. During the sixties, for example, the floodplain was burned between Lone Pine Station Road and Mazourka Canyon Road, and between Pleasant Valley Reservoir and Five Bridges (north of Bishop). The latter area has been burned several times, and part of it sprayed with herbicides, to improve livestock access to the river.
The incidence of wildfires has probably increased along the upper river with greater use of the riparian zone by campers and fishermen in the last 30 years. Local residents recalled several recent wildfires on the floodplain, including a large one northeast of Bishop in about 1968. I found evidence of burning at 12 of the 20 sites sampled in 1980 (sites 1–3, 6, 12, and 14–20).
The riparian woodland may have been affected most by fire north of Bishop. Repeated burns there could have eliminated willow and cottonwood trees and favored faster-maturing shrubby species like rabbitbrush and narrowleaf willow, which resprout readily after fire. The impact of burning is difficult to assess, however, without better information about the post-fire responses of the other woodland species.
Plant Introductions
Two Eurasian shrubs, Russian olive and salt cedar, have become established in the riparian woodland as an indirect result of human dispersal. Both were probably introduced to the Southwest as ornamental plants in the nineteenth century, but have since become naturalized along many southwestern watercourses (Christensen 1963; Robinson 1965). Earliest evidence I have found of Russian olive in Owens Valley is a 1942 collection from naturalized plants growing along Lone Pine Creek,[9] but it had probably been introduced in cultivation long before then. Russian olive appears to have become established on Owens River only in the Independence region, where it is scattered along the bottom and sides of the dry channel. Salt cedar reached Owens Valley at least by 1944, when aerial photographs show it growing along the 1872 earthquake fault near Mazourka Canyon Road.[10] It too may first have been introduced as an ornamental, but has now become naturalized throughout Owens Valley and is a notable element of the riparian woodland
[6] Los Angeles Department of Water and Power [n.d.]. History Owens Valley irrigation ditches. Unpublished report by J.L. Graham.
[7] Unpublished canal discharge records, LA DWP.
[8] Los Angeles Department of Water and Power. Map of Bishop region in Owens Valley [unpublished]. Prepared under the direction of C.H. Lee. 6 sheets. Scale 1:12,000.
Los Angeles Bureau of Water Works and Supply [n.d.]. Detail map of a portion of Owens Valley near Lone Pine, California [unpublished]. 2 sheets. Scale 1:6000. On file at LADWP.
[9] Constance, Lincoln. 1980. Personal communication.
[10] Los Angeles Department of Water and Power. 1974. Vegetational resource inventory and potential change assessment, Owens Valley, Calif. Unpublished report by Earth Satellite Corporation.
---
south of the aqueduct intake. Establishment of salt cedar and Russian olive along Owens River appears related to alteration of the river's natural regime by the Los Angeles Aqueduct system (discussed below).
Water Management
Irrigation
Most irrigation diversions in Owens Valley began before 1890; by 1904 it was estimated that over 75% of the annual runoff in the valley was diverted for irrigation.[11] These diversions reduced the total discharge of Owens River and altered its natural regime: maximum and minimum flows were both reduced downstream by large summer irrigation diversions, but winter flow was almost doubled by agricultural drainage.[12] Flood frequency and magnitude doubtless diminished as well.
These changes may have affected regeneration of willows and cottonwoods, whose reproduction is tied to the natural runoff regime. Reduction of maximum and minimum flows could have decreased the area of freshly exposed alluvium available for colonization during the growing season or shifted the zone of seedling establishment downward in the channel, where young plants would be more susceptible to damage by the increased winter discharge. Consumptive use of water by agriculture would also have decreased the total water supply to riparian vegetation downstream. The effects of irrigation have since been obscured, however, by changes associated with more recent water management practices.
The Los Angeles Aqueduct System
Operation of the Los Angeles Aqueduct system began with completion of the aqueduct in 1913. The aqueduct had little effect on Owens River above the intake until 1929, when Tinemaha Dam began to regulate flow to the aqueduct at the Poverty Hills. The rest of the upper river remained unregulated until 1941, when Long Valley Dam was completed at the head of Owens River Gorge. Pleasant Valley Dam was added in 1957 to smooth out fluctuations caused by powerplants below Long Valley Dam.
Natural river discharge has been increased above the intake by interbasin transfers and groundwater pumping. The Mono Basin extension of the aqueduct system began diverting water to Owens River at Long Valley in 1941, and diversions increased following construction of the Second Los Angeles Aqueduct (located outside the study area) in 1970. These increases can be seen in the record of annual river discharge at Pleasant Valley (fig. 5).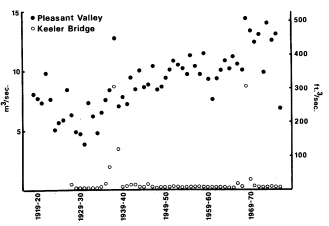 During a prolonged dry period in the twenties and thirties, Los Angeles drilled approximately 170 wells in Owens Valley to increase supply to the aqueduct (Los Angeles Department of Water and Power 1966). Many of these wells were located north of the intake and discharged water into the river channel rather than the aqueduct. Pumping occurred from 1919 through 1935, then halted until the dry years 1960–62 (Los Angeles Department of Water and Power 1979). More wells were drilled after completion of the Second Aqueduct, and pumping now occurs every year.
South of the aqueduct intake, Owens River and most other streams have been diverted by the aqueduct since 1913, though some water continued to flow down the lower channel past the intake in most years until Tinemaha Dam provided a means of storing high flows. Since then water has been shunted downstream on just a few occasions, mostly when runoff has exceeded system capacity: in 1936–39 (before completion of Long Valley Dam), then again in 1967, 1969, and 1975.[13] The 1938 and 1969 flows were exceptionally large, as can be seen from the record at Keeler Bridge east of Lone Pine (fig. 5).
Groundwater seepage has maintained some surface flow in the lower channel south of its intersection with the 1872 earthquake fault. This discharge has been quite small, often dropping to almost nothing from July through September, but relatively constant from year to year when no water is released past the intake.
Vegetation change associated with operation of the aqueduct system should be greatest in the section of channel between the aqueduct intake and the river-fault junction, which has remained dry since 1929 except for scattered seeps and irregular flood discharges. Field data (tables 1
[11] U.S. Reclamation Service. 1904. Report on the Owens Valley, California. Unpublished report by J.C. Clausen. On file at the Los Angeles Public Library, Water and Power Branch.
[12] Unpublished streamflow records, LADWP.
[13] Unpublished streamflow records, LADWP.
---
and 2) support this conclusion: diversion of surface flow appears to have eliminated most of the native riparian woodland from this area, except for the species least closely associated with riparian zones. Riparian taxa persist mainly in the channel bottom just north of the fault, where groundwater is most readily available. South of the fault, the small surface flow provided by spring discharge has evidently been sufficient to maintain much of the original riparian cover.
Establishment of salt cedar and Russian olive in the woodland is also best explained as a consequence of aqueduct system operation. Although salt cedar was perhaps naturalized near the river by 1944, local residents say that it became common only after flooding of the lower river in 1967 and 1969. The shrub spread rapidly into flooded areas, becoming especially dense in the dry section below the intake. Salt cedar is similar to the native willows and cottonwoods in being adapted for establishment after such fluvial disturbances, but here as elsewhere in the Southwest it has been better able than the native flora to colonize a habitat created by alteration of the natural runoff regime. Its success may be partly attributable to such inherent ecological advantages as more prolonged annual seed production and lower moisture requirement than the native riparian species (Horton 1977), Water was released down the old channel during the entire summer of both 1967 and 1969, perhaps delaying most seedling establishment until only salt cedar was still dispersing seed. On the other hand, willow and cottonwood seedlings may have been present initially but failed to survive without a permanent water supply.
When Russian olive reached the river is not certain, but the small size of all individuals observed during field work suggests that it too may have become established since 1969. It has not become as widespread as salt cedar, perhaps because its olive-like fruits are not wind dispersed.
Above the aqueduct intake, operation of the aqueduct system has changed the natural regime of Owens River (fig. 6): instead of cresting early in summer and falling rapidly to a late-summer minimum, the river now remains high from spring through fall, and maximum monthly discharge often occurs at the time of former low water. Flood magnitide and frequency have decreased, because flood discharge can be diverted or stored upstream. Similar changes in natural river regime have been found to hinder reproduction of riparian species elsewhere by eliminating the substrate necessary for seedling establishment (Johnson etal . 1976), and may partly account for the scarcity of young cottonwood and tree willow seedlings along the upper river channel. (The single exception, at site 8, is difficult to explain since other, apparently similar sites are devoid of young trees, but it does show the potential for seed reproduction where favorable conditions exist.) Seed reproduction appears more active in the channel itself below the earthquake fault, the only area in which river discharge still rises and falls more or less naturally.
Since 1970, tree regeneration along the upper river may also have been reduced by erosion associated with increased import for the Second Aqueduct. Bank slumping has in many areas produced vertical, unstable channel sides on which seedlings are unable to take root.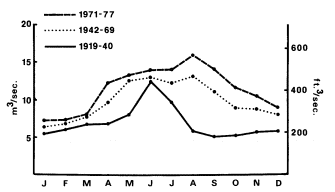 Conclusions
The most obvious human-caused changes in the Owens River riparian woodland have stemmed from diversion of the river by the Los Angeles Aqueduct. Elimination of much of the native riparian vegetation between the intake and the earthquake fault has created an open niche that has been partly filled by salt cedar and Russian olive with recent flooding of the old channel. Both species will probably continue to spread in the future because of the need to waste water from the aqueduct system in very wet years.
Below the fault, native riparian vegetation has been maintained by spring flow, and has in fact spread into the channel with reduction of river discharge. The riparian woodland may be as dense now in some parts of the lower river as it was before completion of the aqueduct.
North of the intake, the combined effects of browsing, burning, clearing, and water management may have caused a reduction in the tree cover and an increase in such weedy shrubs as rabbitbrush and narrowleaf willow—especially near Bishop, where human impact has been most concentrated. Lack of seed regeneration by native tree species along the upper river may be due to browsing or the disruption of the natural river regime. Nevertheless, sexual regeneration of riparian species could be naturally uncommon along Owens
---
River. Historical records suggest that the river's unusually small annual discharge range, together with a shallow groundwater table and relatively erosion-resistant floodplain material, allowed development of a dense growth of herbaceous perennials that covered much of the floodplain and often extended, as at present, right to the water margin. Competition from this herbaceous cover could have limited most seedling establishment to areas of intense fluvial disturbance, perhaps present only after infrequent major floods. In this regard the dynamics of the riparian zone along Owens River may have differed from those of many other western streams, which annually rework a much wider expanse of alluvium because of their greater discharge range and might provide greater opportunity for seed regeneration. Comparison of the relative success of vegetative and seed reproduction in relation to discharge regime in other riparian systems might clarify processes in the Owens River woodland.
Regardless of whether tree regeneration is being artificially suppressed or is naturally uncommon, the present scarcity of young trees along the upper river may portend further decline of the tree cover. Management of the river discharge for aqueduct operations will no doubt continue to prevent most flooding, and tree establishment may be increasingly confined to the immediate river channel, which is now near bankful stage much of the time.
Literature Cited
Anon. 1886. Inyo County, its resources and attractions for settlers. Inyo Independent Printers, Independence, Calif.
Brewer, W.H. 1930. Up and down in California in 1860–1864. F.P. Farquhar (ed.). Yale University Press, New Haven, Conn.
Chalfant, W.A. 1922. The story of Inyo. Published by the author.
Christensen, E.M. 1963. Naturalization of Russian olive (Elaeagnusangustifolia L.) in Utah. American Midland Naturalist 70:133–137.
Curtis, B. etal . 1977. Owens Valley tule elk habitat management plan. 2 sections.
Davidson, J.W. 1976. The expedition of Capt. J.W. Davidson from Fort Tejon to the Owens Valley in 1859. In : P.J. Wilke and H.W. Lawton (ed.). Publications in archaeology, ethnology, and history, No. 8. Ballena Press, Soccorro, N.M.
Earl, G.C. 1976. The enchanted valley and other sketches. Arthur H. Clark Co., Glendale, Calif.
Fremont, J.C. 1849. Notes of travel in California. James M'Glashan, Dublin, Ireland.
Goetzmann, W.H. 1966. Exploration and empire: The explorer and the scientist in the winning of the American West. Alfred A. Knopf, New York, N.Y.
Goodyear, W.A. 1888. Inyo County. p. 224–288. In : Eighth annual report of the state mineralogist. California State Mining Bureau.
Horton, J.S. 1977. The development and perpetuation of the permanent tamarisk type in the phreatophyte zone of the Southwest. p. 124–127. In : R.R. Johnson and D.A. Jones (ed.). Importance, preservation and management of riparian habitat. USDA Forest Service General Technical Report RM-43.
Johnson, W.C., R.L. Burgess, and W.R. Keammerer. 1976. Forest overstory vegetation and environment of the Missouri River floodplain in North Dakota. Ecological Monographs 46:59–84.
Los Angeles Department of Water and Power. 1966. Report on water supply management in Inyo and Mono Counties. Prepared by R.V. Phillips etal .
Los Angeles Department of Water and Power. 1979. Final environmental impact report: Increased pumping of the Owens Valley groundwater basin. 2 volumes.
McCullough, D.R. 1969. The tule elk: Its history, behavior, and ecology. University of California publications in zoology, Vol. 88. University of California Press, Berkeley, Calif.
Raymond, R. 1869. Statistics of mines and mining in the states and territories west of the Rocky Mountains. First annual report of the U.S. commissioner of mining statistics. Government Printing Office, Washington, D.C.
Roberts, W.G., J.G. Howe, and J. Major. 1977. A survey of riparian forest flora and fauna in California. p. 3–21. In : A. Sands (ed.). Riparian forests in California: Their ecology and conservation. Institute of Ecology Pub. 15. 122 P. University of California, Davis, Calif.
Robinson, T.W. 1965. Introduction, spread and areal extent of salt cedar (Tamarix ) in the western states. U.S. Geological Survey Professional Paper 491-A.
USDI Geological Survey. 1959. Compilation of records of surface waters of the United States through September, 1950. Part 11-B. Pacific slope basins in California, Central Valley. Water-Supply Paper 1315-A.
---