Interlude II—
God, at Last
Let's talk about your own films, beginning with The Savage Eye [1960] . They are the sort of films Hollywood never would make. The independent, avant-garde features, which you produced, wrote, and sometimes directed, after the blacklist. Did you have a lingering passion to be on your own, as an independent and as a director?
I would have loved to have thought of myself as a filmmaker. I had a great ambition to do that.
Some guys are very persistent, particularly when they start in their twenties. When I started, it was rather late in my life to undertake the problems that go with those things and to have the amount of persistence that is required to raise money. Films were getting more and more expensive. Maybe I was too lazy to undergo the problems.
Looking back, how do you feel about films like The Savage Eye, The Balcony [1963], An Affair of the Skin [1963], and Storm of Strangers [1970]?
Oh, I know what the defects are, but I like them all in ways.
The Savage Eye would be considered experimental even today .
Probably, yes. It was imitated many, many times. It's not easy to imitate. I like The Savage Eye quite a lot, even though I think there were excesses in the writing which was perhaps a little over-rhetoricized. But on the whole, it is a single tone, even if that tone is of lurid colors.
That film took about three years. It originated because [producer-director] Joseph Strick, who had made a film on Muscle Beach [Muscle Beach, 1948], wanted to make an extended film.[*] He asked me if I had any ideas, and I had always had an idea of making a film about [engraver William] Hogarth, using
---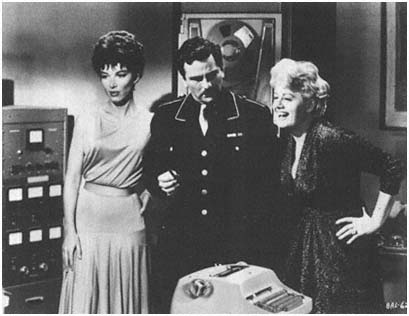 [
Full Size
]
the etchings, rephotographing them, and comparing them with modern London, to see whether there were parallels or changes. This was a development of that. I wrote about nine different outlines until we finally came on this rather simple idea. It's really an anthropological film about the lower middle class, anywhere, but it happened to be [set in] Los Angeles, so it was an investigatory job as well as a film job.
I did a lot of the photography in it. So did one of the great cameramen of the world who was out of a job here, because he was head of the Chicago local, but when he came out here to live, he couldn't get into the [Los Angeles] local. He happened to be an old college buddy of Joe Strick's. Haskell Wexler—a walking crane. He could follow a movement and move with it, just perfectly smooth. Interesting man.
I had a business divorce, after The Balcony, from Strick. We quarreled on aesthetic grounds. I didn't like the haste with which the takes were made. Of course I like [Jean] Genet a lot, but it's not a very good film, though it has some interesting passages in it. And it really exploited this idea of making this whorehouse a soundstage.
I didn't know it at the time, but Strick had pledged his entire worth in order to get the bank loan to make the film. He never told anybody. So he was in a panic. It showed.
---
But I had a great time on The Balcony . Strick hired an art director who'd never art directed in his life. The art director brought with him his girlfriend, but she regarded him as her baby and called him "My baby." She was a 27-year-old dazzlingly beautiful Puerto Rican/Brazilian who was a call girl. So she knew that world, perfect for The Balcony . She introduced me to many people, and she told me stories about herself that would make your hair stand on end. I've got a whole set of notes from my conversations with her, and I don't know what the hell to do with them. They're too outrageous!
The first feature you directed, without a co-director, was An Affair of the Skin. Did you find, after all this time, that you enjoyed directing?
Oh yeah. It's much harder than you think, but it's also far more thrilling. Here at last you're God! You're not some subordinate cherubin. (Laughs .)
And everybody's looking to you. There's no other audience.