TRADITION AND MODERNISM
Art historical revisions after 1986 have not been limited to the fluctuations of reputation among artists but are also reflected in the choice of topics. Village and folk art, which had been the main source of artistic production before the colonial era, had been transformed after independence in 1945 to serve the ideals of socialism. Many artisans were forced to join collective labor forces and abandon their family trade. They were brought into the agricultural and industrial sectors, and household workshops that had operated for centuries were turned into cooperatives. As a result, village art virtually died, only to be resurrected at the initiative of descendants of village craftsmen in the late 1980s.[31]
In the early 1990s, two art historians, intent on reviving the "village" aspect of Vietnamese art history, began researching the history of village art from the ninth century, at the end of the Chinese occupation, to the present. They published My Thuat o Lang (Art in the Village), which became one of the most influential art history books of the early 1990s.[32] The book argued that the origins of Vietnamese art were, in fact, in the village as opposed to the view promoted during colonial times, which held that art originated in royal palaces or was stimulated by religious objects traded from abroad. The idea appealed to the younger generation of artists because it proved that art had a "national" origin yet was not a "state"-oriented production. In other words, village art was given a new interpretation. Instead of serving the state, imperial households, religious, foreign or government decrees, art could be more independent of politics. This gave artists the freedom to express patriotism without
---
risking being interpreted as either "bourgeois" or "socialist" by pretending to avoid politics all together.
When the movement to reincorporate village art into the art historical canon began, artists started to use village motifs such as temple banners, buffalo herders, fish ponds, and folk heroes in their paintings. Some of these motifs, which were potentially sensitive in the 1960s and 1970s, became dominant in paintings since 1986. At first sight, the use of folklore seemed to indicate a break from the worker, peasant, and soldier themes of the previous decades. But, on closer examination, paintings of village festivals and popular legends have become, in effect, redefinitions of national character. By still maintaining elements that are identifiably "Vietnamese," painters seem reluctant to abandon the patriotic ideal in art, even though they claim separation from a particular set of nationalist concerns.
The first artist to experiment with village motifs while maintaining links to "modernism" was the fourth of the "masters" of Vietnamese modern art mentioned earlier, Nguyen Tu Nghiem, born in 1922 and still actively painting. The label "hero" is reserved for the deceased, but Nguyen Tu Nghiem's preoccupation with village art mirrors Bui Xuan Phai's obsession with Hanoi streets. He has spent most of his career painting village folk motifs, making multiple sketches of the carvings that adorn the communal houses (dinh) in the villages surrounding Hanoi and transferring them to his canvases (fig. 4.7). He is not interested so much in the content of the sculptures as in their formal aspects. In explaining his work, he likens himself to Picasso, who saw African art as a form of "modernism."[33] Picasso emulated the simple shapes and geometric forms of African art and incorporated them into his experiments with cubism. The "primitive" look of Picasso's work became equated with "modernism."[34] Likewise, Nguyen Tu Nghiem incorporated village folk art into his paintings, giving them a "primitive" look that became equated with "modernism."
In recent art criticism, Nguyen Tu Nghiem has often been described as both "traditional" and "modern."[35] To use village sculpture as a motif in a painting was a very daring act in the early 1980s, when Nguyen Tu Nghiem first revealed his paintings to the public. At first dismissed for lacking national character, he later won a prize at the National Exhibition in 1990 for his representation of the village folk hero Giong.[36] Since abstraction and surrealism were forbidden, artists had not used motifs found in their native culture to express "modern" artistic concepts. Nguyen Tu Nghiem changed that. Furthermore, the
---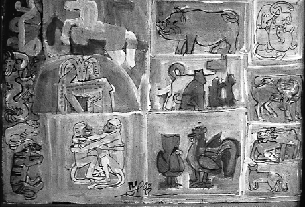 Figure 4.7. Nguyen Tu Nghiem, Zodiac, gouache on paper, 1993. Photograph by Nora A. Taylor, courtesy of the artist.
[
Full Size
]
fact that he used these motifs as symbols of modernism proves how alien they had actually become to contemporary Vietnamese. Like the African sculptures incorporated by European modernists into their works, the village carvings that Nguyen Tu Nghiem employed were removed from their original culture context.
[37]
He was merely employing what he thought to be their interesting forms, not paying particular attention to the meaning of their content. The younger generation of artists found his idea brilliant. Imitating Nghiem allowed them to experiment with semiabstract shapes without deviating from their indigenous cultural sphere. They could maintain a national identity while still attempting to experiment with other forms. Sustaining "tradition," so to speak, also gave them a guarantee against potential criticism from the Arts Association.
The art critics of the 1980s hailed Nguyen Tu Nghiem's use of village folk art as "Vietnamese modernism." His painting style resembled the European postimpressionist concern for form over content, and yet, iconographically, he was able to retain a semblance of "local tradition." Nguyen Tu Nghiem's and Bui Xuan Phai's work was said to reflect the spirit of the people, but not in the sense that it had been known previously. Far from the heroism of To Ngoc Van's participation in the battle
---
of Dien Bien Phu or Mai Van Hien's warm regard for class solidarity, the national character represented in the works of Nguyen Tu Nghiem or Bui Xuan Phai was one of melancholy, nostalgia, or alienation. These feelings manifested themselves as much in the artists'oeuvre as in their lives. To Ngoc Van sacrificed his life for the nation, while these artists sacrificed their lives for their art.
Naturally, as in post-Communist Russia and to a lesser extent in Deng Xiaoping's China, the market for art has also influenced what artists have chosen to paint. The state no longer being the exclusive patron of the arts, artists have had to cater to a new clientele of international art buyers. Many of the works on display in galleries in Hanoi and Ho Chi Minh City depict scenes of the Vietnamese countryside and village life, not as a political statement against the state nor as a patriotic message, but rather because those images seem to attract foreign buyers. Still, the shift in subject matter is similar to revisions occurring elsewhere as Vietnamese art in general, like the society at large, tries to derevolutionize itself and move on to a more global perspective.