---
5. From Imperial Adventure to
Bowery B'hoys and Buffalo Bill
Ned Buntline, Nativism, and Class
Ned Buntline was surely one of the nineteenth century's most popular writers. His literary career spanned most of the second half of the nineteenth century, from the 1840s until his death in 1886, and during those years he produced dozens of mysteries-of-the-city and Western frontier novels. Buntline's significance as an innovator in these popular genres has sometimes been noted, but little has been said about the imperial adventure fiction that he wrote during the 1840s and 1850s. This chapter argues that Buntline's sensational literature about Mexico, Cuba, and an "empire of Popery" can tell us much about the intimate, volatile relationships among working-class culture, nativism, and empire in the mid–nineteenth century. As I suggested in the previous chapter, constructions of white Protestant manhood and fraternity figure significantly in Buntline's U.S.–Mexican War romances. In addition, plots about Cuban filibustering as male adventure emerge from within his mysteries-of-the-city novels about New York City and New Orleans, and fears of rival empires and anti-Catholic sentiments that were enflamed by the U.S.-Mexican War shape the nativist labor culture that he energetically promoted in his fiction and in his popular newspaper, Ned Buntline's Own. As in the other story-paper literature that we have considered, moreover, in Buntline's writing questions of empire are inseparable from issues of race, gender, and sexuality.
During the war years, Ned Buntline was one of the Flag of Our Union's most popular writers, so much so that the publishers included
---
a front-page biographical sketch, complete with a portrait of Ned with top hat and cane, in the 1 January 1848 issue. In addition to
The Volunteer,
Buntline published several pirate stories in the
Flag,
including
The Black Avenger of the Spanish Main: or, The Fiend of Blood,
which first appeared in the story paper on 10 July 1847, accompanied by a large picture of an ominous-looking pirate captioned "Death to the Spaniard!" A few months later, the first installment
of The Red Revenger, or, The Pirate King of the Floridas
was printed in the
Flag
("Now for a rush! Another $100 Prize Tale" [6 November 1847]), to be followed in March of 1848 by
The Queen of the Sea; or, Our Lady of the Ocean,
which was set in seventeenth-century Panama. Other adventure stories that he wrote for the story-paper empire include
Matanzas; or, A Brother's Revenge. A Tale of Florida
(1848), a historical romance about power struggles between the Spanish and the French, and two romances about Peru,
The Last Days of Callao; or, The Doomed City of Sin!
(1847) and
The Virgin of the Sun: A Historical Romance of the Last Revolution in Peru
(1847).
Even before the U.S.–Mexican War years, Buntline scored his first successes as a professional writer by producing sea yarns that were sometimes loosely based on his own maritime experiences. Buntline signed up for the U.S. Navy in 1837, when he was sixteen, and during the next four years he fought in the Seminole War and sailed to various U.S., Caribbean, and Mexican ports.[1] After 1844, he coedited a Pittsburgh magazine and later the Western Literary Journal and Monthly Review, a paper based first in Cincinnati and then Nashville, where he published a few Seminole War stories before moving to New York City to work as correspondent for the Philadelphia Spirit of the Times. In New York he was briefly embraced by that influential arbiter of genteel literary standards, the famous Whig Lewis Gaylord Clark, who published some of Buntline's stories in the Knickerbocker before dropping him. But before that happened, Buntline had already departed for Boston, where he quickly hooked up with Justin Jones and his story paper the Star Spangled Banner as well as with Gleason and Ballou at the Flag of Our Union. As a result, he produced a considerable number of romantic adventure novels with foreign settings, including two U.S.–Mexican War romances: The Volunteer: or, The Maid of Monterey, a hundred-dollar prize story that was serialized in the Flag and then reprinted as a pamphlet novel by Gleason in 1847; and Magdalena, the Beautiful Mexican Maid, which appeared in 1846.
---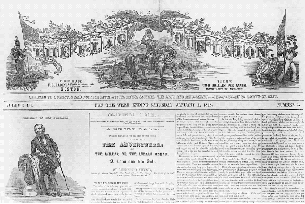 Figure 8. Masthead of 1 January 1848 issue of the Flag of Our Union, with portrait of Ned Buntline and excerpt from Maturin Murray Ballou's The Adventurer. (Courtesy American Antiquarian Society)
[
Full Size
]
By taking the U.S.-Mexican War as his subject, Buntline was dealing with nearly contemporary events, the outcome of which was still uncertain in August and September of 1847, when the Flag serialized The Volunteer. In October, the story was quickly published as a novelette, and since the war was still going on, the publishers suggested that it "might afford much interest to the gallant volunteers in Mexico, and their friends at home should send them something to wile [sic] away the hour of their night watches, in the interim of camp duty" (2 October 1847). Although Buntline and the paper were clearly trying to capitalize on the "state of feverish excitement" provoked by the war and although the novel champions the imperial manhood of the U.S. citizen-soldier, its position on the war and the question of the annexation of all or part of Mexico is more ambiguous, despite Buntline's efforts to use the conventions of romance to turn the invasion of Mexico into a chivalric U.S. rescue mission.[2]
From the beginning, the war is represented as, above all, a testing ground for U.S. manhood. When George's mother begs him not to enlist,
---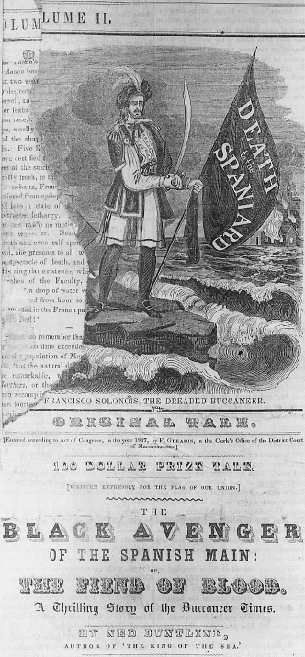 Figure 9. Detail, "The Black Avenger of the Spanish Main," from 10 July 1847 issue of the Flag of Our Union. (Courtesy American Antiquarian Society)
[
Full Size
]
---
he replies that the "call is for
men;
you would yourself blush if I were so unmanly as not to respond to the call!"
[3]
But the manly body of this "noble specimen of a back-woodsman" is represented in idealized terms even before he sets off for war: "He stood just six feet and one inch in height, was straight as one of his own forest maples, had a brow high, fair, and unfurrowed by care or dissipation, an eye blue as an Italian sky," as well as "limbs that developed muscle and strength which would in the days of Grecian splendor, have made him a favorite model for the sculptor's eye" (8). Blakey's status as an exemplary manly type clearly has much to do with his place of origin: that is, Rural Choice, Kentucky. Although Buntline had yet to write the urban melodramas that would help to make him even more famous, his urbanoid tendencies are fully on display when he borrows the following lines from Byron to describe Blakey's rural "class": "tall and strong, and swift of foot were they/Beyond the dwarfing cities' pale abortions. … No fashion made them apes of her distortions/Simple they were, not savage" (6). Although this Romantic privileging of the country over the city responds to the emergent industrial capitalism that was transforming Northeastern U.S. cities, it simultaneously stigmatizes the city as a feminizing space in which "fashion" holds sway and distinguishes a "simple" yet civilized yeoman masculinity from a "savage" state that is implicitly identified with foreign, nonwhite, or urban others.
[4]
So even though Buntline abjures the strategy of pairing an elite male hero with a lower-class Yankee vernacular sidekick (a strategy that, as we have seen, many other writers of war novels pursued), he still obscures class divisions in favor of an ideal of white, rural, "native" U.S. manhood.
The boundaries of an idealized masculinity are established in The Volunteer through contrast, as the heroic, chivalrous Blakey is opposed to Gorin, a rapacious Texas Ranger who burned down the house of the heroine's Mexican mother and Anglo-American father and tried to kill her and her brothers, thereby turning all of the remaining family members into guerrillas who fight for Mexico. By making the Texan Gorin into the villain in this story, Buntline displaces a critique of U.S. empire onto the republic of Texas, which he represents as a lawless world of crime and rule through force before the United States claimed it. He also decouples this rapacious masculinity from whiteness by describing Gorin as "one whose dark brow, coal-black eye and swarthy hue, made him much resemble the Mexican race" (22). At one point, Gorin even switches sides and fights for the Mexicans. But the treacherous and woman-hating ways of the dark Gorin, "that thing who calls himself a man" (45), only
---
serve to make the blue-eyed Blakey's patriotic, chivalric masculinity all the more apparent. By positioning Blakey as the heroic defender of women, opposing him to the malevolent and ambiguously racialized Gorin, and rewarding him with the heroine's love, Buntline labors to depict the U.S. intervention in Mexico as something more than an opportunistic land grab. In other words, he strives to turn force/invasion into consent/marriage through a gendered, imperialist rhetoric of international romance.
The cross-dressed heroine Edwina Canales/Helen Vicars is a central figure in this attempted conversion. Her own transformation from male to female is also significant within the imperial plot. When Blakey first encounters her, she is dressed as a man and remains on the battlefield to fight U.S. forces even though the rest of her troops have fled. When she finally falls from her horse, Gorin tries to kill her, but Blakey prevents him. After this tenacious Mexican officer surrenders, Blakey observes that he "seemed to be but a young boy, his dress too was singular, and his appearance far more feminine than his actions would denote" (12). But once Blakey gets a closer look at the officer's "luxuriant and glossy curls," "delicate foot and hand," and "jet black eyes, so large, so dewy, and shaded by lashes of silken gloss," he quickly exclaims, "By heavens, you are a lady!" (12). Curious to know what "wrongs" induced her "to unsex [herself] and face the fearful perils of war" (12), he eventually learns that she was born in Mexican Texas and that her parents joined the rebellious Texans against Mexico but were murdered by Gorin and some of his henchman because she refused his attentions. She and her brothers escaped Gorin by fleeing to Mexico, where they adopted that nation's cause as their own. By the time Blakey hears this story, he is already in love with her—"in love with a foe!" (31). This causes a delay in the progress of their romance, since both of them are so patriotic, but by the end of the story Edwina has agreed to marry Blakey and to return with him to his "native land."
The heterosexual union between Blakey and Edwina/Helen, who has been converted from a masculine foe into a feminine love object, confirms Blakey's imperial masculinity and to a degree validates the U.S. presence in Mexico. Even though her brother initially feels that his sister, who comes from "one of the proudest stocks of Spain," should not marry "one of the Saxon blood" (70), he ultimately consents to the marriage, announcing, "We give you our dearest treasure, noble American—we know that you will guard and cherish her. You have won her by your prowess—take her, and God bless you!" (91). If as the defender
---
of Mexico Edwina, despite her mixed U.S.-Mexican background, represents the nation, then in this scene, the fantasy of U.S. invasion as benevolent rescue climaxes with the guerrilla fighter "giving" his sister, as a sort of war trophy, to the U.S. volunteer in recognition of the latter's "prowess." The U.S. American's "noble" masculinity overrides differ-ences of "blood" and status as the enmity between nations gives way to international romance and homosocial bonds between men. "No truce had been spoken of between them, yet neither he nor his men looked upon these Mexicans as enemies, nor did they regard him as a foe," Buntline writes near the end. "The circumstances under which they had met had made them friends" (89).
It is doubtful that this conclusion, however, signals a straightforwardly proannexationist position. For instead of remaining in Mexico, Blakey returns to Rural Choice with his bride, while the guerrilla Canales swears that he will go on fighting for Mexico after they depart. At the end, Buntline refers his readers to "the papers," in which "each new report from Mexico, brings accounts of his daring deeds" (100). He also warns his readers that General Urrea is still "in the field, and is one who while a blade is lifted against our flag, will still fling his banner to the breeze. Though an enemy, he is brave, skilful, and daring" (100). These passages imply that Blakey/the United States can "win" control of new areas (Ed-wina/northern Mexico) only with the consent and cooperation of a male Mexican elite, represented here by Canales and Urrea. But it is also un-clear that Edwina stands in for the Mexican nation as a whole, or that the union between her and Blakey indicates the desirability of the annexation of Mexico. For it is important to recall that Edwina was born in Texas and is only half Mexican. She is even contrasted with General Urrea's daughter, Anita, who is said to be both "Castilian" and "Aztec" and who remains in Mexico to marry one of the Canales brothers. While for Buntline a creole Tejana can become a part of the U.S. family, the Mexican woman of Indian descent must stay where she is and be wedded to the Mexican guerrilla fighter, suggesting perhaps that the United States should not try to annex the whole of a more densely populated, "Indian" Mexico but should instead be content to take only the more sparsely settled northern borderlands. Although Buntline struggles to bind together heterodox international constituencies—in this case, the white rural settlers of Kentucky and the creole elite of Texas and Mexico—through a rhetoric of heterosexual union, the racial heterogeneity of Mexico seemingly makes him wary of endorsing the incorporation of all of Mexico into the United States.
---
What is more, images of U.S. intervention as rape rather than rescue repeatedly recur in the narrative, troubling the alignment of the villainous Gorin with the realm of brute force and of Blakey and the United States with a chivalric reverence for the principle of "consent." Buntline's novel opens on the fourth day of the attack on Monterrey, with U.S. troops "forcing their way through the walls of the houses, step by step, toward the heart of the city … through casements and lattices where never before was seen aught but flowers and smiling faces, now treading with armed and blood-stained heels over silken carpets, then crushing the flowers that had been reared and cherished by the fair hands of many a sweet southern girl" (7). The violent, sensational language of the opening paragraphs already figures the war as a rape in which U.S. soldiers force themselves upon the city of Monterrey, crushing the flower of southern girlhood as they brutally proceed. Just as it did for Lippard, the siege of Monterrey in particular causes problems of representation: how to romanticize this series of battles in which U.S. soldiers invaded Mexican homes, breaching walls between dwellings as they moved from one part of the city to the next, inevitably causing the injury and death of noncombatants as they proceeded? The violence of this opening series of scenes is never completely sublimated into romance, and throughout the narrative the U.S. presence in Mexico is repeatedly figured as an invasion rather than a righteous response to Mexican attacks on Texas and the United States. Toward the end of The Volunteer, Blakey even announces that this "will be the last war of invasion in which I shall ever participate. I would die for the defence of my country, but never again will I leave her borders to seek for glory!" (75). In passages such as this one, the fiction of the United States as chivalric defender of white Mexican womanhood cannot be sustained. And since the analogy between hero and nation also works in reverse, it could be argued that Blakey's heroic masculinity is compromised by the rapacious nationalist acts of wartime aggression that frame the story. This emphasis on the war as invasion also recalls the Whig redescription of the conflict with Mexico as a rapacious act of conquest.
And if international romance fails to fully resolve the contradictions and conflicts unleashed by the U.S.-Mexican War in The Volunteer, in Magdalena, the Beautiful Mexican Maid, the love plot itself has a tragic ending. Inspired by John Greenleaf Whittier's antiwar poem "The Angels of Buena Vista," which is incorporated into the text, the story is about a romance between Charles Brackett, a half "Castillian" Texas Ranger,
---
and Magdalena Valdez, the daughter of a "Castillian noble" who lives on a hacienda in Mexico.
[5]
Brackett fights with special zeal against the Mexicans because the Mexican colonel Gustave Alfrede raped and killed his sister and mother back in Texas. This same Mexican officer is also trying to force a marriage to Magdalena, despite her repugnance for him, by pressuring her father, whose extreme "liberality" and mismanagement of his hacienda have caused him to become heavily indebted to Alfrede. Ultimately, the colonel threatens to make the whole family peons for life if Magdalena doesn't consent to marry him. Magdalena, however, quickly falls in love with Charles Brackett despite the fact that Mexico and the United States are at war: "I can almost forget that you are a foe!"—"Oh,
quite
forget, beautiful lady, for Americans are never foes to such as you. We oppose men like men; we meet the helpless with kind-ness."
[6]
At this point, the traditional closure of romance seems imminent, for it turns out that the two are cousins (Senor Valdez's lost sister was Brackett's mother) and are therefore "equal in birth" (50), so Senor Valdez consents to their union. But in place of the anticipated ending Buntline delivers a bleak conclusion: Brackett and Alfrede fatally wound each other at the battle of Buena Vista, and Magdalena kills herself when she finds their bodies on the field.
It could be argued that this tragic ending signifies the futility of war, which prevents the healing closure of international romance, and that the novel therefore suggests that imperialist U.S. policies are bloody and uselessly destructive. Such an interpretation of Buntline's purpose could be supported by Blakey's surprising insistence at the end of The Volunteer that the war "has been a sad one for both countries, one in which much noble blood has been lost, one which neither government can gain by!" (89). But in Magdalena, Buntline places more of the blame for the war on Mexico. Although the villain Gorin is a U.S. citizen in The Volunteer, in Magdalena the evil Alfrede is a Mexican creole, and the conflict between Brackett and Alfrede is said to result from Mexican war crimes in Texas rather than the atrocities committed by Texas rangers. Indeed, in Magdalena, Buntline goes so far as to commend the U.S. forces of occupation for refraining from committing "a single outrage upon the vanquished foe, even though there were men there whose relatives had been butchered in the 'Alamo,' or whose families had been robbed and murdered on the gory plains of Texas" (54). In these ways, Buntline suggests that the war is the result of the murderous excesses of Mexican troops in Texas, led by rapacious officers such as Alfrede. Such a reading is reinforced by Magdalena's fears at the end of the novel that
---
if the Mexicans win, the family will be exposed to "rude and licentious men, who respect no law, and are governed by no principles" (76). All of this implies that Mexican men are unfit for republican government, a charge that was often made by those who opposed the annexation of Mexico. Here that "licentiousness," which is opposed to law and government, is identified with a rapacious Mexican masculinity that serves to define, by contrast, a heroic U.S.-American manhood.
But U.S.-American manhood, as embodied by Charles Brackett, is more oddly racialized in Magdalena than in The Volunteer, where it is represented by the "Saxon" Blakey. When Brackett is chosen to pass as a Mexican and spy on the enemy, a U.S. officer explains to General Taylor that Brackett is the perfect man for the job because, "as his mother was a Castillian, [he] is full as dark, but not quite so yellow as a real native. If he was stained with a shade of butternut color, and rigged up a la ranchero, he'll make as good-looking a Mexican as I ever drew lead on" (6). Although Brackett's patriotism is repeatedly praised and although his European descent is emphasized, the strange remarks about "color," along with Brackett's ability to easily pass as a Mexican, suggest a more ambiguous racial status.
On the one hand, it was extremely unusual that a non-Anglo man would be the romantic hero in such a novel; in Magdalena this is possible, it would seem, only because Brackett is part "Spanish" rather than mestizo or Indian. On the other hand, in a rare development, Brackett dies in the final chapter, preventing this international romance from en-gendering a future. Buntline's decision to give this novel a tragic ending suggests an unwillingness, in other words, to make this pair a model for a postwar relationship between the United States and Mexico. Instead, he implies that the war is basically a family squabble between "Spanish" Texans and Mexicans. Although Alfrede's rapaciousness and his use of debt as a way of controlling people anticipate Buntline's venomous descriptions of the wealthy "upper ten" in his urban melodramas, the vision of Mexico that is presented in this novel is generally negative, despite the idealized representation of Magdalena and her sister. Since Buntline blames the war on Mexican rapaciousness and even suggests that the seemingly benign Senor Valdez is incapable of managing his hacienda, it should not surprise us that in this novel he seems to want to keep Mexico at a distance rather than incorporate Mexicans, whether creole or Indian, into U.S.-America's future.[7]
These ambiguous representations of the U.S.-Mexican War do not, however, support the conclusion that Buntline was an ardent anti-imperialist,
---
for he was always willing to promote the U.S. citizen-soldier, even if he expressed doubts about official U.S. foreign policy. During the U.S.-Mexican War years, we could say that Buntline's stance on the war was closer to that of the Whigs than the Democrats: he celebrated U.S. mil-itary victories and glorified military heroes but called the war an "in-vasion" of Mexico and refrained from endorsing the annexation of all of Mexico. But Buntline was never one to keep to a party line. Although his support for some Whig positions reflects the often intimate relationship between nativism and Whiggery in the 1840s and early 1850s, he switched political allegiances throughout his lifetime, and his most intense commitments were to the nativist political parties that flourished at midcentury. Biographer Jay Monaghan's assessment of Buntline's politics is perceptive: "The Buntlinites were poor people, sus-picious of the Whigs" but opposed to the foreigners who were wel-comed by the Democrats.
[8]
Or they could be described in Amy Bridges's terms, as members of the "old working classes" who responded to the threat of industrialization by scapegoating immigrants. Especially after he returned to New York City from Boston in late 1847, Buntline in-creasingly constructed himself as an advocate for this class through his authorship of mysteries-of-the-city literature and his flamboyant and hypervisible public persona.
In December of 1847, the first installment of Buntline's massive Mys-teries and Miseries of New York appeared. Based on the pattern estab-lished by Eugène Sue in Les Mystères de Paris and imitated by countless others on both sides of the Atlantic, the novel exposed the city's myster-ies, as Michael Denning puts it, "by telling tales of criminal underworlds, urban squalor, and elite luxury and decadence."[9] As part of that project, Buntline represented poor sewing girls persecuted by "fashionable young gentlemen, sons of the 'first families'"; a prostitute with a heart of gold; a clerk who is tempted to embezzle from his employer to support his gambling habit; and a dizzying array of other urban types.[10] In order to condemn urbanization, he also singled out for particular criticism spaces in which working-class blacks and whites mingled, included several representations of foreign-born criminals; and added an appendix that blamed immigrants for increases in urban crime. On the other hand, midway through the novel, he incorporated as one of the story's heroes the native-born Mose, the Bowery B'hoy, a character who was first in-troduced to the New York public in Benjamin Baker's play A Glance at New York in 1848.[11] In the months that followed, Buntline wrote a se-quel to Mysteries called Three Years After, which Baker used as the basis
---
for one of several more plays starring Mose. These plays were a re-sounding success, and Buntline's
Mysteries
was also incredibly popular, selling perhaps as many as 100,000 copies and ultimately inspiring the author to add
The B'hoys of New York
and
The G'hals of New York
to the list of sequels. Baker's plays and Buntline's novels were wildly pop-ular in part because a significant sector of the New York population ap-parently recognized themselves in this representation. When the audi-ence heard Mose's distinctive voice in
A Glance at New York,
one newspaper reported, it was "received with shouts of delight from the thousand originals of the pit."
[12]
As Buckley suggests, Mose was both "a fictional type arising within new forms of cultural production" and a social type that corresponded to "'real' transformations in the social and cultural practices of the working classes during a crucial decade in their development."
[13]
Buntline played an important role in developing the Bowery B'hoy as a fictional type, and increasingly he came to think of himself as an advocate for the B'hoys as social types. For example, he started a story paper,
Ned Buntline's Own,
that featured serialized sto-ries as well as muckraking, often scurrilous articles championing urban reform and nativist politics. And in May of 1849, on the morning of the day that he was arrested for fomenting the Astor Place theater riots, he was wearing, according to Buckley, "a tall 'Bowery B'hoy' hat."
[14]
That style of dress was particularly appropriate, since theater-going B'hoys were said to be the main participants in the riots. Posters that read: "WORKINGMEN, Shall AMERICANS OR ENGLISH RULE in this city?" had been displayed throughout the city on the day of the riot, and that evening Buntline and the B'hoys underlined their response to that question.
[15]
According to witnesses, Buntline started a fire "either with the view of destroying the building, or of giving color to the cry of fire," and "the mass congregated in Astor Place are pictured by some of the witnesses as inflamed to the highest pitch of excitement, and as heaving to and fro like the tumultuous waves of the ocean."
[16]
Although several other men were charged with participating in the riot, the judge who presided over the case decided that all of them showed signs of previous good character, "with the exception of the defendant Judson [Buntline]."
[17]
Consequently, Buntline was sentenced to one year of hard labor on Blackwell's Island. One sign of how far he had fallen was an article that appeared in the 13 October 1849 issue of the
Flag of Our Union,
which complained that Buntline's sentence was too light but exulted that this "notorious individual has at last been stamped with a legal brand as a villain for life."
---
Although Buntline's role as self-appointed advocate for the Bowery B'hoys in his public actions, journalism, and novels clearly indicates his significance in the mid-nineteenth-century popular culture of New York City, he never abandoned his earlier interest in U.S. empire. In Myster-ies and Miseries of New York, issues of empire are relatively marginal, coming briefly into view, for example, when the gambler Henry Carlton vows to retire at fifty and "go to Mexico or South America, kick up a revolution, and found a kingdom for myself, as Aaron Burr intended to do" (part 3, 33); or when Buntline's narrator declares war against gam-bling dens and vows to "treat them worse than ever 'Rough and Ready' did the Mexicans" (part 3, 126); or when Carlton urges the embezzler Charley Meadows to "go into the interior of Cuba, change [his] name and buy a plantation" (part 4, 85). But in The B'hoys of New York, which was written after Buntline's conviction, a Cuban filibustering plot is central to the narrative. In this novel, Buntline's villain is the Spaniard Senor Alvorado, a smuggler and pirate who plans to amass millions of dollars in order to fund his plans to "strike for Revolution and the pres-idency of a new Republic!"[18] Even though his scheme to "accomplish the freedom of Cuba" is treated ambivalently by Buntline, Alvorado is at the same time blamed for a number of crimes. To name just a few of these, he rapes the seamstress Agnes Morton, the daughter of a merchant who killed himself after his business failed in the Panic of 1837, and Alvorado thereby causes her insanity and suicide; he pretends to get her recently unemployed brother, George, a job as a clerk for a Spanish mer-chant and then tries to have him killed while on a ship bound for Cuba; he betrays, robs, and kills a "good," Robin Hood–like, native-born pi-rate (who became a pirate only after killing the stepfather who murdered his mother and stole the fortune left to him by his father) and also acci-dentally murders the pirate's wife, whom he was trying to seduce; and in the dark conclusion, captioned "Read it and weep," his ship outruns George's, Alvorado escapes to Cuba, one of his mates shoots George in the head, and George's brains ooze out upon his new bride's snow-white dress. In visceral, sensational terms, then, Buntline constructs the Spaniard Alvorado as a foreign scapegoat for urban problems. In this way, Buntline brings together a variety of urban social types—the bank-rupt merchant, the unemployed clerk, the orphan girl turned seamstress, the dispossessed and criminalized native New Yorker—and suggests that they are all victimized by the foreign pirate/revolutionary. This move re-capitulates, on a symbolic level, nativist, "mutualist," cross-class al-liances forged at the expense of immigrants and other foreign bodies,
---
and it also recalls the representations of Spaniards and creoles as rapa-cious tyrants in story-paper novels about the U.S.-Mexican War.
But in this novel Buntline also suggests some of the many connections between New York City and Cuba at that moment, particularly the transnational schemes by New York merchants and Cuban expatriates to "liberate" Cuba from Spanish rule. After the signing of the Treaty of Guadalupe Hidalgo in 1848, many U.S. expansionists increasingly turned to Cuba as the next object of imperial interest. This time, Southern slaveholders were more enthusiastic because they believed that the in-corporation of Cuba would involve the addition of one and possibly as many as three new slave states to the union. Many New York financiers and merchants also endorsed this project because Cuba was such an important trading partner, because many of them had close economic ties to Cuba's sugar planters, and because some New Yorkers even owned interests in Cuban plantations.[19] Although U.S. government officials considered different plans for convincing Spain to sell Cuba, others plotted more direct and aggressive military actions. For instance, in 1848 rep-resentatives of the Havana Club, a group of Cuban émigrés in New York, approached Mexican war hero General William Worth about leading an army to Cuba; he agreed to do it but then unexpectedly died of cholera in 1849.[20] Meanwhile, in July of 1848, Venezuelan-born Narciso Lopez founded the Junta Cubano, a New York group dedicated to organizing filibustering expeditions to take over the island. During the next three years, until his execution in Cuba in 1851, Lopez and his supporters would repeatedly try to mobilize support for these expeditions, especially in New York City, Washington, and New Orleans. According to historian Robert May, these efforts succeeded in bringing together a surpris-ing variety of young men, for the "appeal of filibustering crossed class lines," drawing in "clerks, apprentices, and immigrants" as well as the sons of planters, merchants, and politicians.[21] Indeed, filibustering fa-cilitated the sort of cross-class coalitions that the major political parties were also trying to consolidate.
Despite his representation of the Spaniard Alvorado as a villain in The B'hoys of New York, Buntline was also attracted to the project of Cuban filibustering. In 1851 he sold Cuban scrip that he claimed could be re-deemed if Lopez's filibustering project succeeded, and he also delivered lectures on "Liberty in Cuba" and "Americanism at Home." Although Buntline's Mexican War fiction suggests that he had reservations about the annexation of all of Mexico, his greater enthusiasm for the cause of Cuban "freedom" could have been reinforced by his support for slavery;
---
it may also have been affected by his marriage to Seberina Marin, whom he met in Cuba or Florida while he was a naval officer and who died in the mid-1840s.
[22]
The fact that Seberina was a Spanish creole from Florida or Cuba may well have encouraged Buntline to indulge in "Spanish fantasy" about international romance between U.S. men and Cuban women.
In The B'hoys of New York, for instance, the failed merchant's son George Morton wins the heart of Eugenia Dellarosa, the daughter of a wealthy Cuban. Although George worries that he is too poor to marry her, Eugenia assures him that "in America every honest man is a king—every freeman there equal to the highest born! I look upon you as a son of Washington; you are, at least, the king of my heart!" (135). When George reflects on the fact that his great-grandfather fought in the American Revolution, he suddenly feels better, for he realizes "that he was indeed equal to the highest born Grandee that ever wore a knightly order" (168). Although the novel ends tragically with George's death, this international romance figures Cuban wealth, represented in this case by Eugenia, as accessible even to nonelite U.S. men, as long as they are manly and patriotic, although the risks involved in attaining it may well be fatal.
If The B'hoys of New York registers Buntline's ambivalence about any attempts to "free" Cuba that might be led by Spanish creoles without the participation of U.S. Americans, The Mysteries and Miseries of New Orleans—a novel that Buntline first published in 1851, the year that Lopez was executed—contains a much more explicit endorsement of fil-ibustering in Cuba, and it also traces connections between city and empire in the wake of the American 1848. By setting the opening scenes in New Orleans, Buntline in effect followed Lopez and his coconspirators from New York to that city, where they attracted a good deal of support from New Orleans merchants, both Whig and Democrat, who hoped to benefit from a more intimate trading partnership between Cuba and the United States—particularly by exporting wheat from the Mississippi Val-ley to Cuba.[23] New Orleans became Lopez's base of operations as he or-ganized two more unsuccessful expeditions, including the final, fatal one. For the 1850 expedition, Lopez recruited privates by promising to match U.S. Army pay and to reward them with four thousand dollars in money or Cuban lands if the expedition were successful.[24] He also appealed to recruits by inviting them to show "to Cuba and the world, a signal example of all the virtues as well as all the valor of the American Citizen-Soldier."[25] Apparently these strategies worked, for Lopez had little trouble
---
attracting soldiers. And according to the
New Orleans Delta,
three-fourths of those participating in the 1850 venture had previously fought for the United States in Mexico.
[26]
Although the second half of The Mysteries and Miseries of New Or-leans focuses on Lopez's final expedition to Cuba, the first half features a typical cluster of urban "crimes": an aristocratic libertine plots to seduce a virtuous criolla, a notorious pickpocket successfully bribes two immigrant policemen, and a young man's "passion for gambling" places him in the power of the villain Orrin Bird, who then seduces the young man's neglected wife, Fanny.[27] But this final subplot dominates the sec-ond half of the novel, which also opens up onto scenes of filibustering. When the young man, Charles Gardner, finds out about the seduction of his wife, he challenges Bird to a duel and kills him. At this point, Gardner worries that Bird's friends may try to avenge his murder, and so he looks "for some other sphere of action" (62). He doesn't have far to look, however, for a "new field of action was at that moment opening. Cuba and her wrongs was [sic] laid like a map before him. A land where the people were crushed by the despot's heel—a soil stained with the blood of those who had offered up their lives in freedom's causes, was be-fore him, and knowing a few of those who, for 'God, Liberty, and Lopez,' would raise the banner and draw the steel, he volunteered" (62). This expedition partially repairs Gardner's damaged masculinity—Buntline assures the reader that each filibuster "was a man" (62)—and Gardner even manages to initiate an international romance with Guadalupe, the daughter of the Cuban hacienda owner Alvarez. But the expedition is ultimately foiled by the vengeful Fanny, who has vowed to punish Gardner for killing her paramour. In the long denouement, she follows him to Cuba, warns the authorities about his presence, writes a letter to Lopez convincing him to come to the island to support what she mis-represents as a widespread rebellion, and helps the Spanish rulers capture Lopez and his companions, who are then executed. Although this outcome makes Fanny the cause of the failed filibustering expedition that Buntline supports, the conclusion contains a surprising defense of her actions: "Man claims the right to avenge his own wrongs—and why not woman?" And at the end of the novel, Charles dies and Fanny boards a steamer bound for "the metropolis of the Empire State" where she will join, the narrator surmises, "the great whirlpool of society, which contains thousands of women of her stamp" (104).
It is likely that Buntline endorsed the filibustering expeditions of the mid-1850s, as opposed to the fictional Alvorado's schemes to make himself
---
the president of a Cuban republic, because Lopez hoped to annex Cuba to the United States and because he recruited so many U.S. sol-diers. The fact that Buntline favored the extension of slavery also must have contributed to his support for these ventures. Indeed, when the evil Spanish captain general learns of the filibusters' plans, he threatens to "free and let loose upon them the great horde of slaves which constitute the largest portion of our population" (73), thereby referencing the Span-ish policy of playing upon the creoles' fears of race wars as a way to keep them in line.
[28]
Since Buntline aligns the U.S. Americans and the Spanish creoles against the villainous Spanish rulers and the "treacherous" slaves, he evidently means to place white supremacy, the protection of slavery, and U.S. expansionism in the Caribbean on the side of "liberation," and the emancipation of Cuban slaves on the side of "tyranny."
If Buntline's treatment of slavery and filibustering suggests that foreign policy cannot be adequately understood without considering U.S. do-mestic debates about the future of the "peculiar institution," the novel also reveals, more specifically, that the mysteries of the capitalist city were complexly entangled with questions of empire. Both The B'hoys of New York and The Mysteries and Miseries of New Orleans map multi-ple connections between city and empire as they retrace trade routes between New York, New Orleans, and Havana; follow the transnational networks of mid-nineteenth-century filibustering conspiracies; and focus on scenes of empire-building in the Americas as perilous but possibly re-demptive sites where damaged urban masculinities might be rehabili-tated and where urban class conflicts might give way to cross-class ho-mosocial bonds between white brothers forged at the expense of people of color. All of this suggests not only that class formations and U.S. empire-building were inextricable in this period but also that issues of overseas empire emerge in the United States well before the 1890s, for the debates about the place of Cuba in U.S. foreign policy and the attempts of fili-busters to "free" Cuba from Spain put such questions squarely on the agenda in the middle of the nineteenth century.
If Cuba is one important site where issues of empire become visible in Buntline's later work, it is by no means the only one. In The Convict: or, The Conspirator's Victim, a novel that was written while Buntline was imprisoned for leading the Astor Place riots, paranoid visions of "an empire of Popery" haunt the narrative.[29] This novel features a crime-busting author-hero of "Anglo-Norman descent" (6), Ernest Cramer, who is clearly modeled in part on Buntline himself. Cramer is victimized by Jesuits in league with the urban criminals that he exposes in his journalism,
---
and the novel ultimately suggests that these conspirators plotted the Astor Place riots as a way of ruining "Cramer's" reputation and thereby neutralizing his opposition to their nefarious plans. As Cramer describes his chosen "field for labor," he condenses a variety of urban problems and blames them on foreigners and Catholics:
The ill-paid artisan; the starving sewing girl; the wronged factory operatives, loaded down with oppression by monied monopolists; my dear country bur-dened with taxation to support paupers imported from foreign climes; labor rendered cheaper and more difficult to obtain by the beggarly competition of these foreign-born serfs; the blighting and dangerous influence of combined and secret associations of foreigners; the plot of a sect who design to make this country the stronghold and garden of Popery, and by electing their own members to public offices and power, to yet link their church with our National and State Governments; the gambling hells and dens of robbery and putridity in our cities; the prostitution of Justice; the barter and sale of all our dearest rights!—oh! in all this, is there not a field, glorious, even as it is a dan-gerous field for ambition to enter upon, for a bold and true-hearted lover of common humanity to labor in! (11–12)
In the course of the novel, Cramer articulates similar views in speeches delivered before the Order of United American Mechanics, the Order of United Americans, and the Daughters of America, three nativist organi-zations that Buntline supported. Articulating white egalitarian sentiments to the nativist cause, he repeatedly worried that "a PAPAL EMPIRE" will arise "on the ruins of this Republic" (243). But although Cramer and his friend, Mexican War veteran Harry Whitmore, try to foil the conspirators' plans to ruin him, at the end of the novel these plots suc-ceed; Cramer is sent to jail as the tears roll down "many a manly cheek of those sons of toil, who had left their work to come and learn the fate of the 'friend of the working man'" (293).
During the 1850s, Buntline would continue to be deeply involved in the project of conjoining working-class reform to nativist politics. The pages of the newspaper that he edited, Ned Buntline's Own, were largely devoted to promoting the nativist cause through stories, editorials, and coverage of the activities of various nativist organizations. The Order of United American Mechanics, which was one of Buntline's favorite causes, attracted particularly large numbers of artisans and workingmen. Founded in Philadelphia in 1845 and with chapters flourishing in New York just a few years later, the order, according to Sean Wilentz, "barred non-producers—merchants, professionals, financiers—as well as immi-grants from their meetings," advocated temperance, and sought to rec-oncile small employers and workers within a "mutualist" vision of
---
America's future.[30] Buntline also promoted temperance, that notoriously anti-immigrant movement, though according to his biographer he some-times showed up drunk at temperance rallies.[31] And he, too, embraced a mutualist politics that set "native"-born small producers against the new immigrant working classes, as his editorials make abundantly clear. In 1851, for instance, he reflected on the faces that he saw in an urban crowd as he complained about the decline of patriotism: "Occasionally the face of an American can be recognized whose mind is evidently grieved at the loss of patriotic spirits, but as the thousands hurry along, the blank face of Dutch and Irish, Italian, Hottentot, and Hindoo, tell but too plainly the change that a few brief years has brought forth in the character of our population, each day a day of servitude to labor in their efforts to destroy the American working classes."[32] Although he attacked all kinds of so-called foreigners, Buntline often singled out the Irish in his anti-immigrant tirades. Thus in 1853 he observed, "On Monday I saw a lot of men uniformed in green flags and etc. marching in our streets with a band at their head and muskets on their shoulders. Though they had white faces, I had an idea, that they were a company of [Bishop] Hughes' black-guards."[33] That this scapegoating of new immigrants for the problems of industrialization hampered the efforts of Buntline and other nativist labor advocates to effectively address such problems per-haps goes without saying.
But it should also be clear that issues of nativism and immigration open up onto issues of empire, and that therefore the nativist labor culture that Buntline represented must be placed in an international frame to be understood. Especially, the visions of Catholicism as a rival empire and the fears of Irish Catholic immigrants that nativist organizations of the 1850s exploited were intimately connected to the anti-Catholic sen-timents and representations of imperial rivalries that circulated in the story papers during the U.S.-Mexican War. Representations of white, "native" Protestant manhood and fraternity, which were central to the ideological work of the story-paper empire, were also continuous with the nativist, mutualist constructions of manhood and fraternity that were promoted by groups such as the Order of United American Mechanics.
Buntline's complaint about "labor rendered cheaper and more diffi-cult to obtain by the beggarly competition of these foreign-born serfs" also has important roots in the 1840s, not only because of intensified im-migration and cross-class coalitions in behalf of the tariff which, it was promised, would protect workers and employers from the competition of foreign labor but also as a result of the representations of Mexican
---
labor that emerged from travelers' accounts, soldiers' personal narratives, and war literature during this period. In
Part 3
, I will argue that ideas about free (white) labor were affected by the U.S.-Mexican War as I examine representations of Mexican peonage and other labor systems in the dime novels of A.J.H. Duganne and in writings associated with the labor and land reform movements of the mid–nineteenth century.