The Higher Plants in the Sea
The two intermediate phyla of the plant kingdom—namely, the mosses (Bryophyta) and the ferns (Pteridophyta)—are wanting in the sea. However, the highest of plants, the Spermatophyta, are represented by about thirty species of Angiosperms, or flowering plants. These belong to three genera of the Hydrocharitaceae and six genera of the Potamogetonaceae (Arber, 1920). They have not originated in the sea, but have invaded and colonized it by way of fresh water. Their closest affinities are with widespread fresh-water angiosperms belonging to the same families.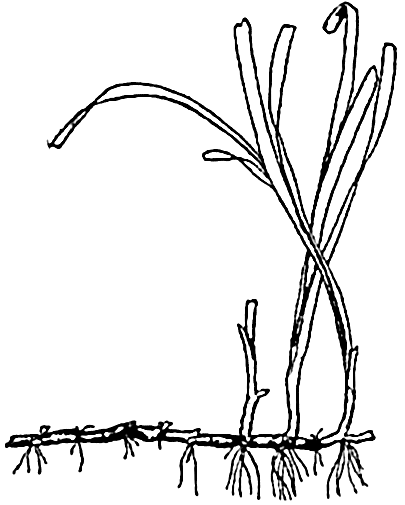 The eel grass Zostera, to show leaves, rhizome, and true roots.
[
Full Size
]
Of outstanding importance among the marine angiosperms is the eel grass, Zostera (fig. 75). Botanically, the plant is not a grass despite the long, slender, and flexible grasslike leaves, which are thus adapted to withstand the force of moving water. Unlike the benthic algae, Zostera and its relatives possess true roots that are attached to an underground stem, or rhizome, forming an anchor in the soft substratum. There are fertile and sterile plants, and, since the plants grow submerged, mostly in depths of 4 or 5 m but also to a depth of 14 m (Petersen, 1918), the flowers are pollinated under water through the agency of currents.
---
The threadlike pollen grains have a density near that of water, and are therefore readily carried about. The plants are also perennial, the rhizomes growing longer and giving rise to new sets of leaves and roots.
Zostera marina
has a wide distribution, occurring on the coasts of Europe, North America, Asia Minor, and eastern Asia. It grows best in coastal areas that are protected from violent wave action.
Phyllospadix
, a related genus, is confined to the open, wave-washed shores of the west coast of North America. Other genera and species are found in many parts of the world. In some extensive shallow-water areas—for instance, in the fjords of Denmark—
Zostera
is considered to be the main source of detrital food for marine animals.