Collection of Benthic Organisms
In the intertidal region, only simple equipment is needed, but for collecting in deep water various types of dredges and grabs are used. A dredge (fig. 89b) consists essentially of a heavy rectangular or triangular iron frame to which is attached a baglike fish net of cotton or wire web to retain the organisms. The dredge is dragged on the bottom by means of a wire cable operated from a power winch aboard a slowly movingship. The size of dredges used varies greatly, depending upon the equipment available for their manipulation aboard ship. A practical size for use on a vessel 15 m or more in length and in water of moderate depth has a beam of about 1 m. Only stationary or slowly moving organisms are caught; microscopic forms are included if they are incidentally attached to larger animals and plants or in sediment that has not been completely washed through the meshes of the net during the ascent of the dredge. The
---
dredge has its greatest usefulness in collecting material for qualitative rather than for quantitative study.
Illustrative of equipment for quantitative collecting of benthic life is the Petersen grab, or bottom sampler, developed by Petersen (1918) for quantitative investigation of benthic animals in relatively shallow waters. It consists of a pair of very heavy metal jaws that are held open during the descent (fig. 89a). When the grab strikes the bottom, the slackened cable releases the tension on a clutch that holds the jaws open, and, when the cable is again drawn tight by the winch aboard ship, the jaws snap shut by their own weight and enclose the material, including the sessile organisms, covering a measured area, usually 0.1 m2, of the bottom over which the open jaws descended. The organisms caught are screened from the bottom sediments, classified, and counted
---
to give a figure from which to calculate the number and kinds of animals present per square meter of the bottom in the area sampled. The grab cannot be used successfully on hard or stony bottoms or in very deep water.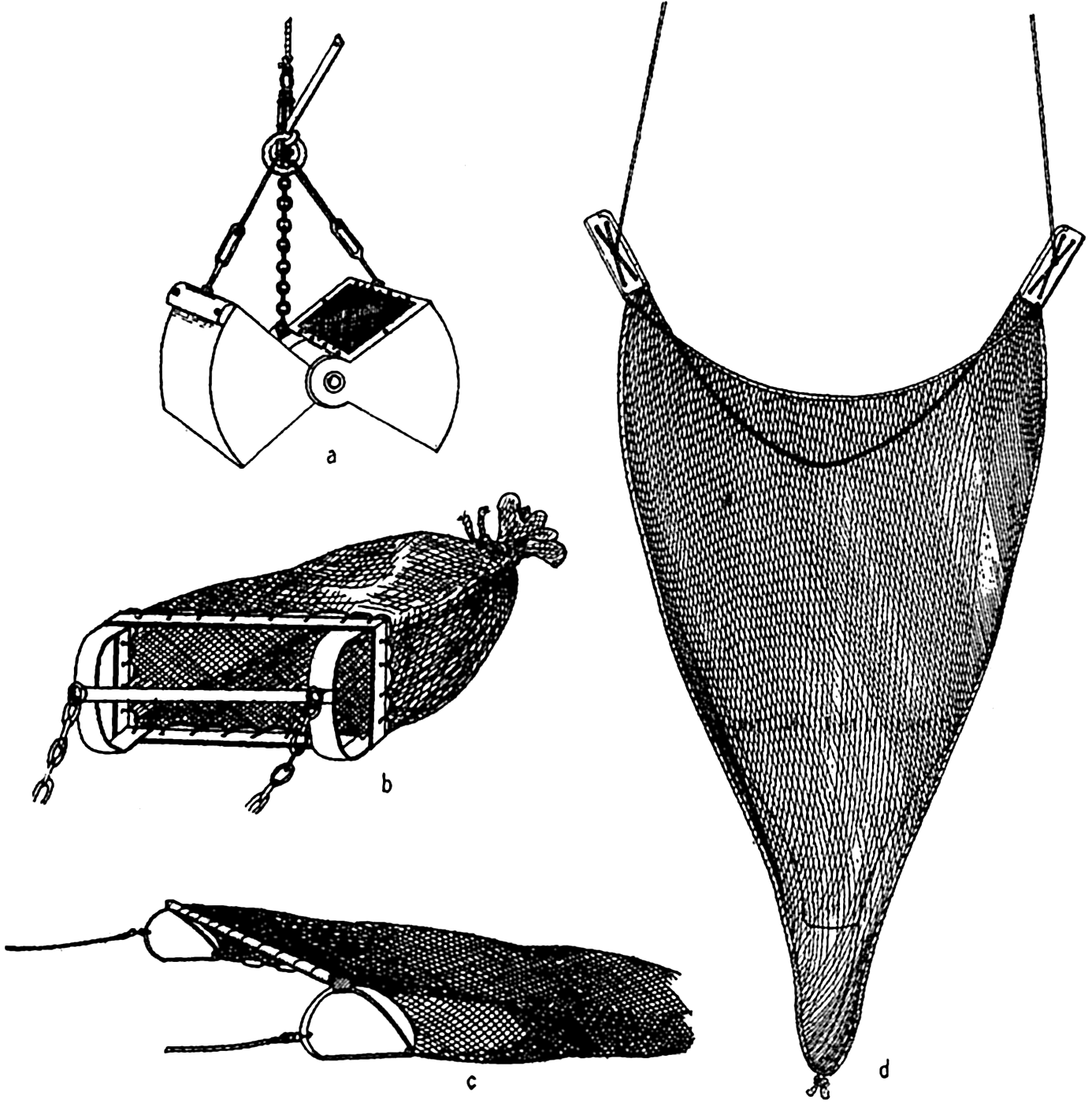 Gear for biological collecting: a, Petersen grab; b, dredge; c, beam-trawl; d, otter-trawl.
[
Full Size
]
Small snappers and coring devices (figs. 84, 85) are useful in collecting quantitative biological samples only of microscopic organisms such as foraminifera and bacteria.