---
FOUR ON CAGE
---
Geometries of Attention
Every philosophy, every narrative, every poem, every piece of visual art or music organizes our noticing according to its implicit and enacted geometries of attention.

Dita Fröller, New Old World Marvels
SILENT
It's a lovely coincidence that silent and listen are just a lettristic shuffle apart. Mid-twentieth century, John Cage conceptually and performatively redefined silence in two major pieces, "Lecture on Nothing" (c. 1950), which he called a "structured silence," and the 1952 piano composition he referred to as the "silent piece," 4'33". This latter was in fact the realization of a project begun in 1948 with the working title "Silent Prayer." The directives in both cases are, Notice where you are, Look around, Listen.
LISTEN
Listen to what? To the sound, music, poetry in what one has not been noticing. Silence is ambient, empty noise that as we turn our attention to it becomes full. This is more complicated than one might think, not just a matter of swiveling the head. Every structure embodies a geometry of attention that renders some things audible/visible and others inaudible/invisible. Cultures do their orientational work in large part unconsciously/unintentionally in naturalized figure-ground relations that appear to be simply the way things are. Habits of perception are difficult to inspect. Areas of experience unaccountable in the topological continuities of culture are no less difficult to locate just because we know in principle that they must be there.
---
SILENCE
How to attend to the many silences—aesthetic, historical, social—that affect everything we think and do? How to use them? This may be the principal challenge of any contemporary moment. We're confused enough already, and then there's the present relentlessly rolling in, vastly overdetermined, further complicating the past. We've only just glimpsed a pattern, and it's changing before our eyes. What's most characteristically contemporary at any moment is the least recognizable, least visible, least audible, least intelligible of all that matters. Unintelligibilities of past and present tend to blur into the reassuring and ominous white noise of dailiness. Increasingly ominous, to the degree that they're persistently ignored.
The question that must be continually addressed, if one is to live in one's times, is how to invite the most recalcitrant, even hazardous silences into the conversation. This is a complicated figure-ground puzzle that involves reconfiguring geometries of attention. For Cage, like his aesthetic and spiritual mentors Marcel Duchamp and D.T. Suzuki, the transformation of the nature of attention was the key to the constructive transfiguration of experience. Duchamp's working assumption (the one that brought on both pop and conceptual art) was that any object can be seen as art. Attention is the necessary and sufficient condition. The only thing that isn't art is inattention. Suzuki similarly taught that Zen awareness brings ordinary experience into the field of enlightenment. Intersecting in Cage's consciousness, these insights became a comprehensive aesthetic of silence, that is, of heightened attention:
I am here, and there is nothing to say.

If among you are those who wish to get somewhere, let them leave at any moment. What we re-quire is silence; but what silence requires is that I go on talking.… there are silences and the words make help make the silences.

I have nothing to say

and I am saying it and that is poetry as I need it.

This space of time is organized. We need not fear these silences,—we may love them.

"Lecture on Nothing"[1]
---
Cage's "Lecture on Nothing" uses a rhythmic structure composed of measures meant to be performed as a piece of language music but with "the rubato which one uses in everyday speech."[2] It's an effective outline of the new geometry of attention that Cage was developing in the late 1940s and early 1950s and that would formally define all his projects for the rest of his life. Whether hearing "Lecture on Nothing" or seeing it on the page, one is struck by the apertures that are built into the organization of this "space of time." They function to dramatically redirect vectors of noticing—past words, into the silence of pauses, the emptiness of structural description:
I am here.… I am doing this.… [W]e are now here.… I go on
talking.… This is a composed talk … for I am making it … just as I
make … a piece of music.… How could I … better tell … what
structure … is … than simply to … tell … about this,… this talk … which
is … contained … within … a space of time.… It makes very little …
difference … what I say … or even how I say it.… You have just …
experienced … the structure … of this talk.… [3]
The explicit mapping of the space-time of the talk makes it instructively prototypic as experience of silence as poetry/poetry as silence—what we don't normally notice when a lecture wholly occupies the foreground of our consciousness with its densely constructed text. The schematic form of "Lecture on Nothing" affords constant glimpses of the world outside the lecture. It conspires (breathes together) with its own alterity. And this means it is transferable to any other situation, with content composed of any other collection of details. "Lecture on Nothing" of course turns out to contain many delightful, thought-provoking, astonishing things. It's full of beautiful philosophical statements, stories, ideas, surprising references; but its formal gaps, its recursive attention to its own emptiness, foregrounds structure and turns it into a template for noticing similar relationships elsewhere—for example, among words and silence, ideas and experience, what is and is not apparent in other instances of art and of course in the course of everyday life.
This is what geometries do—they organize the vectors of our attention, establish relations between abstract directionalities, insides and outsides, enabling us to notice certain things we could not otherwise. The ancient Egyptians used geometry to locate landmarks buried in mud or displaced by floods. Benoit Mandelbrot noticed that complex natural forms like trees, rivers, and coastlines can be modeled with
---
Koch and Peano curves, which in turn led him to notice that coastlines have self-similar infinite detail in finite space. Cage puts it simply and directly: "Structure without life is dead. But life without/structure is un-seen."
[4]
Which is what Gertrude Stein, another of Cage's aesthetic mentors, meant when she wrote in her 1926 essay "Composition As Explanation" that the thing seen, if it is new, can only be seen within the composition. Since the nature of the structure determines the nature of the seen, how can it be anything other than imperative that we engage in the continual invention of new arts, new artifice to see/hear the underside of the habitus that clamors to deaf ears, the invisible cities that presage our hope and our ruin?
RECIPROCAL↔ALTERITIES
What Cage discovered was that the more minimal and permeable the disciplined process or structure, the more it reveals about the world outside its perimeters. With the right orientational vectors, the qualities of lightness and permeability place it in conversation with its immediate environment. Like all formally constructed aesthetic experience, art that lets silence into its composition is, in its own artifice, an invasion into the conditions of a given space-time. But its relation to that space-time is, importantly, one of reciprocal alterity rather than erasure or denial. What lies outside its structuring geometries is always the major area of investigation.
In the late 1940s and early 1950s Cage was working on these ideas, as always, in collaboration with others—at Black Mountain College, as well as in New York City—with Merce Cunningham, Buckminster Fuller, M.C. Richards, and Robert Rauschenberg. Fuller and Richards shared, to the greatest degree, Cage's social concerns, but it was Rauschenberg's white paintings (1951–52) that became for him an iconic example of a minimalist use of materials in maximalist service to an art of ordinary experience.
Like Cage's 4'33", the white paintings foreground ambient activity (the visual ambience of light and shadow) wherever they are placed. What seems at first empty becomes, with attention, so full one cannot take one's eyes off them. Since the play of light is live, happening at the moment of one's looking, one doesn't want to miss any delicious nuances. It is like watching the continuous change of light on water. Yes, it is, and with this realization comes another—that you don't need the paintings to have this experience. You needed them to show the way—to stimulate your museum-quality attention—but what has enraptured
---
you in the museum happens on every surface that refracts light. The geometry of attention inscribed in the art illuminates your visual experience of everyday life just as 4'33" amplifies the auditory one. Dance, opera, film, most any performance does both. All this is what Cage's redefinition of silence as ambient noise is about—the act of noticing turns it into sound that is, with a heightened quality of attention, transvalued into music just as one comes into a realization that if this is music, then all of the audible world presents, equally, a musical occasion.
This was not how Cage began. In the 1930s and early 1940s his explorations of silence had been focused on contemplative, even mystical, experiences in which silence in music was valued as a quieting of the mind so that the divine could enter. This was a geometry of the receptive mind/soul characteristic of Indian (Sri Ramakrishna) and medieval Christian (Meister Eckhart) spiritual philosophy. The divine comes from an unspecifiable zone beyond the threshold of ordinary perception. Silence is the clearing of that threshold for its arrival. If one were to draw a diagram, the vectors of attention would be directed off the page toward an implicitly radiant spiritual horizon. The geometry of radiance is omnidirectional, making specificity and focus impossible.
Cage's redefinition of silence shifts it not only from empty receptivity to active, disciplined attention (in which the empty becomes full while remaining empty) but also away from the notion of silence as indicative of absence and longing. The silent that transliterates into "listen" marks the always present possibility of things previously unremarked. From the 1950s on, Cage's new geometry of silence requires a different sort of diagram, one in which events from the ordinary world enter into precisely composed apertures, by chance and intention, filling the foreground with a newly identifiable material presence that, as it comes into audibility/visibility, collapses background and foreground into one. From the 1950s on, the traceries of this geometry are what all of Cage's scores (as well as his visual art) present to the performer-auditor-viewer for realization.
Our legitimated geometries of attention determine the kinds of ambient information we find disturbing or confusing or unintelligible. If postmodern theory has taught us anything, it is that the internal logics and internalized values of cultures frame naturalized prospects that obliterate, miniaturize, or exoticize all things outside their scope. They create horizons of social silence and monodirectional alterity. John Cage's Copernican paradigm shift in aesthetics has direct implications for social and historical
---
silences, as well as for the arts. Just as we now recognize silence not as the absence of sound (physically impossible) but the sound we happen to be ignoring, the white noise of the habitus can be understood as the persistently ignored and devalued, the seeming irrelevant—the irritatingly cacophonous mélange of otherness. Silence/Noise becomes music, voice, object of interest only with a change in ethos that can shift trajectories of noticing. In this sense it is a thoroughly poethical matter.
It is not the romanticized angel of history but the very pragmatic angles of attention that should occupy us. What this implies is that we need to devise projects that in their sustained attention and collaborative scope adjust the distribution of silences, that is, the distribution of value and power. Consciously redirecting our noticing entails cultivating disciplines that are difficult and anxiety laden, as well as tonic and nourishing. To intentionally devise methods of bringing silence into one's work, as Cage did with his selective use of chance operations, is to acknowledge the dire limitations, even the dangers, of relying uncritically on habitual practices, familiar perspectives. This is as much about taking pleasure in intricate strangeness as it is about survival. Can it be that the best way to adjust geometries of attention is to be, like Cage, playfully and purposefully curious? To begin with questions, to undertake every project as an investigation? A new geometry of attention is a new choreography, a new music, a new visual art, a new poetry, a new science, a new mix of genres, that is, a new form of life.
That John Cage found ways to use the fact that pure silence doesn't exist, to redefine silence as sound, and to turn that figure/ground shift into an open window on our world is a major contribution to the health of our uncertainties, the power of constructive curiosity. The worldwide influence of Cage's work has vastly enlarged the field of improbable possibilities.
Silence is in us, a constituent principle of all our habits and perceptions. What we don't know about ourselves in these complex times is equaled only by the radical independence of all that does not reflect our most cherished self-images. Is it that to come to love silence is to finally experience one's own otherness, one's own mongrelism, one's own un-intelligibility in playful and grave reciprocity with the rest of the world?
---
John Cage—May 18, 2005
Zero is always a starting point; in signifying the absence of one thing it implies the possibility of another.

S.M. Quant, Manual for Desperate Times
My computer has accurately noted the date for three years but suddenly dates this essay May 18, 2005. I'm writing it in 1989 to present at a Cage festival outside Washington, D.C.[1] This is a decade prior to Year-2000 concerns that computers unable to read a date beginning with 0 will self-destruct. (Only machines laboriously reprogrammed to be "Y2K compliant" will survive.) Even in ignorance of impossibilities to come, this leap onto my screen of the fifth year of the twenty-first century seems highly improbable. I've adjusted the calendar several times, read the manual several more, but can't fix it. My intention is to have the correct date. My computer, of course, has no intentions. It's electronic networks are designed to function in reliably predictable ways. Any deviation from this, any "glitch," might be an accident of programming but could just as well be brought on by the fact that everything in our world operates in the same electromagnetic field. This interconnectedness makes the climates in which we live subject to vagaries of indoor and outdoor, cultural and natural weather.
By now it's well known that weather is a complex (chaotic) system with sensitive dependence on initial conditions (the "butterfly effect"); so writing on any computer, particularly in a neighborhood with vulnerable wires strung from pole to pole, is to be too intimately connected with the rest of the world. As has always been the case, the pragmatic-mystical union in which we all take part involves maximal
---
participation with minimal understanding and control. We define this dynamic nexus in different terms now—gods and fates have become many things, including politicians and habitus. But, in the turn from the transcendent to the pragmatic mystical, the geometry of attention can draw puzzles, even in the midst of all the turbulence and chance intersections, into the foreground of the constructive thought experiment.
Thinking of this then and now, when the undeniable, incompressible scale of interconnected life on our planet brings on waves of anxiety, I like the sound and look of C:\WP\CAGE 5.18.2005—the computer file that held this unfolding essay in my old computer. Even as I tried to correct it, it had become part of my imaginative coastline. I say coastline rather than horizon for reasons I discuss elsewhere.[2] I'll just say here that as metaphors of limit and possibility go, the self-referential location (and romance) of horizons interests me less than the dynamic, transformational exchanges between elements that we call coastlines. Horizons seem to be locations of fantasy, coastlines of probative and mutable imagination. More than a decade later I continue to walk along conceptual edges of this essay from starting-point accident to acquired meanings.
Any movement of the mind in relation to a given pattern occurs for the same reason the dense and seemingly random arrangement of stars in the heavens (the celestial coastline) acquired pictorial and mythological meanings for our ancient ancestors. Looking up, they noticed the archetypal connect-the-dots puzzle in the sky. They drew in constellations, colonizing the heavens with artifacts of their interactive, connecting imaginations. Gaps and disjunctions, when we don't suspect them as traps laid by a purportedly hostile avant-garde, tend to give us pleasure. We are the puzzling species. They awaken our associative faculties. Like the artificial intelligence we've created in our own self-image, the human brain seems to have a connection reflex—by means digital or analog, by straight lines or Brownian motion, by predesigned logics or probative intuitions.
It's not surprising that my computer's glitch date is more apt and interesting than May 6, 1989. For one thing, it's easy to associate with "futurist" aspects of Cage's work. Actually his work is, like all vital art, ripe with presentness and permeability to its contemporary condition. It is literally making something of (composing) materials of that condition, inviting us to enter the conversation with concerns of our
---
own moment. The work presents a coastline of sounds or words or visual marks where mind and aesthetic form interact, subject to conditions of cultural climates. That in turn alters those cultural climates (or microclimates), shifting geometries of attention. This sounds like an analogy with an actual coastal shore that is in dynamic interaction with the changing circumstances of water and air that constantly shift its geometry, but I want to suggest that the dynamic interaction of art and mind (each with its own fractal principles) may actually work similarly to coasts and meteorological elements, not just in a metaphorical relation. If the present is a coastline mediating the turbulent weathers of historicity and futurity, John Cage's decision to explore processes of chaos in his work may seem most strikingly futurist now. But the fact remains—as Gertrude Stein pointed out—that we persist in calling "futurist" (or "nihilist" or "outrageous" or "absurd") those things that address a "now" too complex, too unrecognizable to be immediately understood.
This raises what is perhaps the central issue of the avant-garde—what does one make of change? How does one compose new geometries of attention out of changes that are already taking place? When does one advocate new geometries of attention by literally composing things into view? And then, having done either or both of the above, what is to be made of the work?
Is the degree to which such work is valued governed by laws of something like cultural time-release, akin to those capsules only gradually absorbed by the gut? Another, more familiar, way to ask this question is, Does the truly vital new that Picasso and Stein declared always ugly at its inception always become beautiful over time?
I wonder, for instance, whether in May 2005 a Boston audience will be sufficiently initiated by the general culture's absorption of Cage's working principles—the larger principles of physics and biology and history from which they drew their vitality—to remain attentive throughout his Norton lectures, or Empty Words or Mureau.[3] These principles, which have to do with accommodating complexity, uncertainty, nonlinear dynamics, randomness, incompleteness, indeterminacy, became known in the twentieth century as characterizing the major movements in physics and mathematics and in the last decades as characteristic elements of what has been called the science of chaos. I'd like to think there's hope for what I value so much, find so beautiful, in Cage's work—the way it brings us into pleasurable contact with
---
what can be otherwise daunting experiences of the dicey nature of our contemporary world. Since my working conception of hope is nothing more or less than the willingness to be pleasantly surprised, I needn't worry too much about the odds.
I of course can't predict the future reception of Cage's work. It is, was for him, a radical wager. That's a large part of its beauty and moral courage—its inherent poethical stance. But we do tend to assimilate into our formal expectations structures that science has legitimized in its changing models of reality. The new paradigms of complexity in fractal geometry, physics, biology, physiology, and neuroscience have led to a series of figure/ground shifts in which simplicity and complexity redistribute focal and value positions. Although chaos and flux and the inextricable interrelatedness of things form a nexus that has been treated and redefined in every era, was treated philopoetically in pre-Socratic texts, the engine of modern science had been until recently a tunnel-vision pursuit of simplicity and elegance, not only leaving primary aspects of our experience of the world unexplored but casting them into suspect categories of confusion and error. Luckily the gamut of possible foregrounds for the sciences and the arts now includes multiplicity and unpredictability.
Difficult perceptual shifts, new vectors of attention, have defined the province of the avant-garde. (We want profiles; s/he gives us vase; we see nothing but an absence of profiles and declare that there is nothing at all there!) Whatever the intentions of any particular artist at any given moment may have been, the avant-garde event, by definition, connects us with something unprecedented in contemporary experience. When this unprecedented material becomes assimilated, so may the artist. When it does not … Even when the avant-garde impulse seems largely negative, as it did in the post-WWI dada explosion (Ecrasez la bourgeoisie!, etc.), the extent to which that impulse plays itself out in art renders it a constructive making (poesis) of new patterns out of the cultural material (ethos) of the times, thereby opening new fields of possibility to those who (poethically) care to notice.
John Cage has given us two major figure/ground revolutions. Because of his work we are able to hear noise as music. We are also able to hear silence as sound and, more generally, as those presences (natural and cultural) we have not been attending to. This enlargement of the scope of our noticing allows one to understand aesthetic, meditative, and social silences as all having to do with qualities and choices
---
of attention. But changes in paradigms tend to be resisted. Why is this? Probably because we humans are richly complex creatures not quite in possession of an open-ended neural network coupled antagonistically with a stubborn strain of biological conservatism—hardcore fear of difference—which we, often shortsightedly, identify with survival.
So we as a species produce among and within ourselves agonistic factions like two strains of mathematicians in France—the Bourbaki group, set theorists who some say are as fanatically committed to rigor in numbers as the Académie Française is to purity in letters.[4] They started out to counter the vagaries of Poincaré (beloved by philosophers who claim that rigor is achieved only through loss of meaning), to flush out ambiguity and paradox. The playful humor that led them to cloak themselves in the collective pseudonym "Nicolas Bourbaki" complicates the story along with the fact that their work inspired the OuLiPo writers—Queneau, Perec, Roubaud—who like to play with a poetics of constraints and systematically induced improbability.
Those who see more problems than possibilities in rigid limits argue that all meaning in this richly complex, nonlinear, turbulently chaotic universe rests on a firm foundation of paradox, intriguing ambiguity, and other delightfully troublesome principles. Benoit Mandelbrot, the inventor of fractal geometry, declared something like this to the Bourbaki, who in turn announced that he was obviously no mathematician. (Just as physicist Mitchell Feigenbaum was thought to have abandoned science when he began to spend time on complex nonlinear problems like those of turbulence. And as John Cage was thought by boundary keepers to be operating outside the realm of music when he refused to distinguish between musical and nonmusical sounds.) What Mandelbrot, Feigenbaum, and Cage have in common is that they all turned to the abundant, undisciplined world outside the current boundaries of their professions for the material on which they worked. Mandelbrot took on snowflakes and coastlines and broccoli; Feigenbaum took on clouds and water flow; Cage took on … well Cage took on everything audible on our boom box of a planet. All three seemed to recklessly disdain a certain sacrosanct, impoverished notion of delimiting rigor.
Rigor, as we now know from Gödel, Bertrand Russell, and others, is not secure. It is, ironically, those systems that attempt the greatest rigor—logic, mathematics, linguistics, theoretical physics—that are
---
capable of generating the most interesting paradoxes, paradoxes that save them, despite themselves, from rigor mortis. Does this mean paradox and rigor (which one might, in certain contexts, transmute into Feminine and Masculine) are the two sides of the Western rationalist coin—our yin and yang so to speak? (Interestingly, leading Eastern philosophies seem to put their complementary principles on the same side of the coin.) Is it the case, then, that as we toss coins or computerized equivalents in chance operations subject to statistical probability, we must always awkwardly, painfully, straddle irresolvable polar extremes? Is this the inevitable outcome of High Noon Western Mind in collision with its own dualisms of world and idea, chaos and order, irrational and rational, noise and culture … all those markers of complex range that, when left uninspected, function automatically as invidious comparisons?
The art we have tended to value most highly, like the ancient rituals and mythologies that spawned it, has given us a sense of coming closer to those things that affect us most deeply and that we understand least—a familiar catalog of things that are thought to carry power or omen in our lives: destiny, the gods, human power, family, social conditions, good, evil, love, death—all of which can elicit fascination and terror, fear and trembling, Either-Orness, and even, remarkably, humor. We find it—to focus only on theater—in the drama of ancient Greece, Shakespeare, Strindberg, Ibsen, Beckett.… One could trot out several canons—literary, philosophical, and musical, and much that those canons exclude. Is this capacity to take us to the edge of our needs and desires, to the collisions of our humors in a notoriously strange universe in John Cage's work?
Cage credits many teachers with the evolution of his views on art and its relation to the rest of life, among them Gertrude Stein, Erik Satie, László Moholy-Nagy, Arnold Schönberg, Sri Ramakrishna, Ananda Coomaraswamy, D.T. Suzuki, Huang Po, Marcel Duchamp, Buckminster Fuller, Marshall McLuhan, Henry David Thoreau, James Joyce, Robert Rauschenberg, Jasper Johns, Jackson Mac Low, even—toward the end of his life—Wittgenstein. But perhaps the idea most characteristic of his aesthetic, characteristic even in its negative implications, came from Duchamp—that the only thing that is not art is inattention. This may seem glib or facile or simply false until one begins to think of how difficult it really is to calmly, wholly, intensely,
---
meditatively, contemplatively … attend to anything at all in our distracting world. I think it's for this reason that the "attending arts" of pop culture involve what one might call full-saturation media—movies, video, music—with their blitz effects. These, interestingly, all involve sound tracks—the aural stimuli one literally cannot turn away from within range. If there is art in films, apart from the mass entertainment values of movies, it is in those that refrain from steering the emotional response of the audience with the sound track. Think of the blasting, flooding, drowning of the senses by the previews alone. This, quite calculatedly, is meant to be a Dionysian erasure of any complex monitoring of one's response, making superfluous the conscious structuring of perceptual stimuli. Not necessarily problematic unless it's the only cultural engagement one has. The level of sensory awareness that the arts can invite—buoyed by the surface tension of difficult matters—is part of an engagement with meaning that one might describe as the ongoing humanistic project of contextualizing our senses. When one earnestly turns one's attention to something more strategically demanding than the broadcasting of pop culture, one chooses to live in a volitional mode of transitive prepositions, a form of agency that positions consciousness in conversation with world. To attend
to
is to be present
to.
The word
attend
in English and in French comes from the Latin
attendere,
to stretch toward. The lovely thing about that stretching, its luxuriant and luminous touching of things outside oneself—the grace of it—is that it encompasses the Dionysian along with the ardent rational. There is no necessity for an either/or, as Cage demonstrates.
But, says the exhausted interlocutor, we who might acknowledge the value of stretching toward things outside ourselves, exploring what lies beyond the limits of our "coping," feel too damned besieged. Stretching—mentally as much as physically—is taxing. It takes energy we don't have. The very senses and faculties we might stretch in excess of coping are too fatigued, burned out, dazed, dazzled by the sensory overload of today's world—the condition persistently known as "modern life."
Does it then require the luxury of remove to take on the wager of "high" consciousness proffered by "high" art? Thoreau, in the early nineteenth century, felt overwhelmed by the clamor of society in Concord, hence the need (desire?) to slip away into the woods. Nuns and monks, East and West, have been going into cloisters or onto mountaintops
---
for millennia. And then there are all the "back to" movements, presumably to access a simpler life, to get away from the din, to focus, to concentrate, to gain clarity of mind and value. This is also why "high" art, primarily an experience of selective focus (and selective inattention), has traditionally separated itself off from the rest of life—being presented on stages, pedestals, in frames of various sorts, blinds drawn, behind closed doors. Notice all those "highs"—even the drug culture's use of the term has to do with the idea that transcendence (being at a high remove) is the only hope for claiming one's capacity for joy. In the twenty-first century the preponderant view of art is still as transcendent respite from the mess of the quotidian. Or as a mirror reflecting the great soul of the artist, or God, or both in collaboration, or nature undisturbed by urban noise.
It seems over and over again to come down to Idea vs. World: is it no things but in ideas; no ideas but in things; no ideas but in ideas? If we could just get that straight, we might understand a thing or two in this hall of mirrors artfully directed toward/away from love/death, flux/stasis, emotion/reason, the persistently evil/the ephemerally beautiful, the foolish, the ruinous, the sardonic—all in their many guises and manifestations colored by the artist's intention of engaging the emotions and elevating the mind of a gratefully receptive audience. Grateful because the artist has done the work of connecting the dots and directing the mirror toward only the very best constellations. The viewer, excepting scholars and critics whose business it is to fill in silences, is not so grateful toward artists who leave us in the mess, the overflow, the gaps.
This high art of the constellation has no doubt been edifying. We've been edified out of our senses by gods and geniuses, edified beyond belief, edified to the point of desiring only that life emulate an art so removed from life that its imitation would ensconce us finally in the flatland emporium of Plato's immutable forms. One high-mindedly goes to high art as to a high-priced drug, to get a temporary fix. The question is whether high art helps us live in the parts of the world it so brilliantly excludes—the world that's not so tastefully constructed, not so harmonic and orderly, that doesn't seem to have a theme, a consistent voice, a center, that doesn't even have elegantly composed vanishing points.
How can anyone blame aspiring Greats for excluding the insistent cacophonies? They are difficult to work with. They demand and dull
---
attention simultaneously. If there is a god who created this chaos, that god is clearly an avant-garde artist; that is, no consolation.
John Cage thought that the function of art is to help us pay attention to the magic that comes not from art but from everyday life—to draw closer to the experience, to draw energy precisely from those parts of it we don't understand—its silences. "People," he said, "… have great difficulty paying attention to something they don't understand. I think," he said, "that the division is between understanding and experiencing.… Music is about changing the mind—not to understand, but to be aware."[5] The thing we understand least about our world is its random multiplicity, the synchronous occurrence of an infinite number of unrelated events that make up the texture of any given moment of consciousness. The violence that frightens us most is random violence—unpredictable events that alter and even end lives. We have invented and named fates, gods, and principles of universal justice to protect ourselves from the knowledge that we are all fortuitously and perilously subject to the often not so benign butterfly effect. That weather and traffic patterns and the configurations of most of what we see and hear are unpredictably sensitive to initial conditions beyond our imagination. That they are fundamentally nonintentional, have no beginning, middle, denouement, climax, end—except as we compose those things for our own purposes—is a fact of life. That we experience life on multiple perceptual and cognitive levels is a fact of human nature.
John Cage's art acknowledges and works with these facts as its point of departure, its set of initial conditions, themselves—in their radical indeterminacy—sensitively dependent on whatever an audience or viewer or reader brings to them. Cage, who believed that art should imitate, not nature, but "her manner of operation,"[6] invented structures in which many butterfly effects converge to create temporal developments that are chords of multileveled resonances in what he called "anarchic harmony" with ambient noise. This is why he stopped working with traditional forms. Form, he came to think, is the shape of what happens over time when you put a limited set of initial conditions in motion. Cage's compositional processes, in other words, continue within the realization of the piece. They move from his own strictly rule-governed chance operations, based on first principles and values, via a series of compositional questions, to a collaborative complexity, intimately involving performers, to a simultaneously
---
bounded and indeterminate field of events involving the audience in its poesis.
[7]
This is clear in all his music from the late 1950s on, from large-scale compositions like
Musicircus, HPSCHD, Atlas Eclipticalis,
and the
Europeras
to his compositions for solo instruments and throughout the "number" pieces of the final decade of his life.
[8]
It's also true in his writing. Let's look, for instance, at a page from
Empty Words.
(See
Fig. 1
.)
Huang Po, who at least in translation does not eschew the notion of understanding, says, "If you wish to understand, know that a sudden comprehension comes when the mind has been purged of all the clutter of conceptual and discriminatory thought-activity. Those who seek the truth by means of intellect and learning only, get further and further away from it."[9] In looking at Fig. 1, then, try to empty the mind of the following conceptual and discriminatory thought activities: This should be a mirror of somebody's mind, preferably a great artist and/or thinker; this should be an artfully directed mirror of reality, preferably revealing graceful patterns and hard-won harmonies. But it seems to be neither. What the hell is it? It's nonsense! I don't understand it! What's the point? What are those weird squiggles? What are they meant to illustrate? I don't get the point! This is ridiculous! I can't figure it out!
Now that you have exploded your rational arsenal, you are at ground zero. Turn to Fig. 2. What do you notice?
For Cage the importance of the return to zero is both the Buddhist ideal of "empty mind," from which fresh perception might spring, and a compositional principle reached not by dadaist or surrealist free association or improvisational action but by strict adherence to carefully considered procedure. In this way his work is related to the OuLiPo group, which also investigates what happens under predetermined constraints. In contrast to the mathematical preoccupations of OuLiPo, the interests and values out of which Cage worked touch on a much broader spectrum—traditions in all the arts, his personal pantheon of influences: Duchamp, Joyce, et al.—as well as an architectural love of space-time volume and grids, to principles of nature and, of course, everyday life. There are countless examples of this last source of ideas. He conceived the idea of Musicircus, for instance, while enjoying the human and automobile traffic on a street corner in
---
Seville. The fact of his fifty-year collaboration with dancer and choreographer Merce Cunningham no doubt shaped his sense of the musical event as physically sited and spatially multidimensional.
Cage's compositions are designed to create open rather than recursive systems. What does open—by now a flaccid term—mean: a system whose logics are quite obviously not complete (semantically reinforced and self-identified) within themselves but must be taken up and furthered by the audience. In this way one's consciousness is invited to venture beyond, although not to entirely abandon, its most habitual and intrusive preconceptions and intentions. This probative wandering sets the scene for the Ah Ha! experience not only in Zen and the arts and sciences but in any adventuresome investigation. This is the opposite of transcendence because it asks us to look not at the recursively projective screen of the horizon but at that most difficult of all scenes, what is right before and around us. Attending to one's immediate circumstances is basic to the way all organisms preserve their vitality. The mind need not (indeed, cannot) be entirely emptied of its perceptual structures in order to experience art-life in the way Cage recommends, but those structures must have practiced permeability. One must become vulnerable enough to sensual-conceptual transformation to experience the perverse pleasure of figure/ground shifts in which much more can become figure—figure that is vibrantly real—than we previously had grounds to imagine.
The borders that frame Cage's compositions are semipermeable membranes that participate in dynamic, fluid exchanges with the elements that surround them: ambient sounds, ambient thoughts and emotions, cultural weather. In the case of a composition like Empty Words, ambient etymology and spatial intuitions figure in as well. Meaning is a complex system sensitive to the precise, unpredictable mental and emotional, and even appetitive, conditions of each member of the audience, each viewer, each reader. This ever-changing ambient field is what makes stable interpretations a hoax, generally perpetrated to bolster some locus of authority. Art is surely a life system within our material culture; all life systems are dynamic. The biological principle of the semipermeable membrane makes possible the life (motility, development, exchange) of systems—their nourishment and interactive responsiveness. This is as true of our aesthetic and intellectual
---
metabolism as it is of processes that go on in the gut. Art is a form of life.
According to Cage the proper response to art as life is "merely" to delight in it with heightened awareness, to experience the reflexive humor of the figure/ground shift, the wonder of richly improbable conjunctions as the ambient comes into and is shaped by the art. I associate this with the French notion of jouissance, a playful erotics of informed sensuality. The figure who will always be known as Cage was himself full of jouissance—a wonderfully polymorphous perverse jouissance. Supposing this is all he has to offer us—his sense of the opportunity to develop a capacity for delight in complex aspects of reality we have a strong tendency to ignore, or deny, or escape in our daily frenzy. Delight in the graceful, anarchic harmonies of nonintentional configurations of sounds and sights in our everyday world. Is this enough?
If it were possible, how could it not be enough! Does this sound glib? Thinking again, in this age of cultural Attention Deficit Disorder, how rare an informed, intense, not to say pleasurable connection with anything in our daily lives can be—the effects that this distractedness has on possibility and aspiration—this role of the arts seems positively urgent. There is strong support for this aesthetic function in the American pragmatist tradition, from Emerson's capacity to notice light in a puddle that makes him "glad to the brink of fear" to John Dewey's Art as Experience.[10] Dewey writes,
To my mind, the trouble with existing theories [of art] is that they start with a ready-made compartmentalization, or from a conception of art that "spiritualizes" it out of connection with the objects of concrete experience.… The nature of the problem [is] that of recovering the continuity of esthetic experience with normal processes of living.… [This must occur because] if the gap between organism and environment is too wide, the creature dies.… Experience in the degree in which it is experience is heightened vitality. Instead of signifying being shut up within one's own private feelings and sensations, it signifies active and alert commerce with the world; at its height it signifies complete interpenetration of self and the world of objects and events.[11]
It is the role of art, according to Dewey, to stimulate and maintain our capacities for such interpenetration, such heightened awareness.
This is the pragmatic-mystical ground zero: zone of Cagean silence.
---
That is, scene of new composition that redefines geometries of attention. It's full, even in its conspicuous absences, of the matter that is always improbably there, that must be attended to if we are to recover our senses and move on. It's not that one loses
Fig. 1
, or anything else, at ground zero; it's that we gain the possibilities in
Fig. 2
.
---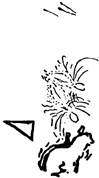 Fig. 1
[
Full Size
]
---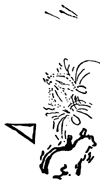 Fig. 2
[
Full Size
]
---
Poethics of
a Complex Realism
1
Before his death in 1992 John Cage was a vivid and ubiquitous presence in the world. In the last year and a half of his life he contributed to and attended most of the growing number of small to grand scale concerts and festivals in anticipation of his eightieth birthday—events in Germany, Austria, Spain, Italy, Czechoslovakia, and Switzerland, and even—although notably fewer—around the United States. He was at Crown Point Press in San Francisco working on a new series of prints; at home in New York City producing prodigious quantities of music, as well as language compositions, including a new "Writing Through" of Ulysses ("Muoyce II"); editing the film OneII (premiered in Frankfurt, September 20, 1992); consulting with performers, festival directors, editors, publishers, copyists, curators, art dealers; responding to interviewers; responding to requests for information; answering the constantly ringing phone; answering mail from young artists seeking advice ("I feel I should respond because I don't teach.");[1] writing letters of recommendation; shopping for food; cooking; inventing and collecting recipes; administering a botanical loft with close to two hundred plants; playing chess; enjoying friends … and always thinking about what he was doing and why, questioning what else or other might be possible—what new questions could be asked.
---
In this continual process of doing—the composing, writing, visual practices, even the cooking—was a highly developed discipline of attention to detail, a meditative inquiry into specifics: spatial-temporal-material specifics; that is, the particulars of an inquiry into aesthetic possibility where we understand aesthetic to locate the interaction between the probing, structuring mind and the sensory correlates of our modes of perception.
For John Cage the significance of art lay not in the production of artifacts but in the making of meaning as an active collaboration with medium, performers, and audience. So the scores and texts and visual art that John Cage left behind will always be work that has yet to be done. Work to be engaged in by a participatory audience, viewer, reader at a specific intersection of material, place, and time occasioned by a performance, an exhibition, a screening, or the presence of a text. One way to think of this is that what we call the work of John Cage exists entirely in the form of a collection of scores—visual and auditory notations—music (on the page and in performance), texts, drawings, prints, and paintings, that are invitations to realization (to use the musical term for performance) of our aesthetic potential in a poethics of everyday life. In this way Cage's work—as well as our continuing collaboration with Cage—unfolds within the American pragmatist tradition characterized by the aesthetic theory of the philosopher John Dewey. The theories of John Dewey were influential in the formation of Black Mountain College—a brief but significant catalytic scene of the new aesthetic that John Cage, Merce Cunningham, and Robert Rauschenberg (with important contributions from Buckminster Fuller) were pioneering. Dewey was a friend of the chief founder of the college, John Andrews Rice, and became a member of its advisory board in 1935.[2] Dewey wrote in Art as Experience that the chief problem for artists and theoreticians is
that of recovering the continuity of esthetic experience with normal processes of living. The understanding of art and of its role in civilization is not furthered by setting out with eulogies of it nor by occupying ourselves exclusively at the outset with great works of art recognized as such. The comprehension which theory essays will be arrived at by a detour; by going back to experience of the common or mill run of things to discover the esthetic quality such experience possesses. Theory can start with and from acknowledged works of art only when the esthetic is already compartmentalized, or only when works of art are set in a niche apart instead of being celebrations, recognized as such, of the things of ordinary experience. Even a crude experience, if authentically an experience, is more fit to give a clue
---
to the intrinsic nature of esthetic experience than is an object already set apart from any other mode of experience. Following this clue we can discover how the work of art develops and accentuates what is characteristically valuable in things of everyday enjoyment.… To my mind, the trouble with existing theories is that they start from a ready-made compartmentalization, or from a conception of art that "spiritualizes" it out of connection with the objects of concrete experience.… A conception of fine art that sets out from its connection with discovered qualities of ordinary experience will be able to indicate the factors and forces that favor the normal development of common human activities into matters of artistic value. (10–11)
II
Art as Experience/Theory as Practice
What could be a more ordinary part of everyday life than weather? Weather is just that state of the atmosphere at a given place and time characterized by specific variables such as temperature, moisture, pressure; presence or absence of rain, hail, snow, lightning, thunder, ice, fog, etc.; quantity of sunshine; wind velocity (violence or gentleness of winds)—any condition of the atmosphere subject to variables and vicissitudes, which is of course every condition of the atmosphere.
WHETHER WEATHER
John Cage:

"I am willing to give myself over to the weather. I like to think of my music as weather, as part of the weather."[3]



New York City, July 17, 1992—the Summergarden Concert Series in the Museum of Modern Art Sculpture Garden. Two pieces by John Cage are to be performed: One8—"53 flexible time brackets with single sounds produced on 1, 2, 3, or 4 strings" of the cello; and ASLSP—a piece for solo piano to be played "as slow as possible."[4] All of the concerts in this series are held outdoors; no arrangements are made for moving them inside. In the event of inclement weather they are simply to be cancelled.
All day on this particular day in the New York metropolitan area it has been on the verge of rain. All day, as others have worried, John Cage has relished the "whetherness" of weather—not knowing until the last moment whether the concert will go on, and even after it begins, because of continued uncertain weather throughout, knowing that each moment of the concert might be the last. Twice during the performance uniformed museum employees—whose poised readiness (like Wimbledon
---
ball runners) has clearly embodied "whether"—advance on the loudspeakers and amplifiers to rush them inside; but the weather holds, so we remain in the mi/d/st of "whether," on the edge of rain. Each sound that comes from the cello, as well as the silence (ambient sound) of extranotational possibility, is savored as the gift it would of course be anyway but here, given the particular atmospheric circumstances, is thrown into relief. Cage's only concern has been that the musicians be paid whether or not they can perform.
It is the nature of performance to be fraught with "whethers" anything could go right or wrong at any time. And in this, even as it strives for certainty and precision, it both replicates and operates within the constancy of life's variability. The conditions of performance with its inherent risks provide a congenial vehicle for Cage's work with chance, so much so that all his "nonperformance" art is fundamentally performative in its requirement of audience-interactive processes—active listening and viewing—to complete its meaning.
This evening, the probability of rain has necessitated wrapping the piano in heavy sheets of industrial plastic. Black garbage bags shroud the six loudspeakers mounted on tall metal stands. Near Picasso's bronze goat the sound man crouches with his bank of amplifiers under dense foliage of a small tree in which a single bird sings loudly and persistently. A billowy plastic tent is erected over the cellist, Michael Bach, as he is tuning up. For the duration of the cello piece—43'30"—the translucent plastic will be articulated by gusty breezes sending pools of accumulated mist into randomly intersecting rivulets just above the head of the cellist. This tent, improvised by necessity of weather's "whether," becomes as much a part of this performance of One8 as the Mineko Grimmer sculpture (also making the operations of chance visually available) has become a part of One6.[5] Both the traceries of this light drizzle and the sounds of One8 are the results of chance operations—those of nature, and those of John Cage imitating nature's processes, understanding nature's processes to involve (as they always do) an interaction between chance and selection. This is, in other words, not the ineffable romantic mist; it is the fully present, complex realist mi/d/st of an actual weather system with immediate, rather than transcendent, consequences. If it is to have transcendent meaning, it is the poethical work of the audience to make that meaning—the responsibility of imaginative collaboration that this kind of art requires. It is the work of the composer (or artist of any kind) only to create the occasion for the making of meaning.
---
To review this concert is then most appropriately to give a kind of retrospective weather report: The weather system in the garden at MOMA from 7:30 P.M. to 9 P.M., July 14, 1992, was complex and engaging. It consisted of layers of traffic sounds, sirens, airplane motors; a palpably silent, diagonally pulsing mist; rivulet readout; bird aria; and solo cello. In the second part of the concert the cello part was replaced by solo piano, played by Michael Torre with somewhat excessive brio.
Weather was the medium in which this concert took place. It was also its form. Michael Bach in his transparent weather tent played a music of w(h)e(a)ther distinguished by the fortuitous coming together at this particular time, in this particular place of a number of verging and converging paths of sensory variables. The cello part was realized both as one set of variables among many and as the structuring event that, despite its own fundamental contingency, created the bounded pattern bringing other elements into auditory and visual focus. All of this on the edge of coming and going without a trace, nothing to remember after each sound (mostly, due to chance operations, richly resonant chords) has been played. There is none of the periodicity, the rhythmic or melodic line developed in music to counteract the fact that it is the most transitory of all media—the medium bound to time, the medium of vanishing and change.
John Dewey:

"The eye and ear complement one another. The eye gives the scene in which things go on and on which changes are projected—leaving it still a scene even amid tumult and turmoil. The ear … brings home to us changes as changes." (Art as Experience, 236)


Søren Kierkegaard:

"Music has time as its element, but it gains no permanent place in it; its significance lies in its constant vanishing in time; it emits sound in time, but at once vanishes, and has no permanence." (Either/Or, 2:139)



John Cage's music is both faithful to and revelatory of these characteristics of its medium. There is nothing to take home with us in the way of a tune or beat to arrest time's erasures. Yet there is no sense of loss. On the contrary, there is the memory of something much richer and more complex than a rhythmic line—the memory of fully awakened and surprised sensibilities, sensibilities initiated into the possibility of a fuller presence in the world beyond the concert—Dewey's art as experience/experience as art. Having been so totally and delightfully suspended in both weather (including the urban weather of traffic sounds) and "whether," we could attend to the extraordinary grace notes of ambient
---
possibility, the range of contingent detail that teems about us. What makes Cage's aesthetic so important is how often we're annoyed, confused, dismayed, frustrated by ambient circumstance.
Take time, for instance. Our perception of time is bound up with feelings of inadequacy: Will we be ready on time? Will we ever be ready? And loss: So much is no longer possible, gone, past, forgotten. Art can exploit our susceptibility to these feelings by sweetening them with nostalgia. This helps us deny the experience of time rather than exploring it in a way that might help us live more honestly, courageously, humorously, even serenely with it. In fact, time comes into our attention only intermittently, usually because of anxiety: Is it early? Are we late? Is it too late?
The performance of One8 began when and where we all were—in medias race in New York City, world capital of the accelerated clock. For some of us the familiar, jittery experience of time may have been accentuated by the knowledge that it can be difficult to know precisely when a Cage concert has begun. But a generic source of anxiety in any time art is that a fragmentation of continuity seems to destroy stable context. By contrast, spatial arts provide, whatever their visual disjunctions may be, a reassuringly constant ground. For one to relish Cage's work, certain kinds of conceptual shifts have to transform the figure-ground relations of one's attention. In One8 there are many long pauses during which Michael Bach, for technical reasons, might change bows.[6] As Bach began to play, this listener found that time was being reconfigured from silence interrupted by sound, to sound interrupted by silence, to sounds and silence coming into equal value, equalizing the medium in which the listener resides. The meditative dignity of the music had invoked a state of attentive calm in which time had become audible, constant, palpable, friendly, and habitable—as fully habitable as space—even as it was disappearing without a trace.
III
"Lecture on the Weather"
Theodor Adorno:

"The greatness of works of art lies solely in their power to let those things be heard which ideology conceals."[7]



Does ideology conceal weather? It certainly attempts to conceal "whether," alternatives, and they usually come only in twos. In considering anything beyond that—complexities of three and more … not to
---
say the infinite possibilities of "weather"—ideology becomes simply an engine of obscurantism and denial.
John Cage: "Our political structures no longer fit the circumstances of our lives. Outside the bankrupt cities we live in Megalopolis which has no geographical limits. Wilderness is global park. I dedicate this work to the U.S.A. that it may become just another part of the world, no more, no less.

"… Chance operations … are a means … of silencing the ego so that the rest of the world has a chance to enter into the ego's own experience" (preface to "Lecture on the Weather," 1975 [Empty Words, 5])

"The idea was that if we could listen we could bring about some kind of change." (Remarks by John Cage after 1989 performance of "Lecture on the Weather," Strathmore Hall, CageFest, Rockville, Maryland)
John Cage's performance piece "Lecture on the Weather" can be seen as a paradigmatic case of his working aesthetic: twelve performers simultaneously read texts taken by chance operations from Henry David Thoreau's Journal, Essay on Civil Disobedience, and Walden. The pacing of each reading is variable within a set of specific time brackets. This creates periods of silence. Tapes of wind, rain, and thunder are played. A film flashes "lightning"—negatives of Thoreau sketches—over the performance area. The performance is, of course, not about weather; it is weather.[8] Like all weather—state of the atmosphere at a given time and place—this piece is sensitive to initial conditions; thus it is significantly different every time it is performed.
Weather Report: At the May 5, 1989, CageFest at Strathmore Hall, Rockville, Maryland, doors were open to the outside where a storm began to be audible and visible (thunder and lightning and then torrential rain) at about the same time as the storm was beginning inside in John Cage's "Lecture on the Weather." This had the interesting effect of eradicating the distinction between inside and outside. The meteorological display over Strathmore Hall was continuous with that going on in the room, where Cage's more gentle storm included the weather of predetermined and coincidental conjunctions of sound and voice variables—words, ideas, and silences that form the complex systems of sociopolitical climates.
John Cage: "I thought the resultant complex would help to change our present intellectual climate." (Empty Words, 3)
That particular weather system on the evening of May 5, 1989, could be called "'Lecture on the Weather' with Weather." It assumed its particular and variable character because of the kind of permeable boundaries—between
---
inside and outside the piece itself—that characterize all of Cage's compositions. The silences, the layered and intermittent simultaneities make it possible to admit other variables. In this case, first the sound of (outdoor) rain, then thunder, and finally lightning—meteorological traffic—with its flashing lights, collisions, and swerves.
[9]
In principle, and in fact, nothing audible or visible to the audience would have been excluded from the domain of the performance, although we might not think all possibilities desirable. In accordance with Cage's cherished idea of interpenetration and nonobstruction (one of the three "whispered truths" of Buddhism, and in consonance with Cage's quest for "anarchic harmony") anything interrupting or obstructing the performance would have been undesirable. As with all of Cage's compositions (at least from the 1960s on) this performance was intended to model an ideal state of anarchy—voluntary cooperation within interpenetrating and nonobstructive complexity.
What was being heard that night was indeed what ideology, with its myths of simplicity, usually conceals—that complexity, perhaps even chaos (and I'm referring here to the current image of chaos as pattern-bounded unpredictability), is not only with us, but it may be—if we can accept and work with it rather than against it—a source of energy for optimism.
IV
"World Us"
| | |
| --- | --- |
| | our picture that's now Visibly |
| | dEveloping |
| | is woRld us |
| | world citizenship |
| | will nOt occur |
| | as a Political initiative |
| | it will be reqUired by the economics |
| | of an exploding |
| | industriAl world |
A multifarious, noisy, exploding-globe-cartoon "we" has careened over the psychological threshold of a new century, new millennium. "We" are saturated by media, in- and ill-formed by immaculately conceived factoids, deficient in knowledge of the most elemental things. How
---
to get along with each other, for instance, in the mi/d/st of dizzyingly increased complexity. Within that "we" of course are many ones and others whose investigations have modeled promising and nourishing and even productive forms of life. None has yet or will ever save the world, if only because the world is not a "the" to be saved, but there is work that allows us to live in cultural atmospheres of heightened possibility.
The work of John Cage with sound and visual media, as well as with the medium of language—medium not in the sense of the surface looking-glass imagery of mass media but as elemental and permeating conditions of life—enacts a peculiarly American model of possibility. What I like to think of as Cage's avant-pragmatism is a philosophical and aesthetic realism, disruptive of certain individual and institutional habits of mind while concretely revelatory of the odd and always interesting intersections of whether (chance and choice) and weather (concrete variables).
It's interesting to think of John Cage and Edward Lorenz, an MIT meteorologist,[10] as two characteristically American thinkers and inventors—both working in ways made possible by new computer technologies, both working—theoretically and pragmatically—on complex systems that form the conditions of our daily lives. At the start of his chapter on Lorenz's work on modeling weather systems, "The Butterfly Effect," in Chaos: Making a New Science, James Gleick quotes the late physicist, Richard Feynman: "Physicists like to think that all you have to do is say, these are the conditions, now what happens next?"[11] This is in fact what Lorenz did for the mathematical descriptive dynamics of weather systems, developing a set of differential equations into which initial conditions (e.g., directions of air flows in the atmosphere) could be fed and then doing a computer run of their interactions to see what kinds of patterns unfolded. It could also describe Cage's approach to compositions in which initial conditions (e.g., sound sources, pitch, timbre, amplitude, and duration) are fed into the variable slots of a random-number generator program that replicates the operations of chance in the I Ching (a program called ic, with a time values specific version called tic)[12] and then asks the computer to determine how the score (which will initiate the performative music system) is to be notated. Because Cage's scores always incorporate significant elements of indeterminacy, each performance of his music, like each performance of the weather, has a built-in difference of initial conditions whose variations can produce major changes in the system that unfolds.[13] This phenomenon, popularly called the butterfly effect, is characteristic of temporally evolving, nonlinear systems that are descriptively noncompressible and subject to pattern-bounded unpredictability.
---
In the complex sciences only dynamical systems whose descriptions have all these characteristics—such as weather and other forms of liquid and gaseous turbulence—fall under the rubric "deterministic chaos." It's interesting that the nature of the
interplay
of order and disorder has been significant enough in the history of ideas to require perennial updating.
Is it meaningful to say that what Lorenz has done for the butterfly effect in science, John Cage, with his music of weather and his aesthetic paradigm of deterministic randomness, has done in the arts?[14] Both can be seen as having worked in the Pythagorean tradition, where number reflects the relations between elements in nature. In music, as Pythagoras pointed out, this is number made audible; in computer modeling it's number made visible. Both Cage and Lorenz developed models for allowing numbers to enact the random elements in nature's processes. But the scientist and the artist diverge in interesting ways. Whereas Lorenz and his colleagues have been primarily interested in finding the orderly patterns in chaos by creating self-contained models that generate broadly repetitive forms delimiting local randomness, Cage, working as a composer in a field that has been dominated by self-contained repetitive forms, was most interested in the nonperiodic aspects of chaos—the local unpredictabilities.
The music makes this available to our attention in the space-time, materially delimited experience of the play of randomness Cage referred to as "chance." The music operates with the kind of chaos that permeates ordinary life as its forms develop in the dynamic interaction between unpredictable details in the atmosphere of its performative realization and the ordering minds of the audience. This structuring of what Cage himself called chaos was in accord with his pledge to imitate not nature but "her manner of operation." The active processes of natural systems are always in dialogue with, informed by the selective forces and random events in their environment. We know that this is what makes change possible. Edward Lorenz and John Cage, sharing a love of weather's changeability and an elegant pragmatics of investigative invention, broadened the field of possibility in science and art to include active models of what had until relatively recently been considered inappropriate or unwieldy objects of anything but metaphysical speculation.
From the start Cage's work in the arts was based in collaborations and material conversations with other artists and their work. In music the central collaboration was with dancer-choreographer and life partner, Merce Cunningham. In textual compositions the first great poetic
---
influence came from the work of Gertrude Stein, but direct language sources were most notably James Joyce and Henry David Thoreau. The textures of Cage's language compositions are, in their receptive maximalism, Joycean. Cage celebrated the detailed commotion of life even as he drew serenity from calming disciplines of attention that come to us from the East and humor from the conceptual shifts that are the legacy of Dada and Duchamp. Cage's oeuvre is European, Asian, and quintes-sentially American in its cultural pluralism. Its fundamental value of usefulness and its generous acceptance of chaos characterize it as a complex-realist aesthetic and a poethics of everyday life.
Not all is well and good in everyday life as America has come to market it. It is painfully clear to most reasonable people that if we are to avoid global ruin, the United States can no longer serve as a model for the lifestyle to which the rest of the world aspires. Robert Smithson seems to have been right in suggesting that other cultures have fallen into ruin but that our specialty has been to rise into it.[15] This is undeniable in the production of strip malls and megacommodities, but it may also afford an insight into a particular kind of art production. To the extent that our aesthetic endeavors have been aimed at creating edifices that stand upright and apart from their surroundings, to be admired rather than used, they are indeed prone to ruin and the nostalgia that fetishizes it. Work that is not continually redefined by use, conversed with, absorbed into the life around it is work that doesn't breathe, that has, as Cage put it, "become art" rather than a form of life. Becoming art (to stock the art market) is what recent Western aesthetics has been all about, posited on the very gap between art and everyday life that gallery owners and transcendental theorists revere and John Dewey and John Cage have disavowed. Long before specters of ecological disaster had reconstituted our sense of the fragility of our future, Dewey wrote, "Recovering the continuity of aesthetic experience with normal processes of living must occur … [for] if the gap between organism and environment is too wide, the creature dies" (Art as Experience, 19)
In an age of increasingly mediated reality where the object is losing in the competition with its simulation (see complete works of Baudrillard), where in fact reductive simulation has become a form of political life, where dichotomies of life/death, good/evil, external/internal, true/false, real/artificial have been the warp and woof in the weaving of synthetic textual "realisms," anxiety about what is left out of our imaginative constructions is warranted. Given that they shape our sense of what the future holds, they had better be commodious. They had better
---
be friendly to complexity, difference, otherness.… They had better help us live in our world.
V
Overheard at art opening: "I like art; it's better than looking in the mirror."

David Ruelle: "…what allows our free will to be a meaningful notion is the complexity of the universe." (Chance and Chaos, 33)
Pothooks
Suppose one wants to live by a principle one is trying to articulate. In this case the principle of "poethics," a practice in which ethics and aesthetics come together to characterize a particular form of life, in this case admitting—that is, acknowledging and valuing—complexity. I am writing an essay on John Cage—living inside and outside that present participle, "writing," for a number of months, piling on other present participles like "puzzling," "exploring," "questioning" what this idea, this practice of a Cagean poethics could mean; beginning with "Suppose one wants to live by a principle.…" That is, beginning with a hypothetical. "Thetical," not "ethical;" not yet. My problem, in part, is just that—getting from the conceptual zone of the "thetical" to the pragmatics of the "ethical," both descriptively and prescriptively, discursively and formally, in order to enact, not just write about, a poethics. When, toward the end of this writing process, I activate my Spell Check, it stops at every instance of the word poethics, flashes "WORD NOT FOUND," and suggests that I must mean pothooks. Maybe I do. Maybe my computer has found the fast track thetical to ethical as John Dewey's "common or mill run," in this case, kitchen functional.
This is so crudely arbitrary, so epistemologically unsavory it's irresistible. It would surely take heavy theoretical machinery to justify, if indeed justification is appropriate at this point. It might even require an argument. Argument is considered epistemologically more respectable than accident even when it is accident that brings it on and accident that remains when it's finished. We might try something like one of those arguments so popular in the Middle Ages to prove the existence of God. These logical structures are still available to us—minus the unwieldy referent—as models of high rationalism. So the justification of the coincidence of pothooks and poethics might go like this: "If John Cage's life work is a prototype of a contemporary poethics, and John Cage's lifework
---
included cooking,
[16]
(insert a few intermediate "if-thens")—we without doubt arrive at a "therefore" that reads: A Cagean poethics is something you can hang your pot on. Q.E.D. There are many instruction manuals that will tell one how to do this odd exercise with flair. It can be very reassuring that the swerve off one track is merely the occasion for locking onto another—forgetting for a moment, or for as long as one can, the dizzying, empty space between them. This is all congenial if one wants to remain in a single-track logical mode.
If, on the other hand, one wants to see what's going on outside such structures, if one wants to see the world while exploring the coincidence of poethics and pothooks, there are multiple logics at our disposal—multiple ways of connecting multiple and disparate things—deciding what can be included, how much surprise can be tolerated, what comes next. Although, since identifying instruction manuals for these modes poses a whole new set of problems (Would a book of Zen Koans work? Any of Cage's books? A book of optical illusions?), it can't be denied that to ignore the call to "pothooks" would, if not simplify things, at least not complicate them further than it already has. John Cage himself has cited Thoreau's injunction, "Simplify, simplify." To do that we could notice that a pothook is a kind of concrete interrogative; that a Cagean poethics is based on questions; that both are forms of receptivity—as is the act of listening. This is not to discover deep structure but to make meaning firmly grounded—as meaning always is—in tentative fragility, the circumstantial, the arbitrary.
John Cage:"In Sevilla on a street corner I noticed the multiplicity of simultaneous visual and audible events all going together in one's experience and producing enjoyment. It was the beginning for me of theater and Circus."[17]
If one is to experience at least as much enjoyment writing an essay as one can have standing on a street corner in Seville (or anywhere else for that matter), that essay, or poem, or any other work of art for that matter should be a complex intersection of intention and nonintention, pattern and surprise. These are the conditions of every form of life. So, "pothooks" stays in the poethics of this essay. This choice leaves me with less time and more to do. Or perhaps it's the other way around.
John Cage has said, "We have all the time in the world."[18] I don't understand this. It's a puzzle I carry around in the nature of a koan.
---
Professor Chance
John Cage:

"I feel very friendly toward chaos."[19]


David Ruelle:

"Chance and randomness did not look like very promising topics for precise investigation, and were in fact shunned by many early scientists. Yet they play now a central role in our understanding of the nature of things."[20]



David Ruelle is a mathematical physicist who in 1971, along with Floris Takens, wrote a paper entitled "On the Nature of Turbulence."[21] It was one of the early articles in the current round of chaos theory. There is, as N. Katherine Hayles has pointed out in her book Chaos Bound, a long history of redefining chaos.[22] Every age has its particular fascination with chaos as origin, Armageddon, and, somewhere in between, possibility. The Ruelle and Takens paper describes how in certain chemical reactions, a dynamic field involving a great deal of indeterminacy is bounded by what they called a "strange attractor" pattern. Until then, the observation of turbulence in chemical reactions, because it involved nonperiodic motion, was taken to signal not a complex phenomenon of great interest but the failure of the experiment.[23] That is, the working decision, or methodological choice—in consonance with a scientific paradigm exclusively legitimizing simplicity and predictability—was to ignore it. Ruelle, in fact, tells the story, in a chapter called "Chaos: A New Paradigm," of how a scientist who had done pioneering work on periodic motion in chemical reactions, for whom "On the Nature of Turbulence," with its description of nonperiodic oscillations, should presumably have been the next step, dismissed this work out of hand. In one of life's amusing little ironies, the name of this scientist who was so uneasy about the idea that chance could enter into deterministic systems just happened to be Briton Chance.[24]
Our truth fictions, our truth functions, and (somewhere in between) our political structures no longer fit the quantitative and qualitative transmogrification of the circumstances of our lives. They are not strange enough, nor commodious enough, to enact the complex realism we need to negotiate with grace in order to flourish in the world as we find it. We find ourselves, for instance, in the midst of a scene of accelerating information complexity, nourished by the proliferation of sophisticated feedback loops. More information, as we should all know by now, does not necessarily mean greater knowledge or meaning.
---
The quest, as always in the sciences, is for efficiency; in the case of information, for efficient transmission. The simpler the system or the message generating the information, the more compressible the information will be—for example, wrds whch r stll ndrstndbl wth vwlls rmvd, or linguistic messages that can be transmitted in "gists," summaries, or paraphrases. These systems are compressible because they contain a great deal of redundancy and, in the case of paraphrasable literature, meaning supported by familiarity with the kind of message being transmitted where nothing formally or semantically new is being said. This means that truly new, formally complex literature, music, art of any kind (particularly that art characterized by indeterminacy) is far less compressible than the art of the "mainstream." (The mainstream is the one stream one can step in twice.) Another way to put this is that truly contemporary work, as semiotic system, contains less internal redundancy and is less redundant than other systems in its genre. In the arts and the humanities, resistance to compressibility is of positive value because the quest is for richness of meaning and thus higher levels of complexity. For the more adventuresome among us this implies significantly new perspectives of the sort that only become available through formal innovation.
In the 1960s John Cage wrote a text for one of his visits to the Sogetsu Art Center in Japan. It included this version of his much quoted homage to the Indian philosopher Ananda Coomaraswamy: "I have for many years accepted, and I still do, the doctrine about Art, occidental and oriental, set forth by Ananda K. Coomaraswamy in his book The Transformation of Nature in Art, that the function of Art is to imitate Nature in her manner of operation" (Year from Monday, 31). Cage often repeated this statement, and it is well known as one of his working principles. What immediately follows in this version (composed for a Japanese audience) has been given less attention: "Our understanding of 'her manner of operation' changes according to advances in the sciences." To understand more about the "manner of operation" of Cage's work, it is useful to review what theorists working in the nonlinear sciences are telling us about complex systems in nature—including the human brain, thought, and cultural experience: that they are pattern-bounded systems characterized by infinitely complex unpredictability. "What we now call chaos is a time evolution [of these complex systems] with sensitive dependence on initial condition," writes David Ruelle.[25] These systems are all characterized by noncompressibility of information—to "describe" them, you must literally replicate them.
---
This revolutionary paradigm in the sciences parallels Cage's revolutionary aesthetic paradigm. If we think of Cage's work after the late 1940s, when he began to incorporate indeterminacy and chance operations into his compositions, we see scores that begin to exhibit deterministic randomness (those generated by means of the I Ching—early on, when Cage was tossing coins, and later when he was using the ic and tic computer programs). "Deterministic randomness" simply means, like "deterministic chaos," that there is a mixture of determined (by Nature, God, or Cage) elements and chance. Certain complex deterministic systems produce nonperiodic behavior. The combination of intention and chance has often, oddly, been pointed out as a contradiction in Cage, as though his manner of operation, unlike Nature's, had to employ one principle alone. Rather than a contradiction, it can be seen as a deeply productive paradox yielding music that is a dynamical system including, to use the physicist James Yorke's characterization, wild disorder embedded in stable structure.
Starting with the same score and introducing slight changes in initial conditions (different settings, instruments, performers, the same performers in a different mood), most of Cage's post-1950s compositions yield radically different realizations. "Lecture on the Weather" may in fact be subject to the amplification of difference characteristic of chaotic systems (see note 14) since its dependence on simultaneous readings leads to greater and greater divergence of textual coincidence. Sensitivity to initial conditions may in fact be seen as part of the poethical force of Cage's work—that it places anarchic value in the freedom of all elements—including those of media, performers, ambience, and audience—to contribute qualities of their own nature to the nonobstructive interpenetration that forms the complex texture of the realization. In this way Cage's art is a living practice rather than simulation or mimesis. It is art as the very life experience it draws our attention to. Cage as artist is helping us redefine and revalue chaos in the vital, immediate context of art as circumstance of everyday life.
John Cage's art, as a poethical form of life characterized by the values of complex realism, makes the intricate complexity of intersecting order and accident (where order includes, but also is larger than, human intentionality) known to us, through forms that structure participatory attention of the sort that can admit and even delight in turbulence while allowing us, as active audience, to make meaning. To feel friendly toward chaos, as John Cage and David Ruelle do, should be to engage in practices that don't betray it with simple fictions. Both aesthetic and scientific
---
paradigms must engender experiments that acquaint us fruitfully and usefully with the conditions of our world rather than bringing on, through denial or neglect, what Jacques Lacan called the "revenge of the real." We, global we, are painfully familiar with the revenge of the real as the grim panoply of wars, civil revolts, famines, social and economic and environmental injuries, catastrophes, and upheavals might continually remind us. Could holocausts and environmental degradations find such enabling conditions if we were able to give more courageous (honest) attention to the implications of complex systems as they unfold?
The very idea of deterministic chaos is, of course, itself a kind of fiction—or at least a very potent metaphor—as are all visualizable scientific paradigms. Mathematically, chaos theory is an idealized model of phenomena (weather, for instance) whose occurrences in "real life" are a good deal messier than on a computer screen. So to claim that Cage's work parallels in important ways the scientific modeling of complex systems, and that it furnishes us with an aesthetic paradigm that helps us make sense of and live with chaos—both natural and human-made weather (with economics and politics as examples of sociological "weather")—is to say that Cage's work reveals to us—in pleasurable and useful ways—complex, pattern-bounded, noncompressible, nonparaphrasable unpredictability. Like the work of the scientist, it offers us ingeniously framed lenses with which to attend to the most significant and troubling aspects of the world as we find it in the twenty-first century.
As Thomas Kuhn and other historians and philosophers of science have pointed out, it's no accident that the history of science has paralleled the history of other imaginative forms and ideas. During transitional periods in the development of thought, highly charged questions are omnipresent. The assumptions in every part of life, in every discipline, are under review, subject to reinvention.[26] Certain metaphors and models (like the Copernican reconfiguring, or relativity, or chaos) begin to structure thinking across disciplines. The artistic imaginative construction often anticipates the scientific one. John Cage was modeling complex systems and even fractal forms in his compositions two decades before the publication of Mandelbrot's The Fractal Geometry of Nature and the full-blown emergence of the "complex sciences" in the 1980s. As Cage would probably have said, "It was in the air." We are all working on the problems of how to live in our world.
---
Cagestan as World Model?
Douglas Hofstadter: "… what actually does determine history is a lot of things that are in effect random, from the point of view of any less-than-omniscient being."[27]
In the seminar notes to John Cage's 1988–89 Charles Eliot Norton Lectures at Harvard—an extended "lecture-poem" entitled I–VI— Cage says, "We could make a piece of music in which we would be willing to live … a representation of a society in which you would be willing to live." At a concert at the National Academy of Sciences (Washington, D.C.) in November of 1991, when a member of the audience asked Cage what idea was behind the composition of a piece called Two4—for violin and piano—Cage replied, "I used the idea of thirty minutes." The audience laughed and waited. Cage said nothing more.
The idea of thirty minutes—like the idea of 4′33″ or any other time period for that matter—is actually quite extraordinary. (All of Cage's compositions in the last decade of his life were in fact structured in terms of "time brackets.")[28] At the start of the next thirty minutes we could ask any question we like. We could ask, for instance, Will we make it into the future? If in the course of the next thirty minutes we do indeed find ourselves making it into the future, as we are in fact finding ourselves doing right now, we could say, Look! Look around! Listen! Here we are! We made it into the future! Now we can see and hear what the future is like. So this is the future! Here we are in the future of the world, of America, of this crowded intersection in Manhattan or the Bronx or Denver or San Francisco or Pittsboro, N.C., or the coastal low country of Georgia or the southwestern desert or the Adirondack Mountains. What's there to notice? Noisy streets. Birds, insects, trees, flowers, this slightly chilly breeze.…
If someone—not omniscient but omnipotent—turned up the volume on the whole planet right now, we would notice the music of "world us." It would not be by the same composer who brought us the Music of the Spheres. We would hear pots clanking on their hooks, a professor of chance sneezing into her handkerchief, children laughing, crying, car engines starting and stalling, monkeys screeching in rain forests, rain falling, rain forests falling, bombs exploding, car radios blaring, radio static crackling, astronomers coughing in their cold perches, hundreds of languages, thousands of dialects and accents, singing, praying … guns firing, fire crackling, water rushing, food frying, innumerable mammalian
---
species chewing, snorting, wheezing, buildings crumbling, sirens wailing, horns honking, geese honking, cars and waves crashing, broth boiling … thunder … wind … the noise of weather and lectures on the weather.…
Meanwhile, as I sit in another space-time frame writing this essay on my computer, my file name—of which I am reminded every time I save—has gradually undergone a conceptual shift in my mind—from Cage-Stan (for Stanford University, where I delivered an early draft of this essay as a lecture) to Cagestan—a boundryless region that hasn't been much in the news, although it has for sometime been the scene of revolutionary manifestos (intentional and nonintentional). Let's spend a few minutes with the idea of thirty minutes (or any designated time frame) in Cagestan to see if it is a world in which we'd be willing to live. It will be the world as we hardly know it because there's been geometrically increasing complexity and arithmetic flight from complexity in our everyday lives. If complexity is the source of our freedom, it's also the source of our terror. We live in a culture so driven to desperate simplifications that it's given over most of its thought processes to the most facile imagery of mass media. It's this flight that has produced the media event that is our 30-second politics, our frantic inability to tolerate the intricacies of what we take to be time-consuming matters. Interesting shift—from using to consuming time.
Can we deny that we need to change, that we can't continue on this, now admittedly, life-threatening, world-threatening course? Certainly we can. We can deny anything, including that there is a world independent of our minds and egos. Western philosophers, for whom dichotomous insides and outsides have held a particular piquancy, have put in a lot of time and hard work trying to prove the existence of the external world. To move into the semantically messy world of poetry during such attempts would of course be taken as a failure of the thought experiment. But even with the poets locked out of the room the world eludes proof of its existence. It seems it's too complex for linear if-then strategies, even of the sort within the lyric poem that serves up the autopiloted mini-epiphany as its conclusion. There's too much centrifugal noise to permit this kind of concentration (as in frozen concentrate) without loss of a great expanse of experience and meaning. Some of our time—whether thirty minutes or even thirty seconds—might be better spent in attempts at constructive engagements with the pandemonium. (It's always there, blaring outside the closed door, waiting to disorient us.)
---
Any formal structure draws us outside ourselves, beyond personal expressive logics. Things as simple as meter, rhyme, abab patterns pull us in directions having to do with material structures of the language. Such forms are the barest start in the exploration of the multiple logics (lettristic, phonemic, semantic …) within a natural language and the forms of life that give it vitality. Chance operations and structural indeterminacies pull the work of the composer, writer, auditor, reader toward the kinds of events and relationships characteristic of richly complex systems. It's a leap of some kind of aesthetic faith to go from simple patterns of bone/stone, heart/art to the disorienting surfaces of language generated by complex procedural principles incorporating chance and intention. A question of poetics/poethics is whether these procedures bring language uses into more constructive association with the turbulent patterns of weather, ambient noise, cultural climates that daily affect our lives.
VI
The Poethical Practice of Admitting Complexity
John Cage: "People have great difficulty paying attention to what they do not understand."[29]
Let's start with a relatively simple example of complexity by looking at "(untitled)," (X, 117).
(UNTITLED)

| | |
| --- | --- |
| | if you exi ted |
| | becauSe |
| | we mIght go on as before |
| | but since you don't we wi'Ll |
| | mak |
| | changE |
| | our miNds |
| | anar hic |
| | so that we Can |
| | d to let it be |
| | convertEnjoy the chaos/that you are./ |
| | stet |
It's immediately obvious that this text is problematic in terms of a simple left-right, left-right, top-to-bottom, linear reading. For one thing, it's not clear whether this is a poem consisting of seven lines (combining lines with crossed-out words and words overhead, ignoring
---
stet,
and honoring the seven capitalized letters of the mesostic string, SILENCE, as indicators of the number of lines in the poem) or whether the presence of the crossed-out words on the page, along with the word
stet
—not handwritten as a proofer's mark but typed like all the other words in the poem—indicates that this is actually a twelve-line poem. This is an interesting "whether"—posing two alternatives that, because of their equal material presence on the page, render the poem a kind of ambiguous figure, like Edgar Rubin's Profile/Vase/Profile. As with all ambiguous figures there seems at first glance to be a kind of terminal either/or complementarity. It's conceptually/visually impossible to take in both possibilities at the same time, since each one is in part constituted by the functional absence of the other. This is the dualism of a "whether" system, one—in this case—that would seem to be interestingly irresolvable, demonstrating the powerful role of the reader/observer to determine the way in which at any given time it's to be read.
But, one might ask, is it really irresolvable? Can't we determine a single, correct way to read it by weighing the evidence in favor of the author's intention? Can't we, that is, simply see the crossed-out words as corrections, the stet as an indication of a change of mind (decision to restore "that"), and be done with it? In this case we might clean up the text and render it thus:
(R-I)

if you exiSted
we mIght go on as before
but since you don't we'Ll
makE
our miNds
anarChic
convertEd to the chaos/let it be that you are/
The problem with this is that it's so easy. Clearly the author could have done it himself. What's crucial (interesting) is that he didn't. He chose to publish the poem with the crossed-out words and the stet as part of the text. So just reading what isn't crossed out as "the corrected version" won't work. If we're interested in intentions, it's not plausible to suppose John Cage wanted the reader to ignore what he might with no trouble have left out.
But let's be extra careful. Plausibly or not, let's suppose this was in fact what he had intended. Suppose he had written a note saying to his readers something like, "I didn't have time to retype this; just ignore the crossed-out words and the 'stet.' They're really not supposed to be in the corrected version of this poem." Surely we couldn't take this seriously. No time to
---
retype? It would have taken only a bit more time than writing the note. We have to view this as a joke or an additional text to puzzle over. And, of course, even if we were inclined to take it seriously, it would have been a serious miscalculation on his part. The reader can't ignore crossed-out words any more than the viewer can fail to notice the crossed-out Mona Lisa of a contemporary artist, or the "Erased de Kooning" of Robert Rauschenberg. If anything, being crossed out or partially erased makes things more noticeable than they would have been otherwise.
So the version, as printed, must be taken as the text—what is materially present to us, as readers, on the page. What this text means to us will have to be at least as complicated as the "whether" reading above. But it need not necessarily be taken as an ambiguous figure.
John Cage has in fact said in conversation that this poem went through several changes, all on the same sheet of paper, and was published as a typed version of the handwritten copy in order to retain its history and give it the dimension of time. He then read it aloud as it appears in R-I above.[30] Does this solve our problem of how to read it?
Knowing this fact about the author's intentions will no doubt influence what we notice when we go back to the published text. It does tell us something about how the poem was written. It tells us little about how to read it. History that ends up on a page no longer exists in the past. It has only a present and a future. It is, in effect, a score to be realized by the reader. It's past may be something we know about it; but that is only part of what it is.
Taken as a score—a notation that gives us c/l/ues for a range of possible readings—we might start experimenting aloud:
We could read it, line by line, in sequence, exactly as presented on the page. (Perhaps whispering the crossed-out parts.)

(R-2)

if you exi ted
becauSe
we mIght go on as before
but since you don't we wi'Ll
mak
changE
our miNds
anar hic
so that we Can
d to let it be
convertEnjoy the chaos/that you are./
stet

---

In doing this, some lovely things happen. The first line becomes, "if you exited." The first three lines, "if you exited/becauSe/we might go on as before." If the "you" being addressed is SILENCE—the silent noun/title/addressee in the mesostic string—then it would indeed exit if we went on as before, not noticing it. This reading makes as much sense as one we might make of, "if you exiSted/we might go on as before." What prevents us from seeing it (and any other like it) as an additional rather than an alternative reading? The only thing that would silence these multiple readings would be ideology—ideology valuing simplicity and the idea of a single, "correct" meaning, one truth. Harking back to Adorno, let's assume that this is a better piece of art than would satisfy an ideologue and admit as many meanings, as much complexity as we notice.
We could omit crossed-out sections altogether—reading single letters as phonemes, or reading letters that have lost their words as letters—the return to being alphabetic isolates rather than parts of syllables:

(r-3)

if you exi ted
S
we mIght go on as before
but since you don't we 'Ll
mak
E
our miNds
anar hic
C
d to let it be
convertE the chaos/ you are/
stet

This gives us, for instance, "E/our miNds" (where E can be associated with energy) and "convertE the chaos" (a permutation of Einstein's formula?) and "stet" as echo of "let it be" all addressed to the silent "you" embedded in the text. And, as they say in catalogs, Much More!

We could, as mentioned before, decide to read only lines with mesostic letters. This presents us with three more possibilities:

read what isn't crossed out
read what is crossed out
read a & b somehow combined

---

We could notice—and try to make available in our reading— other complicating details: for example, "I" as first-person pronoun in "mIght," "stet" read out as proofer's mark ("let stand as set"), the way in which the word change is being changed before our eyes, etc.
We might notice, additionally, the fractal symmetries in the poem: How the tension between the vertical and horizontal, present in every mesostic (that is, the pull to read it both ways), dynamically structures the poem as a whole, and then is replicated in the vertical-horizontal tension between pairs of lines (where the "overhead" line needs something from below to complete it and vice versa), with individual letters, like the S, which seem to belong in both vertical and horizontal axes, and which on their own have (as all letters—usually unremarked—do) both vertical and horizontal graphic elements. All this, of course, is also instantiated in the very act of reading with the vertical-horizontal choreography that often makes glimpsed (vertical, diagonal, and doglegged) connections available despite energy expended on barring them from conscious cognition. Of course, like the crossed-out words in this poem, these aberrant connections/conjunctions can never be entirely ignored. They must in fact form one of the strange and interesting associative, peripherally received, subliminal subtexts in our common reading experience.
There are many more ways to "realize" this deceptively small poem. We have moved from "whether" to, if not a full-blown regional weather system, at least a very complex and fascinating microclimate. With nonetheless macroclimatic implications about how much ideology (institutionalized habit) can silence not only in the act of reading but about the nature of silence itself and our choices in relation to it. John Cage has said about his working methods, "Composing this way changes me, rather than expresses me."[31] It's an entirely poethical approach—one that allows invention, humor and surprise, changes of mind and quality of attention. This kind of performative engagement (as realization on the musical model) with text as dynamic complex system is a poethics of response available to audience-participants in all the arts.
I want to suggest then that this poetry (and this kind of reading) functions within a poethics of complex realism where active processes of mutability and multiplicity are valued over simpler, more stable illusions of expressive clarity. Change actively, continually destabilizes the
---
poem, thwarting
the
"correct" reading, thwarting any sure sense of return to the author's ego-bound, prior intentions. All, it seems, that it makes sense to do is to notice what we find on the page and experience the multiple directions—the multiple lettristic, phonemic, syllabic, syntactic, semantic, and graphic trajectories—in which it takes us. What is found on the page is enough. It has arrived there full of Cage's conversational ethos, his enactment of art as public interlocutor.
As with the systems described and modeled in the nonlinear sciences, it's not that there is less structure but that the structure is one of greater complexity since it's in a richly dynamic relationship with larger areas of indeterminacy. It's not the case with silence that there's no sound, or less sound, but that the range of what's audible depends on the angle of our attention. It's not the case that with indeterminacy there's no meaning but that the ranges of meaning, the connections we notice and construct, undergo transformation as we rise to the occasion of actively reading and rereading the text. The scope and focus and force of our attentive engagement is altered as we take on the discipline of more active noticing/inventing that the unfinished, irregular (fractal?) surfaces of indeterminacy invite.
D.W. Winnicott's distinction between fantasy and imagination comes to mind once again. Fantasy is the passive, self-enclosed mode nursed by nostalgically, tidily manipulative forms. Imagination is an active reaching out to the energy and consequence in the order/mess/order of the real world. It must literally take chances, playing with the concrete hypothetical, the experimental "what if." It's the fruitful act of play as exploration and reciprocal transformation—a poethics of interrogative dialogues with material reality. (All of Cage's work began with, was propelled by questions. Questions about his medium and about the spiritual and social dimensions of his art.) Imaginative play is the child's experimental framework for learning how to live (with excitement and pleasure) among others in a world of real consequences of accident and design. As adults we stop playing at our (and the world's) peril. A poethical engagement with a work like "(untitled)" returns us to the fullest exercise of our senses as we explore its graphic and linguistic implications. We—text and reader—grow and change together.
If we, with difficulty and delectation, attend to the possibilities in what we do not understand, that is, if we can move into a collaborative future admitting with constantly developing disciplines of attention the constantly changing world at large, then we can't "go on as before."
---
The poethics of this poem invites a practice of reading that enacts a tolerance for ambiguity and a delight in complex possibility. Imagine what might happen if such a practice were to become widespread. Cage believed that such an eventuality (Here Comes Everybody listening to everybody else) could have real social consequences—that it could, as he said, change the political climate. An ethics, even a poethics, is not a politics, so this question is very much at large. At large is precisely where we need to be.
---
WORDS
John Cage in Dialogue with Chance
We forget that we must always return to zero
in order to pass from one word to the next.

John Cage[1]
FROM ZERO TO THREE IN LESS THAN TWO MILLENNIA
Sunyata [emptiness] is formless, but it is the fountainhead of all possibilities.

Tosu, ninth century A.D.
| | |
| --- | --- |
| | Art is either a complaint or |
| | kinD of thing |
| | uncallEd for in |
| | A |
| | just as gooD |
| | is that it's very fragMented ' in |
| | is A' |
| | iNvolved |
| | arT is either |
| | the question of whAt is a |
| | worK won't |
| | bE' |
| | else my experience of life is thAt |
| | Splitting'the idea of |
| | the real thing i liKe what i see |
| | and the idea of air in breathing in and oUt |
| | Like my work to have some vivid indication of |
| | a Large |
| | City and the traffic there |
| | John Cage, Art Is Either a Complaint or Do Something Else |
Note: All italicized passages are quotes from John Cage.
---
FIRST
THE RETURN TO ZERO
can take playce in many wayes. (Opening doors so that anything can go through.)[2] It might be brought on by linguistic or lettristic or graphic oddments that slow the skimming glance, inviting a kind of meditative awakening to the material text. Calling attention to the arbitrary splendore of grammaticall forms & enigmaticall epithetes as "the sun at noon illustrates all shadows" (to recall Sir Thomas Browne and invoke past as "other"), we might notice that it's become difficult to ignore the rank contingency—word by strangely delicious word—of what seemed only a moment ago to make necessary, sufficient, and relentless sense. That is, a startling departure in spelling or a rupture in syntactic momentum can bring into relief how all words might be other wise. (When to "thInk" requires Ink.) Or better or worse yet, how words might or might not be more or less wise than we think, since it's so hard to think without them just as they/we are—vis-à-vis, tête-à-tête, foot-in-mouth … "uncallEd for … Splitting' the idea of /the real" in this Large City of language with its fragmented traffic.… just as it's always been.
At the moment of any disruption of habit (grammar or traffic) a generic question can arise: Might it be possible to move through our lives in other ways, guided by other processes and structures, perceiving connections, even constellations lost to our habitual grammars, seeing the side streets, getting lost and discovering something new? In a new mode of moving and noticing will we be enacting, to some degree, slight or grand, a different kind of humanity? Can we really move so quickly from one word to one world to the next? Should we, in light of 20th C linguistic theory (Saussure, Whorf, Wittgenstein, etc.), simply conflate the two into wor/l/d? This may be the poethical question implicit in John Cage's return to zero—a question of the relation between the structures of our language, our art, and our forms of life.
The writing below, both despite and because of its occasional unexpected shifts, makes a clear statement against the illusion of possession by identification that underpins the logic of depicting—whether graphically or linguistically. All the modes we find in books that implicate the world in a conspiracy of "and then of course" are designed to relieve the uncertainty of anything new (unrecognizable) under the reflected light of the moon.
---
| | |
| --- | --- |
| | itS |
| | shaPe |
| | And |
| | coloR |
| | exActly |
| | what you've Seen |
| | in bookS |
| | make It |
| | eaSy |
| | to reCognize |
| | the fiRst |
| | tIme |
| | you See it |
| | we Possess it |
| | thAt |
| | iS to say |
| | before we Put |
| | hAnds on it |
| | this is not poetRy |
| | which is hAving |
| | nothing to Say |
| | at the Same |
| | tIme |
| | Saying it |
| | onCe |
| | we'Re |
| | In |
| | the foreSt nothing else |
| | recognition Puts |
| | in one's heAd |
| | a certain Sense |
| | of accomPlishment |
| | thAt leads |
| | away fRom poetry |
| | Away |
| | from uSe |
| | towardS |
| | possessIon law and order |
| | and then of courSe |
| | John Cage, "Mushrooms et Variationes"[3] |
---
But this language doesn't radically breach "the law and order" of a linguistically based logical sequence. There is no necessity for the reader to go beyond an appreciation of what is being said about a poetics of "useful" defamiliarization and enact its principles. This language has not achieved the form of poetry it implies: that formal structure, in a movement away from "possessIon law and order," must look more like Cage's Empty Words, with its fragmentation and reorientation of all linguistic units, or like the beginning of Art Is Either a Complaint or Do Something Else. Notice the continuation of its exploration of new associations between parts of speech—in a sense, freeing the "Ions" from "possessIon" and allowing new exchanges to take place:
space being represented in it my work feeds Upon itself i think it is a
| | |
| --- | --- |
| | play oR |
| | placE |
| | tO be' |
| | liFe is |
| | accustoMed to thinking |
| | it's verY |
| | Form[4] |
Buckminster Fuller used to say the most important thing to remember about structure is that it is an inside and an outside. Given this, it's worth worrying about our insider's tendency to take the walls and ceilings for everything there is. We have known—and forgotten this—many times in many ways from Plato's cave to Whorf's snowscape. And "now," is this not what we may be doing with language identified as the paradigmatic human structure? Whorf informed us that we don't see anything that isn't prefigured in our vocabularies, and Wittgenstein moved us from "the world is all that is the case" to "the limits of my language are the limits of my world," although he himself never believed that, except to mean "my social world." The number of times this latter has been quoted with all its problematic implications rival's McDonald's astonishing hamburger statistics when corrected for the mean deviation between hamburgers and ideas.
WHICH MEANS IT'S BECOME
a staple assumption in the haute demi-monde of theory that epistemology is now nothing more or less than a subset of language theory. We'd better start looking for the outside fast, before all the oxygen gets used up.
---
This is not to say that it's possible by violent claustrophobic reaction to throw down the goggles of our virtual textualities and wander innocent abroad. It does indeed seem logically impossible (at least by certain well-known principles of noncontradiction) to stand entirely, or even largely, outside the structures of our language. Nothing prevents us, though, from exercising multiple and hyper logics in certain high-risk aesthetic enterprises that create in their disjunctions with our metanarratives, apertures/gaps/grounds-zero, glimpses of other possibilities, other logically improbable worlds. This formal rupture—opening out to a complex reality—characterizes the avant-pragmatism of John Cage's art.
THE RETURN TO ZERO
IN OTHER WORDS
can be seen as a way to touch on dormant possibilities of language, particularly when it intersects with the understructured mess, the overlying chaos we all know/forget so well—"Real-Life," not to be confused with "Real-Lemon," a brand name.
What I am saying does not mean that there will henceforth be no form in art. It only means that there will be new form, and that this form will be of such a type that it admits the chaos and does not try to say that the chaos is really something else. The form and the chaos remain separate. The latter is not reduced to the former. That is why the form itself becomes a pre-occupation, because it exists as a problem separate from the material it accommodates. To find a form that accommodates the mess, that is the task of the artist now. (Samuel Beckett)[5]
The moment of zero is the pause or gasp for breath, the caesura, before/after the old order/ing system overtakes and closes down limitless space-time. It is the rest stop, the silence, between negative and positive integers of past and future. Given the force of our now (compellingly theorized) contemporaneous past, we may well need an active time-zero to experience any present at all. This is important because without a vital present it's hard to see how the future can be anything other than a thing of the past.
OR
we might think bidirectionally
of both possibility and recovery.
---
Recovering, for instance, in
medias
mess of our violent world, the sorrow embedded in anger, whose root,
angr,
was Old Norse for grief. [Indo European root,
angh-,
spawning angst, anguish, angina (a narrowing).] Can the return to the sense of that absent
e
—to zero in the spelling of
ang-r
—acquaint us with the sad conditions of our own rage? Help us notice something we've been overlooking in the familiarity (invisibility) of how we name the causes of riot, rebellion, murder, massacre, war …? What would it take, what would it mean, to develop a consciousness of language that allowed us to inspect the charged bonds, the ions, in our obsession with possessIon, or to hear the silent
e
—the grief in our anger—as a return to zero?
WALDEN III?
One is unity. Two is double, duality, and three is the rest. When you've come to the word three, you have three million—it's the same thing as three. (Mar cel Duchamp)
When, after a 1989 performance of Lecture on the Weather, John Cage was asked by a member of the audience what the performers were saying, he explained that they were reading passages from Thoreau's work (Walden, The Journals, and the Essay on Civil Disobedience) and went on to say that he used these statements because, through the circumstances of our history we have gotten to the point where we can no longer hear them. And that's how we act with regard to the best of our past.[6]
It may seem that our uses of language have always been overwhelmingly occupied with memory, with telling ourselves more and more stories, gathering more and more factoids for our collective consciousness—of late, culturally mutated into microchip archive. So much so that we forget the zero-sum fact that knowing is itself a forgetting. Forgetting the other sides of structures, for instance; forgetting to surprise ourselves into entertaining the currently inconceivable; forgetting to pass from one world to the next, not as sci-fi adventure but in order to envision things better than what we have resigned and habituated ourselves to. This is enormously difficult. It sometimes takes what at first glance may seem to be cruel and unusual artifice.
Due to N.O. Brown's remark that syntax is the arrangement of the army, and Thoreau's that when he heard a sentence he heard feet marching, I became devoted to nonsyntactical "demilitarized" language. I spent well over a year writing Empty Words, a transition from a language without

---

― 228 ―

sentences (having only phrases, words, syllables, and letters) to a "language" having only letters and silence (music). (Empty Words, 133)

Language free of syntax [James Joyce'S "sintalks"]: demilitarization of language.… Full words: words free of specific function. Noun is verbs is adjective, adverb. What can be done with the English language? Use it as material. Material of five kinds: letters, syllables, words, phrases, sentences. (Empty Words, 11)
This is of course Cage's method in all the arts: locate the elements of the medium, set them interacting with one another in a process that frees them as much as possible from artist's intentions via chance operations, all the while maintaining the specific integrity, even gravity, of their material presence within the urgency of the historical context.
Empty words. Take one lesson and then take a vacation. Out of your mind, live in the woods. Uncultivated gift. (Empty Words, 11)
But it's not as simple as "the return to nature" once seemed. Nature as we think we know it now is itself an artifice—of images and words. Or we could say that words in their artifice are as natural as a vocabulary of woods and mountains, cows and sheep articulating the horizon with their inexplicable presence. It's not that silence/zero lies beyond words, in things. It seems we must find it in words—in medias res—in music—in and out of all the artifice that absorbs our attention.
Although Wittgenstein said, and some of us think we learned, what cannot be said must be passed over in silence, Cage's desire to find the silence of zero in what can be said may be even more useful. The silence itself cannot be passed over. (When Wittgenstein read poetry to the positivists of the Vienna Circle, was he attempting to explore an articulation of silence?) Both academic ambitions and daily habits of speech conspire against the uncertainties that let languages breathe. Poets launch their own conspiracies (literally "breathing together") of words restored (and introduced) to strangeness—in Jackson Mac Low's and Cage's work, as well as in Language and other experimental poetries—to counteract syntactic word flows that operate autohydrodynamically to fill every empty space, drown out what is structurally difficult to notice. The silence in the poethical return to zero may do for language what the silence in Cage's music has done for sound—expand the range of what we can attend to, giving access to some of the Other Ness monsters—playful and grim—we need to call into our ongoing conversations along with all our all-too-well-knowns. (G. Stein would say "nouns.")
---
AND NOW A BRIEF EXCURSION INTO THE 19th
CONTEMPORARY
(WHAT'S THERE REALLY TO COMPLAIN ABOUT?)
((A question that only arises because the bulk of thought & lit still comes to us in
19th C forms.))
People say again and again that philosophy doesn't really progress, that we are still occupied with the same philosophical problems as were the Greeks. But the people who say this don't understand why it has to be so. It is because our language has remained the same and keeps seducing us into asking the same questions. As long as there continues to be a verb "to be" that looks as if it functions in the same way as "to eat" and "to drink," as long as we still have the adjectives "identical," "true," "false," "possible," as long as we continue to talk of a river of time, of an expanse of space, etc. etc., people will keep stumbling over the same puzzling difficulties and find themselves staring at something which no explanation seems capable of clearing up. (Wittgenstein, Culture and Value, 15e)
Sartre complained that wherever Flaubert's prose went, the grass stopped growing:
It was a question of denying the world or consuming it. Of denying it by consuming it. Flaubert wrote to disentangle himself from men [sic] and things. His sentence surrounds the object, seizes it, immobilizes it and breaks its back, changes into stone and petrifies the object as well. It is blind and deaf, without arteries; not a breath of life. A deep silence separates it from the sentence which follows; it falls into the void, eternally, and drags its prey along in this infinite fall. Once described, any reality is stricken from the inventory; one moves on to the next. Realism was nothing else but this great gloomy chase. It was a matter of setting one's mind at rest before anything else. (Sartre, What Is Literature? 124–25)
In the midst of this violent scene—prose transmogrified into serial killer, executing its self-dictated sentences on one victim after another—there is "a deep silence" that separates one syntactic snare from the next—a void, but one that's hardly empty. We can only imagine it via Sartre's gothic polemic chock-full (as romantic voids always are), brimming with victims of the novelist's need to impose will upon wor/l/d. Flaubert's bloated corpus has been finished off by Sartre.
That is, Sartre's prose delivers its own victim fully embalmed to the mid-20th C reader—a victim filled with his (Sartre's) fluid French sentences. Or perhaps that's the wrong metaphor. What about critic as vampire? Does Sartre draw his contentious energy from what blood can be found in the veins, if not arteries, of Flaubert's work? However we figure it, the predatory critical scene is littered with the dead.
---
(IS IT POSSIBLE TO AVOID OBLITERARY THEORY?)
We could go to the movie instead. In the midst of watching Isabel Huppert play Madame Bovary on the screen, notice that Charles Bovary— in the subtitles—has started to call his wife "Edna." A century of stored up wind breaks over the audience. The return to zero is accomplished with a pomo bang.
Does it serve him right? (What kind of question is that? Flaubert has served, continues to serve, us! ((Old art offers just as good a criticism of new art as new art offers of old.—Jasper Johns)))[7] We do know that Flaubert rather maliciously consigns Emma–C'est moi–Bovary to the fatal consequences of a life spent reading (in female addiction) the vacuous romance novels he himself was addicted to in his youth. (Doesn't Jane Austen enact a similar distancing from romance forms in Northanger Abbey?) The critic Andreas Huyssen describes the "master" peeking over the shoulder of Madame Bovary as she reads a literature awash with "romantic intrigue, vows, sobs, embraces and tears" as "detached" and "ironic." It is this irony that presumably saves the great author from "the delusions of the trivial romantic narrative" as well as the "banality of bourgeois everyday life" to become "one of the fathers of modernism, one of the paradigmatic master voices of an aesthetic based on the uncompromising repudiation of what Emma Bovary loved to read."[8]
But isn't it just that uncompromising master voice that fuels Sartre's vision of the intersyntactic void and its defiled flora and fauna— classified (or petty-bourgeois nickeled and dimed) to death? The picture that unfolds here is of the masterful 19th C novel as Foucauldian "panopticon"—a prison structure in which the author/ities can see/know/manufacture all "relevant" details of inmates' lives, thereby depriving them of that matrix of self-determined and chance detail that, when all is not said and done, constitutes a life. Omnipotent prison authorities, like omniscient authors, are invisible to the characters consigned to their prison wor/l/ds—both one-way systems of knowledge and control entirely dependent on apprehension by descriptive detail. It's interesting that this mastery of detail has become a hallmark of the craft of fiction in our time. It is what every workshop student is told to take on as an obsession.
In the sight of God, no immensity is greater than a detail, nor is anything so small that it was not willed by one of his individual wishes. In this great tradition of the eminence of detail, all the minutiae of Christian education, of scholastic or military pedagogy, all forms of "training" found their place
---
easily enough. For the disciplined man, as for the true believer, no detail is unimportant, but not so much for the meaning that it conceals within it as for the hold it provides for the power that wishes to seize it. (Foucault,
Discipline and Punish,
140)
ON THAT NOTE
TO THE NEXT
John Cage, in his "History of Experimental Music in the United States," after stating that the artist must do what's necessary in one's time, evaluates Varèse's contributions to music, first positively, then negatively. The negative assessment is reminiscent (minus the rhetorical drama) of Sartre's criticism of Flaubert:
Edgard Varèse … fathered forth noise into twentieth-century music. But it is clear that ways must be discovered that allow noises and tones to be just noises and tones, not exponents subservient to Varèse's imagination. What else did Varèse do that is relevant to present necessity? He was the first to write directly for instruments, giving up the practice of making a piano sketch and later orchestrating it. What is unnecessary in Varèse (from a present point of view of necessity) are all his mannerisms.… These mannerisms do not establish sounds in their own right. They make it quite difficult to hear the sounds just as they are, for they draw attention to Varèse and his imagination.

What is the nature of an experimental action? It is simply an action the outcome of which is not foreseen. It is therefore very useful if one has decided that sounds are to come into their own, rather than being exploited to express sentiments or ideas of order. Among those actions the outcomes of which are not foreseen, actions resulting from chance operations are useful. (Cage, Silence, 69)
These passages on Varèse follow a statement on the relation of history to what is "now" (i.e., anynow) to be done:
Why, if everything is possible, do we concern ourselves with history (in other words with a sense of what is necessary to be done at a particular time? … In order to thicken the plot. In this view … all those interpenetrations which seem at first glance to be hellish—history, for instance, if we are speaking of experimental music—are to be espoused. One does not then make just any experiment but does what must be done. (68)
And this,
Nowadays in the field of music, we often hear that everything is possible … that there are no limits to possibility. This is technically, nowadays, theoretically possible and in practical terms is often felt to be impossible only because of the absence of mechanical aids which, nevertheless, could be provided if the society felt the urgency of musical advance. (67–68)
---
"The urgency of musical advance"!—what an amazing notion. When and/or why would a society feel the "urgency of musical advance"? Or for that matter, the "advance" of literature? Why not stick with the tried-and-true? (Just as asking this question in its tired-and-true form—complete with vestigial question mark—can usually be relied on to protect us from the inconvenience of an answer.)
(CAN WE NOW AVOID OBLITERARY THEORY
& SPITTING IMAGISTS?)
((And if we do will things get better?))
It's possible to open up a pass with language, to turn it into a red cape inviting the bull's charge. (Macho image. Why the macho image?) We could alternatively speak of "ice crystals formulating in the sky." Or exclaim, "The saint did it!" Something a little off—in a kind of delicious asymmetry with reasonable expectations. Little lamb who ate thee?, etc.
But suppose none of this, none of this language, literally takes a chance. That is, it doesn't involve the material and forms of language in chance. It is instead a game of images—Imachismo we could call it—mock chance for bon chance or appetit—Crown Roast and Mock turtle soup. (Are we ingesting the imagery with the food? If so, just what is it nourishing?) It doesn't require a transformation of one's sense of meaning (the relationships and connections between things) to intuit, no matter how quirky, what's going on. We've been trained in logics, even dislogics, of imagery for millennia. They are embedded in every manifestation of culture. Religions are founded on them, as are all other didactic institutions of family, fairy tale, and state. We learn the vocabulary of images that will attune our emotions to a particular social value structure even before we learn the words that will (at appropriate times and places) evoke them. We think, clearly this is the vaunted realm of the (etymologically cognate) imagination—the playing ground of great souls and sentimental common folk alike. And to a point we are right. Although the vestigial imagery that lost its vital, culturally formative functions decades, centuries, millennia ago must now be propped up by establishment guardians of greatness (museum culture). Is this more akin to a Dungeons and Dragons world of fantasy than to the active, play-full world of the imagination?
But, a voice protests, isn't this the really urgent question: Will the soul setting out from Olympus on iambics/dactylics/free verse … etc. at time t arrive in the local bookstore in time for a spring list epiphany?
---
You feel that you are doing a lot—something perhaps even grand—but all that you are doing is breathing. Nothing is happening in the world.(Winnicott, Playing and Reality, 26–27)
OF COURSE
YOU NEEDN'T BELIEVE A WORD OF THIS
NOR DOUBT EITHER
BETWEEN BELIEVING AND DOUBTING LIES PLAY
Playing is an experience, always a creative experience, and it is an experience in the space-time continuum, a basic form of living. The precariousness of play belongs to the fact that it is always on the theoretical line between the subjective and that which is objectively perceived.… [T]he significant moment is that at which the child surprises himself or herself. It is not the moment of my clever interpretation that is significant. Interpretation outside the ripeness of the material is indoctrination and produces compliance …. This area of playing is not inner psychic reality. It is outside the individual. (Winnicott, Playing and Reality, 50–51)
A REALISM NOT EXPANSIVE OR RISKY ENOUGH?
We could make a piece of music [or literature] in which we would be willing to live, a piece of music [or literature] as a representation of a society in which you would be willing to live? (Cage, I–VI, 178)
All this raises another permutation of the poethical question—what forms of life are replicated and induced by literary structures? (Specifically, which ones invite an active play of the reader's imagination engaged with the complex extrasubjective real?) The panopticon novel is a model of manipulative control of those elements—characters, scenes, information—the author chooses to present and assess, but it can also be a disciplining of language and reader away from playful and precarious valences. Neither is allowed to go outside and play. Flaubert's irony actually allows him to have things both ways—to eschew excesses of rhetorical moisture in his scorn for a structure that floods characters and readers with romantic fatalism, while employing basically that same impulsion of plot and character in a more elegant fashion. Irony is always a simultaneous use and disavowal. Dependent on its prey for its own logical substrate it can't move far beyond the disavowed structure. Kierkegaard, a great ironist himself, pointed out that once you have achieved a truly new stage, you have left irony behind. Irony is at best a useful transitional mode. And of course this is what those early modernists (and we) think we have valued in Madame Bovary as she turns her
---
wistful eyes (her prisoner's gaze) toward the 21
st
century. But her world—the claustrophobia inducing, underpopulated (with possibility, certainly not characters) world of the 19
th
C novel is still as much intact as was French imperialism at the time Flaubert was writing Emma into the vacuum left by his old addiction. Not an empty coincidence at all.
If irony carries on the established series with a twist, zero lies always outside the series. It is at the juncture where new series might or might not begin in any direction, alone or simultaneously: (HCE? Here Comes Everybody? Not quite yet.)
THE RETURN TO ZERO BEYOND IRONY
In order for a text to expect in any way to render an account of reality of the concrete world (or the spiritual one), it must first attain reality in its own world, the textual one. (Ponge, Power of Language, 48)
Bbbbbbbut! What can it mean to attain reality in the textual world?
As I look back, I realize that a concern with poetry was early with me. At Pomona College, in response to questions about the Lake poets, I wrote in the manner of Gertrude Stein … Since the Lecture on Nothing there have been more than a dozen pieces that were unconventionally written including some that were done by means of chance operations and one that was largely a series of questions left unanswered. When M.C. Richards asked me why I didn't one day give a conventional informative lecture, adding that that would be the most shocking thing I could do, I said, "I don't give these Lectures to surprise people, but out of a need for poetry."

As I see it, poetry is not prose simply because poetry is in one way or another formalized. It is not poetry by reason of its content or ambiguity but by reason of its allowing musical elements (time, sound) to be introduced into the world of words. (Cage, Silence, x)
TO THICKEN THE PLOT
Let's begin (again) as Cage did, with Gertrude Stein. For a radically different poethic. On the way to John Cage's avant-pragmatism we can look in on one of Gertrude Stein's novels, a mystery, called Blood On The Dining Room Floor.[9] It's an interesting case in/off point because the mystery has traditionally been a form in which the author "knows" (controls) everything from the first sentence on, including precisely what can and cannot be known by the reader at any given moment. But in Blood Stein repeatedly distances herself from claims of special access to knowledge about events and characters with constructions like "everybody knows," "anybody knows," "Everybody proposes that nobody knows even if everybody
---
knows." We can in fact say that the structure of this novel is a poethical questioning of the relation of knowledge to power over others (knowledge, in fact, as the construction of the other)—a question ranging in its implications from domains of science and technology, to epistemology, to gossip. Note how the permutations in the following sequence relinquish one kind of control (omniscience) while exercising another with the precarious, but artful, balance of play—analytical sleight of mind:
In a hotel one cooks and the other looks at everything. That makes a man and wife. Everybody knows all that. As that can keep everybody busy.… (Stein, Blood, 15)
And, as if in response to Sartre's critique of Flaubert,
That is the way to see a thing, see it from the outside. That makes it clear that nobody is dead yet. (ibid., 19)

And now to tell and to tell very well very very well how the horticulturist family lived to tell everything, and they live in spite of everything, they live to tell everything.…

It is of not the smallest importance what everybody knows about anybody's ways not of the smallest importance. In a way it does not make any difference even what is said. Not if it makes any difference anywhere. (ibid., 22)
Here is Stein's most explicit rejection of the role of omniscient author, followed by a movement of the language (for the next five lines) into poetry:
This is not a description of what they did because nobody saw them do it.…

I feel I do not know anything if I cry.

Slowly they could see their way.

Everybody proposes that nobody knows even if everybody knows.

There is no difference between knows and grows.

Gradually they changed the garden. (ibid., 25)
This is an exploration of language as active exploration, where knowing is growing, unfolding, and perhaps most important, not knowing. The novel itself is a kind of garden that, as any gardener knows, is structure in dialogue with elements beyond one's control. It's quite clear to Gertrude Stein that the limits of her language are not the limits of her world nor of her reader's. As the American protopragmatist C.S. Peirce can still astonish us with, "There are real things, whose characters are entirely independent of our opinions about them."[10]
Stein's language is precise in its refusal to pin things down. It delights in motion. Her transition from prose to poetry as preferred genre was for the
---
sake of greater movement. Poetic language more than any other is language in motion with, at best, nothing settling in or down to the stasis of pseudocertainty. Movement, being composed of change over time, is the play of the medium in all the temporal arts—music, dance, and poetry.
THE RETURN TO ZERO OUT OF A NEED FOR POETRY
Perhaps the most sustained demand made on the writing that we identify with high culture is that it vitalize us; that it wake us up with its artifice to realities delicious to entertain and dangerous to ignore; that, in other words, it play high-risk language games with life/reality/pleasure principles and that those language games be worthwhile forms of life. (The pragmatist Cage would say "useful.") The question is not whether but which form of life a literature enacts. If not serial killing, or a sentencing of some terrifying kind, if not romantic escapism, if not ironic sprinting in place, then what? From Sartre's "the grass stops growing" to Stein's "to know is to grow" is an interesting transversal. Zeno would have been amazed.
Does "it" (anything) come down to where you would rather live—in Flaubert's panopticon; in, for example, Proust's expansive time machine; in Stein's garden …? Of course the beauty of art is that none of these choices is terminal, or mutually exclusive. We can spend the summer in Stein, the fall in Flaubert, any season we choose in Cage. If the characters are more constrained, we might sympathize with them, learn from their bondage something about our own. But there is also Cage's haunting question: In this moment of our history where do we need to be, what do we need to do?—a poethical question that
RETURNS US YET AGAIN TO ZERO
This second part is about structure: how simple it is, what it is and why we should be willing to accept its limitations.… Most speeches are full of ideas. This one doesn't have to have any. But at any moment an idea may come along. Then we may enjoy it.

…

Structure without life is dead. But Life without structure is un-seen. Pure life expresses itself within and through structure. Each moment is absolute, alive and significant. Blackbirds rise from a field making a sound de-licious be-yond com-pare
---
Cage goes on, "I heard them/because/I ac-cepted/the limitations/of an arts/conference/ in a Virginia/girls'finishing school,/which limitations/allowed me/quite by accident/to hear the blackbirds/as they flew up and/overhead/./" ("Lecture on Nothing," Silence, 113).
This poetic statement (which could itself be read as a poem of ideas), written in 1949, sets out the moving principle of all of John Cage's subsequent art—sonic, visual, textual: to create structures with the intention of making possible an active, unimpeded attention to the sounds, words, voices, bodies, lines, marks, colors, textures, and/or any other perceptible events/sensory delights … that by chance or intention pass through them. These blackbirds rise from a field in the midst of an obligation to attend a conference at a Virginia girls' school, or—more immediately and concretely for the reader—out of an abstract discussion of structure, with startling words like pure and absolute behind them rather than, for instance, "twenty snowy mountains."
| | |
| --- | --- |
| | I |
| | Among twenty snowy mountains, |
| | The only moving thing |
| | Was the eye of the blackbird. |
| | III |
| | The blackbird whirled in the autumn winds. |
| | It was a small part of the pantomime. |
| | VI |
| | Icicles filled the long window |
| | With barbaric glass. |
| | The shadow of the blackbird |
| | Crossed it, to and fro.… |
| | VII |
| | O thin men of Haddam, |
| | Why do you imagine golden Birds? |
| | Do you not see how the blackbird Walks around the feet |
| | Of the women about you?[11] |
Is there one among the blackbirds Cage sees whose eye was once "the only moving thing" in the wordscape of a Wallace Stevens poem? Or who "whirled in the autumn winds," or walked "around the feet/Of the women about" the thin men of Haddam, or whose shadow crossed the "barbaric glass" of icicles in the long window? I don't think a blackbird could have escaped Stevens's poetic aviary—trailing as it must "the bawds of euphony," "inflections" and "innuendoes," "glass coaches"
---
and "equipage" except possibly from stanza XIII, where it "sat/In the cedar-limbs." Yet that is questionable too, because it would be necessary for a mere bird to book a downgraded metaflight from a wor/l/d in which "it was evening all afternoon" into one where it was afternoon all afternoon.
The difference between the aesthetic framework that keeps these birds in their thirteen stanzaic aviaries, the better for us to contemplate, meditate on, and the (un)Cage(d) words of "Lecture on Nothing" does have something to do with owning and not owning language. Very little of the language in "Lecture on Nothing" retains a Cagean rhetorical coloring when it's lifted from the poem. In a sense the words in "Lecture" can rise out and return to ordinary life as easily as the blackbirds rise from a field, in the passing moment of savoring nothing more or less than the simple fact that they are there. There is nothing distinctive enough about this language to make us say it belongs to Cage. It's free to go. The structure, on the other hand, is pure and absolute Cagean artifice, although not a cage, anymore than an optical lens that helps us focus on a passing scene is a cage. I don't mean to suggest an invidious comparison to Stevens, whose language allows for something much more expansive and elegant than life in a cage. (Hence the architextural distinction, "aviary.") Yet his blackbirds will never fly out into everyday life. The fact that the major moving thing in the "Thirteen Ways" wordscape is Stevens's own mind is itself a source of pleasure in an attentive stillness. If it cannot be found in everyday life, it can enhance the experience of it. Cage, on the other hand, wants his work to enable attention to the world as it is.
THE BENDING LIGHT OF SPACE-TIME ZERO
It's often puzzled those familiar with John Cage's work—with its uncompromising dedication to the future—that his poetry was almost entirely taken from the previously used (although not owned) language of "source texts"—from the writings of Thoreau, Joyce, Wittgenstein, McLuhan, Fuller, Jasper Johns … and even the King James Bible. They have wondered, as skeptical critics of his chance-generated music have repeatedly assumed, whether Cage somehow suffered from a dearth of ideas of his own and so, unable to come up with anything new, recycled his favorite authors in a mechanically driven homage. If John Cage had nothing of his own to say, then why say anything at all? Yes. This question is very much to the point as Cage took it up in "Lecture on Nothing."
---
I have nothing to say and I am saying it … for we pos-sess nothing. Our poetry now is the reali-zation that we possess nothing
and
We need not destroy the past: it is gone; at any moment, it might reappear and seem to be and be the present. Would it be a repetition? Only if we thought we owned it, but since we don't, it is free and so are we Most anybody knows about the future and how un-certain it is.

(Silence, 109–11)
What one might call the Buddhist letting go in this text has not lost the echo of Gertrude Stein. Her syntax and vocabulary are unmistakably present in its "everybody" or "most anybody knows" ethos. It lays out a poetic program that Cage will follow over the next three decades. The major departures from the Steinian poetics will be in the rejection of devices of repetition (except occasionally as variation) and Cage's extensive and intricate use of chance operations.
A transition from language to music (a language already without sentences, and not confined to any subject.…) … Languages becoming musics, musics becoming theatres; performances; metamorphoses (stills from what are actually movies). At first face to face; finally sitting with one's back to the audience (sitting with the audience), everyone facing the same vision. Sideways, sideways. (Empty Words, 65)
| | |
| --- | --- |
| | the areSome lyes |
| | the high theying lot walike atoof |
| | kingwas pril is pen Bruised |
| | cartoinly ofor a ner |
| | sideare lyel ly one ers |
| | De mi likeis quite them (Empty Words, 57) |
As music, as puzzle, rune, or koan this invites us by chance sideways into word indeed, into and out of the familiar structures of language in "this season ewhich the murmer has agitated 1 to a strange, mad priestessh in such rolling places i eh but bellowing from time to timet t y than the vite and twittering a day or two by its course" (Empty Words, 11). A season in language like fall for instance—tree structures bright
---
and bare as leafy alphabets twirl in the wind, as the Epicurean clinamen falls away from what seemed only a moment or two ago to be destiny.
We (scientific, experimental we) know now, or think we know, that we are all, always, in all ways in dialogue (polylogue!) with chance. This is the condition of our complex reality. To render by means of language any form of reality, we must first, as Ponge says, render it in the textual world. Cage's dialogue with chance is just such an attempt. It renders onto the page a complex realism as representation, cum enactment, of what may be the only viable form of life within the dynamic ambiguities of order/disorder that are the conditions of our global chaos. For Cage this vision is inseparable from the idea of Anarchy bringing the creativity of every individual into the social consensus where music moves back toward language:
| | |
| --- | --- |
| | Anarchy |
| | really does have The future |
| | people are talkIng |
| | abOut |
| | it is creative coNduct |
| | As opposed to |
| | subordiNate |
| | conDuct it is positive |
| | individuAlism to follow a way of thinking |
| | that pRoposes you can assume |
| | for your own acTs |
| | respOnsibility |
| | Visibly |
| | rEsponsible |
| | fiRst to yourself and then to society after the |
| | unworkability of caPitalism marxism |
| | authOritarian socialism anarchy seems for our liberation |
| | to be a Possibility once again as jorge oreiza said to me |
| | from failUre |
| | to faiLure |
| | right up to the finAl |
| | vicTory |
| | (Cage, "Overpopulation and Art," 37) |
I think that one wants from a painting a sense of life. The final suggestion, the final statement, has to be not a deliberate statement but a helpless statement. It has to be what you can't avoid saying. (Jasper Johns)[12]
What Cage's poetry gives us through its use of defamiliarizing artifice and chance operations is a complex intersection of what poet and
---
wor/l/d can't avoid saying to/with/among three or more others. Here we are, in all this together, pulled in many directions of no
one
's choosing, tracing complex trajectories we can neither predict nor control, although we can
attend
with great humor and great care. It is that part of reality that is the prime purview of this art—the complex anarchic harmonies, the infinite grace notes when wor/l/ds are left to talk among themselves. All this, not Q.E.D., but HCE—here comes everybody and everything we've shut out in search of a more generous and exploratory NOW.
Among Cage's working papers for his last poem, "Overpopulation and Art," was this sketch welcoming our twenty-first-century realities into his art: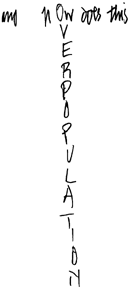 [
Full Size
]