---
WORDS
John Cage in Dialogue with Chance
We forget that we must always return to zero
in order to pass from one word to the next.

John Cage[1]
FROM ZERO TO THREE IN LESS THAN TWO MILLENNIA
Sunyata [emptiness] is formless, but it is the fountainhead of all possibilities.

Tosu, ninth century A.D.
| | |
| --- | --- |
| | Art is either a complaint or |
| | kinD of thing |
| | uncallEd for in |
| | A |
| | just as gooD |
| | is that it's very fragMented ' in |
| | is A' |
| | iNvolved |
| | arT is either |
| | the question of whAt is a |
| | worK won't |
| | bE' |
| | else my experience of life is thAt |
| | Splitting'the idea of |
| | the real thing i liKe what i see |
| | and the idea of air in breathing in and oUt |
| | Like my work to have some vivid indication of |
| | a Large |
| | City and the traffic there |
| | John Cage, Art Is Either a Complaint or Do Something Else |
Note: All italicized passages are quotes from John Cage.
---
FIRST
THE RETURN TO ZERO
can take playce in many wayes. (Opening doors so that anything can go through.)[2] It might be brought on by linguistic or lettristic or graphic oddments that slow the skimming glance, inviting a kind of meditative awakening to the material text. Calling attention to the arbitrary splendore of grammaticall forms & enigmaticall epithetes as "the sun at noon illustrates all shadows" (to recall Sir Thomas Browne and invoke past as "other"), we might notice that it's become difficult to ignore the rank contingency—word by strangely delicious word—of what seemed only a moment ago to make necessary, sufficient, and relentless sense. That is, a startling departure in spelling or a rupture in syntactic momentum can bring into relief how all words might be other wise. (When to "thInk" requires Ink.) Or better or worse yet, how words might or might not be more or less wise than we think, since it's so hard to think without them just as they/we are—vis-à-vis, tête-à-tête, foot-in-mouth … "uncallEd for … Splitting' the idea of /the real" in this Large City of language with its fragmented traffic.… just as it's always been.
At the moment of any disruption of habit (grammar or traffic) a generic question can arise: Might it be possible to move through our lives in other ways, guided by other processes and structures, perceiving connections, even constellations lost to our habitual grammars, seeing the side streets, getting lost and discovering something new? In a new mode of moving and noticing will we be enacting, to some degree, slight or grand, a different kind of humanity? Can we really move so quickly from one word to one world to the next? Should we, in light of 20th C linguistic theory (Saussure, Whorf, Wittgenstein, etc.), simply conflate the two into wor/l/d? This may be the poethical question implicit in John Cage's return to zero—a question of the relation between the structures of our language, our art, and our forms of life.
The writing below, both despite and because of its occasional unexpected shifts, makes a clear statement against the illusion of possession by identification that underpins the logic of depicting—whether graphically or linguistically. All the modes we find in books that implicate the world in a conspiracy of "and then of course" are designed to relieve the uncertainty of anything new (unrecognizable) under the reflected light of the moon.
---
| | |
| --- | --- |
| | itS |
| | shaPe |
| | And |
| | coloR |
| | exActly |
| | what you've Seen |
| | in bookS |
| | make It |
| | eaSy |
| | to reCognize |
| | the fiRst |
| | tIme |
| | you See it |
| | we Possess it |
| | thAt |
| | iS to say |
| | before we Put |
| | hAnds on it |
| | this is not poetRy |
| | which is hAving |
| | nothing to Say |
| | at the Same |
| | tIme |
| | Saying it |
| | onCe |
| | we'Re |
| | In |
| | the foreSt nothing else |
| | recognition Puts |
| | in one's heAd |
| | a certain Sense |
| | of accomPlishment |
| | thAt leads |
| | away fRom poetry |
| | Away |
| | from uSe |
| | towardS |
| | possessIon law and order |
| | and then of courSe |
| | John Cage, "Mushrooms et Variationes"[3] |
---
But this language doesn't radically breach "the law and order" of a linguistically based logical sequence. There is no necessity for the reader to go beyond an appreciation of what is being said about a poetics of "useful" defamiliarization and enact its principles. This language has not achieved the form of poetry it implies: that formal structure, in a movement away from "possessIon law and order," must look more like Cage's Empty Words, with its fragmentation and reorientation of all linguistic units, or like the beginning of Art Is Either a Complaint or Do Something Else. Notice the continuation of its exploration of new associations between parts of speech—in a sense, freeing the "Ions" from "possessIon" and allowing new exchanges to take place:
space being represented in it my work feeds Upon itself i think it is a
| | |
| --- | --- |
| | play oR |
| | placE |
| | tO be' |
| | liFe is |
| | accustoMed to thinking |
| | it's verY |
| | Form[4] |
Buckminster Fuller used to say the most important thing to remember about structure is that it is an inside and an outside. Given this, it's worth worrying about our insider's tendency to take the walls and ceilings for everything there is. We have known—and forgotten this—many times in many ways from Plato's cave to Whorf's snowscape. And "now," is this not what we may be doing with language identified as the paradigmatic human structure? Whorf informed us that we don't see anything that isn't prefigured in our vocabularies, and Wittgenstein moved us from "the world is all that is the case" to "the limits of my language are the limits of my world," although he himself never believed that, except to mean "my social world." The number of times this latter has been quoted with all its problematic implications rival's McDonald's astonishing hamburger statistics when corrected for the mean deviation between hamburgers and ideas.
WHICH MEANS IT'S BECOME
a staple assumption in the haute demi-monde of theory that epistemology is now nothing more or less than a subset of language theory. We'd better start looking for the outside fast, before all the oxygen gets used up.
---
This is not to say that it's possible by violent claustrophobic reaction to throw down the goggles of our virtual textualities and wander innocent abroad. It does indeed seem logically impossible (at least by certain well-known principles of noncontradiction) to stand entirely, or even largely, outside the structures of our language. Nothing prevents us, though, from exercising multiple and hyper logics in certain high-risk aesthetic enterprises that create in their disjunctions with our metanarratives, apertures/gaps/grounds-zero, glimpses of other possibilities, other logically improbable worlds. This formal rupture—opening out to a complex reality—characterizes the avant-pragmatism of John Cage's art.
THE RETURN TO ZERO
IN OTHER WORDS
can be seen as a way to touch on dormant possibilities of language, particularly when it intersects with the understructured mess, the overlying chaos we all know/forget so well—"Real-Life," not to be confused with "Real-Lemon," a brand name.
What I am saying does not mean that there will henceforth be no form in art. It only means that there will be new form, and that this form will be of such a type that it admits the chaos and does not try to say that the chaos is really something else. The form and the chaos remain separate. The latter is not reduced to the former. That is why the form itself becomes a pre-occupation, because it exists as a problem separate from the material it accommodates. To find a form that accommodates the mess, that is the task of the artist now. (Samuel Beckett)[5]
The moment of zero is the pause or gasp for breath, the caesura, before/after the old order/ing system overtakes and closes down limitless space-time. It is the rest stop, the silence, between negative and positive integers of past and future. Given the force of our now (compellingly theorized) contemporaneous past, we may well need an active time-zero to experience any present at all. This is important because without a vital present it's hard to see how the future can be anything other than a thing of the past.
OR
we might think bidirectionally
of both possibility and recovery.
---
Recovering, for instance, in
medias
mess of our violent world, the sorrow embedded in anger, whose root,
angr,
was Old Norse for grief. [Indo European root,
angh-,
spawning angst, anguish, angina (a narrowing).] Can the return to the sense of that absent
e
—to zero in the spelling of
ang-r
—acquaint us with the sad conditions of our own rage? Help us notice something we've been overlooking in the familiarity (invisibility) of how we name the causes of riot, rebellion, murder, massacre, war …? What would it take, what would it mean, to develop a consciousness of language that allowed us to inspect the charged bonds, the ions, in our obsession with possessIon, or to hear the silent
e
—the grief in our anger—as a return to zero?
WALDEN III?
One is unity. Two is double, duality, and three is the rest. When you've come to the word three, you have three million—it's the same thing as three. (Mar cel Duchamp)
When, after a 1989 performance of Lecture on the Weather, John Cage was asked by a member of the audience what the performers were saying, he explained that they were reading passages from Thoreau's work (Walden, The Journals, and the Essay on Civil Disobedience) and went on to say that he used these statements because, through the circumstances of our history we have gotten to the point where we can no longer hear them. And that's how we act with regard to the best of our past.[6]
It may seem that our uses of language have always been overwhelmingly occupied with memory, with telling ourselves more and more stories, gathering more and more factoids for our collective consciousness—of late, culturally mutated into microchip archive. So much so that we forget the zero-sum fact that knowing is itself a forgetting. Forgetting the other sides of structures, for instance; forgetting to surprise ourselves into entertaining the currently inconceivable; forgetting to pass from one world to the next, not as sci-fi adventure but in order to envision things better than what we have resigned and habituated ourselves to. This is enormously difficult. It sometimes takes what at first glance may seem to be cruel and unusual artifice.
Due to N.O. Brown's remark that syntax is the arrangement of the army, and Thoreau's that when he heard a sentence he heard feet marching, I became devoted to nonsyntactical "demilitarized" language. I spent well over a year writing Empty Words, a transition from a language without

---

― 228 ―

sentences (having only phrases, words, syllables, and letters) to a "language" having only letters and silence (music). (Empty Words, 133)

Language free of syntax [James Joyce'S "sintalks"]: demilitarization of language.… Full words: words free of specific function. Noun is verbs is adjective, adverb. What can be done with the English language? Use it as material. Material of five kinds: letters, syllables, words, phrases, sentences. (Empty Words, 11)
This is of course Cage's method in all the arts: locate the elements of the medium, set them interacting with one another in a process that frees them as much as possible from artist's intentions via chance operations, all the while maintaining the specific integrity, even gravity, of their material presence within the urgency of the historical context.
Empty words. Take one lesson and then take a vacation. Out of your mind, live in the woods. Uncultivated gift. (Empty Words, 11)
But it's not as simple as "the return to nature" once seemed. Nature as we think we know it now is itself an artifice—of images and words. Or we could say that words in their artifice are as natural as a vocabulary of woods and mountains, cows and sheep articulating the horizon with their inexplicable presence. It's not that silence/zero lies beyond words, in things. It seems we must find it in words—in medias res—in music—in and out of all the artifice that absorbs our attention.
Although Wittgenstein said, and some of us think we learned, what cannot be said must be passed over in silence, Cage's desire to find the silence of zero in what can be said may be even more useful. The silence itself cannot be passed over. (When Wittgenstein read poetry to the positivists of the Vienna Circle, was he attempting to explore an articulation of silence?) Both academic ambitions and daily habits of speech conspire against the uncertainties that let languages breathe. Poets launch their own conspiracies (literally "breathing together") of words restored (and introduced) to strangeness—in Jackson Mac Low's and Cage's work, as well as in Language and other experimental poetries—to counteract syntactic word flows that operate autohydrodynamically to fill every empty space, drown out what is structurally difficult to notice. The silence in the poethical return to zero may do for language what the silence in Cage's music has done for sound—expand the range of what we can attend to, giving access to some of the Other Ness monsters—playful and grim—we need to call into our ongoing conversations along with all our all-too-well-knowns. (G. Stein would say "nouns.")
---
AND NOW A BRIEF EXCURSION INTO THE 19th
CONTEMPORARY
(WHAT'S THERE REALLY TO COMPLAIN ABOUT?)
((A question that only arises because the bulk of thought & lit still comes to us in
19th C forms.))
People say again and again that philosophy doesn't really progress, that we are still occupied with the same philosophical problems as were the Greeks. But the people who say this don't understand why it has to be so. It is because our language has remained the same and keeps seducing us into asking the same questions. As long as there continues to be a verb "to be" that looks as if it functions in the same way as "to eat" and "to drink," as long as we still have the adjectives "identical," "true," "false," "possible," as long as we continue to talk of a river of time, of an expanse of space, etc. etc., people will keep stumbling over the same puzzling difficulties and find themselves staring at something which no explanation seems capable of clearing up. (Wittgenstein, Culture and Value, 15e)
Sartre complained that wherever Flaubert's prose went, the grass stopped growing:
It was a question of denying the world or consuming it. Of denying it by consuming it. Flaubert wrote to disentangle himself from men [sic] and things. His sentence surrounds the object, seizes it, immobilizes it and breaks its back, changes into stone and petrifies the object as well. It is blind and deaf, without arteries; not a breath of life. A deep silence separates it from the sentence which follows; it falls into the void, eternally, and drags its prey along in this infinite fall. Once described, any reality is stricken from the inventory; one moves on to the next. Realism was nothing else but this great gloomy chase. It was a matter of setting one's mind at rest before anything else. (Sartre, What Is Literature? 124–25)
In the midst of this violent scene—prose transmogrified into serial killer, executing its self-dictated sentences on one victim after another—there is "a deep silence" that separates one syntactic snare from the next—a void, but one that's hardly empty. We can only imagine it via Sartre's gothic polemic chock-full (as romantic voids always are), brimming with victims of the novelist's need to impose will upon wor/l/d. Flaubert's bloated corpus has been finished off by Sartre.
That is, Sartre's prose delivers its own victim fully embalmed to the mid-20th C reader—a victim filled with his (Sartre's) fluid French sentences. Or perhaps that's the wrong metaphor. What about critic as vampire? Does Sartre draw his contentious energy from what blood can be found in the veins, if not arteries, of Flaubert's work? However we figure it, the predatory critical scene is littered with the dead.
---
(IS IT POSSIBLE TO AVOID OBLITERARY THEORY?)
We could go to the movie instead. In the midst of watching Isabel Huppert play Madame Bovary on the screen, notice that Charles Bovary— in the subtitles—has started to call his wife "Edna." A century of stored up wind breaks over the audience. The return to zero is accomplished with a pomo bang.
Does it serve him right? (What kind of question is that? Flaubert has served, continues to serve, us! ((Old art offers just as good a criticism of new art as new art offers of old.—Jasper Johns)))[7] We do know that Flaubert rather maliciously consigns Emma–C'est moi–Bovary to the fatal consequences of a life spent reading (in female addiction) the vacuous romance novels he himself was addicted to in his youth. (Doesn't Jane Austen enact a similar distancing from romance forms in Northanger Abbey?) The critic Andreas Huyssen describes the "master" peeking over the shoulder of Madame Bovary as she reads a literature awash with "romantic intrigue, vows, sobs, embraces and tears" as "detached" and "ironic." It is this irony that presumably saves the great author from "the delusions of the trivial romantic narrative" as well as the "banality of bourgeois everyday life" to become "one of the fathers of modernism, one of the paradigmatic master voices of an aesthetic based on the uncompromising repudiation of what Emma Bovary loved to read."[8]
But isn't it just that uncompromising master voice that fuels Sartre's vision of the intersyntactic void and its defiled flora and fauna— classified (or petty-bourgeois nickeled and dimed) to death? The picture that unfolds here is of the masterful 19th C novel as Foucauldian "panopticon"—a prison structure in which the author/ities can see/know/manufacture all "relevant" details of inmates' lives, thereby depriving them of that matrix of self-determined and chance detail that, when all is not said and done, constitutes a life. Omnipotent prison authorities, like omniscient authors, are invisible to the characters consigned to their prison wor/l/ds—both one-way systems of knowledge and control entirely dependent on apprehension by descriptive detail. It's interesting that this mastery of detail has become a hallmark of the craft of fiction in our time. It is what every workshop student is told to take on as an obsession.
In the sight of God, no immensity is greater than a detail, nor is anything so small that it was not willed by one of his individual wishes. In this great tradition of the eminence of detail, all the minutiae of Christian education, of scholastic or military pedagogy, all forms of "training" found their place
---
easily enough. For the disciplined man, as for the true believer, no detail is unimportant, but not so much for the meaning that it conceals within it as for the hold it provides for the power that wishes to seize it. (Foucault,
Discipline and Punish,
140)
ON THAT NOTE
TO THE NEXT
John Cage, in his "History of Experimental Music in the United States," after stating that the artist must do what's necessary in one's time, evaluates Varèse's contributions to music, first positively, then negatively. The negative assessment is reminiscent (minus the rhetorical drama) of Sartre's criticism of Flaubert:
Edgard Varèse … fathered forth noise into twentieth-century music. But it is clear that ways must be discovered that allow noises and tones to be just noises and tones, not exponents subservient to Varèse's imagination. What else did Varèse do that is relevant to present necessity? He was the first to write directly for instruments, giving up the practice of making a piano sketch and later orchestrating it. What is unnecessary in Varèse (from a present point of view of necessity) are all his mannerisms.… These mannerisms do not establish sounds in their own right. They make it quite difficult to hear the sounds just as they are, for they draw attention to Varèse and his imagination.

What is the nature of an experimental action? It is simply an action the outcome of which is not foreseen. It is therefore very useful if one has decided that sounds are to come into their own, rather than being exploited to express sentiments or ideas of order. Among those actions the outcomes of which are not foreseen, actions resulting from chance operations are useful. (Cage, Silence, 69)
These passages on Varèse follow a statement on the relation of history to what is "now" (i.e., anynow) to be done:
Why, if everything is possible, do we concern ourselves with history (in other words with a sense of what is necessary to be done at a particular time? … In order to thicken the plot. In this view … all those interpenetrations which seem at first glance to be hellish—history, for instance, if we are speaking of experimental music—are to be espoused. One does not then make just any experiment but does what must be done. (68)
And this,
Nowadays in the field of music, we often hear that everything is possible … that there are no limits to possibility. This is technically, nowadays, theoretically possible and in practical terms is often felt to be impossible only because of the absence of mechanical aids which, nevertheless, could be provided if the society felt the urgency of musical advance. (67–68)
---
"The urgency of musical advance"!—what an amazing notion. When and/or why would a society feel the "urgency of musical advance"? Or for that matter, the "advance" of literature? Why not stick with the tried-and-true? (Just as asking this question in its tired-and-true form—complete with vestigial question mark—can usually be relied on to protect us from the inconvenience of an answer.)
(CAN WE NOW AVOID OBLITERARY THEORY
& SPITTING IMAGISTS?)
((And if we do will things get better?))
It's possible to open up a pass with language, to turn it into a red cape inviting the bull's charge. (Macho image. Why the macho image?) We could alternatively speak of "ice crystals formulating in the sky." Or exclaim, "The saint did it!" Something a little off—in a kind of delicious asymmetry with reasonable expectations. Little lamb who ate thee?, etc.
But suppose none of this, none of this language, literally takes a chance. That is, it doesn't involve the material and forms of language in chance. It is instead a game of images—Imachismo we could call it—mock chance for bon chance or appetit—Crown Roast and Mock turtle soup. (Are we ingesting the imagery with the food? If so, just what is it nourishing?) It doesn't require a transformation of one's sense of meaning (the relationships and connections between things) to intuit, no matter how quirky, what's going on. We've been trained in logics, even dislogics, of imagery for millennia. They are embedded in every manifestation of culture. Religions are founded on them, as are all other didactic institutions of family, fairy tale, and state. We learn the vocabulary of images that will attune our emotions to a particular social value structure even before we learn the words that will (at appropriate times and places) evoke them. We think, clearly this is the vaunted realm of the (etymologically cognate) imagination—the playing ground of great souls and sentimental common folk alike. And to a point we are right. Although the vestigial imagery that lost its vital, culturally formative functions decades, centuries, millennia ago must now be propped up by establishment guardians of greatness (museum culture). Is this more akin to a Dungeons and Dragons world of fantasy than to the active, play-full world of the imagination?
But, a voice protests, isn't this the really urgent question: Will the soul setting out from Olympus on iambics/dactylics/free verse … etc. at time t arrive in the local bookstore in time for a spring list epiphany?
---
You feel that you are doing a lot—something perhaps even grand—but all that you are doing is breathing. Nothing is happening in the world.(Winnicott, Playing and Reality, 26–27)
OF COURSE
YOU NEEDN'T BELIEVE A WORD OF THIS
NOR DOUBT EITHER
BETWEEN BELIEVING AND DOUBTING LIES PLAY
Playing is an experience, always a creative experience, and it is an experience in the space-time continuum, a basic form of living. The precariousness of play belongs to the fact that it is always on the theoretical line between the subjective and that which is objectively perceived.… [T]he significant moment is that at which the child surprises himself or herself. It is not the moment of my clever interpretation that is significant. Interpretation outside the ripeness of the material is indoctrination and produces compliance …. This area of playing is not inner psychic reality. It is outside the individual. (Winnicott, Playing and Reality, 50–51)
A REALISM NOT EXPANSIVE OR RISKY ENOUGH?
We could make a piece of music [or literature] in which we would be willing to live, a piece of music [or literature] as a representation of a society in which you would be willing to live? (Cage, I–VI, 178)
All this raises another permutation of the poethical question—what forms of life are replicated and induced by literary structures? (Specifically, which ones invite an active play of the reader's imagination engaged with the complex extrasubjective real?) The panopticon novel is a model of manipulative control of those elements—characters, scenes, information—the author chooses to present and assess, but it can also be a disciplining of language and reader away from playful and precarious valences. Neither is allowed to go outside and play. Flaubert's irony actually allows him to have things both ways—to eschew excesses of rhetorical moisture in his scorn for a structure that floods characters and readers with romantic fatalism, while employing basically that same impulsion of plot and character in a more elegant fashion. Irony is always a simultaneous use and disavowal. Dependent on its prey for its own logical substrate it can't move far beyond the disavowed structure. Kierkegaard, a great ironist himself, pointed out that once you have achieved a truly new stage, you have left irony behind. Irony is at best a useful transitional mode. And of course this is what those early modernists (and we) think we have valued in Madame Bovary as she turns her
---
wistful eyes (her prisoner's gaze) toward the 21
st
century. But her world—the claustrophobia inducing, underpopulated (with possibility, certainly not characters) world of the 19
th
C novel is still as much intact as was French imperialism at the time Flaubert was writing Emma into the vacuum left by his old addiction. Not an empty coincidence at all.
If irony carries on the established series with a twist, zero lies always outside the series. It is at the juncture where new series might or might not begin in any direction, alone or simultaneously: (HCE? Here Comes Everybody? Not quite yet.)
THE RETURN TO ZERO BEYOND IRONY
In order for a text to expect in any way to render an account of reality of the concrete world (or the spiritual one), it must first attain reality in its own world, the textual one. (Ponge, Power of Language, 48)
Bbbbbbbut! What can it mean to attain reality in the textual world?
As I look back, I realize that a concern with poetry was early with me. At Pomona College, in response to questions about the Lake poets, I wrote in the manner of Gertrude Stein … Since the Lecture on Nothing there have been more than a dozen pieces that were unconventionally written including some that were done by means of chance operations and one that was largely a series of questions left unanswered. When M.C. Richards asked me why I didn't one day give a conventional informative lecture, adding that that would be the most shocking thing I could do, I said, "I don't give these Lectures to surprise people, but out of a need for poetry."

As I see it, poetry is not prose simply because poetry is in one way or another formalized. It is not poetry by reason of its content or ambiguity but by reason of its allowing musical elements (time, sound) to be introduced into the world of words. (Cage, Silence, x)
TO THICKEN THE PLOT
Let's begin (again) as Cage did, with Gertrude Stein. For a radically different poethic. On the way to John Cage's avant-pragmatism we can look in on one of Gertrude Stein's novels, a mystery, called Blood On The Dining Room Floor.[9] It's an interesting case in/off point because the mystery has traditionally been a form in which the author "knows" (controls) everything from the first sentence on, including precisely what can and cannot be known by the reader at any given moment. But in Blood Stein repeatedly distances herself from claims of special access to knowledge about events and characters with constructions like "everybody knows," "anybody knows," "Everybody proposes that nobody knows even if everybody
---
knows." We can in fact say that the structure of this novel is a poethical questioning of the relation of knowledge to power over others (knowledge, in fact, as the construction of the other)—a question ranging in its implications from domains of science and technology, to epistemology, to gossip. Note how the permutations in the following sequence relinquish one kind of control (omniscience) while exercising another with the precarious, but artful, balance of play—analytical sleight of mind:
In a hotel one cooks and the other looks at everything. That makes a man and wife. Everybody knows all that. As that can keep everybody busy.… (Stein, Blood, 15)
And, as if in response to Sartre's critique of Flaubert,
That is the way to see a thing, see it from the outside. That makes it clear that nobody is dead yet. (ibid., 19)

And now to tell and to tell very well very very well how the horticulturist family lived to tell everything, and they live in spite of everything, they live to tell everything.…

It is of not the smallest importance what everybody knows about anybody's ways not of the smallest importance. In a way it does not make any difference even what is said. Not if it makes any difference anywhere. (ibid., 22)
Here is Stein's most explicit rejection of the role of omniscient author, followed by a movement of the language (for the next five lines) into poetry:
This is not a description of what they did because nobody saw them do it.…

I feel I do not know anything if I cry.

Slowly they could see their way.

Everybody proposes that nobody knows even if everybody knows.

There is no difference between knows and grows.

Gradually they changed the garden. (ibid., 25)
This is an exploration of language as active exploration, where knowing is growing, unfolding, and perhaps most important, not knowing. The novel itself is a kind of garden that, as any gardener knows, is structure in dialogue with elements beyond one's control. It's quite clear to Gertrude Stein that the limits of her language are not the limits of her world nor of her reader's. As the American protopragmatist C.S. Peirce can still astonish us with, "There are real things, whose characters are entirely independent of our opinions about them."[10]
Stein's language is precise in its refusal to pin things down. It delights in motion. Her transition from prose to poetry as preferred genre was for the
---
sake of greater movement. Poetic language more than any other is language in motion with, at best, nothing settling in or down to the stasis of pseudocertainty. Movement, being composed of change over time, is the play of the medium in all the temporal arts—music, dance, and poetry.
THE RETURN TO ZERO OUT OF A NEED FOR POETRY
Perhaps the most sustained demand made on the writing that we identify with high culture is that it vitalize us; that it wake us up with its artifice to realities delicious to entertain and dangerous to ignore; that, in other words, it play high-risk language games with life/reality/pleasure principles and that those language games be worthwhile forms of life. (The pragmatist Cage would say "useful.") The question is not whether but which form of life a literature enacts. If not serial killing, or a sentencing of some terrifying kind, if not romantic escapism, if not ironic sprinting in place, then what? From Sartre's "the grass stops growing" to Stein's "to know is to grow" is an interesting transversal. Zeno would have been amazed.
Does "it" (anything) come down to where you would rather live—in Flaubert's panopticon; in, for example, Proust's expansive time machine; in Stein's garden …? Of course the beauty of art is that none of these choices is terminal, or mutually exclusive. We can spend the summer in Stein, the fall in Flaubert, any season we choose in Cage. If the characters are more constrained, we might sympathize with them, learn from their bondage something about our own. But there is also Cage's haunting question: In this moment of our history where do we need to be, what do we need to do?—a poethical question that
RETURNS US YET AGAIN TO ZERO
This second part is about structure: how simple it is, what it is and why we should be willing to accept its limitations.… Most speeches are full of ideas. This one doesn't have to have any. But at any moment an idea may come along. Then we may enjoy it.

…

Structure without life is dead. But Life without structure is un-seen. Pure life expresses itself within and through structure. Each moment is absolute, alive and significant. Blackbirds rise from a field making a sound de-licious be-yond com-pare
---
Cage goes on, "I heard them/because/I ac-cepted/the limitations/of an arts/conference/ in a Virginia/girls'finishing school,/which limitations/allowed me/quite by accident/to hear the blackbirds/as they flew up and/overhead/./" ("Lecture on Nothing," Silence, 113).
This poetic statement (which could itself be read as a poem of ideas), written in 1949, sets out the moving principle of all of John Cage's subsequent art—sonic, visual, textual: to create structures with the intention of making possible an active, unimpeded attention to the sounds, words, voices, bodies, lines, marks, colors, textures, and/or any other perceptible events/sensory delights … that by chance or intention pass through them. These blackbirds rise from a field in the midst of an obligation to attend a conference at a Virginia girls' school, or—more immediately and concretely for the reader—out of an abstract discussion of structure, with startling words like pure and absolute behind them rather than, for instance, "twenty snowy mountains."
| | |
| --- | --- |
| | I |
| | Among twenty snowy mountains, |
| | The only moving thing |
| | Was the eye of the blackbird. |
| | III |
| | The blackbird whirled in the autumn winds. |
| | It was a small part of the pantomime. |
| | VI |
| | Icicles filled the long window |
| | With barbaric glass. |
| | The shadow of the blackbird |
| | Crossed it, to and fro.… |
| | VII |
| | O thin men of Haddam, |
| | Why do you imagine golden Birds? |
| | Do you not see how the blackbird Walks around the feet |
| | Of the women about you?[11] |
Is there one among the blackbirds Cage sees whose eye was once "the only moving thing" in the wordscape of a Wallace Stevens poem? Or who "whirled in the autumn winds," or walked "around the feet/Of the women about" the thin men of Haddam, or whose shadow crossed the "barbaric glass" of icicles in the long window? I don't think a blackbird could have escaped Stevens's poetic aviary—trailing as it must "the bawds of euphony," "inflections" and "innuendoes," "glass coaches"
---
and "equipage" except possibly from stanza XIII, where it "sat/In the cedar-limbs." Yet that is questionable too, because it would be necessary for a mere bird to book a downgraded metaflight from a wor/l/d in which "it was evening all afternoon" into one where it was afternoon all afternoon.
The difference between the aesthetic framework that keeps these birds in their thirteen stanzaic aviaries, the better for us to contemplate, meditate on, and the (un)Cage(d) words of "Lecture on Nothing" does have something to do with owning and not owning language. Very little of the language in "Lecture on Nothing" retains a Cagean rhetorical coloring when it's lifted from the poem. In a sense the words in "Lecture" can rise out and return to ordinary life as easily as the blackbirds rise from a field, in the passing moment of savoring nothing more or less than the simple fact that they are there. There is nothing distinctive enough about this language to make us say it belongs to Cage. It's free to go. The structure, on the other hand, is pure and absolute Cagean artifice, although not a cage, anymore than an optical lens that helps us focus on a passing scene is a cage. I don't mean to suggest an invidious comparison to Stevens, whose language allows for something much more expansive and elegant than life in a cage. (Hence the architextural distinction, "aviary.") Yet his blackbirds will never fly out into everyday life. The fact that the major moving thing in the "Thirteen Ways" wordscape is Stevens's own mind is itself a source of pleasure in an attentive stillness. If it cannot be found in everyday life, it can enhance the experience of it. Cage, on the other hand, wants his work to enable attention to the world as it is.
THE BENDING LIGHT OF SPACE-TIME ZERO
It's often puzzled those familiar with John Cage's work—with its uncompromising dedication to the future—that his poetry was almost entirely taken from the previously used (although not owned) language of "source texts"—from the writings of Thoreau, Joyce, Wittgenstein, McLuhan, Fuller, Jasper Johns … and even the King James Bible. They have wondered, as skeptical critics of his chance-generated music have repeatedly assumed, whether Cage somehow suffered from a dearth of ideas of his own and so, unable to come up with anything new, recycled his favorite authors in a mechanically driven homage. If John Cage had nothing of his own to say, then why say anything at all? Yes. This question is very much to the point as Cage took it up in "Lecture on Nothing."
---
I have nothing to say and I am saying it … for we pos-sess nothing. Our poetry now is the reali-zation that we possess nothing
and
We need not destroy the past: it is gone; at any moment, it might reappear and seem to be and be the present. Would it be a repetition? Only if we thought we owned it, but since we don't, it is free and so are we Most anybody knows about the future and how un-certain it is.

(Silence, 109–11)
What one might call the Buddhist letting go in this text has not lost the echo of Gertrude Stein. Her syntax and vocabulary are unmistakably present in its "everybody" or "most anybody knows" ethos. It lays out a poetic program that Cage will follow over the next three decades. The major departures from the Steinian poetics will be in the rejection of devices of repetition (except occasionally as variation) and Cage's extensive and intricate use of chance operations.
A transition from language to music (a language already without sentences, and not confined to any subject.…) … Languages becoming musics, musics becoming theatres; performances; metamorphoses (stills from what are actually movies). At first face to face; finally sitting with one's back to the audience (sitting with the audience), everyone facing the same vision. Sideways, sideways. (Empty Words, 65)
| | |
| --- | --- |
| | the areSome lyes |
| | the high theying lot walike atoof |
| | kingwas pril is pen Bruised |
| | cartoinly ofor a ner |
| | sideare lyel ly one ers |
| | De mi likeis quite them (Empty Words, 57) |
As music, as puzzle, rune, or koan this invites us by chance sideways into word indeed, into and out of the familiar structures of language in "this season ewhich the murmer has agitated 1 to a strange, mad priestessh in such rolling places i eh but bellowing from time to timet t y than the vite and twittering a day or two by its course" (Empty Words, 11). A season in language like fall for instance—tree structures bright
---
and bare as leafy alphabets twirl in the wind, as the Epicurean clinamen falls away from what seemed only a moment or two ago to be destiny.
We (scientific, experimental we) know now, or think we know, that we are all, always, in all ways in dialogue (polylogue!) with chance. This is the condition of our complex reality. To render by means of language any form of reality, we must first, as Ponge says, render it in the textual world. Cage's dialogue with chance is just such an attempt. It renders onto the page a complex realism as representation, cum enactment, of what may be the only viable form of life within the dynamic ambiguities of order/disorder that are the conditions of our global chaos. For Cage this vision is inseparable from the idea of Anarchy bringing the creativity of every individual into the social consensus where music moves back toward language:
| | |
| --- | --- |
| | Anarchy |
| | really does have The future |
| | people are talkIng |
| | abOut |
| | it is creative coNduct |
| | As opposed to |
| | subordiNate |
| | conDuct it is positive |
| | individuAlism to follow a way of thinking |
| | that pRoposes you can assume |
| | for your own acTs |
| | respOnsibility |
| | Visibly |
| | rEsponsible |
| | fiRst to yourself and then to society after the |
| | unworkability of caPitalism marxism |
| | authOritarian socialism anarchy seems for our liberation |
| | to be a Possibility once again as jorge oreiza said to me |
| | from failUre |
| | to faiLure |
| | right up to the finAl |
| | vicTory |
| | (Cage, "Overpopulation and Art," 37) |
I think that one wants from a painting a sense of life. The final suggestion, the final statement, has to be not a deliberate statement but a helpless statement. It has to be what you can't avoid saying. (Jasper Johns)[12]
What Cage's poetry gives us through its use of defamiliarizing artifice and chance operations is a complex intersection of what poet and
---
wor/l/d can't avoid saying to/with/among three or more others. Here we are, in all this together, pulled in many directions of no
one
's choosing, tracing complex trajectories we can neither predict nor control, although we can
attend
with great humor and great care. It is that part of reality that is the prime purview of this art—the complex anarchic harmonies, the infinite grace notes when wor/l/ds are left to talk among themselves. All this, not Q.E.D., but HCE—here comes everybody and everything we've shut out in search of a more generous and exploratory NOW.
Among Cage's working papers for his last poem, "Overpopulation and Art," was this sketch welcoming our twenty-first-century realities into his art: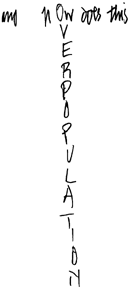 [
Full Size
]