---
John Cage—May 18, 2005
Zero is always a starting point; in signifying the absence of one thing it implies the possibility of another.

S.M. Quant, Manual for Desperate Times
My computer has accurately noted the date for three years but suddenly dates this essay May 18, 2005. I'm writing it in 1989 to present at a Cage festival outside Washington, D.C.[1] This is a decade prior to Year-2000 concerns that computers unable to read a date beginning with 0 will self-destruct. (Only machines laboriously reprogrammed to be "Y2K compliant" will survive.) Even in ignorance of impossibilities to come, this leap onto my screen of the fifth year of the twenty-first century seems highly improbable. I've adjusted the calendar several times, read the manual several more, but can't fix it. My intention is to have the correct date. My computer, of course, has no intentions. It's electronic networks are designed to function in reliably predictable ways. Any deviation from this, any "glitch," might be an accident of programming but could just as well be brought on by the fact that everything in our world operates in the same electromagnetic field. This interconnectedness makes the climates in which we live subject to vagaries of indoor and outdoor, cultural and natural weather.
By now it's well known that weather is a complex (chaotic) system with sensitive dependence on initial conditions (the "butterfly effect"); so writing on any computer, particularly in a neighborhood with vulnerable wires strung from pole to pole, is to be too intimately connected with the rest of the world. As has always been the case, the pragmatic-mystical union in which we all take part involves maximal
---
participation with minimal understanding and control. We define this dynamic nexus in different terms now—gods and fates have become many things, including politicians and habitus. But, in the turn from the transcendent to the pragmatic mystical, the geometry of attention can draw puzzles, even in the midst of all the turbulence and chance intersections, into the foreground of the constructive thought experiment.
Thinking of this then and now, when the undeniable, incompressible scale of interconnected life on our planet brings on waves of anxiety, I like the sound and look of C:\WP\CAGE 5.18.2005—the computer file that held this unfolding essay in my old computer. Even as I tried to correct it, it had become part of my imaginative coastline. I say coastline rather than horizon for reasons I discuss elsewhere.[2] I'll just say here that as metaphors of limit and possibility go, the self-referential location (and romance) of horizons interests me less than the dynamic, transformational exchanges between elements that we call coastlines. Horizons seem to be locations of fantasy, coastlines of probative and mutable imagination. More than a decade later I continue to walk along conceptual edges of this essay from starting-point accident to acquired meanings.
Any movement of the mind in relation to a given pattern occurs for the same reason the dense and seemingly random arrangement of stars in the heavens (the celestial coastline) acquired pictorial and mythological meanings for our ancient ancestors. Looking up, they noticed the archetypal connect-the-dots puzzle in the sky. They drew in constellations, colonizing the heavens with artifacts of their interactive, connecting imaginations. Gaps and disjunctions, when we don't suspect them as traps laid by a purportedly hostile avant-garde, tend to give us pleasure. We are the puzzling species. They awaken our associative faculties. Like the artificial intelligence we've created in our own self-image, the human brain seems to have a connection reflex—by means digital or analog, by straight lines or Brownian motion, by predesigned logics or probative intuitions.
It's not surprising that my computer's glitch date is more apt and interesting than May 6, 1989. For one thing, it's easy to associate with "futurist" aspects of Cage's work. Actually his work is, like all vital art, ripe with presentness and permeability to its contemporary condition. It is literally making something of (composing) materials of that condition, inviting us to enter the conversation with concerns of our
---
own moment. The work presents a coastline of sounds or words or visual marks where mind and aesthetic form interact, subject to conditions of cultural climates. That in turn alters those cultural climates (or microclimates), shifting geometries of attention. This sounds like an analogy with an actual coastal shore that is in dynamic interaction with the changing circumstances of water and air that constantly shift its geometry, but I want to suggest that the dynamic interaction of art and mind (each with its own fractal principles) may actually work similarly to coasts and meteorological elements, not just in a metaphorical relation. If the present is a coastline mediating the turbulent weathers of historicity and futurity, John Cage's decision to explore processes of chaos in his work may seem most strikingly futurist now. But the fact remains—as Gertrude Stein pointed out—that we persist in calling "futurist" (or "nihilist" or "outrageous" or "absurd") those things that address a "now" too complex, too unrecognizable to be immediately understood.
This raises what is perhaps the central issue of the avant-garde—what does one make of change? How does one compose new geometries of attention out of changes that are already taking place? When does one advocate new geometries of attention by literally composing things into view? And then, having done either or both of the above, what is to be made of the work?
Is the degree to which such work is valued governed by laws of something like cultural time-release, akin to those capsules only gradually absorbed by the gut? Another, more familiar, way to ask this question is, Does the truly vital new that Picasso and Stein declared always ugly at its inception always become beautiful over time?
I wonder, for instance, whether in May 2005 a Boston audience will be sufficiently initiated by the general culture's absorption of Cage's working principles—the larger principles of physics and biology and history from which they drew their vitality—to remain attentive throughout his Norton lectures, or Empty Words or Mureau.[3] These principles, which have to do with accommodating complexity, uncertainty, nonlinear dynamics, randomness, incompleteness, indeterminacy, became known in the twentieth century as characterizing the major movements in physics and mathematics and in the last decades as characteristic elements of what has been called the science of chaos. I'd like to think there's hope for what I value so much, find so beautiful, in Cage's work—the way it brings us into pleasurable contact with
---
what can be otherwise daunting experiences of the dicey nature of our contemporary world. Since my working conception of hope is nothing more or less than the willingness to be pleasantly surprised, I needn't worry too much about the odds.
I of course can't predict the future reception of Cage's work. It is, was for him, a radical wager. That's a large part of its beauty and moral courage—its inherent poethical stance. But we do tend to assimilate into our formal expectations structures that science has legitimized in its changing models of reality. The new paradigms of complexity in fractal geometry, physics, biology, physiology, and neuroscience have led to a series of figure/ground shifts in which simplicity and complexity redistribute focal and value positions. Although chaos and flux and the inextricable interrelatedness of things form a nexus that has been treated and redefined in every era, was treated philopoetically in pre-Socratic texts, the engine of modern science had been until recently a tunnel-vision pursuit of simplicity and elegance, not only leaving primary aspects of our experience of the world unexplored but casting them into suspect categories of confusion and error. Luckily the gamut of possible foregrounds for the sciences and the arts now includes multiplicity and unpredictability.
Difficult perceptual shifts, new vectors of attention, have defined the province of the avant-garde. (We want profiles; s/he gives us vase; we see nothing but an absence of profiles and declare that there is nothing at all there!) Whatever the intentions of any particular artist at any given moment may have been, the avant-garde event, by definition, connects us with something unprecedented in contemporary experience. When this unprecedented material becomes assimilated, so may the artist. When it does not … Even when the avant-garde impulse seems largely negative, as it did in the post-WWI dada explosion (Ecrasez la bourgeoisie!, etc.), the extent to which that impulse plays itself out in art renders it a constructive making (poesis) of new patterns out of the cultural material (ethos) of the times, thereby opening new fields of possibility to those who (poethically) care to notice.
John Cage has given us two major figure/ground revolutions. Because of his work we are able to hear noise as music. We are also able to hear silence as sound and, more generally, as those presences (natural and cultural) we have not been attending to. This enlargement of the scope of our noticing allows one to understand aesthetic, meditative, and social silences as all having to do with qualities and choices
---
of attention. But changes in paradigms tend to be resisted. Why is this? Probably because we humans are richly complex creatures not quite in possession of an open-ended neural network coupled antagonistically with a stubborn strain of biological conservatism—hardcore fear of difference—which we, often shortsightedly, identify with survival.
So we as a species produce among and within ourselves agonistic factions like two strains of mathematicians in France—the Bourbaki group, set theorists who some say are as fanatically committed to rigor in numbers as the Académie Française is to purity in letters.[4] They started out to counter the vagaries of Poincaré (beloved by philosophers who claim that rigor is achieved only through loss of meaning), to flush out ambiguity and paradox. The playful humor that led them to cloak themselves in the collective pseudonym "Nicolas Bourbaki" complicates the story along with the fact that their work inspired the OuLiPo writers—Queneau, Perec, Roubaud—who like to play with a poetics of constraints and systematically induced improbability.
Those who see more problems than possibilities in rigid limits argue that all meaning in this richly complex, nonlinear, turbulently chaotic universe rests on a firm foundation of paradox, intriguing ambiguity, and other delightfully troublesome principles. Benoit Mandelbrot, the inventor of fractal geometry, declared something like this to the Bourbaki, who in turn announced that he was obviously no mathematician. (Just as physicist Mitchell Feigenbaum was thought to have abandoned science when he began to spend time on complex nonlinear problems like those of turbulence. And as John Cage was thought by boundary keepers to be operating outside the realm of music when he refused to distinguish between musical and nonmusical sounds.) What Mandelbrot, Feigenbaum, and Cage have in common is that they all turned to the abundant, undisciplined world outside the current boundaries of their professions for the material on which they worked. Mandelbrot took on snowflakes and coastlines and broccoli; Feigenbaum took on clouds and water flow; Cage took on … well Cage took on everything audible on our boom box of a planet. All three seemed to recklessly disdain a certain sacrosanct, impoverished notion of delimiting rigor.
Rigor, as we now know from Gödel, Bertrand Russell, and others, is not secure. It is, ironically, those systems that attempt the greatest rigor—logic, mathematics, linguistics, theoretical physics—that are
---
capable of generating the most interesting paradoxes, paradoxes that save them, despite themselves, from rigor mortis. Does this mean paradox and rigor (which one might, in certain contexts, transmute into Feminine and Masculine) are the two sides of the Western rationalist coin—our yin and yang so to speak? (Interestingly, leading Eastern philosophies seem to put their complementary principles on the same side of the coin.) Is it the case, then, that as we toss coins or computerized equivalents in chance operations subject to statistical probability, we must always awkwardly, painfully, straddle irresolvable polar extremes? Is this the inevitable outcome of High Noon Western Mind in collision with its own dualisms of world and idea, chaos and order, irrational and rational, noise and culture … all those markers of complex range that, when left uninspected, function automatically as invidious comparisons?
The art we have tended to value most highly, like the ancient rituals and mythologies that spawned it, has given us a sense of coming closer to those things that affect us most deeply and that we understand least—a familiar catalog of things that are thought to carry power or omen in our lives: destiny, the gods, human power, family, social conditions, good, evil, love, death—all of which can elicit fascination and terror, fear and trembling, Either-Orness, and even, remarkably, humor. We find it—to focus only on theater—in the drama of ancient Greece, Shakespeare, Strindberg, Ibsen, Beckett.… One could trot out several canons—literary, philosophical, and musical, and much that those canons exclude. Is this capacity to take us to the edge of our needs and desires, to the collisions of our humors in a notoriously strange universe in John Cage's work?
Cage credits many teachers with the evolution of his views on art and its relation to the rest of life, among them Gertrude Stein, Erik Satie, László Moholy-Nagy, Arnold Schönberg, Sri Ramakrishna, Ananda Coomaraswamy, D.T. Suzuki, Huang Po, Marcel Duchamp, Buckminster Fuller, Marshall McLuhan, Henry David Thoreau, James Joyce, Robert Rauschenberg, Jasper Johns, Jackson Mac Low, even—toward the end of his life—Wittgenstein. But perhaps the idea most characteristic of his aesthetic, characteristic even in its negative implications, came from Duchamp—that the only thing that is not art is inattention. This may seem glib or facile or simply false until one begins to think of how difficult it really is to calmly, wholly, intensely,
---
meditatively, contemplatively … attend to anything at all in our distracting world. I think it's for this reason that the "attending arts" of pop culture involve what one might call full-saturation media—movies, video, music—with their blitz effects. These, interestingly, all involve sound tracks—the aural stimuli one literally cannot turn away from within range. If there is art in films, apart from the mass entertainment values of movies, it is in those that refrain from steering the emotional response of the audience with the sound track. Think of the blasting, flooding, drowning of the senses by the previews alone. This, quite calculatedly, is meant to be a Dionysian erasure of any complex monitoring of one's response, making superfluous the conscious structuring of perceptual stimuli. Not necessarily problematic unless it's the only cultural engagement one has. The level of sensory awareness that the arts can invite—buoyed by the surface tension of difficult matters—is part of an engagement with meaning that one might describe as the ongoing humanistic project of contextualizing our senses. When one earnestly turns one's attention to something more strategically demanding than the broadcasting of pop culture, one chooses to live in a volitional mode of transitive prepositions, a form of agency that positions consciousness in conversation with world. To attend
to
is to be present
to.
The word
attend
in English and in French comes from the Latin
attendere,
to stretch toward. The lovely thing about that stretching, its luxuriant and luminous touching of things outside oneself—the grace of it—is that it encompasses the Dionysian along with the ardent rational. There is no necessity for an either/or, as Cage demonstrates.
But, says the exhausted interlocutor, we who might acknowledge the value of stretching toward things outside ourselves, exploring what lies beyond the limits of our "coping," feel too damned besieged. Stretching—mentally as much as physically—is taxing. It takes energy we don't have. The very senses and faculties we might stretch in excess of coping are too fatigued, burned out, dazed, dazzled by the sensory overload of today's world—the condition persistently known as "modern life."
Does it then require the luxury of remove to take on the wager of "high" consciousness proffered by "high" art? Thoreau, in the early nineteenth century, felt overwhelmed by the clamor of society in Concord, hence the need (desire?) to slip away into the woods. Nuns and monks, East and West, have been going into cloisters or onto mountaintops
---
for millennia. And then there are all the "back to" movements, presumably to access a simpler life, to get away from the din, to focus, to concentrate, to gain clarity of mind and value. This is also why "high" art, primarily an experience of selective focus (and selective inattention), has traditionally separated itself off from the rest of life—being presented on stages, pedestals, in frames of various sorts, blinds drawn, behind closed doors. Notice all those "highs"—even the drug culture's use of the term has to do with the idea that transcendence (being at a high remove) is the only hope for claiming one's capacity for joy. In the twenty-first century the preponderant view of art is still as transcendent respite from the mess of the quotidian. Or as a mirror reflecting the great soul of the artist, or God, or both in collaboration, or nature undisturbed by urban noise.
It seems over and over again to come down to Idea vs. World: is it no things but in ideas; no ideas but in things; no ideas but in ideas? If we could just get that straight, we might understand a thing or two in this hall of mirrors artfully directed toward/away from love/death, flux/stasis, emotion/reason, the persistently evil/the ephemerally beautiful, the foolish, the ruinous, the sardonic—all in their many guises and manifestations colored by the artist's intention of engaging the emotions and elevating the mind of a gratefully receptive audience. Grateful because the artist has done the work of connecting the dots and directing the mirror toward only the very best constellations. The viewer, excepting scholars and critics whose business it is to fill in silences, is not so grateful toward artists who leave us in the mess, the overflow, the gaps.
This high art of the constellation has no doubt been edifying. We've been edified out of our senses by gods and geniuses, edified beyond belief, edified to the point of desiring only that life emulate an art so removed from life that its imitation would ensconce us finally in the flatland emporium of Plato's immutable forms. One high-mindedly goes to high art as to a high-priced drug, to get a temporary fix. The question is whether high art helps us live in the parts of the world it so brilliantly excludes—the world that's not so tastefully constructed, not so harmonic and orderly, that doesn't seem to have a theme, a consistent voice, a center, that doesn't even have elegantly composed vanishing points.
How can anyone blame aspiring Greats for excluding the insistent cacophonies? They are difficult to work with. They demand and dull
---
attention simultaneously. If there is a god who created this chaos, that god is clearly an avant-garde artist; that is, no consolation.
John Cage thought that the function of art is to help us pay attention to the magic that comes not from art but from everyday life—to draw closer to the experience, to draw energy precisely from those parts of it we don't understand—its silences. "People," he said, "… have great difficulty paying attention to something they don't understand. I think," he said, "that the division is between understanding and experiencing.… Music is about changing the mind—not to understand, but to be aware."[5] The thing we understand least about our world is its random multiplicity, the synchronous occurrence of an infinite number of unrelated events that make up the texture of any given moment of consciousness. The violence that frightens us most is random violence—unpredictable events that alter and even end lives. We have invented and named fates, gods, and principles of universal justice to protect ourselves from the knowledge that we are all fortuitously and perilously subject to the often not so benign butterfly effect. That weather and traffic patterns and the configurations of most of what we see and hear are unpredictably sensitive to initial conditions beyond our imagination. That they are fundamentally nonintentional, have no beginning, middle, denouement, climax, end—except as we compose those things for our own purposes—is a fact of life. That we experience life on multiple perceptual and cognitive levels is a fact of human nature.
John Cage's art acknowledges and works with these facts as its point of departure, its set of initial conditions, themselves—in their radical indeterminacy—sensitively dependent on whatever an audience or viewer or reader brings to them. Cage, who believed that art should imitate, not nature, but "her manner of operation,"[6] invented structures in which many butterfly effects converge to create temporal developments that are chords of multileveled resonances in what he called "anarchic harmony" with ambient noise. This is why he stopped working with traditional forms. Form, he came to think, is the shape of what happens over time when you put a limited set of initial conditions in motion. Cage's compositional processes, in other words, continue within the realization of the piece. They move from his own strictly rule-governed chance operations, based on first principles and values, via a series of compositional questions, to a collaborative complexity, intimately involving performers, to a simultaneously
---
bounded and indeterminate field of events involving the audience in its poesis.
[7]
This is clear in all his music from the late 1950s on, from large-scale compositions like
Musicircus, HPSCHD, Atlas Eclipticalis,
and the
Europeras
to his compositions for solo instruments and throughout the "number" pieces of the final decade of his life.
[8]
It's also true in his writing. Let's look, for instance, at a page from
Empty Words.
(See
Fig. 1
.)
Huang Po, who at least in translation does not eschew the notion of understanding, says, "If you wish to understand, know that a sudden comprehension comes when the mind has been purged of all the clutter of conceptual and discriminatory thought-activity. Those who seek the truth by means of intellect and learning only, get further and further away from it."[9] In looking at Fig. 1, then, try to empty the mind of the following conceptual and discriminatory thought activities: This should be a mirror of somebody's mind, preferably a great artist and/or thinker; this should be an artfully directed mirror of reality, preferably revealing graceful patterns and hard-won harmonies. But it seems to be neither. What the hell is it? It's nonsense! I don't understand it! What's the point? What are those weird squiggles? What are they meant to illustrate? I don't get the point! This is ridiculous! I can't figure it out!
Now that you have exploded your rational arsenal, you are at ground zero. Turn to Fig. 2. What do you notice?
For Cage the importance of the return to zero is both the Buddhist ideal of "empty mind," from which fresh perception might spring, and a compositional principle reached not by dadaist or surrealist free association or improvisational action but by strict adherence to carefully considered procedure. In this way his work is related to the OuLiPo group, which also investigates what happens under predetermined constraints. In contrast to the mathematical preoccupations of OuLiPo, the interests and values out of which Cage worked touch on a much broader spectrum—traditions in all the arts, his personal pantheon of influences: Duchamp, Joyce, et al.—as well as an architectural love of space-time volume and grids, to principles of nature and, of course, everyday life. There are countless examples of this last source of ideas. He conceived the idea of Musicircus, for instance, while enjoying the human and automobile traffic on a street corner in
---
Seville. The fact of his fifty-year collaboration with dancer and choreographer Merce Cunningham no doubt shaped his sense of the musical event as physically sited and spatially multidimensional.
Cage's compositions are designed to create open rather than recursive systems. What does open—by now a flaccid term—mean: a system whose logics are quite obviously not complete (semantically reinforced and self-identified) within themselves but must be taken up and furthered by the audience. In this way one's consciousness is invited to venture beyond, although not to entirely abandon, its most habitual and intrusive preconceptions and intentions. This probative wandering sets the scene for the Ah Ha! experience not only in Zen and the arts and sciences but in any adventuresome investigation. This is the opposite of transcendence because it asks us to look not at the recursively projective screen of the horizon but at that most difficult of all scenes, what is right before and around us. Attending to one's immediate circumstances is basic to the way all organisms preserve their vitality. The mind need not (indeed, cannot) be entirely emptied of its perceptual structures in order to experience art-life in the way Cage recommends, but those structures must have practiced permeability. One must become vulnerable enough to sensual-conceptual transformation to experience the perverse pleasure of figure/ground shifts in which much more can become figure—figure that is vibrantly real—than we previously had grounds to imagine.
The borders that frame Cage's compositions are semipermeable membranes that participate in dynamic, fluid exchanges with the elements that surround them: ambient sounds, ambient thoughts and emotions, cultural weather. In the case of a composition like Empty Words, ambient etymology and spatial intuitions figure in as well. Meaning is a complex system sensitive to the precise, unpredictable mental and emotional, and even appetitive, conditions of each member of the audience, each viewer, each reader. This ever-changing ambient field is what makes stable interpretations a hoax, generally perpetrated to bolster some locus of authority. Art is surely a life system within our material culture; all life systems are dynamic. The biological principle of the semipermeable membrane makes possible the life (motility, development, exchange) of systems—their nourishment and interactive responsiveness. This is as true of our aesthetic and intellectual
---
metabolism as it is of processes that go on in the gut. Art is a form of life.
According to Cage the proper response to art as life is "merely" to delight in it with heightened awareness, to experience the reflexive humor of the figure/ground shift, the wonder of richly improbable conjunctions as the ambient comes into and is shaped by the art. I associate this with the French notion of jouissance, a playful erotics of informed sensuality. The figure who will always be known as Cage was himself full of jouissance—a wonderfully polymorphous perverse jouissance. Supposing this is all he has to offer us—his sense of the opportunity to develop a capacity for delight in complex aspects of reality we have a strong tendency to ignore, or deny, or escape in our daily frenzy. Delight in the graceful, anarchic harmonies of nonintentional configurations of sounds and sights in our everyday world. Is this enough?
If it were possible, how could it not be enough! Does this sound glib? Thinking again, in this age of cultural Attention Deficit Disorder, how rare an informed, intense, not to say pleasurable connection with anything in our daily lives can be—the effects that this distractedness has on possibility and aspiration—this role of the arts seems positively urgent. There is strong support for this aesthetic function in the American pragmatist tradition, from Emerson's capacity to notice light in a puddle that makes him "glad to the brink of fear" to John Dewey's Art as Experience.[10] Dewey writes,
To my mind, the trouble with existing theories [of art] is that they start with a ready-made compartmentalization, or from a conception of art that "spiritualizes" it out of connection with the objects of concrete experience.… The nature of the problem [is] that of recovering the continuity of esthetic experience with normal processes of living.… [This must occur because] if the gap between organism and environment is too wide, the creature dies.… Experience in the degree in which it is experience is heightened vitality. Instead of signifying being shut up within one's own private feelings and sensations, it signifies active and alert commerce with the world; at its height it signifies complete interpenetration of self and the world of objects and events.[11]
It is the role of art, according to Dewey, to stimulate and maintain our capacities for such interpenetration, such heightened awareness.
This is the pragmatic-mystical ground zero: zone of Cagean silence.
---
That is, scene of new composition that redefines geometries of attention. It's full, even in its conspicuous absences, of the matter that is always improbably there, that must be attended to if we are to recover our senses and move on. It's not that one loses
Fig. 1
, or anything else, at ground zero; it's that we gain the possibilities in
Fig. 2
.
---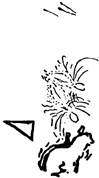 Fig. 1
[
Full Size
]
---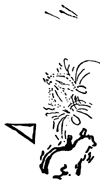 Fig. 2
[
Full Size
]