Communal Organizations and Winegrowing
The traditional link between religious communities and winegrowing went back to the beginnings of California, when the missions introduced the art and mystery of wine. It is interesting to note that one, at least, of the old mission vine-
---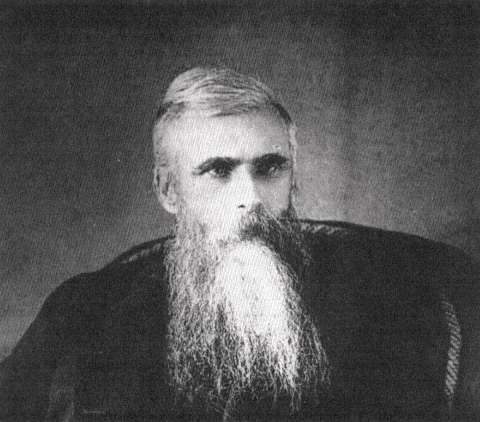 [
Full Size
]
yards was brought back about this time, in the eighties, when California wine-growing had entered on a new order of importance. Under the patronage of the archbishop, Father Kaiser at Mission San Jose began making wine for the church from the vines still growing at the Mission.[76] But, as wine had never been an important part of the economic life of the missions originally, neither was it to be so now. For some latter-day religious communities, however, it was to be important—most notably for a strange melange of diverse people brought together on the basis of an equally strange compound of mystical principles and calling themselves the Brotherhood of the New Life. The founder, Thomas Lake Harris, was English-born, but brought up in the "burnt-over" region of upstate New York, the most fertile source of new religious growth in the whole United States. Harris gradually
---
pieced together all sorts of elements—Swedenborgian, Universalist, Spiritualist—into a new rule of life and attracted to himself a small community to carry out the practices of his invention: the members included Englishmen, Yankees, Southerners, even a few Japanese. Among the Englishmen was Laurence Oliphant, a writer and traveller of some fame, who had once sat in the British Parliament. With his wife, he brought a good deal of money into Harris's community.[77]
The New Life began in Dutchess County, New York, in 1861, first at a village called Wassaic, and then in the town of Amenia, where, it is said, winemaking was the business of the community. Since the Brotherhood were there only four years, their winemaking cannot have progressed very far. In 1867 Harris moved the com munity to Brocton, on the shores of Lake Erie, in Chautauqua County, New York, where he had purchased some 1,200 acres. This was the era of the grape craze in the East, and of expansionist activity in the winegrowing industry of the Lake Erie region. Harris decided to join the action, or, as he put it, to devote the community to "the manufacture and sale of pure, native wine, made especially for medicinal purposes."[78] For this was not to be just ordinary wine. The community's produce would share in the special virtues of its religious practice: the wine of the New Life was infused with the divine aura and opened the drinker to the creative breath of God Himself. More prosaically, Harris meant to make wine from the Salem grape, one of the hybrids produced by E. S. Rogers, in which Harris had put his faith and his money, for he had paid for the rights to grow it.[79] One wonders whether he chose this grape for the sake of its winemaking qualities or for its religious name? His "New Found Salem Wine," as it was called, did not prove entirely satisfactory, however (though whether on divine or merely sensuous grounds is not clear), and the Brotherhood at Brocton soon tried other varieties as well as the Salem. Harris himself kept a vineyard at his house, called Vine Cliff, where he could experiment with different varieties. Meantime, in 1869, he sold all of his stock of Salem vines to a Lockport nurseryman.
In his work at Brocton, Harris had the advantage of good help. A Dr. J. S. Hyde, from Missouri, was his wine expert, assisted for a time by a Dr. Martin, from Georgia. Another member, Rensselaer Moore, who came from the grape-growing Iona Island in the Hudson, understood the propagating and growing of vines. Between them, these men made a success of the community's venture. By 1870, only three years after their move to Brocton, the small community—it numbered between 75 and 100 members—had a vintage of 15,000 gallons and had built a solid masonry underground storage vault a hundred feet long.[80] The winemaking enter prise was called the Lake Erie and Missouri River Wine Company, though why it had that name is not clear.[81] Perhaps Hyde's Missouri origins were thus indicated, or perhaps they used Missouri wines in their own production?
No sooner were things running smoothly at Brocton than Harris decided to move to California, probably for the same reason that urges people today to leave the wintry shores of Lake Erie for the Pacific Coast, though Harris gave religious reasons as well. In any case, in 1875 he bought 400 acres of land just north of Santa
---
Rosa (where Luther Burbank arrived in the same year), named the property Fountain Grove, and set about to develop it. The community at Brocton continued to operate, selling its wine to a New York firm using the "Brotherhood" label until the gradual shift to California was complete.[82] Not all the New Yorkers went to California, but the Brocton establishment was wound up in 1881.
At first the California colony supported itself by dairying, but vines were soon planted and by 1883, when Harris hoped for a vintage of fifteen to twenty thousand gallons, the entire estate had been concentrated on winegrowing.[83] From this point on Fountain Grove prospered. By continued purchase Harris ultimately enlarged the property to about 2,000 acres, of which 400 were in vines, and nearly as many more in orchards. The winery, brick-built, three stories high, steam heated, and scientifically equipped, had a capacity of 600,000 gallons, and production grew rapidly to use that capacity: 70,000 gallons were made in 1886; 200,000 in 1888.[84] The winemaking remained under the charge of Dr. Hyde, who had accompanied Harris west from New York. The vineyards grew good varieties—including, it is said, Pinot Noir, Cabernet, and Zinfandel—and red table wine was the staple product. This was sold mainly in the East, through a New York agency that included a wine house, restaurant, and bar at 56 Vesey Street. The winery even published its own illustrated journal, the Fountain Grove Wine Press . So far as I know this is the first example of a house journal or newsletter in the American wine industry.[85]
Harris, who held the title to all this property, lived in something like splendor compared to the provincial standards of Sonoma County in those days. His house, of many rooms, was finished in fine woods, ornamented with stained glass, and surrounded by gardens and fountains. It also contained what a contemporary de scribed as "perhaps the most extensive library in northern California," where Harris could play at science and poetry.[86] The other members of the community lived in two buildings, men in the "Commandery" and women in the "Familistery."
Though Fountain Grove prospered, no one so striking and controversial as Harris could expect to lead a tranquil life, especially not when he propounded sexual theories that could only scandalize a California farm community in the 1880s. Harris taught that God is bisexual, and that everyone, man and woman, has a celestial counterpart with whom to seek eternal marriage. Unluckily, the counterpart is elusive: it may move from one body to another, and in any case it is hard to know, for sure where it dwells, and when. Yet the main business of life is to find one's counterpart. Hunting the counterpart, then, looked to outsiders like simple promiscuity, never mind about the celestial sanctions. It did not help the reputation of Fountain Grove that the partners in civil marriage were supposed to be celibate, since civil marriage did not, except by the rarest accident, bring together genuine counterparts. And Harris, a copious writer who set up a printing press at Fountain Grove before a wine press, put forth stuff about how the world is filled with tiny fairies who live in the bosoms of women and sing heavenly harmonies inaudible to worldly ears. It is no wonder that rumors grew until scandal broke. It is perhaps more remarkable that Harris stayed on at Fountain Grove so long as he did. At last
---
in 1892, urged by newspaper furor, he left for England, never to return to Fountain Grove.[87]
In 1900, six years before his death, Harris sold out to a small group of the faithful, including Kanaye Nagasawa, a Japanese variously styled baron or prince, who had been one of the earliest converts to the New Life and one of Harris's closest assistants.[88] Nagasawa kept the winery and vineyards until his death in 1934, after which they passed into other hands and at last expired in 1951. The Fountain Grove label was purchased by a neighboring winery and may still be seen on bottles of California wine, but it is not what it was.[89] The estate itself has been eaten away by the city of Santa Rosa, and so this phase of the New Life, at any rate, has returned to the spirit.
While Fountain Grove's wine business was developing, another Sonoma County community, some distance to the north, almost within sight of the Italian Swiss Colony at Asti, had been founded on the basis of communistic winegrowing. This was the Icaria Speranza commune, and its example completes the sequence of communal groups that chose winegrowing as a way to realize the dream of self-fulfillment in a new land. The Huguenots, the German Pietists, and the Rappites were seeking religious freedom; the French in Alabama and the Germans in Missouri were seeking to transplant a European culture intact; the colonists of Anaheim and Asti were looking for simple economic sufficiency. The Icarians of Cloverdale were looking, in a way, to combine all of these things.
They were a secular group, but professed the religion of True Christianity; they were communists but not political, preferring to change the world by the force of good example; they taught universal brotherhood, but required the ability to read and speak fluent French for membership.[90] Their roots in this country went back to 1848, when a group of Frenchmen, inspired by the utopian communism of Etienne Cabet revealed in his Voyage en Icarie , arrived in Texas to create a model community. They soon migrated to Illinois, then to Iowa, suffering dissension, schism, and material hardship along the way.[91] The California venture was a last gasp in the struggle that had begun over thirty years earlier for the original Icarians. Armand Dehay, an idealistic barber associated with the Iowa community, led the way to California, where in 1881 he purchased 885 acres along the Russian River three miles south of Cloverdale and at once began laying out a vineyard of Zinfandel grapes. The Icarians, good Frenchmen all, had planted a Concord vineyard during their sojourn in Iowa, and the main hope of the California colony was to make viticulture the basis of independence.
The times were propitious—the Italian Swiss Colony venture began the same year, inspired by the same expansive market for grapes—and the Icarians, consisting of a few families only, began work with good hope. In one year's time they had 45 acres in vines, and were planning a distillery as well as a winery. In 1884 they were joined by a further migration from the Iowa colony, raising their numbers to about fifty-five people. They held their property in common, but they lived their lives in fairly usual fashion. In the main house they met to dine and to enjoy their
---
social occasions, but the different families lived in separate dwellings rather than in some regulated communal arrangement.[92]
Their luck soon ran out. They had counted on the sale of their Iowa property to meet their California debts but ran into legal trouble and got nothing; they lacked both labor and money to carry out the developments that their scheme re quired; and finally, as had happened to the Italian Swiss colonists too, when they at last had a grape harvest to sell, they had nobody to buy it. The writing on the wall was clear by 1886; in 1887 the society could not meet its debts and was dissolved, the property passing to the ownership of some of the individual colonists, several of whom remained to tend the vineyards and make wine as small proprietors rather than as the communitarians they had hoped to be.[93] Armand Dehay, the prime mover of the group, was one of those who remained; with his brother he grew grapes and made wine at the Icaria Winery. Thus the three different community experiments made within a few years and a few miles of one another in Sonoma County—the Fountain Grove Brotherhood, the Italian Swiss colonists, and the Icarians—all failed to reach their spiritual or political goals. They all succeeded at viticulture, however.