The Flirtation of Girls played in New York to a rather small crowd of perhaps fifty people in the Walter Reade Theater, which can accommodate several hundred spectators. The film starred Layla Murad, a singer; Najib al-Rihani, a comedian; and Anwar Wajdi, an actor who played both comic and dramatic roles. The film also featured cameo appearances by two other prominent personalities, the actor and director Yusuf Wahbi and Muhammad 'Abd al-Wahhab, a singer and composer, considered to have been one of the greatest musicians of his day.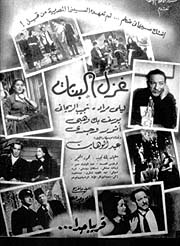 Fig. 17. A collage of publicity stills in an advertisement for The Flirtation of Girls. (al-Ithnayn, no. 761, January 10, 1949, p. 2). Courtesy of Dar al-Hilal.
[
Full Size
]
The Flirtation of Girls is nothing more or less than a showcase for stars—very much the "collage" mentioned so disparagingly by Tawfiq Salih in the epigraph to this chapter. It is primarily about media-constructed personalities, and even critics who are not favorably inclined to commercial films have conceded that it has a certain charm (e.g., Salih 1986, 200). Taken individually, each of the film's principals can be counted a national icon; the overall construction of the film, however, puts it in a category that gets very little critical respect. Scantily clad dancing girls were featured in quantity, alternating with slapstick comedy routines. Both were scattered through an implausible and barely coherent plot that showed complete indifference to the lives of "real" people. There was little effort to integrate the film's songs with the plot—they simply occurred at fairly regular, and no doubt commercially marketable, intervals.
But the dialogue, full of double entendres and in some places written in rhyming prose, is hilarious, even for a non-native speaker of Arabic like myself. Badi' Khayri, a colloquial playwright and the man who wrote the film's dialogue, might have been a minor figure compared to canonical authors who, by definition, wrote mainly in proper literary Arabic. But he knew how to connect with an audience, and he was one of the cleverest and most popular writers in Egypt.[9] The film ends with the cameos by Muhammad 'Abd al-Wahhab and Yusuf Wahbi, who play themselves. By the time they appear the principal members of the cast—Murad, Wajdi, and al-Rihani—are in Wahbi's mansion and 'Abd al-Wahhab is in another room rehearsing with his orchestra. Wahbi, known for melodrama, is hilarious in this scene—full of self-mockery, madly throwing out intertextual references to other works he and some of the other actors had appeared in. Then 'Abd al-Wahhab's orchestra starts to play and they all go to listen. 'Abd al-Wahhab, famous not only for his singing and composing but also for having expanded the traditional Arabic ensemble, appears directing an orchestra that includes balalaika and piccolo sections. The music brings everyone to an emotional crescendo; the plot is resolved through Wahbi's sage advice to the younger members of the cast; the various characters in the film see the folly of their ways; the right man marries the right woman; almost everybody lives happily ever after (more about that "almost" below).
When the film ended I went out to the lobby of the Walter Reade Theater and overheard an American man saying wearily and with heavy condescension, "Well, we have to see something that the unwashed masses watched." I was taken aback. He had just seen a film that tied together everything from low-down vernacular jokes to classical poetry; a film thoroughly embedded in what, in a context other than the much-maligned Egyptian cinema, might have been called a complex and sophisticated semiotic system. He had just seen an incredibly rich slice of Egyptian history—something that everybody in Egypt knows and many have practically memorized. Did he not come to the festival to get some insight into Egyptian society? What more could he want?
The experts brought to New York to comment on the phenomenon of Arab cinema had only encouraged him to think that he had just seen a bad film. All of them, including Tawfiq Salih, Egypt's sole official representative at the festival, sought to distance themselves from commercial Egyptian cinema.[10] Some did so politely on nationalist grounds ("It's not our nationalism being represented, but no doubt it's fine for Egypt"), and others were more vociferous in pointing out what they saw as the aesthetic shortcomings of Egyptian films. Salih, for his part, contended that the Egyptian cinema began with high ideals but degenerated due to the necessity of marketing to unsophisticated Arab audiences, followed by other economic and political upheavals.[11]
What the American man in the lobby wanted became clear from the next film, the Tunisian production that followed The Flirtation of Girls. This was Summer in La Goulette, and the crowd that turned up for it was many times larger than that for the previous film—probably a sold-out theater.[12] It was a nostalgic piece set just before the 1967 Arab-Israeli war, in a Tunisian beach town, La Goulette. La Goulette is portrayed as a place in which Christians, Muslims, and Jews lived in distinct communities that fit together in a blissful syncretism of polite equality. The only threats to this harmony come from the Arab East. The looming Arab-Israeli conflict poisons attitudes toward Jews among the weaker members of the community, but others in the Muslim community vigorously defend the honor and national commitment of their non-Muslim countrymen. Another incipient threat to local harmony comes in the form of a pious and greedy landlord who has spent too much time in the East, which has caused him to adopt a narrow and hypocritical interpretation of Islam. On a local level only benign traditional prohibitions against interfaith marriage cast a cloud on the perfection that was La Goulette, and even this does not prevent the younger generation from flirting with the idea of crossing that boundary.
It would not be stretching a point to say that the film was about no less a Western concern than multicultural pluralism, but of course set in Tunisia rather than in a Western country. At the same time there is no question that Summer in La Goulette contested prevailing American stereotypes about the "timelessness" of hostility between Muslims and Jews (although what proportion of the audience in the Lincoln Center held such stereotypes is an open question). The film revealed that the Italian actress Claudia Cardinale was born in Tunisia in this very town. In the course of the film she comes back to La Goulette, and no doubt many in the audience were inclined to see her cameo appearance as a sophisticated transnational representation that breaks down stereotypes and shows how borders are continually being crossed and blurred. In the end it was a pleasant film. A number of scenes featured bare-breasted women and nudity (not quite of the "full-frontal" variety), which will keep it from being shown in too many Arab countries.[13] The film also revealed Arab women as having a healthy libido, which may confound the expectations of metropolitan spectators inclined to see Middle Eastern women as repressed. It also suggested that pious religious prudery is not the "real Islam," and although academics have long cautioned against such essentialisms as "real Islam," an Arab film casting religious zealotry in a negative light will be enlightening for many a metropolitan spectator.[14]
Outside of a general awareness of the Arab-Israeli war of 1967 (the film's historical backdrop), very little specialist knowledge about Tunisia or North Africa was necessary to appreciate Summer in La Goulette. This was virtually mandated by the economics of the film; Summer in La Goulette began with a long list of corporate and governmental agencies that sponsored the film, all of them European. The film was made from the ground up as a production that had to be marketed to metropolitan audiences who knew little or nothing about Tunisia.