The Unvented Gas Space Heater
Space heaters are inexpensive, convenient, and popular with energy-conscious consumers. They are also illegal in many jurisdictions—at least certain types are. Unvented space heaters fueled by gas or kerosene are the most controversial because, unlike electric heaters and various vented heaters (including woodstoves), they discharge their combustants indoors. The long-term effects of these pollutants are unknown. The acute effects—carbon monoxide poisoning—are better understood and, under the worst circumstances, can be fatal. Owing to the differences in fuel, gas-fired heaters pose a more serious threat of carbon monoxide poisoning than those fueled by kerosene. An unvented gas-fired space heater, along with the controversial oxygen depletion sensor (discussed later in this chapter), is pictured in figure 3. In the interest of brevity, this product will be referred to as the "unvented heater" for the remainder of this chapter.
The unvented heater is a primary heating source for poor families in southern states, where many homes do not have central heating. With installation and operating costs considerably lower than those of other space heaters, and fuel efficiency of nearly 100 percent, these appliances are popular with cost- and energy-conscious consumers. They are disfavored in northern states, however, where homes tend to have central heating and better insulation. Three major producers currently account for almost all of the 180,000 units sold annually in the United States. (There were thirteen manufacturers and much higher sales before the CPSC proposed a ban on space heaters in 1975.)
---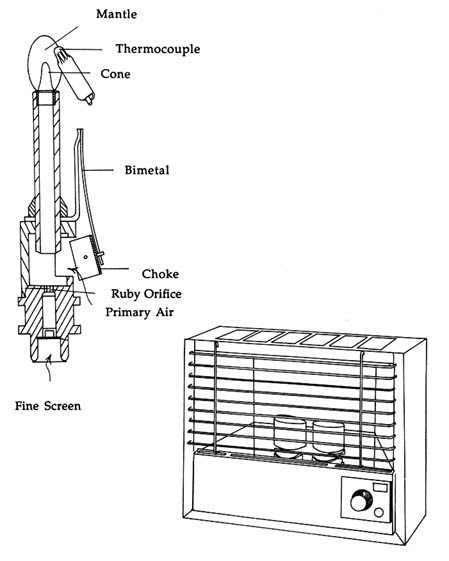 [
Full Size
]
Two acute safety problems are posed by the gas space heater. The first, fire and burn hazards, is common to all heating equipment but is somewhat more serious with gas or liquid fuel sources. The primary fire and burn hazards are contact burns and clothing ignition. The burn hazard is easily mistaken for the hot radiator problem. In fact, temperatures on certain parts of the unvented heater can exceed 500° F, so the
---
resulting injury can be extremely serious. Lesser problems include the clearance between the heater and combustible materials, and gas explosions—less serious because they are so rare.[1]
The Invisible Hazard: Carbon Monoxide Poisoning
The second acute hazard—carbon monoxide poisoning—is the most significant. This hazard is not common to all heating equipment. It is unique to unvented (or improperly vented) space heaters fueled by gas (or, to a lesser extent, kerosene). Carbon monoxide poisoning can occur if the heater's burner is maladjusted or if the heater is used without adequate ventilation. The hazard is particularly ominous because carbon monoxide is odorless and colorless—you can be poisoned without knowing it, especially if you are asleep. Most deaths appear to be caused by inadequate ventilation, and apparently most of those are in bedrooms. It seems counterproductive to many consumers to open a window while heating a room, but ventilation is required to ensure safe use.[2]
The carbon monoxide hazard is well recognized but poorly documented. Industry trade associations do not collect injury data in any systematic way. Representatives on the relevant AGA committees are aware of the common hazard scenarios, sometimes as a result of newspaper clippings sent to the committee.[3] But the problem is not widely discussed, and anecdotes are not freely exchanged during the standards setting process.
The CPSC is the only organization that has attempted to quantify these hazards, relying on files of death certificates, reports from hospital emergency rooms, and its own in-depth investigations. The CPSC placed the unvented heater fifteenth on a list of over 350 hazardous consumer products. Except for possible publicity value, however, this designation is of dubious assistance to the agency's regulatory effort.[4] More pertinent than the total number of injuries is the character and seriousness of various components of the injury problem. How many cases of carbon monoxide poisoning occur? What are the causes and possible solutions?
Epidemiologists at CPSC have reached two relevant conclusions. The first is widely accepted: contact burns are the most common hazard associated with the unvented heater. Four-fifths of reported injuries are contact burns; the majority of these are children and elderly people who fall against the heater.[5] The second conclusion is more controversial:
---
unvented heaters are responsible for some seventy carbon monoxide deaths per year. This number has appeared repeatedly in briefing papers and newspaper articles over the past ten years, although its origin and accuracy are unclear.[6] Still, the number emerged with what Max Singer has dubbed "the vitality of mythical numbers.[7]