Dress
Before the Spaniards came, the men's dress consisted of soft-tanned deerskin or woven cotton. There might be a shirt, a breechclout, a kilt, and a robe of rabbitskin strips and, at an earlier period, a feather mantle. Leather moccasins or yucca-fiber sandals were used. The women wore a garment made of a rectangular piece of cloth wrapped around the body, fastened over the right shoulder, and sewed up the right side (pl. 1). Thus the left shoulder and arm remained bare and free. A long, wide belt was
---
wrapped several times around the waist. A square of cloth, with two corners knotted under the chin, was allowed to hang down the back. Most of the time the women wore no foot covering, although long, wrapped moccasins of soft deerskin were worn on occasion. In the cold Taos country, snowshoes were worn in winter; elsewhere the feet were protected from snow by a piece of fresh deerskin with the hair side inward.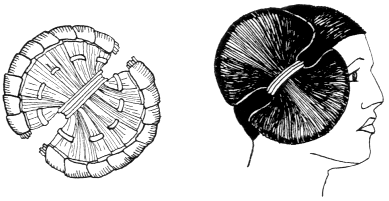 [
Full Size
]
Today—aside from the American store clothes—the men's dress is reminiscent of the Spanish Colonial period, modified, of course, by years of influence. The women retain their aboriginal dress, which is now worn over an undergarment.
Hair arrangement.
—The long, black hair of both men and women is often queued, doubled over itself, and bound with a band at the nape. The sides are cut even with the ear lobe, and sometimes the women's hair is banged to the eyebrows. In some dances the hair hangs to the chin, simulating a mask or the Oriental veil (pl. 10).[11] The Hopi matron's hair is parted and gathered in two locks over the ears. "Each lock is wound over the first finger and the end drawn through as the finger is withdrawn."[12] The upper end of the lock is then wound with hair cord. The unmarried Hopi girls twist their long side and back hair on great eight-inch whorls
---
which are worn over their ears to suggest the butterfly, the symbol of virginity. At Taos the man's hair is parted in the middle and allowed to hang on each side of his face in a braid or roll wrapped with yarn.[13]