Agriculture
Corn is the basis of Pueblo economic life. Various seed and melon plants are now grown, but corn, beans, squash or pumpkin, some varieties of gourds, the sunflower, and a kind of cotton were aboriginal. Other plants were introduced by the Spaniards and the Mexicans. Planting was done in April and May. The Hopi have a series of nine specified plantings, determined by the sunrise, between mid-April and June.[7] The Indian believed that planting must be done at a certain phase of the moon; for example, a waning moon was thought to have a bad influence upon the growth of plants.
Corn is the staff of life and the center of ceremony. Seed corn is kept two years so that in the event of a dry season there will always be enough for another planting. The corn is quick-growing and drought-resisting. It is planted deep, in irregular hills; often it depends upon seepage or underground water to quicken it into life. Colored strains of corn have been cultivated by the Pueblos for centuries, and the colors have ceremonial significance. A special blue corn is planted in May for the town chief of Cochiti.[8] A central place in myth and legend is given to the Corn Maidens, and the various colors of the grain are related to the directions. "The Tewa recognize seven varieties with the corresponding color directions of association and personifications. They are the following:
| | |
| --- | --- |
| Blue corn, north | Blue Corn Maiden |
| Yellow corn, west | Yellow Corn Maiden |
| Red corn, south | Red Corn Maiden |
| White corn, east | White Corn Maiden |
| Many-colored corn, above | Many-colored Corn Maiden |
| Black corn, below | Black Corn Maiden |
| Dwarf corn, no direction | Dwarf Corn Maiden"[9] |
---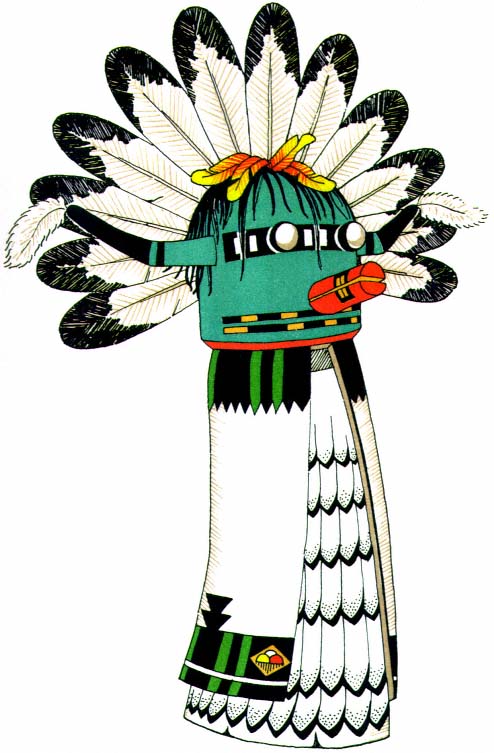 [
Full Size
]
---
Fields are often owned by clans, as among the Hopi, or individually by the men and women, as in the east. The men work the fields, the women occasionally helping with the planting, and the entire family joins in the harvest. Communal labor is employed in certain fields and the crops from these are given to the town chief. This august person does not work, but spends his time in meditation on matters which are supposed to be for the good of the community.
Wild seeds and plants were formerly used for food. These included piñon nuts, acorns, juniper berries, yucca fruit, and many cacti. Certain plants and herbs still provide flavoring, and from others are obtained colors and adhesive gums used for dyeing materials and decorating masks.
In former days another major activity of the Pueblos was hunting, for the obtaining of food and skins. The hunting societies were influential; their leaders still hold active office in the round of ceremonial life.