Baskets.
—The round, flat, basket plaques, made by the Hopi or purchased by other villages from nomadic neighbors, are used most significantly in the Basket Dance. This is definitely a woman's dance, though sometimes the services of a few men are utilized. The major symbolism is centered in the food basket, the usefulness of which is inestimable since it covers the span of life. It holds all the seeds to be planted in the earth, in due time to flower and become grain. It carries the ripened harvest and winnows the seed from the chaff. When the harvest is ground, it bears the meal, and later it brings the thin, colored rolls of piki bread which is made for the sustenance and ceremony of the tribe.[84]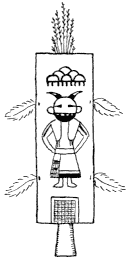 [
Full Size
]
The Hopi baskets are made with both the coil and the wicker technique. They are constructed of the tough, strong stems and small twigs of various desert plants which have been cleaned and dyed the pleasing soft colors of earth and herb. The two techniques are very different. The wicker designs diverge as they leave the center, growing larger and more effective, whereas the coilwork restricts the design to a radial pattern which is forced out from center to circumference and has a tighter and more concentrated feeling. Baskets are made specially for this ceremony and at the end of the dance are thrown to the onlookers, to the accompaniment of clamor and agitation.
In the Sun Basket Dance of Santa Clara, performed by two boys and two girls, each of the girls "carries a basket decorated inside with an orange-colored sun symbol and on the edge with long fringes of red-dyed angora wool. In the principal movement of the dance these baskets are
---
swung in a double arc, with graceful drooping of the entire body, the flame-colored corona flashing out in a conventionalized but quite realistic picture of the sun".[85]
A greater number of symbolic elements are to be found among the objects carried in the hands of dancers and impersonators than in the colors and designs of dress and mask. With their background in literal fact and phenomena, these objects have outgrown their material phase and have become ceremonial. Devices making use of mechanics in construction are here displayed in their most advanced form. The Pueblo Indian has never been mechanically gifted; even today he has an utter lack of knowledge and interest in the mechanistic features of civilization; his most advanced development in this direction is gauged by his childish delight and wondering belief in the reality of the serpent effigy and its simple manipulation by stick or horsehair thread. His talent lies in another field. By neglecting the mechanical forms he has advanced in the art of surface decoration. He has gained mastery in the field of design.