Sash.
—A brocade sash (p1.31)is worn by the men who take part in public ceremonies. Each sash is made up of two "panels of plain weaving of cotton or wool, decorated at the end with designs in colored yarns and terminating with a fringe".[54] Two-thirds of each panel is plain-woven; then the heddles of the loom are adjusted to work the pattern in yarn. At the point where this decoration begins, a finer weft is used so that the addition of the colored yarns does not widen the cloth. The designs are virtually alike, being made up of bands of black, green, and blue with a red diamond design in the center. At their plain ends the two panels are sewn together with a roving of cord. This produces a long sash which can be wrapped about the waist and knotted on the right side with the ends hanging to the calf of the leg. The origin of the sash appears to be unknown, but the form was fully developed in the earliest modern examples collected by James Stevenson in 1879.[55] The sashes are brocaded today with commercial yarns; "however, old specimens show hand-spun wool for both the body of the sash and the brocading".[56]
The plaited white cotton sash with its long fringe is one of the most significant and potent of rainmaking garments. "A typical example of the sacred sash is composed of 216 threads of white cotton about the size of small package cord braided into a band eight inches wide and sixty-one
---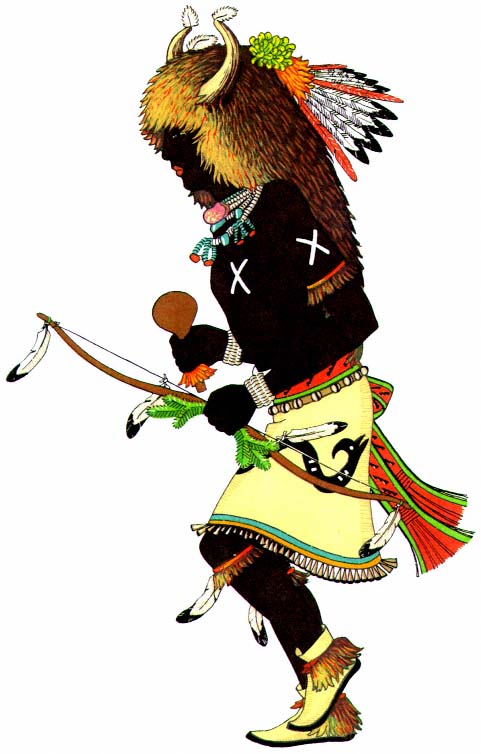 [
Full Size
]
---
inches long to the termination of the solid braiding. The work is started midway of the cords when a twining is applied temporarily, and proceeds toward either end when the cords are divided into twelve tresses braided into narrow tapes for a short distance".[57] Over each tape end, rings of cornhusk wrapped with cotton cord are slipped and tied in place. The cords are then divided into sixes and twisted together to form a long fringe, which symbolizes, in the Indian mind, the falling of the rain in its long, parallel lines (pl. 20). These sashes are kept clean and white by rubbing with liquid kaolin.