4—
Business
Business is not discussed in detail here since different types of business had their own particular characteristics, some of which have already been discussed in Chapter 2. Nonetheless, all businesses had some elements in common and it is this common ground that is considered in this chapter. How people started a business is examined first, then the central problem of cash flow, a problem which governed most of the tactical and strategic decisions of the businessman, and, finally, some idea is given of the rates of profit and accumulation in the London business world.
i—
Starting a Business
The most obvious initial problem for a man starting a business was to raise the necessary capital. There had been a time when this could be done by spending a few years as a journeyman or factor and saving wages or commission income.[1] However, by the late seventeenth century, it was unrealistic to expect to save enough from wages alone to set up in business, except in the lowest levels of shopkeeping and catering and in artisan trades. Few journeymen or book-keepers got more than £20 a year on top of their board and even several years of such wages would not go very far towards the cost of establishing a shopkeeping or mercantile business, as can be seen in Table 4.1 opposite.[2]
Two mid-eighteenth-century books provide information on start-up costs for London businesses and a selection from this material is presented in Table 4.1.[3] The table shows that, except for some artisan trades, at least £100 was needed to start almost any sort of business. Most shopkeeping businesses required at least £500, while such genteel trades as draper or mercer needed at least £1000 and a man wanting to deal in a big way would
---
TABLE 4. 1: Start-up Costs for London Businesses (in £s)

Type of Business

Campbell (1747 )

Collyer (1761 )

Apothecary

50–200

100

Bookseller

500–5000

100–200 (small retail shop)

Box-maker

20–100

100

Brewer

2000–10,000

2000–10,000

Carman

60–100

100

Cheesemonger

100–500

100 (retail) up to 1000 (wholesale)

Coachmaker

500–3000

500–2000

Distiller

500–5000

500 (compound) 3000–4000 (malt)

Dyer

100–500

100–500

Glover

50–500

100–1000

Goldsmith

500–3000

500–3000

Grocer

500–2000

500 (at least)

Haberdasher

100–2000

500–1000 (in a genteel way)

Hosier

500–5000

500 (at least retail) up to 5000 (wholesale)

Ironmonger

500–2000

500 (in the common way)

Linen-draper

1000–5000

1000 (genteel retail shop)

Mason

100–500

100–500

Mercer

1000–10,000

2000–3000 (at least)

Merchant

Unlimited

3000–4000 (at least to engage in foreign trade to any great advantage)

Packer

300–500

400–500

Pawnbroker

500–2000

1000

Pewterer

300–1000

500

Poulterer

20–200

20

Printer

500–1000

700–800 (genteel way)

Salesman

100–1000

300–1000

Silkman

Unlimited

1000–4000

Soap-boiler

2000–5000

2000–5000

Stationer

100–2000

50 (retail) 1000 (wholesale)

Sugar-baker

1000–5000

1000–5000

Tailor

100–500

200–300 (middling)

Tallow-chandler

100–200

200 (middling way)

Tanner

100–1000

500 (at least)

Upholsterer

100–1000

100–1000

Vintner

100–500

500

Woollen-draper

1000–5000

1000–5000

Source : Campbell (1747) pp. 337ff; Collyer (1761) passim
---
have had to double or treble these sums. Even £100 was a substantial sum for a parent to find and these start-up costs confirm that most parents of potential London businessmen must have been in the middle station themselves.
These figures are of course drawn from a period rather later than ours. However, the intervening years were not ones of inflation and there seems little doubt that young businessmen needed similar sums in our period. This is illustrated in Table 4.2 opposite, where the assets of some of the sample who died young and so had not accumulated very much are compared with the mid-eighteenth-century start-up costs of their occupations. The fit is not perfect but it is good enough to indicate that comparable sums were already required to set up business in Augustan London.
Start-up costs were related both to apprenticeship premiums and to the fortune that a man could hope to accumulate in his lifetime, as is shown in Table 4.3. opposite. The table shows that in most cases those who ended up rich started off rich or at least pretty well off. It also indicates that in most trades accumulation was fairly modest since most of the median fortunes are only about twice the average start-up costs for that occupation. The two main exceptions were artisans and apothecaries. In most artisan trades it was possible to start in a small way, often saving one's initial capital from wages, and the lucky or talented man could expand from this basis into a substantial business, especially in the building trades. However, such opportunities paled beside those of the apothecary and it was this business that the sensible but relatively poor father should have chosen for his son. 'There is no branch of business in which a man requires less money to set him up than this very profitable trade,' wrote Campbell. 'Ten or twenty pounds, judiciously applied, will buy gallipots and counters, and as many drugs to fitt them as might poison the whole island. His profits are unconceivable; five hundred per cent is the least he receives.'[4] The profits may be exaggerated but there is no doubt that the substance of Campbell's observation was true.
It has so far been assumed that parents provided the young man's trading capital and this was certainly the commonest source of funds. There were, however, several others. Other members of the family often helped, either by an outright gift
---
TABLE 4.2: The Assets of Young Businessmen

Sample No.

Age

Occupation

Gross Assets (£s)

Net Assets (£s)

Start-up Costs (£s)

S.5

30

Joiner

301

280

100–500

S.18

27

Tavern-keeper

734

427

500+

S.46

28

Compound distiller

239

66

500

S.54

26

Carman

204

172

100

S.104

26

Distiller/tobacconist

1050

896

500–1000

S.113

27

Apothecary

161

130

50–200

S.121

28

Brass-founder

223

115

100

S.178

30

Compound distiller

420

402

500

S.207

28

Haberdasher of hats

6990

4003

100–2000

S.238

29

Tavern-keeper

2966

2503

500+

S.240

30

Poulterer

145

131

20–200

S.241

28

Bookseller

1487

831

500–5000

S.265

28

Apothecary

1513

1217

50–200

S.267

29

Inn-keeper

867

489

500

S.283

24

Cutler

236

223

50–300

S.373

30

Barber

484

231

50

Source: Assets from inventories; start-up costs from Campbell and Collyer.
TABLE 4.3: Start-up Costs and Fortune at Death

Occupation

Apprentice Premium (£s)

Start-up Costs (£s)

Median Fortune (£s)

No. of Cases

Merchants

100–500

3000–4000+

9050

42

Mercers etc.

50–400

1000–3000+

2250

29

Apothecaries

20–200

50–200

1146

16

Tavern-keepers

20–50

500

1025

20

Grocers

20–100

500–2000

  922

19

Haberdashers etc

10–50

100–1000

  903

33

Artisans

5–40

20–100

  390

52

Mercers = Mercers, drapers, lacemen, silkmen

Haberdashers = Haberdashers, milliners, salesmen, threadmen

Grocers = Grocers, salters

Artisans = Metal and wood workers and building trades

Source: Fortune from inventories; premiums and start-up costs from Campbell and Collyer.
---
or a loan. An uncle or grandfather might leave £50 or £100 to help set a man up, while aunts, brothers, sisters and cousins could often be touched for a small loan to stretch the beginner's resources. Osbaston Hunlocke, for instance, an apothecary whose business assets were £70 when he died aged twentyseven, owed £10 each to three people called Hunlocke, while the fledgling linen-draper James Hudson must have been pleased to hear from his brother in Cumberland that 'Sister Ann says she will forgive the first years interest but she wants the second' on the £13 that she had lent her faraway brother.[5]
An early marriage might be another solution to a young man's financial problems. About a third of the sample got married when they were twenty-four, twenty-five or twenty-six, almost immediately after completing their apprenticeships, and such timing must have greatly assisted their initial establishment in business.[6] Fortune in this respect normally favoured the already fortunate, since the size of the dowry usually matched the wealth or prospects of the bridegroom, but there were exceptions. John Tarry was a journeyman with no capital when he married Jane Warren, who brought him £900, in 1689. The successful wholesale spirits business which he set up in his wife's house had a turnover of £5000 a year by 1701. The scenario of the apprentice who married his master's daughter and took over his business was also one that happened in reality as well as fiction, while masters could be generous even if one did not marry their daughters. Some left their apprentices or such trusted servants as book-keepers a sizeable sum in their wills, while others loaned money to former servants at low rates of interest. William Ladds, for instance, a bodice-maker in Milk Street, bequeathed a loan of £1000 at 4 per cent 'for the better enabling my servant Jacob Webster to maintaine and carry on the trade by me driven and exercised'.[7]
Charity was another source of low cost loans and W. K. Jordan has shown that, up to 1660, nearly £44,000 had been willed by Londoners to provide loans at no interest or at nominal rates to young men starting in business and nearly as much again had been left to create revolving loan funds 'to be lent with great discrimination' at market rates. John Kendrick, for instance, left £900 to the Merchant Adventurers in 1624 to be lent in amounts of £300 to each of three 'honest, industrious
---
and frugal young men' for three years without interest. In all, there must have been sufficient of these charities to loan money to several hundred young men a year, though the sums which had seemed sufficient to the charitable of Elizabethan London did not always go very far in our period.[8]
If all these sources of money were insufficient, then partnership was probably the best answer and indeed a partnership was virtually essential for those starting up in businesses with very high entry costs, such as mercers' and linen-drapers' shops and much of overseas and wholesale trade. Partnership was, however, potentially very dangerous in these days of unlimited liability when one's partner might 'incur debts for the partnership by bad judgment or simply by extravagance which could bring you both down'. Fear of the legal dangers seems to have made formal partnership fairly unusual, less than 10 per cent of the sample having such arrangements at their deaths, though considerably more entered into partnerships for a few years or for a particular trading venture. Defoe, who disapproved of partnership, thought that the best type of partner was a young beginner whom one knew personally and whose affairs were as yet unentangled by interests outside the business. Such young men could be watched over by an older and more experienced trader who might welcome the opportunity to withdraw from everyday management, and partnerships for a few years with an apprentice who had proved his competence were fairly common.[9]
The disposition as well as the raising of their initial capital posed problems for beginners, especially for those who needed permanent business premises. A merchant could invest every penny in trade goods and hope for the best; a shopkeeper had to decide how much to spend on shop-fittings, while still leaving sufficient money to acquire his stock and have something left over for living expenses and contingencies. The fashion for fancy shopfitting worried Defoe, who claimed that some tradesmen were laying out two-thirds of their fortune on their shops and so leaving their actual business badly under-capitalized. One suspects that he was exaggerating, but this was certainly a problem for a young starter who wanted both full shelves and a shop that was sufficiently attractive to entice customers into it. Another important decision for the starter was to determine
---
how much to borrow or buy on credit in relation to his own capital. William Stout provides some information on this subject in his autobiography. His starting capital of £141 enabled him to fit up a shop and stock it with about £300 worth of goods, paying 'about halfe ready money, as was then usual to do of any young man beginning trade'. Nicolas Barbon confirmed this gearing convention in 1690. He stated that most retailers 'are usually trusted for more than double what they are worth'.[10]
These first six months were a desperate time for the beginner, a period of anxiety familiar to those who start a business on a bank loan today. He had probably borrowed some of his trading capital from relatives or, more alarmingly, from professional money-lenders. He then pledged himself to wholesalers for a sum equal to twice his capital, said a prayer and hoped that he could sell sufficient goods for cash or on short-term retail credit to pay the wholesalers' bills when they fell due. During this period, he would be competing with older men with much larger capital who would set the prices for the trade. Such men would almost certainly be able both to buy and sell on better terms than the young beginner, quite apart from having far greater experience in business. Life has never been particularly easy for the small businessman and many, then as now, failed to survive for very long, the dreams of a genteel existence in the middle station being rudely exchanged for the harsher realities of a journeyman's wages or, worse still, a debtors' prison. Nevertheless, most young men did survive and many prospered, and the problems that they faced in doing so form the subject of the next section.
ii—
Cash Flow
Nowadays, business is usually seen as separate from family and domestic life, but things were very different in our period, when household and business affairs were inextricably entangled. Some idea of the flow of payments in and out of the households of businessmen is shown in Fig. 4.1 on p. 113. Starting clockwise, there are first the positive and negative contributions to capital—portion, legacies, dowry and loans being offset by portions and dowries for children and outgoings for the service
---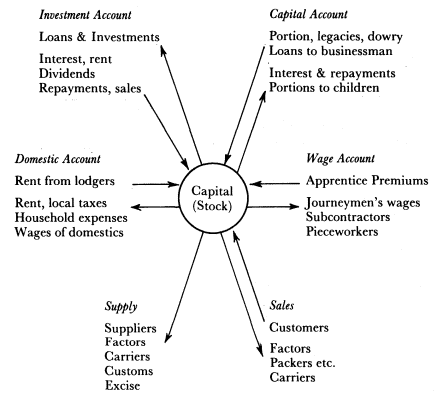 [
Full Size
]
and repayment of loans. Below this is the wage element of the business, the influx of money from apprenticeship premiums being usually well overbalanced by wages to journeymen, porters and other casual labour and by payments to subcontractors and pieceworkers. At the bottom of the diagram can be seen the process by which stock in trade was fed into the business from suppliers and then progressively sold to customers, the incoming goods requiring payment to the suppliers, together very often with payments to carriers, commission agents and to the government for customs or excise, the outgoing goods naturally bringing in payment from customers but also often requiring payments to finishers, packers, factors and carriers. On the left of the diagram is shown the domestic side of life, mainly outgoings in the form of rent, local taxes,
---
household expenses and wages to domestic servants but sometimes counterbalanced to some extent by rent from lodgers. Finally, in the top left, the businessman's investment account is shown, a flow of money out of capital to advance loans or acquire investments and a flow back reflecting repayments, sales, rent, interest and dividends.
The distribution between these various groups of debits and credits obviously varied between occupations—manufacturers paid more wages, professionals had few suppliers, many people made no investments. The distribution also varied over the lifecycle—both investments and domestic outgoings tended to increase with age. Nevertheless, nearly every inventory one looks at illustrates this general pattern of incomings and outgoings. The central problem of the businessman's life was to keep this complex of payments and receipts in some sort of balance and to ensure that over time more money came in than went out, so that he and his family had enough to live on and there were regular additions to his capital or, as it was normally called, his stock. A simple approach to this problem is illustrated by a remark attributed to the lawyer Erasmus Earl when asked how he kept his accounts. '"Accounts, boy?" said he. "I get as much as I can and I spend as little as I can; and there is all the accounts I keep."[11] ' In the absence of very effective accounting methods, such an approach was probably common enough, though it might be safer for a lawyer to adopt it than a shopkeeper or a merchant. A lawyer relied mainly on fees for his income and had few countervailing payments to make to suppliers or other creditors, so the main problem would be to remember who owed him money or, if he did not have a particularly good memory, to keep a list of his debtors.
The problems of shopkeepers, manufacturers and merchants were of quite a different order and most kept some sort of accounts. Shopkeepers' accounts were generally in the form of a day-book in which debit and credit transactions were recorded on facing pages and from which amounts due to or from outstanding debtors or creditors could be periodically extracted, this exercise sometimes being assisted by posting material from the day-book to a ledger. Many businesses, such as those of coachmakers, jewellers and tailors, involved a series of bespoke orders and these men would normally keep a job book or an
---
invoice book in which their expenditure and the amount due from the customer on each order could be recorded. Judging from surviving accounting records, only such high-flyers as merchants, big wholesalers and bankers kept a full set of books and even these were normally kept in single rather than double entry, though the latter was well known and was usually referred to as 'merchants' accounts'. Some surviving account books were beautifully and meticulously kept, but many are in a terrrible mess and hardly meet Defoe's requirement that 'next to being prepared for death, with respect to heaven and his soul, a tradesman should be always in a state of preparation for death, with respect to his books'.[12]
The problems of the businessman's cash flow were made much greater by the ubiquity of credit. There was of course a cash basis to the economy but credit, often for very long periods, permeated every aspect of economic life. Goods were sold, both wholesale and retail, on credit; wages, commissions, taxes and rent payments were normally in arrears; even portions, legacies and dowries were normally paid long after they were due. Terms of credit varied enormously, depending on the status, wealth and credit-worthiness of the debtor, the customs and conventions of different types of business and, perhaps particularly, on whether the creditor was sufficiently wide awake, efficient or grasping to claim the debt when it was due and to enforce that claim. The majority of people paid their debts in the long run and, if they did not, the legal system was weighted on the side of the creditor, but it might be a very long run.
Contemporaries always distinguished between retail credit and wholesale credit, the former being seen as undesirable and dangerous both for the customer and retailer. However, despite this, retail credit was a central feature of the London economy and one probably growing more important over time. This at least is suggested by the works of Defoe. On numerous occasions in his Review he attacked retail credit as an evil likely to bankrupt tradesmen and force their gentlemen customers into a desperate search for funds. 'Giving credit to the last consumer', he wrote in 1709, 'is the destruction of credit.' By the 1720s, however, he had completely changed his tune. 'Every tradesman both gives and takes credit, and the new mode of setting it up over their shop and warehouse doors in capital letters, NO
---
TRUST BY RETAIL, is a presumption in trade . . . and most of those trades who were the forewardest to set it up have been obliged to take it down again, or act contrary to it in their business.' In a pamphlet written a couple of years later, he hammers home the consequences for those who refuse to give retail credit. 'Thousands of buyers who laid out their money freely and who, tho' they might not always pay down upon the spot, yet paid tolerably well, went from shops and bought where they knew they could be trusted.'[13]
Indeed, 'trusting' was essential in a world where the majority of customers had no regular income, and the accumulation of numerous small debts of a few shillings or a few pounds can be found in almost any list of assets. The inventory of the apothecary Owen Crane, for instance, lists nearly 200 small debtors owing £150 between them.[14] What was necessary was not to let these small debts become large ones, to keep one's ear to the ground so that one knew when the customer was in funds, had himself been paid for piecework or had received some other overdue debt from his own customers. Then was the time to present a bill or to send an apprentice round to dun the customer for his money or at least something on account.
Such problems grew in magnitude when the customer was a gentleman or an aristocrat from the West End, as so many customers of London's luxury bespoke trades were. 'Never trust', wrote Tom Brown, '[and if you do] let it not be with men who are protected by their dignity or character.' Such advice was easier to write than carry out. A coachmaker or fashionable tailor had to trust or he would have virtually no business, but such trusting required good nerves and substantial assets or at least substantial credit from his own suppliers. Some idea of attitudes can be seen from a letter written by a gentleman in Penrith to his London tailor promising to pay him six months after delivery, 'which considering how you are generally paid in your way will be next to ready money'. When the famous cabinet-maker Thomas Chippendale ran into cash flow problems he called on Sir Edward Knatchbull to pay an outstanding bill but had no joy. 'As I receive my rents once a year,' wrote Sir Edward, 'so I pay my tradesmen's bills once a year which is not reckoned very bad pay as ye world goes.' There was no exaggeration in this; settling bills once a year,
---
often at Christmas, was a common practice. Even a barber might have to wait a year for his pay, as can be seen from the diary of the accountant Stephen Monteage, who on 26 December 1738 paid £3 to William Stephens for 'a year's shaving due at Xmas'. Many retailers and artisans waited far more than a year for their money, and many of course waited for ever; one can feel sympathy for the nurseryman Thomas Greening, who found when he searched his books in 1740 that the only money due to him were two bills contracted in the mid-1730s by Lord Weymouth and the Duke of Marlborough 'which God knows when I shall receive'.[15]
It is difficult to discover the terms on which retail credit was granted. Many purchases on tick from shops or taverns were no doubt free of interest in the short run, the seller using tick as a means of increasing turnover, as a credit-card transaction does today. Most customers paid sooner or later and the seller would be better off than if he had refused them credit. However, once weeks of non-payment turned into months, negotiations would take place between seller and buyer involving the latter in a substantial interest payment, the refusal of further credit being a useful lever to obtain profitable terms for the credit already given. When selling goods and services to the wealthy and privileged, self-interest ensured that bills were well-padded from the start and that slow-paying dukes would eventually pay handsomely for their carriages and cloaks, first because the initial price was high and later because they would be charged interest as the months and years went by. This, of course, was the attraction of doing business with such people of 'dignity or character', as it was with the government, who also paid high prices in return for dilatory payment. Dilatory though they were, they paid in the end, as the merchant Michael Mitford wrote in 1704. 'The payment of the government is very certain, but the time when is also very uncertain.' Since the time when was usually years and sometimes decades after the event, such profitable business required a very long purse.[16]
A lower bound to the terms of retail credit can be given by looking at the terms on which wholesale credit was offered, since tradesmen were much better payers than governments or gentlemen and so presumably got better terms. Merchants trading overseas generally received the longest credit, from six
---
months to a year or even longer being common, while wholesalers normally gave retailers three, four or six months to pay, with 'three days of customary grace'. Some idea of the cost of this credit can be obtained from the letters of merchants and wholesalers, which often quote the prices of the goods in which they dealt at 'ready money' and at various lengths of credit, such as 'at three months'. Such material is too scattered to give an average but it suggests that credit was nearly always offered at a cost higher than the maximum legal rate of interest and often at three or four times the maximum rate. Small men might find 'trust' even more expensive. In 1745, the pawnbroker Richard Grainger claimed that it paid a handicraftsman to borrow from him and buy his raw materials for cash, 'the difference of buying goods with ready money and upon trust, being more in proportion than the pawnbroker takes'. Such rates reflect the risk and inconvenience of giving credit but they also help us to understand why wholesalers tended both to start rich and die richer, despite a substantial proportion of bad debts.[17]
Borrowing and buying on credit naturally meant that most businessmen's inventories include a substantial proportion of liabilities and a breakdown of these is provided in Tables 4.4 and 4.5 on p. 119. These figures underestimate the real state of credit since inventories were often drawn up a long time after death so that executors had time to pay off some of the debts. However, even as a lower bound, the figures give a good idea of the web of debt in which the London business world was entangled. Table 4.4 shows that by the time the inventory was drawn up, the average man still had liabilities equal to nearly a quarter of his gross assets, while the lower quartile of the sample had liabilities equal to over half their assets.
In Table 4.5, the occupations of those with high or low proportions of liabilities are set out to see if any patterns emerge. Individuals from virtually every occupation appear on each side of the table but some tentative conclusions are suggested. Tavern-keepers and most small shopkeepers tended to have high levels of liabilities, reflecting their need to keep high levels of stock and the generally slow rate of turnover. On the other hand, the apothecary's business once again looks a good one to be in from this point of view, and most merchants,
---
TABLE 4.4: Liabilities as a Proportion of Assets

Liabilities/Gross Assets × 100

No. of Cases

 

No.

%

Less than 10%

93

24.8

10–24%

102

27.2

25–49%

89

23.7

50–74%

48

12.9

75–100%

29

7.7

Over 100%  (insolvent)

14

3.7

 

375

100.0

Median = 23%.

 
 
TABLE 4.5: Occupations of Low and High Scorers in Table 4.4

Occupations

Numbers

 

Less than 10%

50% & over

Apothecary, Surgeon

7

1

Building trades

6

2

Merchants

12

5

Rentier, moneylender

12

4

Manufacture

16

11

Draper, mercer

8

6

Leather trades

3

0

Food and fuel trades, apart from below

9

6

Grocer, salter, cheesemonger, tobacconist

3

14

Jeweller, toyman, bookseller etc.

1

10

Haberdasher, milliner

9

17

Taverns, inns

5

12

Ironmonger, brazier

2

3

 

93

91

Average age at death

47.6

42.5

Source : Inventories of the sample. The average age at death of the whole sample was 45.1.
rentiers, moneylenders and, surprisingly, most of the building trades also seem to have been able to keep their liabilities down to a reasonable level. Finally, while men of all ages can be found on both sides of the table, the average age of those with high liabilities is five years younger those those with low
---
liabilities, suggesting that the young were more inclined to overextend themselves, from being in too much of a hurry or because their businesses were often financed by loans.[18]
The extent of liabilities may not seem all that much by the standards of today's mortgage-ridden citizens, but it was a worrying problem in a world of personal credit where the whole edifice was built on confidence in the ability of the debtor to pay and very few debts were supported by collateral. A casual remark in a coffee-house or a tavern might lead creditors to suspect that their debtor had no 'bottom' and to close in quickly for repayment. If this debtor belonged to one of the groups in the table with liabilities equal to 50, 75 or, worse still, 100 per cent of his gross assets, then such suspicion could lead very quickly to disaster.
Disaster could strike even the soundest of businesses for, as can be seen in Table 4.6 opposite, assets were far from liquid.[19] Cash ratios were low for all groups and few other assets could be turned quickly into money, except jewellery and plate. If the cause of the cash flow problem was 'deadness' of trade, then it was unlikely that stocks could be sold quickly or at a reasonable price. The same would be true of investments in the stocks of the trading companies or in ships, while most other investments—in property or government debt—were even more illiquid. This meant that, if a man was in trouble, he normally had little option but to press those debtors to whom he had advanced personal loans and trade credits. These together made up over half the gross assets of the average businessman and might involve literally hundreds of separate debtors. What a cash flow crisis involved was chasing these debtors, who would almost certainly be chasing their own debtors at the same time, since a crisis of confidence was likely to strike everyone together.
Table 4.6 also illustrates the differing structure of asset holding for a few common occupations or groups of occupations. In general, expenditure on domestic goods was inelastic in respect of wealth, taking up nearly 10 per cent of the artisans' assets and less than 2 per cent of the two wealthiest groups. The category 'stocks and fixed assets' is in nearly all cases dominated by stock in trade, most businesses having just a few such items as shelves, counters and presses as their total of fixed assets, not including buildings. Manufacturers naturally had
---
TABLE 4.6: Analysis of Assets

Percentage Distribution of Gross Assets

 

DOMESTIC

BUSINESS

INVESTMENT

 
 
 
 

Group

Domestic Goods

Jewellery & Plate

Stocks & Fixed Assets

Trade Credits

Personal Loans

Other Investments

Cash

Total

No. in Sample

Ave. Gross Assets

Whole sample

2.15

1.20

18.50

38.36

15.04

19.94

4.81

100

375

£ 5283

Merchants

1.36

0.95

23.04

35.72

8.91

26.22

3.80

100

42

17667

Textile wholesalers

1.95

1.06

21.26

53.76

12.12

5.33

4.52

100

34

7176

Rentiers/moneylenders

2.33

1.70

0.08

4.00

24.34

64.08

3.47

100

21

6887

Manufacturers

3.00

1.52

18.49

46.81

13.40

12.89

3.89

100

29

3773

Tavern-keepers

2.97

2.68

38.29

14.80

21.82

14.75

4.69

100

21

2888

Apothecaries

4.73

2.68

6.83

34.08

27.16

19.14

5.38

100

16

2012

Textile retailers

4.70

1.72

25.90

43.22

12.69

7.29

4.48

100

32

1632

Artisans

9.42

4.14

19.76

37.14

10.19

16.78

2.57

100

38

620

Source: Inventories of sample. Textile wholesalers are defined as those worth net over £2000 selling textiles in any form and textile retailers those under £2000. Manufacturers include brewers, distillers, dyers, printers and soap, sugar and candle-makers. Artisans are defined as those in working trades worth net less than £1000. Investments consist of leasehold property, shares in ships, the stocks and shares of the trading companies and government debt. (See Chapter 5 for a fuller discussion of investment. For the method used to distinguish trade credits from personal loans, see note 19 of this chapter.)
---
the greatest fixed assets but no one in the sample had as much as £1000 in fixed capital. The two biggest were a distiller with £880 of equipment and a brewer with £538, which in both cases represented just over 15 per cent of their total assets, but most manufacturers had a far smaller proportion of their assets invested in fixed capital.[20] This is still a commercial society where stock in trade and not equipment is what matters. Much the highest proportional investment in stocks (almost entirely wine) was made by the tavern-keepers, which compares very strikingly with the very low investments in stocks made by apothecaries, while of course rentiers and money-lenders had virtually no stocks or fixed equipment at all. Tavern-keepers, on the other hand, were in more of a cash trade than most and so had to give relatively less trade credit than any other group except the money-lenders, while the textile wholesalers held over half of all their assets in the form of credit advanced to their customers. Manufacturers, too, were wholesalers in respect of the selling side of their businesses and they came second in the proportion of assets held as trade credits, nearly 47 per cent.
Investment will be looked at in more detail in the next chapter, but it can be noted here that merchants were relatively little involved in personal loans but were the most important group in other types of investment apart from those specialist investors, the rentiers and money-lenders. Apothecaries were the greatest investors of all groups who actually had a trading business, investing nearly half their assets outside that business, a reflection of the fact that they did not have to invest a lot of money in expensive stocks. If it had been possible to compare the asset structure of such professionals as doctors and lawyers with the others in the table, this would probably have fallen somewhere between the pattern of the apothecaries and that of the rentiers and money-lenders, that is, with high investments, low stocks and a relatively low level of trade credits in respect of their unpaid fees.
Most of the assets held by all these groups were safe enough and could be turned into cash in the long run, though that long run might be too long to satisfy impatient creditors. However, in nearly every case, there would be some assets which were not really assets at all. Inventories are inconsistent in recording bad
---
debts and in any case it is not exactly clear what a 'desperate' or 'doubtful' debt meant in the conventions of the day. Sometimes such adjectives clearly mean what they say; sometimes, one suspects, they merely reflect laziness on the part of valuers or executors. However, if 'doubtful and desperate debts' are taken as an accurate description, they they represent just under a third of all debts due in those inventories which record them.[21] This may seem a huge proportion, but the number is swollen by the extreme reluctance of Augustan businessmen to write off bad debts. There are no data on the proportion of bad debts to turnover, but in 1734 Jacob Vanderlint suggested that one should expect bad debts to represent about 2 per cent per annum of trading capital.[22] If these were never written off, it would not be very long before they were a third of all debts due.
This approach to bad debts was a major cause of trouble for the London tradesman, whose treatment of them as assets allowed him to believe he was quite safe when he was in fact close to insolvency. Not that such self-deception was the only cause of problems in the juggling act between debit and credit which was performed by every London businessman. Many failed in this act and in the next section the tactics used to recover money from reluctant payers is looked at, followed by the problems of insolvency and bankruptcy in our period.
iii—
Debt Collection
The collection of debts, either in full or as near full as possible, was one of the major tasks of the businessman. Debt collectors, working on commission, provided some assistance but in most cases it was a task which the creditor himself carried out. The first stage was the same as today, a combination of wheedling appeals and threats in person or by letter, the language different but the content familiar to the modern creditor or debtor.[23] If letters and verbal demands had no effect, then it would be necessary to take sterner measures. One obvious procedure would be to secure the debt. This could be done by getting the debtor to bind himself to pay at some future date, the penalty of such bonds being the double of the debt. However, a bond was only secured by a signature and it might be better to find rather more solid collateral, such as a pawn of some of the
---
debtor's goods, a mortgage on his property or an attachment or garnishee order on his own debtors. The latter were very common, the object being to divert to yourself money due to your debtor from a third party. 'This doth not hurt the person of him that owes the money, but only secures the debt, and is no very great disgrace to the debtor, nor any great charge, and is done with much privacy.'[24]
An alternative procedure was to sue for the debt, a process whose main object was to call the debtor's bluff but which might end up with putting him in prison for the rest of his life. Any creditor whose debtor owed him more than £2 could issue a writ to summons him to court or have him arrested and then either bailed or imprisoned until his appearance in court. Such writs normally worked like magic and a Commons enquiry of 1791 found that less than two-thirds of those issued with writs in the metropolis were actually arrested and less than a tenth went to prison, in most cases because the writ or at least the arrest was sufficient to get the debtor to pay, while many of the remaining tenth settled with their creditors before the hearing in court.[25]
The remaining fraction of non-payers were those who might have to suffer the full rigour of the laws against debtors. If the debt was proved in court, not always easy and one good reason to keep good books, the creditor had two options. He could proceed against the debtor's property by having the sheriff seize and sell his goods or he could proceed against the debtor's body by having him detained in prison until he repaid the debt or the creditor gave up and let him be released. The majority of creditors chose this latter course since it was rarely easy to settle a debt by seizing property. Neither creditor nor sheriff were allowed to break into the debtor's house, shop or warehouse, while what the law called 'choses in action'—bills, bonds, book-debts, stocks and shares, in other words most assets—were safe from the bailiffs' attention. On the other hand, imprisonment tended to concentrate the debtor's mind in a wonderful way, leading him to discover resources or friends which up to that time he had denied. However, in many cases the debtor simply could not pay and, as a result, there were normally several hundred London debtors languishing in prison
---
at any one time, while many others fled to avoid 'the temporal hell of a gaol'.[26]
Debtors' prisons were periodically cleared of most of their poorer inmates by Acts of Insolvency which empowered magistrates to free prisoners who swore on oath that they had no estate above some small value such as £5 or £10 and whose creditors could not disprove the oath. There was also provision for debtors to live and even conduct business in strictly defined areas outside the prisons known as the Rules, some prisoners being quite wealthy men who chose to abuse the system rather than pay their debts. Nevertheless, debtors' prisons were unpleasant places and they aroused the humanitarian outcries one might expect, especially after a parliamentary committee of 1729 published a damning indictment of conditions in London's prisons. Attention was drawn to the old and unsuitable buildings, the overcrowding and, in particular, to the extortions of the venal wardens and other prison officers. The report sums up nicely the results of private enterprise in the prison service. 'The warden, who pays for the privilege of punishing others [£5000 in the Fleet], does consequently sell his forbearance at high rates, and repairs his own charge and loss at the wretched expence of the ease and quiet of the wretched objects in his custody.'[27]
These wretched objects did not prevent imprisonment for debt being generally supported by middling people, who saw it as essential if the system of credit was to be maintained, a system which was of course the basis of the whole expanding economy. No threat would be effective without the final sanction of prison and, as has been seen, the system did in fact work in the great majority of cases. Most debtors paid their debts and comparatively few went to prison. Defoe spelt out the logic in 1729. 'The retailer, being a woollen-draper, trusts his neighbour with a suit of clothes. How comes he to do it? perhaps the man has no extraordinary character; well but, says the retailer, he is a tradesman as well as I, and he must pay me, or he shall not be able to stand at his shop door or sit behind his counter, for I will arrest him and make him pay me; and upon this power of arresting the debtor and carrying him to prison, or whether he is carry'd to prison or no, the exposing him, disgracing him, and ruining his credit; I say, upon this is founded the freedom
---
of the tradesman to trust him. If you destroy this power of coercion, you destroy the credit in trade; for if a man cannot be credited, he cannot buy; and if the tradesman cannot arrest him, he will not sell.'[28]
One flaw in this system was the fact that the process could only be begun if the debt was for a sum of £2 or more and of course many retail debts were for much less than this. This was no problem in the City where, since the reign of Henry VIII, there had been a 'Court of Conscience' to deal with small debts. This was not a common law court but one where commissioners consisting of two aldermen and twelve commoners made 'such orders between party and party as they shall find to stand with Equity and Good Conscience'. The court was the first to order debtors to pay by instalments—'generally poverty is pleaded and the debtor is ordered to pay so much per week, 6d. or 12d. or what the Court thinks fit'—and it played an important part in City life. However, attempts to introduce similar courts elsewhere in the metropolis were unsuccessful until 1749–50 when Courts of Conscience for Southwark, Westminster and Tower Hamlets were set up, well-argued cases for the courts being repeatedly set aside by the opposition of the common lawyers and of gentlemen who objected to having 'to submit for small debts to a company of shopkeepers'.[29]
So far cases have been mentioned where the creditor was fairly certain, perhaps mistakenly, that his debtor could pay. What happened when the debtor's business was really unsound and there was no way that he could pay, at least in the short run? A variety of tactics was open to the creditor, but it was a well-worn maxim that 'the first offer is generally the best'; in other words a sensible creditor should accept what a debtor declared was the most he could pay and so avoid legal costs, delays and almost certainly a finally disappointing dividend. A common situation was for a merchant or trader, though fundamentally sound, to get his payments to creditors hopelessly unsynchronized with potential receipts from his debtors. If he kept reasonable books, he should be able to prove his basic soundness and ask his creditors for time, which, if they had any sense, they would give him. 'Whereas he finds himself not in a capacity to pay, he desires a Letter of Licence, and promiseth that in three, four, or five years (more or less, as you can agree)
---
he will pay the debt, because he hath many debts out, and goods beyond the seas, and must have time to get them in.' Arrangements would be made for serial payments and the debtor bound for twice the debt.[30]
Where the business was not sound, it would still probably pay creditors to arrange a private composition. If the number of creditors was small and the debtor could establish his honesty if not his good business judgment, then a composition had the advantage of a speedy settlement and usually a higher dividend than if the debtor had been sued as a formal bankrupt. The simplest composition was where the creditors agreed to accept say 15s. in the pound of what they were owed and the debtor himself sold his property and called in his own debts in order to pay the agreed dividend within some pre-arranged time. In other cases, the creditors would appoint a trustee, possibly one of themselves, possibly someone more formal, such as a Master in Chancery, to whom the debtor would surrender his effects to be sold. Whatever the particular arrangement, such private compositions allowed the debtor to be discharged of the balance of his previous debts and, in Defoe's metaphor, to rise like a phoenix from the ashes of his former business, a free man who could get fresh credit, open his shop again and ideally recover his honour by paying the balance of his debts at some future date, even though he was not legally required to do so.[31]
Such arrangements were relatively friendly, speedy, cheap and generally in the best interests of both creditor and debtor. However, not all debtors were or were thought to be honest and not all creditors were friendly, while even the kindest of creditors might fear that he was somehow being cheated of an equitable dividend either by other creditors or by the debtor himself. In such situations and in the very common circumstances of the creditors being unable to agree to the terms of a private composition, there was no alternative but to sue out a commission of bankruptcy. In the first part of our period, this would have been done under the bankruptcy statutes of 1571 and 1624, which were very harsh to the bankrupt. Bankrupts were assumed to be fraudulent and creditors had to prove an 'act of bankruptcy', such as the debtor fleeing, keeping his house or allowing himself to be imprisoned for debt, before a commission could be issued. Commissioners were then
---
appointed with wide-ranging powers—to seize and examine the bankrupt under oath, send him to prison if he refused to answer questions, to examine his wife and his debtors under oath and to do anything else necessary to determine the state of his affairs. 'They can break open houses, seize goods, sell them, extend lands, and in short, do any thing for the advantage of the creditors; and at last make a treasurer and cause a divident to be made to the creditors.'[32] For the dishonoured and now penniless bankrupt, this was not necessarily the end of the matter for he received no discharge and could be and often was later sued for the debts which had not been paid in the dividend. This was usually a purely malicious action by creditors, who could not hope to get any more money, but some creditors were malicious and bankrupts who were subsequently sent to debtors' prisons were the unhappiest of prisoners since, if the commissioners had done their work, they had no funds to sweeten the warders.
Statutes of 1705 and 1706 produced a major change in the bankruptcy laws. For the first time, a distinction was made between the fraudulent and the honest bankrupt, the man whose failure was 'his misfortune and not his fault'. A new stick and carrot situation was created where honesty was rewarded and fraud punished by death or, as one contemporary put it, 'all that run away shall be hang'd if they are caught, and all that surrender clear'd, if nothing is made out against the truth of their discovery'. Those bankrupts who surrendered themselves within thirty days of notice and made a full and honest declaration of their affairs were given a certificate discharging them of the balance of their former debts. They were also entitled to be given five per cent of their net estate if the dividend paid was more than 8s. in the pound, to a maximum of £200. Such leniency was too much for many contemporaries and the law was modified in 1706 in two important ways. It was first declared that no one could become bankrupt unless he owed £100 to a single creditor, £150 to two creditors or £200 to three, thus barring small men from the benefits of the new act and, secondly, discharge certificates could only be issued if fourfifths of the creditors in number and value signed them, thus once again opening the door to the malicious who could 'keep his body, starve him, and never let him out of prison unless
---
they and four fifths parts of them in number and value voluntarily please to agree to it'.[33]
Nevertheless, even the 1706 Act was a great improvement on the previous situation, so much so that in 1726 Defoe could write that 'men make so little of breaking that many times the family scarce removes for it; a commission of bankruptcy is so familiar a thing that the debtor oftentimes causes it to be taken out in his favour that he may the sooner be effectually deliver'd from all his creditors at once'. Most writers, however, still felt that formal bankruptcy was a slow and not very satisfactory method of dealing with the problem of insolvent debtors. As one put it in 1707, 'when the goods are sold, at 3 or 400 per cent loss, and the sittings, assignments etc. are payed, very little comes to the creditors'. This is probably exaggerated, but everyone agreed that very poor prices were paid at sales of bankrupt stock.[34]
The new legislation encouraged more people to sue out commissions of bankruptcy, so that in the last twenty years of our period there were usually between 150 and 200 bankrupts a year, of whom rather more than half were Londoners, while in the 1650s the numbers had rarely risen above 50. Roughly 100 Londoners a year were thus going bankrupt in the 1710s and 1720s, a number which should be compared with the population at risk, perhaps half of the 20,000 to 25,000 households which have been estimated to be in the middle station, since professionals were not subject to the bankruptcy laws and small traders would be unlikely to have debts large enough to satisfy the minimum requirements of the 1706 Act. This gives an annual rate of bankruptcy of somewhere between 1 and 2 per cent, but the rates varied enormously for different occupations. There were, for instance, somewhere between 400 and 500 each of apothecaries, cheesemongers and tavern-keepers in London in the early eighteenth century but the numbers of bankrupts in these three occupations during the five years 1711–15 were 3, 9 and 39 respectively, figures which suggest that the tavern-keepers with their huge wine stocks were amongst the most vulnerable of all businessmen, while the apothecary's business once again shows up as one of the safest.[35]
The overall bankruptcy rate of 1 or 2 per cent does not seem very high until one recalculates it on a career basis. Assuming
---
that the average business career lasted twenty years and that those leaving the business world were matched by those entering it, then the career chances of bankruptcy rise to 10 or 15 per cent.[36] When one considers that private compositions remained significant, it shows just how important cash flow problems were in London business life. The commonest end to a business career was death, but bankruptcy must have run retirement very close in second place.
iv—
Business Strategies
'The chief end or business of trade is to make a profitable bargain,' wrote Nicolas Barbon in 1690, a sentiment with which no businessman then or now would argue.[37] However, the desire to make profits had to be tempered by the need to avoid insolvency and this section considers a few of the strategies employed in an attempt to garner profits without ending up in the bankruptcy court.
The simplest answer to the problem was to have no liabilities, since without them there could be no insolvency. Many Londoners, rich and relatively poor, old and young, adopted this strategy. They either invested all their capital or set up as money-lenders; they never bought trade goods, accepted no credit and lived on the 6 per cent or more that they could get as a rentier. If their capital was small, they would live fairly meanly but would have few fears since the worst that could happen would be one of their debtors turning out to be a bad one, which would make them poorer but not insolvent.[38]
Another simple and almost ideal approach, according to Defoe, was 'a few goods and a quick sale'. When small stocks were combined with certain, bespoke cash sales and purchases at three or four months' credit, then life might seem rosy, as it must have done for the jeweller Peter Webb in the mid-1730s. He made attractive and expensive jewellery for fashionable people, but his journal shows that he was in the unusual position of being paid nearly always in cash for his product, only two of his twenty-nine sales between September 1735 and September 1737 being on credit. Meanwhile, he acquired his working materials either from his customers themselves or on credit from other jewellers and goldsmiths. In this two-year
---
period, he made over £250 a year with very little capital save his tools.[39]
Such a business could very easily come unstuck as a result of just one of his customers not paying the cash promised and maybe, since Webb's papers are in Chancery, that is what happened. It was, in any case, a fairly unusual business and most traders and manufacturers had very considerable liabilities. When payment of these became unsynchronized with incoming payments, there was generally little alternative but to borrow more to get out of trouble. William Stout, for instance, inspected his books after a year's trading and 'found that I had been too forward in trusting and too backward in calling, as is too frequent with young tradesmen'. He solved the problem by borrowing £50 on bond. This was all right if most people were not in the same situation and the bond market was fairly easy, but matters were not so simple in a general crisis. 'These breaking times will make all men more cautious,' wrote the merchant Thomas Boughey in March 1675.[40]
Caution has a price but, in our period, there was no easy mechanism for reflecting that price in a higher rate of interest. Most bonds were secured at or near the legal maximum rate of 6 per cent and the penalty for exceeding that was 'treble the value of the moneys, wares, merchandises, and other things lent'. This statutory limit to the rate of interest made the supply of funds in the 'last resort' much less liquid than it would otherwise have been and could lead to a sudden rush of interconnected bankruptcies, as T.S. Ashton pointed out many years ago. Nevertheless, there have always been ways round usury laws and our period was no different in this respect. The easiest way was simply to ignore them, as Mary Turner of Tottenham Court did in 1679 when she charged John Dawson 10 per cent on two bonds. When he complained that she was liable to be indicted for charging such extortionate interest, the lady replied that he should pay what he owed and indict her afterwards.[41]
Another way round the law was to disguise a loan as an undervalued annuity by calculating the years' purchase at an unrealistically low level. For example, the borrower might contract to pay the lender £100 a year for life in return for a payment of £300, or three years' purchase, the lender either
---
letting the annuity run on until the annuitant actually did die or allowing him to repurchase the principal when he was in funds. Of course, if the annuitant did die within three years, the lender had no redress since he had no claim on the estate, though it was possible in the eighteenth century to insure the life for the value of the principal. A much simpler way of sidestepping the usury laws was to deduct some of the principal before handing over the money, this extra interest charge being known as a premium.[42]
Retrenchment was an alternative to borrowing oneself out of trouble, but it was a strategy that could rebound seriously on those who adopted it. Today, a man's credit would hardly be impaired if he stopped entertaining or sold the yacht, but matters were very different in the world of personal credit of Augustan London. One reason that Thomas Goodinge thought that 'many good men . . . do insensibly sink and decay in their estates [was] . . . living up to support a credit and shoar up a reputation (no mean mystery in this world)'. The irony of such a situation was not lost on Defoe. 'He must live as others do, or lose the credit of living and be run down as if he was broke. In a word, he must spend more than he can afford to spend, and so be undone, or not spend it, and so be undone.'[43]
The chronic problem of balancing liabilities and assets could be helped by re-scheduling one's asset structure or one's payments. A house and shop could be rented instead of purchasing the freehold or the lease, thus releasing capital but losing income. Trade credit at, say, 10 per cent could be converted into ready money by borrowing on bond at 6 per cent. Something could be done about payments to workmen, too, as Andy Federer has shown. Journeymen, at least those who lived out of doors, had to be paid on Saturday night or starve. Subcontractors might starve too, but they could be held at bay much more easily than a regular workforce, who had to be paid even when there was no trade, as the nurseryman Thomas Greening found in 1740. 'Trade is so bad', he wrote to his father, 'that I have not maid so much out of the nursery as will pay the workmen's labour.' Payment to a poor artisan or food retailer could be put off much longer than payment to a rich linen-draper, who would think nothing of the cost of going to court, while payment to some people could be put off almost
---
indefinitely, such as the money due on bond to an aunt or legacies from a grandfather due to one's children.[44]
Price as well as cost could be adjusted, for, although some dealers faced situations of near-perfect competition, this was certainly not true of all traders. 'The price that the merchant sets upon his wares is by reckoning prime cost, charges and interest,' wrote Barbon, a simplistic cost-plus approach which may have been common but was certainly not universal. London was a much more aggressively competitive place than that, as Barbon, one of the sharpest businessmen of his day, certainly knew. Defoe complained bitterly about the price-cutting policy of the rich which undermined the cosy small shopkeepers for whom he wrote so many of his books. "Tis fatal to the poorer and little dealers about him; for they stand still, with their fingers in their mouths, as we call it, or walk about at their shop doors and have nothing to do, while they see all the trade run in the great channel of their neighbouring alderman's shop; who gives large credit at a ready-money price, or sells for ready money ten per cent cheaper than they can.'[45]
Price-cutting there certainly was—one good reason for the growth of the market—but the aggressive instincts of the pricecutter were shadowed by the defensive strategy of the monopolist. Where demand was inelastic and the number of suppliers small, there was likely sooner or later to be a ring. There is, for instance, a record of a ring amongst the manufacturers of copperas, a product sometimes called green vitriol which was used in dyeing, tanning and ink manufacture. The ring consisted of sixteen individuals or partnerships who controlled between them all twenty works supplying the metropolis. Their objective was to raise prices by reducing output but, then as now, it was not always easy to reach agreement. 'It is difficult to bring so many men to be of one mind be it ever so much for thare own good or profitt as we are assured this will when it is brought to a conclution,' sentiments familiar to those who have attempted to engage in restrictive trade practices. Such trade associations were not necessarily restrictive in the modern sense. Much of foreign trade was organized by regulated companies whose main functions, apart from keeping outsiders out, were collecting information, organizing shipping, negotiating with
---
foreign governments and lobbying at home. Less formal organizations existed for other trades. Alison Olson has described the activities of the 'Virginia merchants', who were already well organized as an interest group by 1670, their mutuality assisted by the Virginia Walk on the Exchange and the Virginia Coffeehouse where they held their meetings to discuss lobbying parliament and other bodies on such subjects as taxation or convoying.[46]
Similar associations grew up for other overseas trades, but the interest group was not confined to merchants. Much of the work of the Livery Companies was of a similar nature, while this book has made much use of petitions sent to parliament by such groups as the 'Licensed Hackney Chairmen' or the 'Midling and Poorer Sort of Master Shoemakers'. Such activities required organization, meetings, agenda, minutes and so on, and were another aspect of the passion for clubs and societies which was a characteristic of the period. There is the agenda for a meeting of one such trade association, 'the dealers in tea', in the papers of Henry Gambier. The main business, not very surprisingly, was: '4. That the present execution of the laws of excise are a very great grievance.'[47]
One function of interest groups was to assist their members through the dissemination of information, but this was something that every businessman had to gather for himself if he was to survive for very long in the trading world. Published commercial information was growing in scope but was still thin on the ground and, in any case, what most tradesmen wanted was something exclusive to themselves. Every merchant and wholesaler therefore needed to establish a network of correspondents who could provide commercial and political intelligence, make sales and purchases, and assist in the vital business of remitting money over long distances.
Several letter-books have survived, which enable one to see such networks in operation. Between August 1686 and December 1688, for instance, the merchant Thomas Palmer shipped over £10,000 worth of cloth, tin and lead in twenty-eight consignments, mostly to Levantine ports. To support this operation, he sent 127 letters, over half of them to his factors and correspondents in Constantinople, Aleppo and Smyrna and in Cyprus, where he bought cotton as a return cargo. However,
---
nearly a third of his letters went to the Italian cities of Venice, Genoa, Livorno and Messina, important centres of information on Mediterranean trade as a whole, but even more important as the residence of bill-brokers through whom payments could be arranged. A similar pattern can be seen in the letter-book of Michael Mitford, a Russian and Baltic merchant. He wrote to his agents in Moscow, Danzig and Konigsberg, to correspondents in many east and south coast English ports, but also to Amsterdam and Hamburg, where he acquired bills to settle his Baltic debts.[48]
It is difficult to find letter-books for wholesalers, but it is clear from the jumbled collections of letters that have survived that they too were eager correspondents. Some wholesalers traded throughout England, but most specialized in particular regions and their correspondence networks were often based on an extended kin network.[49] In such correspondence, one finds the same urgent need as in international commerce for information on prices and markets and on the credit-worthiness of customers, with just the occasional polite enquiry after a correspondent's health or a little bit of home news. One is struck, too, by the dominating influence of the seasons in trade and business generally. There was a season to sell gloves and a season to buy butter, goose quills or linen, while it was a waste of time trying to borrow from a grazier in February when he needed his money to stock his land. At the beginning of winter when he sold much of his cattle it might well be a different matter.[50]
Commercial correspondence also illustrates just how serious a problem remittance was in the days before a national banking and chequeing system. Quite a lot of business was still done by barter. Much of the Levant trade, for instance, consisted of the barter of broadcloth for raw silk, while, in the money-scarce world of the north of England, it was a question of finding the right purchasing medium with which to enter the market. 'I believe ye Spanish lamb wool may command felts sooner than fine hats will do.'[51] However, most business was done for money and arranging for payment could be a major task. Many wholesalers went down into the country to collect their debts in person from their customers and the seasonal fairs continued to
---
play an important part in this activity. Nevertheless, an increasing proportion of business involved remittance through the medium of some sort of paper rather than through the shipment of bags of specie.
The international bill of exchange had been in use for centuries and played a vital role in the settlement of merchants' accounts, while inland bills were increasingly used from the middle of the seventeenth century. Merchant practice was always ahead of a power in law to enforce that practice, but our period sees some major legal changes which made the use of bills and promissory notes, the two main forms of deferred payment, very much easier and safer, so that merchants did not have to rely so much on the honour of their correspondents. A key date was 1666, when a judgment in the case of Woodward v. Rowe declared that 'the law merchant was part of the law of the land' and so allowed centuries of international custom relating to bills to become part of the English common law. By the end of the century, further legal judgments had determined the liability of the indorsers of bills and so made them truly negotiable, while an Act of 1704 confirmed the negotiability of promissory notes. Such changes, which enormously increased the effective money supply, were very much part of the legal spirit of the age, which in hundreds of large and small ways made the life of the businessman easier and property safer.[52]
The improved status of bills and notes in law did not solve all problems, since it was still necessary to arrange for someone to accept one's bills in London and vice versa, and a large proportion of all commercial correspondence is on this subject. As the trade of the provinces with London expanded, so did patterns of remittance emerge to ease the problem. Provincial merchants and manufacturers who sold in the London market played a key part in this, since they had money due to them in the metropolis and so could sell their 'bills on London' to their neighbours who needed to make payment there. Butchers and graziers were important in such remittance business, as were the country cloth manufacturers. The Huguenot David Compigne, for instance, a Wiltshire grocer and customer of Henry Gambier, a London tea and coffee dealer, was able to pay for some of his supplies by buying the bills of the West Country clothiers drawn on Blackwell Hall Factors in London. These
---
could then be remitted to Gambier, who could present them for payment. Nevertheless, such networks could break down and alternative and less safe methods of payment had to be found. 'Les billes sont bien difisille a trouver,' Compigne wrote in June 1730. 'Je vous envoieray un billet de cent pieces [i.e. a Bank of England note for £100].'[53]
Such problems were not so great within London itself, where payment could be made at a periodic 'accounting' when the balance accumulated in book debts would be paid in cash. Nevertheless, payment and remittance were major problems for contemporary businessmen, just one more headache for people struggling with the problem of ensuring that they actually did make a profitable bargain in this difficult world of seasons, cash flows, 'breaking times' and other hazards. In the next section, an attempt is made to determine just how much profit people did make, not an easy question to answer but one that should be addressed in order to get some idea of how middling people accumulated and improved themselves.
v—
Profit and Accumulation
It is often thought that people made very high profits in the past, particularly in foreign trade and especially in its more notorious branches such as the slave trade. The evidence for this is often simply assertion either by a contemporary or by a modern historian or polemicist with an axe to grind. Real evidence of the rate of profit is difficult to obtain, partly because few business papers have survived and partly because contemporaries were not particularly interested in 'profit' in the economist's sense of the net annual rate of return on capital.
Most people were more interested in accumulation than in annual profits and some attempted to calculate this from time to time. Once a year, or at more uneven intervals, they would value all their assets, deduct their liabilities and arrive at a new figure for their 'stock', a process which amalgamated housekeeping and shopkeeping gains and losses, normally counted bad debts as assets and made no pretence at estimating a return on capital. Even those who kept really good accounts in double entry did not distinguish in their profit and loss accounts between business capital and total assets or between business
---
and household expenses. 'There is scant evidence of any attempts at a precise calculation of profits and capital, or of any general endeavour to systematize and to refine the calculation of capital or profits,' writes an expert on the history of accounting.[54]
In such circumstances it is obviously difficult to calculate an average rate of profit. Commentators quite often referred to the average turnover of a business and sometimes related this to what the trader 'got' or 'got clear' from his business, an ambiguous concept which presumably meant the profit on turnover but which took no account of overheads or capital costs. A witness in 1696, for instance, thought that the owner of a public-house who 'took 40 or 50 shillings a day . . . could not gett less than £100 a year'. If his turnover on the basis of 300 days is taken as £675, then the return is about 15 per cent, though the exact meaning of 'gett' remains unclear. The business of pastry-cook seems to have been more profitable than the drink trade, even in 1697, a year when we are told that fruit, sugar and flour were very dear. Ayliffe White was said to take £200 a year or 12s. a day from his trade and his 'profitts' were estimated at 'above a fourth part of ye said summe in a year'. Another case concerned John Tarry, who sold strong waters, mainly wholesale. His business was said to be taking between £12 and £20 a day or about £5000 a year, from which witnesses estimated that Tarry 'does clearly gett ye sume of £300 a year', a rate of profit on turnover of only 6 per cent. This seems a low return for someone whom witnesses described as doing well, and what was meant by 'does clearly gett' was probably the amount that Tarry accumulated clear of all his household expenses in a year.[55]
Rates of profit on turnover can also be discovered in account books, many of which kept separate accounts for each trading venture, thus making calculation relatively easy. Such 'profits' were also generalized by contemporaries into statements that the normal profits in some particular trade were, say, 9 to 10 per cent on wool sales or 50 to 100 per cent in the China trade, to take two late-seventeenth-century examples.[56] These examples suggest a wide range, but profits on turnover in overseas trade normally seem to have been somewhere between 10 and 25 per cent, some individual transactions or risky trades
---
providing much higher returns and many of course showing losses. In a business world increasingly characterized by free competition, it seems unlikely that much higher profits could have been kept secret for long from newcomers eager to enjoy them for themselves.
When profit on business overall is looked at, the accounting problems mentioned above are encountered. In an article published in 1969, Richard Grassby wrestled with these problems and came up with a set of data which is convincing and not very likely to be improved on. He collected profits and rates of accumulation from surviving account books and the published comments of contemporaries, and, although these naturally varied very widely, the end result of his enquiries was to suggest that profits were fairly modest. Thus, at one end of the scale, successful merchants were making annual profits of 20 to 30 per cent and sometimes more, while the unsuccessful might be earning from trade less than the 6 per cent which was the maximum legal rate of interest, a rate which Nicolas Barbon said was 'the rule by which the trader makes up the account of profit and loss; the merchant expects by dealing to get more than interest by his goods'. Overall, Grassby suggested that in the period after 1650 'the average returns of a working life in trade probably ranged from 6 to 12 per cent'.[57]
Grassby's examples nearly all refer to overseas traders. Other occupations provide much less information since hardly any of their account books have survived and contemporaries were much less interested in the profits of publicans and shopkeepers than in those of merchants. One suspects, however, that the normal profits of such lesser men must have been much greater than those of merchants; indeed, if they had not been, it seems unlikely that they could have accumulated at all, since their living expenses would have absorbed all their profits. This can be shown by examining the articles of agreement of five partnerships—two goldsmiths' businesses, a grocer, a mercer and a saddler. These all provided for individual partners to draw 'for their owne private and particular expenses' sums ranging from £78 to £234 a year. If these businesses had only been making profits of 12 per cent, at the top end of Grassby's range, then the partners' drawings would have exceeded the profits in three cases and only in one, the mercer's business,
---
would there have been as much as £100 a year addition to the joint stock.[58]
The stock of these businesses did in fact grow over time, so it must be assumed that their profits were considerably higher than those of the average merchant, perhaps in the range of 15 to 30 per cent. Some indication that this is roughly the right range is given from evidence provided by pawnbrokers in 1745. They claimed that their profits were 'not superior, if equal, to those of other middling tradesmen' and with remarkable unanimity stated that their gross profits on their 'whole capital' were 16 or 17 per cent per annum. However, living expenses would have taken a higher proportion of profits for most 'middling tradesmen' than for merchants, since these expenses were income inelastic, the result being that it was easier for a rich merchant to accumulate than it was for a poor shopkeeper, even though the latter's profits might have been considerably higher.[59] For example, a merchant with a capital of £10,000 who made profits of 10 per cent and spent £500 per annum would have accumulated another £8000 in ten years. A shopkeeper with a capital of £1000 who made profits of 25 per cent and spent £200 per annum would accumulate faster but would still only be worth £2650 after ten years' trading. He would be dead long before he caught the merchant up.
It was of course possible for our hypothetical shopkeeper to pinch and scrape and spend much less, and this is what the writers of contemporary treatises urged him to do. If, for instance, he only spent £50 a year instead of £200, he would be worth £2650 in five years instead of ten. However, it was difficult to keep this sort of thing up, since the acquisition of riches nearly always tempted people to use them to improve their image in the eyes of the world. 'The hope of rising in life makes a man a mighty producer and accumulator of riches', as Alfred Marshall wrote, but the passage continues, 'unless indeed he is in too great a hurry to grasp the social position which his wealth will give him.'[60] Most men in Augustan London were in too great a hurry and so the pace of accumulation was not particularly rapid.
It follows that most rich men must have been already rich or at least reasonably well off when they were 'young beginners', though there were exceptions such as Sir Dudley North, who
---
TABLE 4.7: Influence of Age at Death on Fortune

 

Age at Death

Fortune at Death

Under 30 %

30–39 %

40–49 %

50–59 %

60 & over %

Less than £2000

88

73

56

46

19

£2000–£4999

12

20

26

23

35

£5000 & over

0

7

18

31

46

 

100

100

100

100

100

Number of cases

17

107

131

83

37

Source: Linked sample.
turned £100 into a fortune of £40,000. However, North is in many ways the exception which proves the rule since his overall trading profit in the prosperous 1680s was only 3 1/4 per cent and he 'made his initial fortune by usury and earned more by his marriage than from a lifetime in trade'. Many other great fortunes were acquired by usury, either by lending to government and courtiers at exorbitant rates or by taking advantage of the absence of an effective loan market in a foreign country, as did North, whose profits from usury were made in the Ottoman Empire where rates of interest were from two to four times those in England. Marriage was an even more effective agent of accumulation for the generality of middling people, most marriages being based on 'equality of fortune', an expression which meant that in many cases the dowry would double the citizen's wealth.[61] However, once again, it was usually rich young men who attracted rich dowries and so one has to conclude that the best way to wealth in Augustan London, as in most places, was to have a rich father.
The other important thing was to stay alive. Whether the businessman accumulated at 5, 10 or 25 per cent, it is reasonable to assume that he would accumulate more the longer he lived. This principle is illustrated in Table 4.7 above by crosstabulating the age and fortune at death of the sample. The distribution satisfies the common sense hypothesis above; on average, businessmen got richer as they got older. Such a process was cumulative, since those who died older and richer could provide larger portions for their sons, who would then
---
start the accumulation process at an advantage. It will be seen later that middle-class Londoners lived longer in the eighteenth century than in the seventeenth and, as a result, they got richer and provided their children with bigger portions which enabled them to get richer still. Since these children were also more likely to follow their fathers into business in the eighteenth century than in previous times, it is easy to see how even modest rates of profit and accumulation enabled London to become the immensely wealthy city that it was in the second half of the eighteenth century.[62]
---