La lingua sua vie più che spada taglia la penna sua vie più che fiamma coce
Scholarly research bears more than one sign of vanity. The biblical author of Ecclesiastes already noted the link between tireless human curiosity and the ultimate vanity of discovery. Like any other vain pursuits, scholarly research follows fashion. The choice of the subject of this essay may well be considered a typical example of that fact. After centuries of oblivion, scholars have recently noticed Judah Assael Del Bene from very different standpoints. For some, Del Bene provides an example of the peculiar tension between rationalism and antirationalism which is supposedly immanent in Jewish culture. As such he represents a typical throwback to a centuries-old medieval posture within the baroque context of the seventeenth century. He personifies the Jewish way of resisting outside seduction toward acculturation and ultimate self-effacement.[1] For others, Del Bene represents instead one of the most vivid manifestations of the inception of modernity within Italian Jewish culture. He thus emerges as a prototype of an organic assertion of Jewish cultural self-consciousness within the spirit of the epoch.[2] In either case then, the figure of Del Bene is one with strong resonances in our own epoch, so intensely characterized by "baroque" manifestations and perplexities. A Rabbi in Ferrara, where he enjoyed the prominent social and cultural status inherited by his father David, Del Bene was undoubtedly a representative of the Jewish establishment in the age of the ghetto.
It was in this capacity that Rabbi Judah ascended the synagogue pulpit and addressed his audience. He thus performed one of the most typical mediating functions in Jewish society. Assuming that preaching is an expression rooted in society's perception of its social identity, an individual appointed by society to perform such an activity is always a mediator.[3] The preacher's sermon is intended to mediate between different categories of thought underlying different life experiences. A preacher is expected to mediate between elite culture and popular culture. A synagogue sermon must be noticed and understood by the learned rabbis sitting in the first row as well as by the uneducated sitting in the back. This is perhaps the most difficult of the preacher's tasks. A preacher also mediates between his own desires and aspirations and those of his audience. He must instill knowledge and values that in his view are at least partially lacking in his audience, yet he must accomplish this without creating the impression that he is preaching something his audience is not a priori ready to accept. For his audience, the preacher must perform a function one might characterize as retrieving lost knowledge and values rather than innovating. In other words, a preacher is expected to mediate between the already known and the unknown; between conservation and innovation that occasionally might even be revolution; between the old and the new. Moreover, a preacher mediates between what his audience actually knows to be, and what it would, at least overtly, aspire to be; between actual reality and wishful thinking. Thus a preacher is supposed to warn and castigate, yet within limits already well defined and accepted by the audience. He is supposed to say in a captivating manner what everyone might otherwise hear from his own conscience. Should the preacher overlook these limits, he very likely might be dismissed. Within Jewish society, one may reasonably add a special component to this particular dimension. As Jewish society does not exist in a void, but rather in permanent interaction with the non-Jewish environment, a Jewish preacher may reasonably be expected to mediate between the Jewish universe of thought and values and the non-Jewish one. From this vantage point, the preacher's mediating function would then most likely be one between reception and rejection of external standards and values. In accomplishing his moralistic function, the preacher might, of course, primarily warn about such dangers as those inherent in nourishing oneself on Gentile culture or in questioning the stability of the traditional sociocultural structures of the Jewish community. As we shall see, however, there is much more to it than that.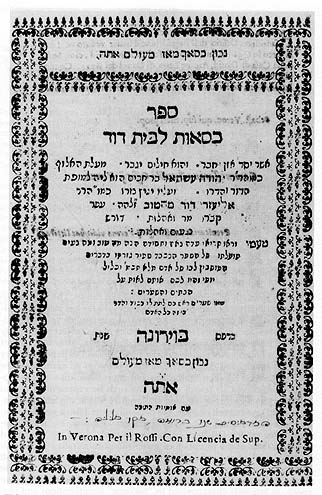 Title page from Judah Assael Del Bene's Kissot le-Veit David (Verona, 1646).[jy Courtesy of The Beinecke Rare Book and Manuscript Library, Yale University.
[
Full Size
]
In any case, the homiletical product of a preacher may allow the historian to detect the inception of change within a conservative society. Comparative analysis of sermons with what we know of learned elite culture might also allow us to perceive the limits of the mediating activity of the preacher, what he thought fit to include as well as what he preferred to exclude. Should we be lucky enough to be able to extend this comparative analysis beyond the field of what the preacher actually preached to his audience, and consider as well what the audience received and internalized, we would surely gain a deeper understanding of the different forces at work in the making of cultural change. Unfortunately, a set of all these elements together is very rarely at our disposal. Records of sermons that were actually delivered are nonexistent. Preachers did not yet read their speeches and, at least within Jewish society, people could not take notes because preaching almost always took place when writing was ritually forbidden. As is well known, what remains are only literary versions of sermons, as elaborated by the preacher himself post eventum, or shorthand records, written down by listeners after the holiday was over, on the basis of what they were able to store in memory. To the best of my knowledge, we do not possess more than one record of the same sermon. Yet we are usually relatively rich in material illuminating the preacher's learned culture or his social environment, often both.
Del Bene's preaching within seventeenth-century Italian Jewish society presents a rare opportunity to carry out a comparative analysis of this kind. In addition to his printed book of essays, Kissot le-Veit David (Verona, 1646), the cultural legacy of this rabbi includes the record of some sermons, written down by one relatively educated listener, Israel ben Abraham Ha-Kohen, in a manuscript entitled Yessodato be-harerei Kodesh,[4] which might be translated as "Its Foundation is in the Mountains of Holiness" (cf. Ps. 87:1) and where one may perhaps detect a baroque predilection for the antithesis between metaphorical depth and no less metaphorical heights, similar to Giovan Battista Marino's typical oxymora.[5] In his brief introduction, Ha-Kohen informs the reader that, once the Sabbath or holiday was over, he gathered his notes from the sermons he was able to remember of preachers he was fortunate enough to have heard speak. Most sermons recorded by Ha-Kohen were delivered by Rabbi Peletiah Monselice. Two were delivered by Rabbi Eliezer David Del Bene, father of Judah,[6] and the remaining fourteen by Judah.[7] In contrast to Monselice's sermons, which follow the weekly readings of the Torah systematically, most of Del Bene's sermons were delivered during holidays or on Saturdays preceding or following major holidays. It would therefore not be unreasonable to suppose that these were precisely the occasions on which Ha-Kohen left his country residence in order to enjoy the holiday in the more exciting atmosphere of Ferrara. Future research will undoubtedly elucidate this point more clearly. If proved, it would indeed strengthen the importance of Ha-Kohen's annotations as evidence for the mediation between elite urban culture and the popular culture more characteristic of the countryside.
To be sure, the use of Ha-Kohen's records confronts us with very serious methodological problems. For instance, how can we distinguish between what Del Bene effectively said and what Ha-Kohen reports that he said? This is not only a question of hermeneutics. In fact, Ha-Kohen frequently inserts his own comments into the text. How can we be sure that he always remembered to mark his words faithfully? Moreover, his Hebrew text very rarely records samples of the Italian terminology adopted by the preacher, who obviously preached in the vernacular.[8] Ha-Kohen apologizes for resorting to Italian words in cases where he felt absolutely unable to render the preacher's virtuosic puns properly in Hebrew.[9] Yet, notwithstanding this piece of conventional captatio benevolentiae, he apparently felt quite confident with his capacities. Ha-Kohen's records provide us with a very valuable piece of evidence.
As far as form is concerned, Del Bene's sermons were still constructed according to the standard scheme of synagogue preaching, deeply rooted in ancient Jewish homiletical tradition no less than in medieval university practice. They began with a "theme," that is a biblical verse, taken from the Torah reading of the day, together with a rabbinic saying, the relationship of which to the opening biblical verse seemed extremely difficult to grasp. The preacher was then to engage in detailed exegetical exposition in order to link the two cogently, constantly taking advantage of his hermeneutical effort to convey to the audience his didactic, indeed ideological message.[10] Such a rhetorical model was particularly fitting for the taste of Del Bene's time, which made the unexpected discovery of meaning an ideal of life no less than a source of aesthetic pleasure attained through stylistic virtuosity. The use of language was to the preacher what brush and colors were to the painter, building materials to the architect, observation of elements and plants to the natural philosopher, dissection of dead corpses to the doctor, or travelling to the adventurer and explorer. In his way, the preacher was to meet the challenge of shaping a wonderful new world on the familiar old foundations. Because of his basic function as mediator between opposites and of unraveler of enigmatic textuality, the preacher embodied the aspirations of the epoch perhaps more than many others. Students of Del Bene's literary style, as well as of his theory of style,[11] have come to the conclusion that baroque obscurity of style was indeed one of the things of which Del Bene was most proud.[12] In the introduction to Kissot le-Veit David, he even says that publication suffered considerable delay because of the difficulty of finding printers able to understand his plays on words, in order not to "rectify" what seemed to them to be erroneous! On the technical and formal level, Del Bene's praise of obscurity led to a dizzying display of dual meanings which may recall the baroque theory of metaphor, according to which metaphor represents the proper way of grasping the multiple facets of reality.
People might then have disagreed as to what constitutes the most authentic eloquence. Should it be primarily style or content, the preacher's ability to epater le bourgeois or his ardent commitment to a just cause? Yet no one would have denied the importance of style in delivering striking antitheses and amazing paradoxes leading to a proper hermeneutic synthesis and unraveling of meaning.[13] We should then expect to find this feature in Del Bene's sermons as well. To be sure, much of such virtuosity must have been lost in his actual delivery to general audiences. In reading Ha-Kohen's records, one can scarcely identify the characteristically intricate style of Kissot le-Veit David. Was that a consequence of the conscious choice of the preacher, who opted for intelligibility at the expense of rhetoric, or was it the previously mentioned inability of the listener to grasp the depths of the preacher's thought? The answer is probably somewhere in between. Del Bene's actual ability to translate his learned sensibility into a popular sermon must ultimately be read between the lines of Ha-Kohen's notebook. In what follows I will present two examples of how that process of mediation may have taken place and some conclusions we may possibly draw from them.