---
Introduction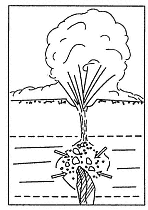 [
Full Size
]
Geothermal energy is an important and promising alternative energy resource that has shown continual growth throughout this century; regrettably, its fortunes have reflected the variable successes experienced when traditional petroleum exploration techniques are used. Because the world's highest temperature—and perhaps most abundant—geothermal resources are associated with volcanic regions, this book develops a framework for exploration and development of geothermal resources in volcanic areas by linking modern volcanological concepts to aspects of geothermal energy.
We emphasize the importance of volcanic field observations to geothermal exploration and review the OLADE (Latin American Energy Development Organization) approach to geothermal energy exploration. We have integrated quantitative approaches and models that can be used to collect and interpret field and laboratory data. These quantitative approaches have been introduced, in a simplified theoretical framework, to also show some links between volcanology and engineering concepts.
Volcanology has largely been an outgrowth of the larger discipline of geology and, like geology, is mostly a qualitative or "inexact" science. In contrast, much of the supporting science of geothermal energy has evolved from engineering methods that were developed in the petroleum industry; hence, it is intrinsically more quantitative and has a very different technical language. This traditional dichotomy in technological approach has, we believe, hindered progress in both exploration for and developments of geothermal systems in volcanic areas. We practice a strategy that bridges that gap by first synthesizing classical and newly developed models of volcanoes (as well as their hydrothermal systems) and then applying this synthesis to the quantitative and engineering aspects of geothermal energy exploitation. This philosophy has been implicit in the OLADE methodology but has never been described and published in detail.
---
Because so much of volcanology has direct societal impact—and thus requires measures of certainty, the ability to predict, and inter-disciplinary approaches—volcanological studies have become increasingly quantitative over the last decade or more. For economic minerals and geologic hazards applications, these studies must address such problems as investment security, environmental issues, and municipal safety. Our need for pragmatic approaches to research has spawned new methods in geophysics, mechanical engineering, and geochemistry; these techniques are now woven into the fabric of volcanology and have resulted in an increasingly quantitative discipline. Throughout this book, we attempt to demonstrate how models based upon these approaches can elucidate the complex and uncertain environments of volcanic hydrothermal systems.
In developing the text of this book, we have emphasized the inexactitude of the quantitative or semi-quantitative volcanologic models. Each volcano or volcanic area is complex and presents an individual problem to be solved systematically. Models only serve as a framework to focus and possibly enhance the efficiency of exploration and development. It is for this reason that we use case histories as examples for readers to consider in terms of typical models.
Finally, it is our intention that by addressing issues of volcanology that can be directly applied to engineering problems, it will be possible to better incorporate geologic reasoning into the development of geothermal resources. Through our experience at Los Alamos National Laboratory, where geologists and engineers work closely, we have found that the "cross fertilization" of these disciplines produces seeds of understanding that can grow to strong exploration and development programs, often surmounting scientific and technological barriers that might have otherwise prevented success.
Application of Volcanological Observations to Geothermal Exploration
Our experience in numerous geothermal exploration projects has taught us a fundamental axiom for geothermal exploration in volcanic areas. Many of the complexities and unknown, subsurface characteristics of a volcanic geothermal field can be constrained through logical deduction that is based upon careful field observation, mapping, sample studies, and the integration of related geophysical and hydrogeochemical data.
We believe that many geothermal exploration projects in volcanic areas have suffered from the lack of pertinent volcanological observations and interpretations. So many clues regarding the location and magnitude of geothermal systems are available from the volcanic structure and deposits that one might say detailed interpretation of these observations constitutes a type of "exploration drillhole." Therefore, we stress the need for careful field volcanology during geothermal exploration projects in volcanic areas.
During the last 10 years, the field of volcanology has been growing rapidly; the resulting new observations and ideas are providing us with numerous hypotheses on volcanic structure and processes. In magma genesis, movement, and eruption phenomena, as well as volcanic structure and thermal histories, there have been many new discoveries that have engendered a better understanding of igneous systems and their relationship to high-grade geothermal systems. These hypotheses and discoveries have important geothermal implications when applied to the interpretation of volcanological observations.
---
Geologists must use what is known about volcanoes, their structure, eruption phenomena, and composition, to reveal necessary information about the heat sources and settings of groundwater—key factors in formation of a hydrothermal system. A basic approach to exploration includes good geological mapping by whatever means is available: topographic maps, aerial photographs, satellite photographs, planetable surveying, tape and brunton traverses, and panoramic viewpoints. Also, systematic descriptions of tephra deposits and rocks are vital, especially for core logs from exploration holes.
In applying volcanological observations, one should integrate the observations (for example, mapping and sample analyses) with other information on surface springs and fumaroles, water chemistry and hydrology, and geophysical surveys, including gravity, electrical resistivity, seismicity, and heat flow. Any of these surveys by itself, without a geologic framework, is almost useless; integrated with good geological surveys, each is valuable. Hydrochemists, geophysicists, reservoir engineers, and geologists must talk to each other and work as teams to successfully develop geothermal resources.
A basic methodology for geothermal exploration in volcanic fields was developed in 1983 by an international team of experts for the Latin American Energy Development Organization (OLADE, 1983). The field approach involves learning everything possible about a volcano or volcanic field, including structure, structural setting, eruption phenomena, composition, and ages of eruptions (see illustration). Using these data, it is possible to establish hypotheses regarding the location and magnitude of hydrothermal resources. Simply put, the volcano and its products supply information normally gathered from the first drillholes and may provide a view of the volcano's geothermal system or systems. Employed in conjunction with hydrogeochemical sampling of hydrothermal waters and gases,
[
Full Size
]
the field approach is extremely cost-effective and is the first step toward prescribing the more expensive geophysical surveys and exploration drilling that will be needed. The geological and physical volcanological approach involves the three steps outlined here; these steps are undertaken at the same time as the hydrogeochemical sampling but before geophysical surveys. Later chapters will expand upon these techniques and their application.
Step 1—
Evaluation of Available Information about the Area to Be Studied
In the initial phase of a project, all existing information is collected and evaluated, including:
· topographic and geological maps at large and small scales;
· regional geological syntheses, including stratigraphy, structural geology, and history of volcanism;
· all published and unpublished reports on geology, geochemistry, and geophysics;
· satellite images and aerial photography;
---
· information on the presence and characteristics of hot springs, fumaroles, and hydrothermal alteration;
· information on drillholes or coreholes from any source, including water well drilling, petroleum drilling, and coring by mining companies;
· published and unpublished geophysical data; and
· information on hydrology and meteorology.
Step 2—
Field and Laboratory Investigations
Following analysis and interpretation of prior work, field and laboratory investigations should be designed to answer specific questions regarding (a) the possible presence of shallow thermal anomalies, (b) regional hydrologic conditions, and (c) the nature of thermal manifestations. In volcanic regions, it is important to focus geological observations on a number of points.
· Identify those areas where there are episodes of recent volcanism. The definition of "recent" varies according to the volume of material erupted because large magma bodies retain heat much longer than small ones do.
· Evaluate the relative quantities of silicic and mafic or intermediate volcanic products.
· Define, on a regional scale, the present relationship between the volcanic structure and the regional tectonic framework.
· Identify phreatic explosion craters.
· Systematically collect samples of all lithologic types for laboratory analysis, including petrographic and chemical analyses.
· Collect lithic clasts (xenoliths) from pyroclastic units for petrographic analysis.
· Determine the absolute ages of representative lithologic units.
· Study (in preliminary form) all possible reservoir and caprock units.
Analysis and interpretation of field and laboratory data at this time will help define principal geothermal areas to be studied in detail and, if appropriate, selected for geophysical surveys and exploratory drilling. Along with results of the regional hydrogeochemical surveys, the preliminary data can be used to determine areas to be evaluated for potential commercial development.
Step 3—
Detailed Field and Laboratory Studies: Geology and Volcanology
Detailed field and laboratory studies begin with (a) interpretation of aerial photography, (b) preliminary identification of faults and volcanic structures, (c) hypotheses concerning the regional volcanotectonic setting, and (d) integration of information from existing maps. Following this work is a detailed field study that comprises the aspects listed here.
(1) A search for thermal anomalies in the upper crust involves mapping and sampling young volcanic eruption sequences, especially rock types indicative of shallow magma bodies. All areas of hydrothermal manifestations, both fossil and active, are mapped and sampled in conjunction with hydrogeochemical sampling. All volcanic structures are mapped, including craters, domes, phreatic craters, and associated faults.
(2) In areas with surface hydrothermal manifestations, potential caprocks are mapped and sampled, and their origin is determined. In volcanic zones, the search for phreatic explosion craters is emphasized.
(3) The extent of potential geothermal reservoirs can be estimated through
---
· A study of lithic clasts (xenoliths) in pyroclastic deposits; these clasts provide information on the nature of rock units underlying the volcano.
· Identification and mapping of recent faults. This effort is essential because active faults frequently represent zones of fracture permeability.
· Determination of the degree of hydrovolcanic activity responsible for pyroclastic deposits in the volcanic field. This work may identify aquifers beneath the volcano during recent eruptions. These aquifers could be current hydrothermal reservoirs.
(4) In tropical countries where soils form rapidly and outcrops are soon covered by vegetation, geological mapping is considerably more difficult. In these situations, several additional approaches are necessary:
· Landform mapping. These maps are based primarily on the interpretation of aerial photographs and satellite images, especially in young volcanic fields. The interpretations are field checked along road cuts, stream bottoms, and shorelines, as well as in quarries.
· Side-looking airborne radar (SLAR) imagery. Such images are extremely useful in mapping faults and volcanic landforms in tropical areas, although they may be relatively expensive to acquire.
Basic Approach
In this book, we review some important advances in volcanology from the last several decades and show how an understanding of volcanic systems can be applied to geothermal systems. We have drawn considerable background information from volcanological literature and combined it with our own research experience in volcanology, which has been to a large degree in support of geothermal exploration.
This book is organized into seven chapters. The first three chapters review general volcanological principles and aspects of geothermal reservoirs and manifestations. We employ recent volcanological findings, emphasizing the importance of fragmental products of volcanoes (tephra). Chapters four through seven discuss the main types of volcanic fields, including calderas, silicic domes, basaltic volcanoes, and composite cones. As well as exploring the pertinent geological structures and models of their origin, we use known case histories as examples of geothermal exploration and development for each field type.
The seven appendices provide practical background material, including volcanic field and laboratory study techniques, rock classification schemes and data, engineering units and conversions with abbreviated steam table data, a two-dimensional heat flow code for personal computers, logging methods for cores and cuttings, and an extensive glossary of volcanological terms.
Through a review of recent advances in volcanology, geothermal applications of pyroclastic rock studies, and geothermal manifestations, we develop a more quantitative approach than has commonly been used in volcanic fields. We hope this approach stimulates readers to think about how previously studied volcanic geothermal areas might benefit from more quantitative applications.
---