Recommendations and Justification for Drilling
In the final report of a field study, data and observations must be clearly separated from interpretations and conclusions. After documentation of all the studies and their associated conclusions, a formulation of required future work and a summary should be added.
Following an extended field study (whether it has been accomplished by reconnaissance or detailed field work), the project reaches a point when one must justify future work and specify the direction it should take. Field researchers evaluate both their supporting data and their overall inclination about the potential success of a geothermal exploration project. If data and observations are sufficient to produce a three-dimensional model that can be tested by further studies such as geophysical surveys, thermal gradient boreholes, or core drilling, the justification must be succinctly presented and a strategy that will work within this framework should be suggested.
It is our experience that even if shallow thermal gradient wells are indicated, the cost of obtaining core from these boreholes is not a significant additional expense; core information greatly enhances the overall body of data that can be extracted from drilling. The location of these boreholes should be determined by (a) drilling targets specified by various field investigators; (b) ways in which the three-dimensional model can be best tested and augmented by drilling information; and (c) considerations of access and property rights.
The field geologist can also emphasize conclusions about the size of the heat source in locations where young volcanism will allow application of the methods described by Smith and Shaw (1975), which are discussed in Chapter 2. Such estimations are supported by field observations of geothermal manifestations, such as surface heat flow that can be determined from hot spring and fumarolic areas (also discussed in Chapter 3). After the temperature of a potential hydrothermal system is constrained (either through direct, surface-temperature measurements or analysis of hydrothermal-mineral assemblages) conversions of thermal resource to available heat for production and electric power generation can be generalized from graphs shown in Appendix D. Such exercises produce only crude numerical estimations of a geothermal resource, but the information could emphasize the relative potential of a geothermal prospect and help justify or discourage exploration drilling.
The final step in writing a report is a summary that compiles all aspects of the work, including the perceived regional importance; geological, hydrogeochemical, and geophysical conclusions; an overall geothermal model; the projected size and temperature of the potential resource; and recommendations for continuation or culmination of the exploration. Nontechnical language should
---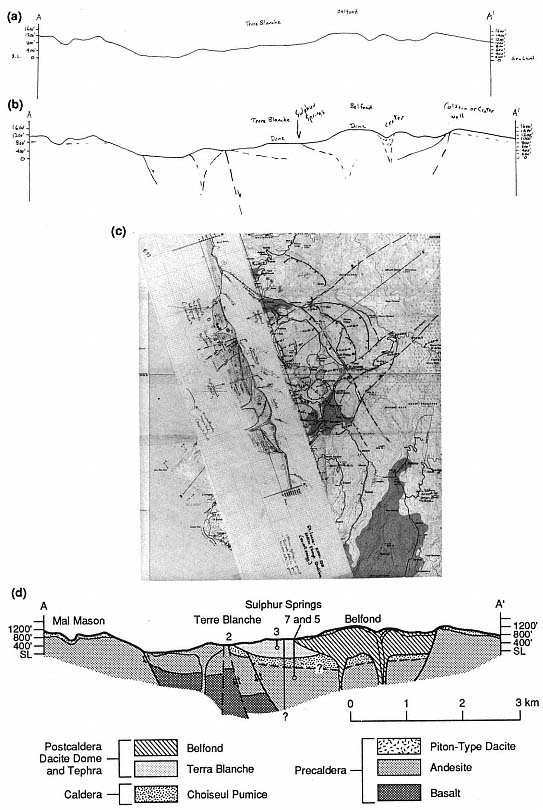 [
Full Size
]
---
be used wherever possible in this summary because it will be read by individuals of diverse backgrounds. Optimism about the project and its success must be carefully balanced against the data; the possibility that an exploration project does not satisfactorily justify future development is a valid recommendation. If the recommendation is to discontinue a project, it may be necessary to consider culminating work, such as releasing property rights and effecting environmental restoration where field work has infringed (such as might be required if geophysical lines caused topographic modifications or if boreholes must be capped and cemented). On the other hand, if continuation is recommended, aspects of property ownership, environmental restoration (access, governmental restrictions, and logistics), and local operational support should be discussed. These considerations can greatly facilitate promotion of future work.
---