Structural Analysis
Identification of geologic structures is a crucial component of field work. Frequently, these structures are most readily observed from stereo pairs of aerial photographs. In the field, definition of fault and vent structures requires careful correlation of rock units and close inspection of outcrop fabrics.
Regional Tectonic Control
Regional structures are related to past and present tectonic conditions such as crustal compression (thrusting and folding) and extension (block faulting, graben formation, and strike-slip movement). In general, regional structure exerts some control over volcanic vent locations and, to some degree, the type of volcanic complex that evolves (for instance, composite cones from compressional regions and scoria cone fields from extensional environments).
Stratigraphic Correlation and Volcano-Tectonic Models
As we discussed earlier, preparation of a detailed stratigraphy is one of the most important aspects of field work. Stratigraphic units in volcanic fields consist of old basement rocks, which are relatively large areally as a result of their sedimentary, intrusive, or metamorphic origin; rocks of petrologic consanguinty, such as older mafic rocks buried by younger intermediate extrusives; and widespread pyroclastic units.
---
Table A.3. Possible Variation of gf with Fragmentation and Transport Processesa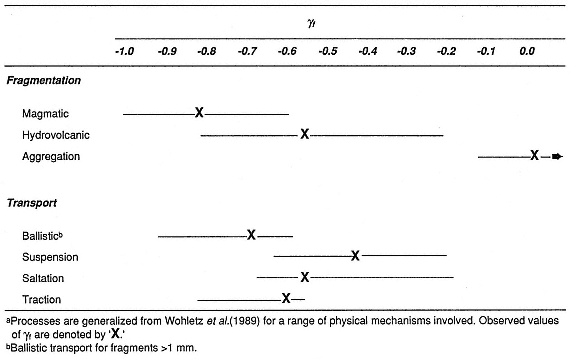 [
Full Size
]
Correlation of these units can generally be accomplished in the field by examining out-crop textures and alteration, phenocryst contents, erosion surfaces, and overall rock type. For widespread pyroclastic units, discontinuities in surface elevation and thickness (for example, large thickness variations seen across graben- or caldera-bounding faults) are often used to identify fault locations. Composite cones can show facies such as near-vent intercalations of lava and pyroclastic units that change laterally to distal laharic deposits. Other typical stratigraphic successions for various volcanic field types are discussed in previous chapters (see also Cas and Wright, 1987).