Nine—
The Ecology and Cosmology of Disease in the Banaras Region
David Arnold
The cities of northern India have begun to engage the attention of historians at several levels of enquiry and analysis—as centers of trade and political activity, for example, or as focal points for the cultural and religious life of the region. Some interest has been shown, too, in the nature of the colonial impact upon these cities and how British ideas and policies affected their physical form and social order. Anthony D. King in his study of "colonial urban development" in Old and New Delhi, J. B. Harrison in his "sanitary history" of Allahabad, and Veena Talwar Oldenburg in her account of the "making of colonial Lucknow" have pointed, inter alia, to the importance of Western ideas of health and sanitation in the transformation, or attempted transformation, of urban north India during the colonial period (King 1976, Harrison 1980, Oldenburg 1984). As Oldenburg in particular shows, the British determination that the city "must be clean" was a matter of more than simply sanitary significance: it revealed underlying colonial attitudes and preoccupations; it touched upon political cultural concerns that were central to colonial control in the urban setting.
There is much to be gained from such an approach, not least for the political insights it gives to a subject too often regarded as obscurely municipal and dry as dust and for the depth of the colonial divide it displays. In a modest way this essay attempts a similar line of enquiry for another north Indian city, Banaras. But there is a danger in concentrating on a single city or artificially divorcing it from its natural hinterland, and this would seem especially constrictive in discussing diseases and epidemics that commonly ignored municipal limits and city boundaries. The health of Banaras was, like that of other cities of the north Indian plain, closely bound up with the region as a whole and
---
with extensive networks of pilgrimage, trade, communications, and migration, as well as with its status as a major Indian city.
Like cities elsewhere in India, those of the upper and middle Gangetic plain were, no doubt, subjected to a greater degree of medical and sanitary intervention during the colonial period than was the countryside around them. One crude index of this was the far higher level of expenditure by municipalities than district boards on public health in the late colonial era. Upwards of 35 percent of municipal income in the United Provinces (U.P.) was spent in this way, compared with a bare 3 percent of the considerably smaller funds available to the district boards (ARDPH 1925:49; ARDPH 1947:8–9). The cities of the region also maintained political and cultural traditions that could be strongly resistant to Western medicine and sanitation. Anticipated hostility from the urban centers of the North-Western Provinces—from Lucknow and Kanpur especially—and from Delhi forced the moderation in 1898 of the government's proposed antiplague measures, even though similar ones had already been imposed upon the towns and cities of western India.[1] Clearly, then, there were respects in which cities stood apart from their hinterland, and the cities of the north were distinctive even in colonial eyes. What is important, however, is to set this distinctiveness against or alongside the aspects of disease and medicine which tied a city like Banaras to its wider environment.
Diseases, and especially the epidemic diseases on which the first half of this essay concentrates, thus help to locate Banaras within a series of interlocking temporal, spatial, and cultural relationships. To some extent, this might be called a Braudelian approach, in that it gives emphasis to the long-term trends, as well as identifying some of the shorterterm cycles and fluctuations to which Banaras and the region were exposed. There are some evident parallels here with C. A. Bayly's broad perspective on north Indian trade and politics in the "age of British expansion," though the nature of the sources available forces one to concentrate mainly on the years after 1870, rather than, as in Bayly's book, on the earlier period (Bayly 1983). But I share the reservations of those critics of the Braudelian longue durée who, like Jean Chesneaux, feel that such "massive history is in reality a passive history," resulting in a "depoliticized long run" (1978:98). Where Braudel sets out with only a "dialectic of space and time (geography and history" (1975:16), this essay sees a need to juxtapose the long-term trends and influences with more immediate consequences of human activity and will. If people are to be understood as active agents in the making
---
of their own history, and not merely as the inert recipients of whatever long-term changes might be forced upon them, it is necessary to consider the perceptions that they bring to their own situation. It is one of the arguments of this chapter that both the ecology and the cosmology of disease have a place in the social history of health in the Banaras region.
The Seasonality and Periodicity of Epidemic Disease
As a major urban center, Banaras under British rule shared many of the problems and consequences of overcrowded and insanitary conditions, contaminated water supplies, inadequate sewage disposal, and deficient public health services which were the lot of other colonial cities in India and indeed of cities throughout the world during the period. Although by the 1930s Banaras and similar Indian cities were better equipped with hospitals and dispensaries, piped water and sewers, vaccinators and sanitary inspectors than the rural populations around them, urban morbidity and mortality rates remained, nonetheless, disproportionately high. This was particularly so in the case of Banaras. In U.P. as a whole during the quarter-century 1901–1925, urban mortality averaged 45.08 per thousand inhabitants: for the province generally (the towns included) the rate was 37.44. The figure for Banaras district, 33.74, was slightly below the provincial average, but for its principal city the mortality rate was a startling 57.88, considerably above even the average urban level in U.P. (calculated from five-year averages in ARSC 1906, 1911, 1916; ARDPH 1921, 1926). Banaras was one of the most deadly cities in northern India. The explanation for this was not just that Banaras was a populous and insanitary city: it was also a consequence of its geographical, cultural, and epidemiological context.
Never a purely random occurrence, disease reflected the material conditions of human existence, the influences of climate, vegetation, and landscape, and the characteristics of social organization and cultural behavior. Each disease enjoyed its own distinctive, if to human eyes enigmatic, relationship to the human environment. In a region where the seasons were well marked and the advent or failure of the monsoon rains had such momentous consequences, the incidence of disease (especially epidemic disease) bore a striking correspondence with the annual and seasonal variations in rainfall, temperature, and humidity.
Seasonality was more evident in some diseases than in others. In Banaras district, as in much of eastern U.P., the period following the onset of the monsoon in mid to late June was generally the unhealthiest
---
time of the year, with mortality from "fevers" (a vague description but probably including a preponderance of deaths from malaria)[2] and dysentery particularly high. In general, the dry months from December through March and April were the healthier part of the year. But it was during the dry season that smallpox, a disease widely prevalent in eastern U.P.,[3] made its annual appearance. Smallpox flourished with the spring—so much so that further east in Bengal it was known as basanta rog , the "spring disease" (Wadley 1980:38). It reached its greatest intensity between March and June, fading rapidly with the arrival of the monsoon, though in and around Banaras, with its year-round pilgrim traffic, this seasonality was not as extreme as in most rural areas. Temperature and low humidity influenced the activity and contagiousness of the smallpox virus, but social and cultural factors had some effect too. In a display of physical mobility rarely associated with a predominantly peasant society, the early months of the year were a time for travel and festivity—the time for Holi, pilgrimages, and weddings. These elaborate and intersecting networks of human mobility created social conditions conducive to the spread of a disease dependent upon human contact for its survival and transmission. Commenting upon this aspect of smallpox seasonality, the provincial Sanitary Commissioner observed in 1886 that
those who travel much about the country, cannot but be struck with the continual movement going on amongst the population of the country at this time of year. When the rains set in, smallpox diminishes in severity, partly, no doubt, from the cessation of intercourse which follows the increased difficulties of communication, and perhaps partly owing to the influence of moisture upon smallpox contagion. (ARSC 1886:26)
Despite increasing medical intervention—the number of vaccinations in U.P. rose from under three-quarters of a million in the 1870s to two million in the 1940s, with about a third of the population of Banaras district so protected by 1939 (ARSC 1878:27; ARDPH 1939:55)—the seasonality of the disease remained unaffected. In 1871, 70 percent of smallpox deaths occurred between March and June; figures for 1940 show 50 percent of deaths during the second quarter of the year with a further 25 percent in the first quarter (ARSC 1871:9; ARDPH 1940:7). During the ten years 1925–1934, 54 percent of smallpox deaths in Banaras district fell in the months of April to June and 21 percent between January and March (table 9.1). Although the city of
---
Table 9.1 Average Monthly Mortality in Banaras District, 1925–34

 

Jan.

Feb.

Mar.

Apr.

May

June

July

Aug.

Sept.

Oct.

Nov.

Dec.

Cholera

1

5

20

87

110

164

141

140

56

26

31

14

Smallpox

21

20

36

64

67

71

44

18

4

3

7

20

Plague

50

74

97

31

6

–

–

1

3

2

6

16

Fever

1,022

978

1,167

1,436

1,474

1,539

1,430

1,577

1,592

1,556

1,519

1,311

Dysentery/Diarrhoea

48

43

61

81

79

68

72

123

96

73

78

77

Respiratory Diseases

157

149

166

181

184

162

138

186

171

144

169

165

Totals

1,299

1,269

1,547

1,880

1,919

2,004

1,825

2,045

1,922

1,804

1,810

1,603

SOURCE: Annual Reports of the Director of Public Health of the United Provinces , 1925–34; appendix B.
---
Banaras held only a fifth of the district population at this time, it was responsible for nearly 44 percent of the total smallpox mortality. Even in years when smallpox became epidemic in the countryside, the city's share remained disproportionately high.
Smallpox had a distinctive place, too, in the human life-cycle. In a land where the disease was endemic as well as periodically epidemic, few Indians reached adulthood without either surviving an attack of the disease or receiving the protection conferred by inoculation (variolation) or cowpox vaccination. The buildup of a pool of unprotected infants was thus one of the determinants of smallpox epidemicity. Across U.P. as whole major epidemics erupted every three or four years, but within a single locality the incidence was more irregular. Banaras and its environs suffered severe epidemics in 1878, 1884, 1889, 1897, 1926, 1930, 1934, 1942–45 and 1951–52 (Joshi 1965:353). Fifty percent or more of the deaths from smallpox were among children under twelve years, indicating its importance as a childhood disease. Years of smallpox epidemics were likely to be years of high infant mortality. In the interwar period, 1918–1939, about 72 percent of recorded smallpox deaths in U.P. were among those under ten, 28 percent of them among infants under one year old. However, as vaccination (and by the 1930s revaccination) became common and the disease passed through a period of low incidence between 1898 and 1925, so a large percentage of the adult population was left unprotected by either natural or artificial means. The result was a recrudescence of the disease after 1925 and a higher rate of adult mortality. In 1932, for example, the proportion of fatalities in those over ten reached as high as 40 percent (ARDPH 1932:14). Smallpox was losing something of its customary status as a childhood disease.
Like cholera, a disease with which it shared certain characteristics in the Indian context, smallpox not only followed a seasonal cycle but also formed part of the multiple crises occasioned by war, drought, flood, and famine. A disease that thrived in a dry climate and possibly profited from the undernourishment and debility of its human hosts, smallpox became particularly widespread in famine years or in the season following the failure of a monsoon (Rogers 1926:6; ARSC 1878: 23a). The wanderings of the famine-struck in their search for food, work, and water, their congregation at relief centers and in towns like Banaras (where religious and princely charity, as in the famine year 1878, could confidently be expected),[4] further favored the spread of the disease. Although the Banaras division escaped relatively lightly
---
from the famines of the late nineteenth and the early twentieth century, conditions of scarcity or famine in 1877–1879 and 1896–1897 contributed to the high smallpox mortality in those years. Conversely, the virtual absence of famine after 1908 was a factor in the marked decline in smallpox epidemics until the Bengal famine of 1943 helped fuel a later resurgence. The disruption caused by the two world wars and their political sequels was similarly registered in high levels of smallpox mortality, whereas the depression years, perhaps because they were a time of low grain prices with little administrative and social dislocation, were remarkably free from major epidemics.
Taking an even longer perspective, it is possible that smallpox and cholera, despite their certain antiquity in India, became especially prevalent as a result of the political disruption of the eighteenth and nineteenth centuries, with the accompanying invasions, large-scale troop movements, and economic disorganization (cf. Nicholas 1981: 33–34; Arnold 1986). If this was so—and the evidence is as yet too patchy to be more than suggestive—then the advent of colonial rule in northern India may have caused or coincided with a significant upturn in epidemic mortality similar to that attributed to colonial intervention in sub-Saharan Africa in the late nineteenth century (Kjekshus 1977). The growth of international and internal trade, the establishment of new and more rapid forms of transportation, and the increased mobility of wage labor, as well as the part British economic policies may have played in accentuating the effects of famines in the late nineteenth century, may all have contributed to making the colonial period a time of abnormally high epidemic mortality, a trend only gradually and partially countered by increasing medical and sanitary intervention (Klein 1972, 1973; Whitcombe 1972; but cf. Stone 1984). Viewed in this broad perspective the colonial era in northern India might itself be regarded as constituting a single epidemiological cycle.
Spatial and Social Aspects of Epidemics
Smallpox maintained a relatively direct and straightforward relationship with its human hosts, one factor that aided its containment and eventual eradication in the 1970s. But other disease had a more complex relationship, closely linked to environmental and sanitary conditions or mediated through insect and animal vectors. Plague offers one example of this. The spread of plague across northern India in 1899–1901 has been identified with the distribution of the rat flea Xenopsylla cheopis , thought to have originated in Egypt's Nile valley and to have been introduced into India through the expanding traffic between the two countries which followed the opening of the Suez Canal in 1869. Plague tended to be most intense in areas like eastern U.P.—Banaras
---
and Gorakhpur divisions were among the worst affected localities in rural India (Rogers 1928:45)—where X. cheopis had become naturalized: it was less prevalent in much of eastern and southern India where X. astia remained more common (Hirst 1953:348–71). Reaching eastern U.P. in 1901–2, plague at first caused heavy mortality in urban areas. There were two thousand plague deaths in Banaras city alone in the years 1901, 1903, 1905 and 1911. Thereafter, however, urban mortality from the disease fell, rising above a hundred deaths only in 1912, 1917–18 and 1947, while in the countryside it became firmly entrenched. This can be read as evidence of the greater effectiveness of antiplague measures in urban Banaras, but X. cheopis also found a securer ecological niche among the rodent population of the densely inhabited, grain-rich countryside. Like smallpox, plague had an annual as well as an epidemic cycle, though one more regionally variable. In U.P. as a whole, about 60 percent of plague deaths occurred between April and June: in eastern U.P. and Banaras, January to April was the main period (table 9.1). The reasons for this variation were linked to climatic factors and to the breeding cycles of the rats and their fleas (Rogers 1928:42–43, 58–60; Hirst 1953:260–80). The timing of the year's grain harvest had a bearing, too, providing food for rats as well as humans and, through the transportation of grain, contributing to the fleas' mobility. One factor behind the resurgence of plague in eastern U.P. between 1942 and 1947 (apart from the breakdown of control measures during wartime) may have been the massive grain movements caused by the 1943 famine in Bengal.
But plague also illustrates the importance of human vectors. The epidemic arrived in eastern U.P. in November 1899 with the return of three Muslim Julaha[*] weavers whose employment in the cotton mills of Bombay had ceased with the closure of the factories in that plague-stricken city. From the weavers' homes in the small town of Mau-Aima in Allahabad district, plague spread to Banaras and from there to other towns and villages in the area. Plague had also established itself in rural Bihar and was encroaching on Banaras and Gorakhpur divisions from the east. Market towns were among the first to be affected, with grain traders and handlers among the earliest victims. Subsequently, as plague moved into the villages a disproportionate number of deaths occurred among women, whose housebound lives made them more vulnerable than adult males to a disease borne by domestic rats' fleas (ARSC 1900:6a;ARSC 1901:16; Blunt 1912:43–44).
Migration from eastern U.P. to Bombay, Calcutta, Assam, and Bihar,[5] and the counter flow of pilgrims, traders, and professional men
---
from Bengal were also human factors of great epidemiological consequence. The advent and progress of the plague epidemic was but one illustration of this. The severe epidemic of dengue ("breakbone") fever that struck eastern U.P. in the early months of 1872 was traced to importation from Calcutta where it was already rampant. The first recorded cases, were among passengers on a Ganges River steamer which arrived at Mirzapur on March 14, 1872; they infected coolies unloading the vessel and the disease spread rapidly. The first case in Banaras was reported on April 27, 1872—a Bengali who had come by rail from Calcutta two days earlier. From these two points of entry, dengue fever raced through the eastern districts, advancing mainly along the lines of rail and river traffic. An estimated 75 percent of the inhabitants of Banaras city were affected, though only two deaths resulted (ARSC 1872:15–16). By contrast, the influenza epidemic of 1918 reached Banaras from the west, causing rather less mortality than at Agra or Allahabad, but still raising the city's death rate to the highest annual figure (81.31 per thousand) on record (ARSC 1918:18a). Another disease, the protozoan infection known as kala-azar, spread by sand fleas, was becoming increasingly common in the Banaras area in the 1930s and 1940s, partly as a result of inroads from Bihar, but also through the return of migrant laborers from Assam where the disease was endemic (Joshi 1965:348). Cholera epidemics, too, were often attributed to seasonal labor movements between Nepal and the adjacent districts of eastern U.P. This was one explanation of the perennially high levels of mortality from cholera along U.P.'s northeastern border (ARDPH1926:41; Banerjea 1951: 25).
Cholera offers striking evidence of the close connection between human mobility and epidemic disease. Unlike smallpox, cholera has no uniform season. In Bengal it was most widespread between October and January and again in March and April. In Bihar, Orissa, and eastern U.P. the main season fell between April and August; in Punjab it was June to August (Pollitzer 1959:55). The disease thus appeared to move westward each year along what Bryden (1869) described as the "northern epidemic highway." Banaras lay in the path of the advancing epidemics; the first cases appeared early in the year, and mortality rose steadily between April and June, before waning in September and October. Although temperature and relative humidity were important factors (Rastogi, Prasad, and Bhatnagar 1967:844–50), the curious character of cholera epidemicity also bore some relation to human mobility and especially to Hindu pilgrimage routes and seasons.
Banaras stood at a critical juncture between the pilgrimage places of eastern India—Puri, Baidyanath, and Gaya especially—and the sacred sites of the upper Ganges valley and was one of the key centers in the all-India network of temples, shrines, and religious festivals. Few pil-
---
grims from the east or northwest failed to pass through Banaras, to visit its temples and bathe from its celebrated ghats. One party of pilgrims from Naini Tal journeyed in 1899 to Allahabad, Banaras, Gaya, Baidyanath, Calcutta, and Puri before some of their number fell victim to cholera (ARSC 1889:21). Bimla Devi, who died from the disease at Hardwar in March 1927, came from Burdwan in Bengal, visiting Gaya, Banaras, Ayodhya, and Nimsar en route to the Hardwar mela (ARDPH 1927:27A). The direction and duration of the pilgrims' journey was contingent upon many factors, including their means and devotional objectives. But the pilgrimages bore the imprint, too, of the agricultural cycle: the dry months were the period when agricultural work was slackest and thus pilgrimage most opportune. The timing of the major fairs and festivals (itself perhaps showing the influence of the agrarian calendar) was a further factor. Many pilgrims from Bengal and Bihar passed through Banaras at the start of the year to reach Allahabad in time for the Magh Mela in January–February and to arrive at Hardwar for the main bathing festival in March or early April. Many continued from there to Badrinath and Kedarnath, returning home for the monsoon and the resumption of agricultural activity (Bhardwaj 1973:219). There was a second period of festivals later in the year, during the month of Karttike (October–November), with meals at Garmuktesar near Meerut and, closer to Banaras, at Ballia, where the Dadri fair drew many hundreds of thousands of worshippers (ARSC 1901:16). But these later festivals attracted local rather than long-distance pilgrims.
From the 1860s the colonial authorities began to collect evidence linking cholera epidemics in northern India to the timing and direction of the main pilgrim flows. Banaras appeared doubly affected. Although it did not have such popular bathing festivals as those at Allahabad and Hardwar, its smaller fairs still acted as major epidemic foci, with infected pilgrims returning, as in 1924 following the lunar-eclipse fair, to such places as Deoria, Gorakhpur, and Azamgarh (ARDPH 1924:29; see also ARDPH 1927:46). Banaras was subject, too, to wider patterns of pilgrim mobility and disease dissemination. Cholera was unwittingly brought by pilgrims from Bengal to Banaras and to other religious centers in eastern U.P., such as Allahabad, and from there spread by dispersing pilgrims throughout the region. (See fig. 16 for one illustration of this.) Railroad junction as well as pilgrim town, Banaras could also be hit by cholera epidemics emanating from more distant sites, such as Puri and Hardwar. The Kumbh Melas, held at Allahabad and Hardwar at twelve-year intervals, and the intervening Ardh Kumbh Melas, by bringing together as many as a million pilgrims at a single time and place, created conditions peculiarly conducive to cholera outbreaks. The Kumbh Melas at Hardwar in 1867 and 1891 and those at Allaha-
---
[
Full Size
]
bad in 1894 and 1906 were seen as clear examples of the epidemic hazards of these periodic mass gatherings (Pollitzer 1959:882–85; Banerjea 1951; 28–31). As figure 17 indicates, cholera mortality in Banaras district reflected the incidence of these fairs, though it should be borne in mind that in some cases the correlation was fortuitous and the melas were not directly responsible.
As Banaras came to be recognized as a major turnpike along the "northern epidemic highway" special measures were introduced to prevent pilgrims from introducing cholera into eastern U.P. From 1927, health officials were posted at Mughal Serai (as well as at Ballia and Gorakhpur) to intercept and detain pilgrims suspected of suffering from cholera and other serious diseases. In this way fifty-seven cholera cases were detected in 1929 and sixty-one in 1930, the year of the Allahabad Kumbh Mela (ARDPH 1929:12; ARDPH 1930:21A).
Examples could be multiplied, but I hope that enough evidence has been given to suggest some of the ways in which the city of Banaras was subject to wider patterns of human mobility and mortality, or seasonal and cyclical change, and of epidemiological incidence and variation. In these respects one is struck not by the uniqueness of Banaras or by the significance of a rural-urban divide, but by the extent to which the city reflected or accentuated the characteristics of the regional society and the environment as a whole.
---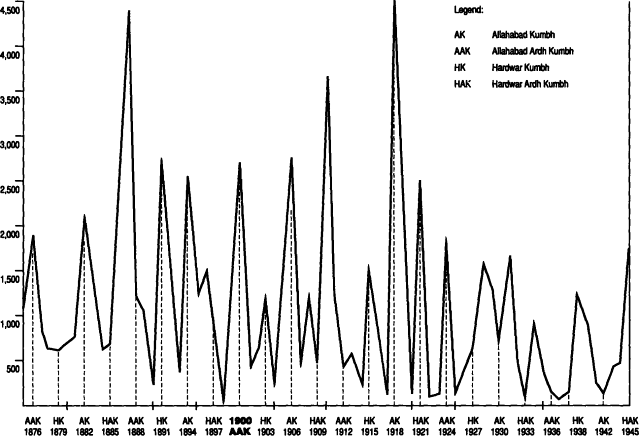 [
Full Size
]
---
Disease, Death, and Curing
Banaras had, however, a special place in Indian and even British thinking about disease, death, and curing. In the traditions of Ayurveda, Banaras enjoyed particular eminence. It was reputedly there that Dhanvantari, "physician of the gods" and "father of Indian medical science" (Stutley and Stutley 1977:75; Sukul 1974:93–94), imparted his knowledge and skills to Sushruta, the author or compiler of the Sushruta Samhitta . Other works of classical Ayurveda, such as Chikitsa Kaumudi and Chikitsa Darshan , were also said to have been written at Banaras during the reigns of the early kings of Kashi. From an early date, probably even before the time of Buddha, Banaras was renowned for its physicians (Joshi 1965:344). With the rise of Muslim power in northern India from the twelfth century, Banaras also became a center for the Unani system of medicine, itself evolving through interaction with Ayurveda. Fashions in medicine, at least among the elite, tended to reflect changes in political supremacy, and the advent of British rule in the late eighteenth century was soon followed by the introduction of Western, allopathic medicine. At first the British showed some tolerance, even respect, for the indigenous medical systems, but as British power grew in confidence and strength attitudes became more openly disdainful. In the Anglicization of the 1830s the East India Company withdrew its former patronage for indigenous learning, including Ayurveda (B. Gupta 1976:370); but the Rajas of Banaras, like the Kings of Delhi and the Nawabs of Awadh until the mid-1850s (Sharar 1975:97–98), remained important patrons, enabling Indian medicine to survive into the late nineteenth century, when it began to be taken up again by the middle classes. As guardians and patrons of Vedic scholarship, the Rajas of Banaras extended their support to Ayurveda as well. Though in a manner indicative of the pluralistic nature of elite culture in Banaras (Saraswati 1975:31, 52), they also employed, indeed seemed to show a preference for, Unani practitioners. The district gazetteer lists among those who served the Rajas the vaidya Trimbak Shastri and the hakims Muhammad Hadi (born 1825), Muhammad Jaffar (born 1854), and Mazhar-ul-Hasan (born 1867), each of whom served in turn as court physician (tabib-i-khas ) (Joshi 1965:34–35). With the establishment of the Banaras Hindu University in 1916 (with its own Medical College and Institute of Medical Sciences) and with the accession of the Congress to ministerial power in U.P. in 1937 and again in 1946, there was a revival of Ayurveda, yet Western medical education and practice remained in the ascendant (Joshi 1965:360; Sukul 1974:102, 115).
But Ayurveda and Unani by no means exhausted the medical specialists of whom Banaras could boast. Hindu and Muslim astrologers, for example, were consulted about the cause of physical and mental ail-
---
ments and recommended various charms and observances to free their clients of their afflictions (Pugh 1981). Clearly, popular ideas about disease and curing were intimately bound up with wider beliefs about malevolent and benevolent forces affecting human fortunes, health, and happiness. Banaras and eastern U.P. also produced specialists of a more evidently practical kind, such as Jarrahs, or barbers, who performed minor surgical operations (Joshi 1965:345). The region was also one where smallpox inoculation had long been practiced: indeed, the Brahmins of Banaras seem to have been celebrated practitioners of the art (Holwell 1767:8). One early-nineteenth-century report (interestingly, by a Muslim, Nawab Mirza Mehadi Ali Khan) tells of a Brahmin at Banaras who performed a kind of pre-Jennerian cowpox inoculation in the name of Sitala, the smallpox deity; but this cannot have been common (Asiatic Annual Register 1804:98–99). In eastern U.P. generally, inoculators were commonly men of the Mali, or gardener, caste who traveled about the countryside plying their trade during the smallpox season and then returned to their agricultural pursuits as the disease waned—another example of the connection between the agrarian and the disease cycle. Despite British attempts to suppress inoculation in favor of Western vaccination, the practice continued in and around Banaras until at least the 1880s and probably, more discretely, for some time thereafter.6
In Banaras, however, curing or preventing disease was not the province of medical specialists alone. The city itself, with its temples, shrines, ghats, and wells, was widely believed to possess a special capacity to cure, protect, and assuage suffering. To some extent this was the mark of the eminence of Kashi as one of the most sacred places of Hindu India. The abode of Shiva as Vishvanatha, the point where the Ganges flowed north toward the Himalayas, Kashi was an exceptionally auspicious place to die or to be cremated. "Death, which elsewhere is feared, is there welcomed as a long-expected guest. Death, which elsewhere is polluting, is there holy and auspicious" (Eck 1978:191). One path of "curing" offered by Banaras was thus escape from physical and earthly suffering through the certain salvation (moksha) that death in the city conferred. Since disease and suffering were associated with sin and divine displeasure, spiritual and ritual solutions were as commonly sought as any medical therapy. The waters of the Ganges, which could cleanse the soul of all sin, could also by association free the body of its physical afflictions. Pilgrims bathed in the Ganges and took the water home with them from a belief in its curative and protective properties,
[6]
---
as well as for its ritual uses. The sick traveled to Banaras in the hope of being cured or at least of dying in the holy city. Others visited it in fulfillment of vows made during illness. Like Allahabad, Baidyanath, and a number of other sacred places in northern India, Banaras was a site where lepers congregated, whether in the hope of finding charity or from a belief that the holiness of the place would rid them of their disease. It was also to Kashi that thousands fled from eastern India and the Deccan to escape the plague in 1900–1, believing that the dreaded disease could never enter so sacred a place (Nevill 1909a:27). The religious reasons that made Banaras such a magnet for the sick and dying also help to explain why the mortality rate in the city was so perennially high.
In addition to its all-India prominence as a center for pilgrimage and worship, Banaras was also a "microcosm of Indian life, customs and popular beliefs" (Havell 1905:80). As such it attracted to itself ideas about disease and curing which belonged to a wider Hindu or Indian cosmology of belief and explanation. The "disease godlings" (Crooke 1926:114f.) of the folk tradition here commingled with the Sanskritic deities and Ayurveda of the literati and the elite (the so-called Great Tradition) in ways that defied neat division and compartmentalization. The worship of Sitala could be taken as one illustration of this. The Brahmin inoculators of Banaras invoked the goddess for the success of their operations; and the city seems to have long been important as a center for her worship (Wadley 1980:51–53; Nicholas 1981:30–31). As one of the shakti (female) forms of Shiva, Sitala was perhaps thought deserving of special representation in Shiva's city, and shrines to the goddess were often to be found in close association with Shaivite temples in Banaras (Havell 1905:113). But Sitala also remained part of the folk tradition from which she had originated (Eck 1983:171–72), and her popularity as an object of worship in the city may have reflected the prevalence of smallpox in the region and the reverence with which the goddess was widely regarded.[7]
Other forms of popular disease propitiation and curing were to be found in Banaras. Vidyarthi in his recent study of the "sacred complex" of Kashi (1979:39, 54) lists thirteen deities with special attributes, including healing and protective powers. Apart from Sitala, these include Khokhi Devi for coughs and colds, Jwarharneshwar Mahadeo for
---
fevers, and Kal-Bhairava for warding off ghosts and malevolent spirits. Eck (1983:194) also identifies Bhairava as a popular protector against illness and misfortune. Other sources list tanks, wells, and shrines with similar properties. The Amrit Kupa (or "well of immortality") was said to be associated with the cure of skin diseases, including leprosy. It was also called after Dhanvantari, who was said to have thrown his medical bag into the waters, giving them their curative powers—an interesting link between Ayurveda and popular belief (Joshi 1965:345; Sherring 1868:219; cf. Eck's description of the Kala Kupa, "the well of time," 1983:262–63). At the Nag Kupa, or "serpent's well," an annual festival was held at the time of the Naga Panchami in Shravana (July–August) partly in order to obtain protection from snakebite (Fisher and Hewett 1884:139; Eck 1983:264).
Some of these protective or curative rites had their place in the annual cycle of the seasons, when a particular disease, like smallpox (Wadley 1980:37–38, 42–43), or when snakebite (Eck 1983:264), was most feared. But the annual cycle was interrupted or punctuated by the greater calamities of major epidemics when special measures were employed. On such occasions in eastern U.P., "scapegoats" were used to drive out epidemic disease, or offerings dedicated to a disease deity were passed on from village to village in the hope that the pestilence would move away with them. Sometimes as much noise and clamor as possible was made in a bid to scare off the demon of disease (North Indian Notes and Queries 1891, I (6): 111, 119; I (8): 127; Crooke 1968, chap. 3). Disease-driving rituals at times occasioned local clashes, for the inhabitants of contiguous neighborhoods did not always take kindly to the disease deity or demon being driven into their territory. On the night of March 10, 1901, as the plague epidemic closed in on Banaras, gangs of "rowdies" gathered in Dashashvamedha and Sigra in the south of the city to repulse the "scapegoat" of the disease driven out from Chaitganj (Bharat Jiwan [11 March] in SVN for 1901).
Such rituals gave emphasis to the continuing gulf between popular Indian beliefs concerning disease and the ideas held by the colonial administration. The depth of that divide, and its political as well as cultural connotations, was further exemplified by the rumor widespread in Banaras and other towns of northern India at the time that the British were deliberately spreading the plague through the poisoning of the municipal water supplies in order to rid themselves of a troublesome populace or to break down caste and religion (Kalidas [2 June] in SVN for 1900). But it is also indicative of the variety of responses provoked by epidemic disease that other Hindus and Muslims offered up prayers for protection in the city's temples and mosques and that the editor of the Banaras newspaper Bharat Jiwan turned to the Ayurveda
---
to find sanction for the British policy of evacuating infected towns and villages (Bharat Jiwan [11 March] in SVN for 1901).
A Colonial Cosmology of Disease
Disease and medicine were also powerful and enduring influences in British attitudes toward Banaras, though the nature of their influence varied over the long period of British involvement with the city and, to some extent, with the professional outlook of the individuals concerned. There was a disposition among European observers, medical men and missionaries especially, to denigrate Banaras as a Hindu sacred place by pointing to the contrast between its alleged sanctity and purity and its actual squalor and want of sanitation. Typical of this attitude was the following diatribe from the Reverend M. A. Sherring in the 1860s:
Threaded with narrow streets, above which rise the many storied edifices for which the city is famous, it is, without doubt, a problem of considerable difficulty, how to preserve the health of its teeming population. But, when we reflect on the foul wells and tanks in some parts of the city, whose water is of deadly influence, and the vapour from which fills the air with fever-fraught and cholera-breeding miasma; when we consider the loathsome and disgusting state of the popular temples, owing to the rapid decomposition of the offerings, from the intense heat of the sun; when we call to mind the filthy condition of nearly all the by-streets, due to stagnant cesspools, accumulated refuse, and dead bodies of animals; and, when, in addition, we remember how utterly regardless of these matters, and incompetent to correct them, is the police force scattered over the city, the difficulty becomes overwhelming. (Sherring 1868: 181–82)
One can see in this description the almost total reversal of the Hindu understanding of Banaras. Even its sacred and curative waters have become "foul wells and tanks" whose effects are described as "deadly" rather than life-giving or life-preserving. The Ganges at Banaras was subjected to a similar sanitary critique (cf. Eck 1983:216–17). It was also characteristic of Sherring's late-nineteenth-century British standpoint that he believed that the solution to the city's insanitary and insalubrious state lay in the creation of an efficient and purposeful municipal corporation. Under such a body, he claimed, "we should soon see a thorough transformation of the city," and the execution of "radical changes, so imperatively demanded in this region of palaces and filth, in this hot-bed of periodical disease" (Sherring 1868:183).
The British attack upon the insanitary, disease-ridden nature of Hindu pilgrimage centers and sacred places like Banaras was in part an
---
assault on Hinduism itself and an expression of the disgust, loathing, and incomprehension many nineteenth-century Europeans felt for Hindu India (Arnold 1986). Representing their own ideas and methods as rational and scientific, they characterized the whole of Indian medicine, religion, and popular belief as superstitious and irrational. Medicine and sanitation were among the means by which they sought to demonstrate and to implement their belief in the innate superiority of Western civilization. Through medicine and sanitation the West constituted itself the rival and the antithesis of Indian modes of thought and action.
But, for all the strength of their convictions, the British were forced to recognize the force of Indian cultural and social resistance to Western innovation and intervention. They could not simply ignore the importance of Banaras as a Hindu place of pilgrimage and worship. And, as an alien regime, in a vast and populous land, they were alert to the political risks in attempting too forcefully to impose their own ideas upon a wary population. At first, however, because Banaras was one of the earliest and largest Indian cities to pass under British control, and because it was such an important center for the Hindu religion, the British were keen to make the city a showpiece of their benevolence and enlightenment. Among the first institutions established at Banaras were those twin temples to the healing arts—a hospital (originating with subscriptions collected by Jonathan Duncan, the Resident, in 1787) and a lunatic asylum (1809). By 1814 the "native hospital" was one of three in the Bengal Presidency, but the other two, at Calcutta and Murshidabad, appear to have been more successful propagandists for the virtues of Western medicine. W. W. Bird, one of the governors of the Banaras hospital, observed stoically that the "rise and progress of every benevolent purpose has been a perpetual struggle against opposition and difficulty, but enlightened zeal and perseverance have always prevailed, and doubtless will in the present instance."[8]
Vaccination was another of the boons conferred by Western science and benevolence which it was at first hoped Hindus would embrace with alacrity and gratitude. In practice, in and around Banaras, inoculation continued to be more popular while vaccination was viewed with great suspicion. One of the rumors that circulated about it in eastern U.P. was that it was an attempt by the British to find a child with white blood (or milk) in its veins, the Mahdi or the Kalki, who would otherwise drive the British out of India (North Indian Notes and Queries 1891, I (2):32; I (8):120; Hopkins 1983:147). But the British continued to
---
think of the benefits of medicine as helping to complement or balance out the more openly coercive aspects of their rule. It was, significantly, at the opening of the Victoria Hospital at Banaras in December 1889 that the lieutenant-governor, Sir Auckland Colvin, possibly with the Mutiny more in mind than medicine, observed that "our empire in India to be secure must rest not on physical force only, but on the goodwill of the people" (Hindustan [28 December] in SVN for 1889). But to many of "the people" Western medicine, through such practices as vaccination, appeared to be just another aspect of colonial coercion (Arnold 1985, 1987).
But from self-interest and from the strength of the resistance encountered, the British were obliged to make frequent concessions to Indian sentiment, placing political pragmatism before medical idealism, and thus tending to confirm their own view of Indian ingratitude, ignorance, and immutable conservatism. When Duncan in 1790 tried to improve upon the primitive state of sanitation in Banaras a "vast multitude of persons" gathered on the outskirts of the city and forced the shopkeepers and traders to observe a hartal (a closure of shops and workplaces as a protest). A petition presented to Duncan complained that his measures were "a novelty" that made the people "apprehensive and disturbed them." He explained that there had been no sinister motive behind his action and that the changes had been intended to benefit the citizens of Banaras. With this reassurance, the people dispersed, "shouting their thanks and rejoicing, to their homes." But Duncan concluded from this and similar experiences that "all innovations, even for evident advantages, should be cautiously attempted, as far as they may affect the various classes and sects who inhabit the local centre of the Hindu faith" (Oldham 1876:208).
The British in Banaras (and to varying degrees elsewhere in colonial India) accordingly pursued a cautious policy, pressing what were seen to be the benefits of Western medicine when they could, but otherwise acknowledging political, cultural, and financial restraints. Early in the nineteenth century they elicited from the pandits of Banaras a statement that vaccination was not in contravention of the shastras (Report of the Smallpox Commissioners 1850:29). By the late 1870s smallpox inoculation had been formally outlawed within the municipalities of Banaras, Ghazipur, and Ballia, and in 1881 vaccination was made compulsory in the municipality of Banaras, followed two years later by the cantonment (colonial Banaras, it should be remembered, was also a military station). But as late as the 1920s the government refrained from making vaccination obligatory throughout Banaras district, fearing the strength of the opposition from the higher castes in the countryside
---
(ARSC 1879:31A; ARSC 1889:47; ARDPH 1925:44; Nevill, 1909a:26). Similarly, in 1900–1 the Collector of Banaras was at pains to impress the city's inhabitants that the government would not be enforcing the more extreme antiplague provisions, such as compulsory segregation and hospitalization of suspected cases (Indian Appeal , 8 February 1901; Bharat Jiwan [18 February] in SVN for 1901).
In a fashion that echoed the policies of the "Oudh School" of colonial administration, medical and civilian officers in eastern U.P. in the second half of the nineteenth century also sought to overcome or bypass popular resistance to Western medical measures by looking to local elites as intermediaries and leaders. In discussing the prospects for vaccination in the area, J. MacGregor, the regional Superintendent of Vaccination, remarked in 1878 that "an alteration in social customs to be successful in India, as in other countries, must take firm root in the upper strata before it penetrates downwards to the masses." It had been found from experience, he continued, "that when a zamindar's child is vaccinated, the ryot s [peasants] submit their children with only the slender amount of pressure required to remove the vis inertia of apathy." When, however, the landholder was "an absentee or malcontent," the vaccinator "was obliged to find his recruits among those outcasts who live in the slums, or in the outskirts, of the village," a course of action likely to further prejudice the higher castes against vaccination (ARSC 1878:20A). Vaccination officers accordingly sought the assistance of Indian government servants, newspaper editors, municipal councillors, zamindars, and the Raja of Banaras to try to persuade townsfolk and villagers to accept vaccination (ARSC 1877:41; ARSC 1878:20A, 24A).
By the 1880s Western medical and sanitary ideas were gaining at least partial acceptance among many of these traditional and more recent elites (though not, it should be stressed, necessarily to the exclusion of indigenous beliefs and therapies). It was, for example, on the initiative of the Raja of Banaras and his diwan (chief minister) that the Kashi Ganga Prashadini Sabha was formed in 1886 to redirect the sewage of Banaras, keeping the bathing ghats free from pollution. Veneration for the Ganges, the traditional leadership of the Raja, and Western (rather than Hindu) notions of cleanliness and pollution were in this cojoined (Bharat Jiwan [22 November] in SVN for 1886; Nevill 1909a:262). It is striking, too, how many newspaper editors in Banaras and neighboring towns associated themselves with the government's often unpopular vaccination and antiplague policies and were critical of what they, too, saw as the prejudices of the "ignorant masses" (e.g., Hindustan [24 March] in SVN for 1901). Despite the earlier antipathy
---
and divergence between Western and Indian medical belief and practice, by the late nineteenth and the early twentieth century there were signs of a growing accommodation and compatibility between the two.
Conclusion
For the social historian of modern India the study of disease opens up several inviting lines of enquiry. By looking at the incidence of disease, especially epidemics, one can gain insights into the material conditions and social organization of the population as a whole and of the subordinate classes in particular, for whom there is often otherwise a paucity of information. Disease morbidity and mortality can tell us a great deal about the temporal rhythms and spatial dimensions of rural life, and about the periodic crises brought about by drought and famine, war and political disruption. There is, too, a subjective domain to be considered—the cultural precepts that shaped the understanding of different social groups in their approaches and responses to particular diseases and afflictions. These reactions and perceptions in their turn may be revealing of wider social and political identities and divisions. For the colonial period especially, disease and medicine are richly informative about the nature and depth of the division between the British and their Indian subjects and about the growing penetration of state power, as well as about the practical and political limits to colonial intervention. These lines of enquiry may well lead in different directions, but ideally it ought to be possible to combine an awareness of the material aspects of disease causation and incidence with its social, cultural, and political dimensions.
For the purposes of this essay, Banaras—the city and its wider hinterland—has been the focus of attention. Banaras certainly possessed some features, not least its importance as a sacred place of all-India stature, that made it distinctive. But Banaras was also subject to and representative of wider patterns and influences. It shared many of its characteristics with other north India cities; it was bound in with the larger region through trade, transport, labor migration, pilgrimage, and numerous other factors of medical epidemiological significance.
A study of disease and medicine in Banaras also illustrates the pluralistic nature of its society and culture—folk and elite, Hindu, Muslim, and Western. At times the divisions appear so sharp as to be almost unbridgeable: such was the case most strikingly with certain aspects of British medical ideas and practice during the nineteenth century. But at other times and in other contexts, although the divisions remained important, there were significant linkages established. The Hindu Rajas
---
of Banaras could be patrons of Ayurveda, have Unani hakims for their court physicians, and fund Western-styled hospitals and dispensaries. Muslim astrologers could follow beliefs and prescribe cures not vastly dissimilar from their Hindu counterparts (Pugh 1981). Muslims might participate in the propitiation of Sitala and receive inoculation from Hindu practitioners of the art (Vidyarthi 1979:58), while Hindus might pray at Muslim tombs for health, wealth, and progeny (Sukul 1974:159). Even Western ideas and therapies, so often viewed with deep suspicion, could gradually find their way into elite culture and into the medical treatment of the poorer townsfolk and peasantry. Banaras provides some striking examples of this complex process of borrowing and intertwining, but it is doubtful whether in this regard the city can be said to be exceptional.
---