Enemy Morale: Warfare Waged Psychologically
Work in the fields of psychological warfare, propaganda, and intelligence fell into the sweeping, but undifferentiated category of "morale." The concern with morale that pervaded the war years represented the recognition by government officials that the human personality and its diverse and unpredictable mental states were of utmost importance in prosecuting the war. Moods, attitudes, and feelings were not simply appropriate objects of military policy; they were the most appropriate, and objective facts receded into the background. The naive idea that wars could be won simply by perfecting weapons technology to kill one's opponents, it was noted frequently, was incorrect. By far the most effective road to victory was to destroy enemy morale while bolstering one's own.[50] There could be no higher military priority than the control of human subjectivity.
Applied to Americans or the Allies, "morale" was used loosely to describe desirable qualities ranging from personal bravery to group spirit. It also functioned as shorthand for determination, sense of purpose, superb leadership, and occupational competence in military and civilian populations. Positive "morale" was essentially the equivalent of positive motivation, a conspicuous component of "mental hygiene" (the most common term before World War II) or "mental health," as it was increasingly called. Because it could prevent neurotic breakdown and loss of cohesion, fortifying Allied morale became a central war aim. Destroying it in the enemy was, of course, equally vital.
Early on in the war, Army Intelligence asked the NRC Division of
---
Anthropology and Psychology for urgent help in the area of morale since no psychological warfare program existed at the outset of the conflict.[51] As programs were constructed, "morale" came to designate activities as seemingly different as analyzing enemy communications, monitoring U.S. public opinion, gathering data on what made German and Japanese civilians tick, and keeping the spirits of U.S. GIs as high as possible.
The elasticity of morale's definition elevated the public worth of psychological experts, since if psychological experts had nothing else in common, they were at least supposed to be united in their obsession with "the mind." ("Mental processes" was much preferred by those experimentalists who resisted the metaphysical etymology of this term.) Significantly, morale also stretched the definition of war to encompass aspects of civilian social life previously considered off-limits to military policy-makers, such as influencing levels of community cohesion and confidence in political leadership. The wartime recognition that battles over hearts and minds did not stop respectfully at the edges of military institutions, that civilian minds (ours and theirs) were coequal targets, would have momentous implications for the future.
Work having anything to do with the mental state of the enemy was generally labeled "psychological warfare," and the frequency of this term's use during World War II indicated how many more elements of warfare were being considered as components of a psychological conflict. This new designation tended to replace "propaganda," the term most used during World War I. At that time, "propaganda," had denoted only that portion of psychological warfare having to do with mass communications aimed at enemy audiences. Psychological warfare, on the other hand, was much broader in meaning. The terminological shift corresponded to a shift in the concept of war itself: from a tangible battle to conquer hostile geography to an intangible battle to persuade hostile minds.
Not surprisingly, this shift sharply underlined the importance of psychological experts in determining the outcome of military conflicts. Harold Lasswell, in fact, noted that the high profile of psychological warfare in World War II came about because "the psychologists wanted 'a place in the sun'; that is, they were eager to demonstrate that their skills could be used for the national defense in time of war."[52] At the same time, the new emphasis on nonmaterial determinants of military outcomes blurred the distinction between war and peace, a confusing state of affairs that would come to feel entirely normal during the Cold War. If aspects of warfare that were not military in the conventional
---
sense of armed conflict could make the difference between a short and relatively bloodless war and one that was long and deadly, why not consider any method of resolving conflict without resort to troops and guns a component of warfare? Effective diplomacy, Lasswell pointed out, could keep potential enemies neutral or utilize secret channels to bring war to an end, and strategically applied economic muscle could prevent enemies from gaining access to key, war-making materials.[53]
Unlike the arsenal of persuasion trained on enemy and occupied territory, work on the mental state of Americans or Allied populations (civilian and military) was never called psychological warfare, even though it did fall under the "morale" umbrella. There were, however, no important differences in the methods used to assess or persuade the two very different audiences; shared techniques included public opinion polls, attitude surveys, in-depth interviews, and personality analysis. Nor were there any differences in the professional training of those who spent the war years taking the pulse of U.S. morale rather than studying enemy minds. Not infrequently, the same people did both. And not infrequently, the policy-makers interested in enemy morale took an equal interest in its home front counterpart.[54]
The perspective that psychological experts brought to their work on enemy morale was, like that of the relocation management assistance team described above, based on a conviction that emotional appeals worked more effectively than rational ones and that chaotic irrationality infected human motivation to a much greater extent than orderly and thoughtful ideals. Similarly, those working on enemy morale did so out of a fierce conviction that behavioral insights could be powerful enough, if taken seriously, to tip the balance in the war, not to mention improve immeasurably the efficiency of military policy-making and war management. Individuals identified with this work included psychologists Leonard Doob and Edwin Guthrie and psychiatrist Alexander Leighton, among others. They worked in a range of agencies charged with understanding and influencing enemy morale, including the Office of Facts and Figures (OFF), the Office of Strategic Services (OSS), the Office of War Information (OWI), and the Psychological Warfare Division (PWD) of Supreme Headquarters, Allied Expeditionary Force (SHAEF).
Others worked outside of government, in academic institutions and community agencies, but in capacities that contributed directly to the psychological warfare effort. Typically, they coordinated their projects closely with government agencies and officials. Work in this field sometimes moved back and forth between public and private status. The
---
Ethnographic Board, set up by the Smithsonian Institution, the NRC, the Social Science Research Council, and the American Council of Learned Societies, compiled a central register of all U.S. social and behavioral scientists who had done foreign area research, complete with bibliographies and reports on obscure corners of the world. Harold Lasswell, whose content analysis technique inspired a tidal wave of "propanal" (short for propaganda analysis), worked initially on the Wartime Communications Research Project and then the Experimental Division for the Study of Wartime Communications. Both located in the Library of Congress, the first project was set up to afford Lasswell access to documents he could not have obtained without a governmental connection, and the second became a training ground for propaganda analysts.[55] Lasswell then moved over to the New School for Social Research, where he jointed Ernst Kris and Hans Speier in the Research Project on Totalitarian Communications.
Many psychological experts interested in systematically investigating mass communications and propaganda were brought together in the Communications Group of the Rockefeller Foundation, part of that organization's contribution to mobilizing U.S. intellectual resources for war, openly and in secret.[56] Among the many projects it supported were two at Princeton. The Princeton Listening Center, relocated in Washington in 1941, was incorporated into the Federal Communications Commission as the Foreign Broadcast Monitoring (later Intelligence) Service, where it was directed by Goodwin Watson, a social psychologist (fig. 2). The Princeton Office of Public Opinion Research was established in 1940 to analyze European radio broadcasts and diagnose Nazi psychology. Psychologist Hadley Cantril, a key figure in work on both enemy and home front morale, was its founder. In his opinion, many advantages existed in working outside of official circles, because doing so made it "possible for me to get confidential information for President Roosevelt and various other people in Washington without having to tie myself down to any government department or agency."[57]
National Character: Personality Diagnosis and Treatment on an International Scale
World War II underscored the real difficulties involved in distinguishing between friends and enemies. Because the war's ideological clashes made it impossible to trust such tangible indicators of loy-
---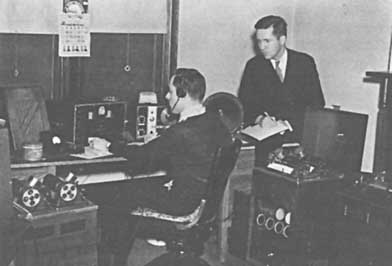 [
Full Size
]
alty as what people said and how people behaved, understanding the deep mental state of German and Japanese populations became a prerequisite to good military strategy. To this challenge, psychological experts brought the innovative concept of national character.[58] Nurtured by the neo-Freudian movement to revise psychoanalytic orthodoxies considered insufficiently attentive to the impact of social context on psychological development, writings by Franz Alexander, Erich Fromm, Karen Horney, and Harry Stack Sullivan had already attracted a lot of attention by the early 1940s.[59] So had similar theoretical work by cultural anthropologists (many of them students of Franz Boas) such as Gregory Bateson, Ruth Benedict, Geoffrey Gorer, Margaret Mead, and Edward Sapir.
Their collective efforts to "study culture at a distance" were sometimes designated as the "cultural interpersonal school" or simply as studies in "culture and personality."[60] A blend of psychological, sociological, and anthropological analysis was typical of this work, and at its heart lay the conviction that microscopic questions about individual personality and behavior and macroscopic questions about societal patterns and problems were nothing but two sides of the same coin.
---
"Problems of social science differ from problems of individual behavior in degree of specificity, not in kind," wrote Edward Sapir, the author of an influential series of essays explaining why cultural anthropology needed an infusion of psychological ideas.[61] Wartime research on the culture and personality model anticipated some of the most characteristic features of postwar social science: the powerful appeal of psychological insights and techniques, an adamantly interdisciplinary style, and the conviction that a unified social expertise was possible and absolutely necessary to a modern democracy.
By suggesting that psychological development and national patterns created each other, that individuals embodied their culture and cultures embodied the collective personality of their people, national character offered a way of turning psychological insight into policy directives. National groups, for example, would be classified according to the "bipolar adjectives" most familiar for their power to describe individual personality: dominance and submission, exhibitionism and spectatorship, independence and dependence, and so on.[62] Institutional vehicles of socialization, from childrearing to teacher training, could then be scrutinized for tendencies in one direction or another, and after tallying enough of these national indicators, one could hope to achieve an accurate portrait of a given country's collective personality structure.
Exploring the concept in detail and in a hurry was a military imperative, as well as an intriguing theoretical exercise, as Geoffrey Gorer, a major proponent of national character, pointed out.
The conduct of the war raised in an urgent fashion problems of exactly the nature I have been outlining—problems of national character, of understanding why certain nations were acting in the way they did, so as to understand and forestall them. Germany, and even more Japan, were acting irrationally and incomprehensibly by our standards; understanding them became an urgent military necessity, not only for psychological warfare—though that was important—but also for strategic and tactical reasons, to find out how to induce them to surrender, and having surrendered to give information; or, in the case of occupied countries, how to induce them to create and maintain a resistance movement, and so on. In an endeavour to further the war effort, a small number of anthropologists and psychiatrists were willing to risk their scientific reputations in an attempt to give an objective description of the characters of our enemies.[63]
In one neat package, the notion of national character oriented psychology toward understanding and affecting important public issues, without sacrificing the traditional language of sickness, health, and di-
---
agnosis. But it was the war that changed national character from a concept for which a daring few would "risk their scientific reputations" into a working assumption of military policy.
In a pivotal 1936 article, Lawrence K. Frank, an advocate of clinical approaches whose influential foundation posts had included the Rockefeller Foundation and the Josiah Macy Jr. Foundation, pointed out that if nations had characters, then it made sense to think of "society as the patient": "There is a growing realization among thoughtful persons that our culture is sick, mentally disordered, and in need of treatment."[64] Frank believed this perspective would move behavioral experts from the limited turf of individual adjustment to the more expansive, and therefore hopeful, terrain of social problem management. This served the dual, and entirely compatible, purposes of expanding psychology's sphere of professional influence and treating problems that stubbornly resisted piecemeal amelioration. Finally, it was practical. Since the ideology of democratic individualism and personal responsibility was obviously outmoded in an era of wholesale cultural disintegration, bringing therapeutic methods to beacon society at large promised to simplify the complicated job of social analysis by demonstrating that social forces and social organization were just as disorderly and abnormal as people analyzed one at a time.
As the news from Europe got worse, more and more experts embraced the disease metaphor. In 1940 psychiatrist Edward A. Strecker wrote that wars were nothing but "mass homicidal reactions" and ominously concluded that "unquestionably the world is sick—mentally sick."[65] But if society were a sick patient, then it could recover, especially if the right healers were consulted. Psychiatrist Richard Brickner endorsed this view in his 1943 book, appropriately rifled Is Germany Incurable? After noting that "the national group we call Germany behaves and has long behaved startlingly like an individual involved in a dangerous mental trend," he confidently asserted that "anthropology, psychiatry and sociology are probably well enough advanced by now to make 'treatment' conceivable."[66] That treatment would involve a wholesale therapeutic strategy for postwar German society, in which citizens were inoculated against "paranoid contagion" via an artificially designed emotional atmosphere. Brickner compared this "treatment" to placing a premature newborn in an incubator.[67]
War work was a warmup for nothing less than "restructuring the culture of the world," agreed Margaret Mead.[68] The sense that responsibility was tied to power underlay all wartime work on morale. Not
---
only could psychological experts decipher the emotional patterns of enemy propaganda to help win the war; they could also hope to become social engineers at war's end, designing a blueprint for psychological reconstruction on a mass scale that would bring the national characters of Germany and Japan back into the normal range, away from perverse dependence and toward a healthy self-reliance.[69] For the experts involved in psychological warfare, the innovative concept of national character, however rudimentary, illustrated what colleagues were learning in fields far removed from wartime activity: military usefulness and scientific progress were entirely compatible, even destined for a glorious and coordinated march into the future.[70]
The effort to scientifically systematize the basic elements of psychoanalysis, in the form of a series of concrete behavioral principles that could be empirically or experimentally validated, was another important theoretical development within psychology during the World War II era. It had a major influence on the techniques experts used both to boost and to destroy morale. Located at the Yale Institute of Human Relations, the effort to generate a "science of human behavior" was related to but distinct from the "culture and personality" studies mentioned above. Psychologists affiliated with the effort at various points in the 1930s and 1940s included John Dollard, Leonard Doob, Erik Erikson, Ernest Hilgard, Clark Hull, Neal Miller, O. H. Mowrer, Robert Sears, and Robert Yerkes.[71]
One trademark Yale product, published on the eve of war, was the collectively authored Frustration and Aggression .[72] Intended to test the basic notion that "aggression is always a consequence of frustration," the authors' ambitious goal was to restate psychoanalytic ideas "quantitatively in the form of a connected set of postulates or behavior principles which have been confirmed by a wide range of facts drawn from laboratory experiments, clinical case studies, social statistics, and anthropological field work."[73] The authors believed this effort had both theoretical and practical value. They aimed to dispel the notion that behaviorism and psychoanalysis were conceptually incompatible and simultaneously provide a psychological framework for the analysis of sociological problems ranging from racial prejudice to political ideology itself.
War was not the least of the social phenomena they wished to explain in terms of aggression and frustration, and in doing so, the members of the Yale group were simply following Freud's clear lead. Social progress of any kind required massive efforts to repress hostility, as Freud had argued in Civilization and Its Discontents (1930), and the costs in personal happiness were steep enough to constantly threaten modern civi-
---
lization with reversion to a state of unrestrained violence and barbarism.[74] In his famous exchange of letters with Albert Einstein, Freud equated the task of eliminating war with the challenge of advancing civilization itself. Both rested on the shaky foundation of repression.
There is no use in trying to get rid of men's aggressive inclinations. . . . For incalculable ages mankind has been passing through a process of evolution of culture. . . . We owe to that process the best of what we have become, as well as a good part of what we suffer from. . . . The psychical modifications that go along with the cultural process are striking and unambiguous. They consist in a progressive displacement of instinctual aims and a restriction of instinctual impulses. . . . Whatever fosters the growth of culture works at the same time against war.[75]
In the early years of the Yale Institute, even its sympathetic Rockefeller Foundation funders worried that such socially oriented goals as analyzing the roots of bigotry and warfare would generate storms of criticism for being insufficiently scientific.[76] Less than a decade later, following U.S. entry into World War II in 1941, Rockefeller Foundation officer Alan Gregg told Yale Institute director Mark May, "I did not see that the Institute was open to valid criticism since the psychological element in the present war was such as to make psychological studies of an importance that could not be disputed."[77]
Thus institutionally strengthened and intellectually vindicated by the outbreak of war, the Yale academics involved themselves in an ambitious Social Science Research Council plan to summarize, for the use of government policy-makers, research on the social effects of war, including studies of the family, minority groups, crime, and all varieties of morale.[78] One of the Yale Institute's projects that proved militarily useful during the war was an ambitious data bank called the Cross-Cultural Survey (later incorporated as the Human Relations Area Files). Started in 1937 by anthropologist George Peter Murdock with the aim of keeping comprehensive files on four hundred of the world's most representative "primitive" cultures, the project was greatly expanded by the navy (which gathered lots of information about Pacific societies) and the coordinator of inter-American affairs (who kept track of Latin America).[79]
Many psychologists found the formulation of Freud's frustration-aggression theory offered by John Dollard and his Yale colleagues to be a compelling, not to mention timely, explanation of international events. Gardner Murphy approvingly cited Frustration and Aggression and wrote, "Fighting in all its forms, from the most simple to the most complex, appears to derive from the frustration of wants. . . . Satisfied
---
people or satisfied nations are not likely to seek war. Dissatisfied ones constitute a perennial danger."[80] What, after all, could possibly be more aggressive than war?[81]
Frustration and Aggression embodied many of the basic assumptions commonly accepted among psychologists. Even those not inclined toward Freudian theory could agree, on scientific grounds, that individual and collective behavior alike consisted of discrete adjustments that could be scrutinized methodically, if not experimentally. But Frustration and Aggression also represented a step toward a unified and integrated basic science of human behavior that, in expert hands, could handle with ease the complicated business of diagnosing and treating society as the patient. As John Dollard pointed out, scientific experts should be recruited for these delicate, but critically important tasks, if only because
life would be unbearable in a world where one was constantly having to choose. Uncertainty is exhausting and choice demands special psychological strengths and reserves. It is, therefore, a human necessity that the world be, to some extent, predictable. Behavior must flow along at least some of the time in golden quiet. Man needs orderly knowledge, scientific knowledge, a kind of knowledge which permits him to act most of the time without the excruciating necessity of choice.[82]
No experience illustrated better than war what could happen if behavior did not "flow along at least some of the time in golden quiet." By exposing the irrationality of motivation, the unpredictability of behavior, and the capriciousness of mass attitudes, World War II reinforced the psychological experts' faith in themselves and increased their confidence that even shaky psychological theories could guide public policy better than popular will or the conventional wisdom of diplomats. Conveniently, war also gave these experts an opportunity to operate outside the ordinary constraints of democracy. This precious and, they believed, temporary freedom was at a maximum in the military, especially in the area of psychological warfare.
The Sykewarriors on German National Character
The "sykewarriors" of the Psychological Warfare Division (PWD) of SHAEF (Supreme Headquarters, Allied Expeditionary Force) operated directly under the command of General Eisenhower.
---
Their assignment was to reach and persuade enemy minds: "to destroy the fighting morale of our enemy, both at home and on the front."[83] Not only did the overall Allied goal of unconditional surrender present endless frustrations to the sykewarriors (it severely limited their ability to persuade through positive incentives), but the PWD experts also had to live with an unsavory reputation among the military brass as a bunch of professorial "characters," "administratively irresponsible symbol-manipulators," and "unsoldierly civilians, most of them needing haircuts, engaged in hypnotizing the enemy."[84]
The PWD efforts to understand the German civilian and military mind relied heavily on the concept of national character and the assumption that Germany was a sick patient, experiencing a psychological episode traumatizing enough to require a thoroughgoing suppression of rational attitudes.[85] On the basis of such theorizing, Henry Dicks, a British psychiatrist associated with PWD's intelligence division, developed a questionnaire for use in POW interrogations.[86] Designed to elicit a range of attitudinal responses about National Socialism, Hitler, and so forth, the results were converted into a series of German personality types, demarcated according to different psychological responses to Nazi authority. Drawn exclusively from German men of military age, the aggregate data were generalized to German society as a whole.
1.     fanatical "hard-core" Nazis (10%)
2.     modified Nazis "with reservations" (25%)
3.     "unpolitical" Germans (40%)
4.     passive anti-Nazis (15%)
5.     active anti-Nazis (10%)[87]
On the basis of this distribution, psychological warriors predicted the responses of various German groups to Allied propaganda. This particular effort to track military and political developments via analysis of individual personality was considered so successful that a U.S. psychiatrist, David M. Levy, was called in to organize a "personality screening center" even after SHAEF was dissolved.
As an example of psychology deployed for military purposes, the POW study was certainly important. It was as important, however, for its working assumptions: that political ideology was, at best, partially rational and conscious, preferably understood as an expression of deep personality structure; that the life history, and especially experience in infancy and childhood, provided the most accurate guide to individual
---
character and social behavior; that the concept of national character was reliable enough to produce systematic ways of addressing frustrations, which in turn produced discernible national patterns in everything from childrearing to educational philosophy.[88] The many experts working on morale widely shared these hypotheses and applied them as readily to the content analysis of captured documents, print, and broadcast media as to in-depth interviews with POWs. The notion that individual personality development, political ideology, and cataclysmic social events like war could not be understood apart from one another was a characteristic feature of their theoretical approach.
The PWD experts believed that their psychological operations would shorten the war and, toward that noble end, they built a track record of genuine creativity that included artillery-fired leaflets, newspapers dropped by bombs, and a "talking tank" that made persuasion a literal element in combat. In spite of the ceremonial accolades they received at the end of the war ("Without doubt, psychological warfare has proved its right to a place of dignity in our military arsenal," wrote General Eisenhower to PWD Brigadier General Robert McClure), they were perplexed about why the real decision-makers, from FDR on down, had paid little if any attention to them in determining overall war policy.[89] Such cavalier neglect of psychological expertise, they warned, would be terribly unwise in the future. Behavioral experts, they felt sure, would shortly supplant both diplomats and soldiers in the very dangerous world to come.[90]
The Sykewarriors on Japanese National Character
What PWD did for Germany, the Foreign Morale Analysis Division (FMAD) of the Office of War Information (OWI) did for Japan. Sponsored by the OWI in cooperation with the Military Intelligence Service of the War Department, FMAD grew directly out of the experience of the Sociological Research Project at the Poston Relocation Center for Japanese-Americans. Alexander Leighton directed both projects, and the FMAD analysis of Japanese morale was based on the very same "fundamental postulate" about human nature that had animated the earlier effort to make the "psychiatric approach in problems of community management" indispensable to administrators.
The thirty or so analysts who staffed FMAD made their first task to seek out exploitable cracks in the fighting spirit of the Japanese military,
---
widely perceived to be unstoppable, even fanatical. Their study of Japanese national character, based on the same sorts of data used by PWD, pointed to the same soft spots in morale: powerful irrational and weak rational motives, perceptual distortions, and the likelihood that whatever individual autonomy existed would be corrupted through contact with crowd sentiment and behavior. FMAD concluded, as PWD had, that since emotional forces were of greater salience than conscious political ideals in motivating Japanese soldiers, psychological warfare strategies that rationally attacked Japanese imperialism or calmly advocated democratic ideals could have had few if any positive results. Emotional appeals had a far more dramatic effect.
Of particular importance, they found, was the emotional role of authority, and especially the image of Japanese emperor Hirohito. Direct attacks of any kind on the emperor, however cathartic they might be for Americans, were unlikely to lower Japanese morale and even threatened to backfire by rallying the Japanese military around a highly emotional symbol. "One cannot," Alexander Leighton and a colleague warned, "successfully attack with logic that which is not grounded in logic."[91] FMAD experts considered this finding, and the eventual policy decision to allow the Japanese emperor to remain on the throne, to be among the greatest political successes of wartime behavioral experts. For them, it proved that the psychological approach to policy was an extraordinary scientific advance over the dubious, if conventional, reliance by policy-makers on mere intuition or the whims of personal experience. There was, however, little evidence to show that the many confidential studies of Japanese character FMAD did for the War Department, or similar studies for the State Department, actually affected this important policy decision.[92] Indeed, had the experts been clearly heeded in this case, and had Truman announced early on a U.S. willingness to allow Hirohito to continue as emperor, it is possible that the horrors of Hiroshima and Nagasaki could have been avoided.
The foundations of Japanese civilian morale were just as emotional, with roots in distinctive childrearing, eating, and schooling habits. For example, it was suggested that "weaning trauma" frequently coincided with the arrival of siblings, fast meals recapitulated the denial of infantile needs for pleasure, and teachers smothered competition and enforced strict obedience among students—all contributing factors to an aggressive Japanese national character. Contrary to popular U.S. opinion that Japanese resolve was unwavering, FMAD research showed a sharp decline had already begun in Japanese civilian morale that would eventu-
---
ally lead to surrender. Reports like FMAD's "Current Psychological and Social Tensions in Japan" suggested that anger, aggression, displacement, apathy, panic, and hysteria were highly sensitive elements in Japanese national character, and ought to be as significant as food shortages and economic pressures in the calculations of military planners.[93]