Library Materials: Electronic
As yet, there is no evidence that the emergence of electronic journals will improve the fundamental economic problems in the cycle of scholarly communication. The basic premise of publishers is that they must protect their current revenue base and secure guarantees to cover future inflation and increases in content.
---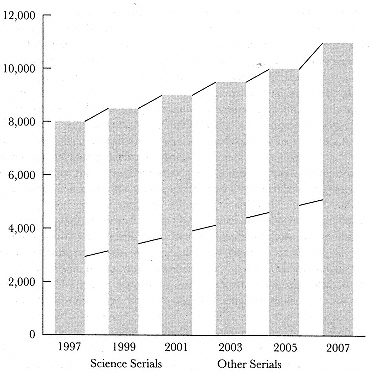 [
Full Size
]
Thus, publishers frequently structure their initial subscription pricing for digital journals upon the actual cost of paper subscriptions acquired by the institution with which the publisher is negotiating. The proposed base subscription rate may include all subscriptions: library, departmental, personal, and other types identified with the campus, thereby greatly increasing the price that the library would have to pay to receive the digital journals. Clearly, publishers are concerned that network availability of electronic journals on the campus network will undermine nonlibrary subscriptions to the print versions.
In early 1996, Ann Okerson reported that
In general electronic licenses so far have cost on average 1/3 more than print equivalents.... Publishers are setting surcharges of as much as 35% on electronic journals, and libraries simply do not have the capacity to pay such monies without canceling a corresponding number of the journals of that particular publisher or dipping into other publishers' journals.[7]
Moreover, during license negotiations for certain electronic journals, libraries may be asked to consent to such provisos as the following:
---
1. That there be multiyear price increase guarantees to compensate for inflation, often at somewhat lower rates than historical rates of price increase for print materials
2. That there be upward price adjustments for increases in content, often capped at lower rates than typical for print journals
3. That the publisher be protected against declines in revenue through cancellation
4. That fair use rights typical for print journals be abrogated for the digital journals
Maintaining a combination of print and electronic subscriptions for a multiyear period without incurring substantial new marginal costs for electronic versions and ensuring a cap on inflation are attractive to libraries. But neither "feature" of these new licenses will alter the basic economic difficulty facing libraries: inflation in the price of scholarly information outstrips libraries' ability to pay. In fact, by being locked into multiyear agreements that ensure price increases to particular publishers, libraries hasten the rate at which other journals and monographs are crowded out of the market.
Not all scientific publishers have negotiated as described above. For example, the American Physical Society and the American Mathematical Society offer electronic versions of their journals free to subscribers to the print editions. Clearly, publishers must find revenue streams that will enable them to survive, and the pricing structures for both print and digital journals are the key to those revenue streams. To base a pricing structure for electronic publishing on the costly print model will not be economically viable in the long run (it may, in fact, be unsustainable in the short term as well). Libraries' declining budgets will result inevitably in cancellations to avoid the structural problems associated with doubledigit inflation, thereby undermining the publishers as well.
The current economic model for scholarly publication cannot be sustained. Continued escalation in the prices for scholarly journals, stagnation in library budgets, and isolation of the creators and consumers of scholarly information (the faculty) from the effects of the economy could lead to the collapse of the system of scholarly communication itself.