The On-line Books Collection
The project began formal activity in January 1995. However, discussions with publishers began in 1993, if not earlier. As noted in the project's Analytical Principles and Design document, "The Online Books Evaluation Project is a component of the developing digital library at Columbia University. As part of its digital library effort, the Columbia University Libraries is acquiring a variety of reference and monographic books in electronic format to be included on the campus network; in most cases, those books will be available only to members of the Columbia community. Some of the books are being purchased; others are being provided on a pilot project basis by publishers who are seeking to understand how the academic community will use online books if they become more widely available in the future."
---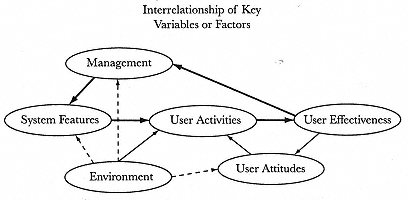 [
Full Size
]
Design of the On-line Books Collection
When this project was proposed, the World Wide Web was just emerging, and we expected to develop custom SGML browsers, just as other on-line projects were doing at the time. However, by the time the project was ready to mount books on-line,[4] the Web seemed the best delivery system for maximizing availability of the books to scholars.
Many other on-line projects are providing users with materials in PDF, scanned, or bitmapped format. These formats are effective for journal articles, which are finely indexed through existing sources and which are short and easily printed. However, the greatest potential for added value from on-line books comes with truly digital books. Only this on-line format allows the development of interactive books that take advantage of the current and anticipated capabilities of Web technology, such as the inclusion of sound and video, data files and software for manipulating data, and links to other on-line resources. Perhaps only such enhanced on-line books will offer sufficient advantages over traditional print format that scholars will be willing to substitute them for the print format for some or all of their modes of use and for some or all classes of books.
As of June 1997, the project included 96 on-line texts. The libraries have each book in print form-circulating from the regular collection or from reserves or noncirculating in reference-as well as in one or more on-line formats. Appendix A summarizes the print access modes for all the modern books in the collection.