Sloan's Tube
While Lawrence was moving into his new domain, an old friend, Joseph Boyce from Chicago, came to see what sort of physics went on in California. He reported his findings to Cockcroft. The work of C.C. Lauritsen and C.D. Anderson at Caltech, he said, was something in its way; "but the place on the Coast where things are really going on is Berkeley." Lawrence had in mind or hand no fewer than six different machines for throwing atomic projectiles. "On paper this sounds like a wild damn fool program,
---
but Lawrence is a very able director, has many graduate students, adequate financial backing, and in his work so far with protons and mercury ions has achieved sufficient success to justify great confidence in his future." Boyce itemized Lawrence's armamentarium: the second and third cyclotrons, the mercury-ion linac, a larger linac for protons, a Van de Graaff, and what Boyce misidentified as a Tesla coil. It is with this last apparatus, which Ralph Fowler of Cambridge thought the most interesting new apparatus at Berkeley, that we are now concerned.[40]
After the 30-stage mercury linac opened fire in the fall of 1931, Lawrence put Sloan to work on a resonant transformer as an alternative to the cyclotron for producing fast protons. The general idea of this apparatus appears from figure 3.2, which represents Sloan's final design. The secondary coil supports the water-cooled secondary tube. When the tube goes strongly negative, protons rush into it from the grounded ion source; they emerge half a cycle later, when the now positive tube drives them into the bombarding chamber. The protons in effect fall twice through the high potential of the secondary (800 kV in this design). When the device was designed, Livingston had not yet reached 1 MeV; Sloan's scheme promised to do so and, what was extremely important, to give a beam far more intense than could be expected from the cyclotron.[41]
Two features of the design in figure 3.2 distinguish it sharply from the Tesla coil used by Tuve's group. First, the secondary is part of a single oscillating circuit rather than a separately tuned one. The advantage of the design is efficiency, bought at the expense of high-power radio engineering, in which Sloan had the advice of Fuller. The second distinctive feature is that the heavy copper secondary coil is in effect an antenna placed inside the evacuated acceleration chamber and supported at a voltage node from the copper roof of the internal tank wall: the all-metallic connection obviated the need for insulation, the failure of which
---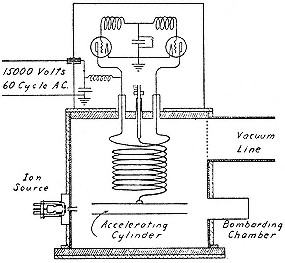 [
Full Size
]
haunted the usual methods of producing and holding high voltages.[42]
In November, having planned a tube that incorporated the entire oscillating system in the vacuum to eliminate corona discharge, Sloan turned to something that would make a better Christmas present for Lawrence and Cottrell. This was "a helluva x-ray outfit," with an intense beam at 100 kV, which, in Lawrence's opinion, could easily be hardened tenfold. "I feel quite sure [he wrote Cottrell in December] that ere long we will be producing million volt x rays."[43] Lawrence was right in fact but wrong in timing. It took two years of hard work to develop the generator of figure 3.3 into a plant that could be operated continuously at 800 kV.
Sloan's invention opened a new set of technical challenges and financial opportunities for the Laboratory. It promised to give the
---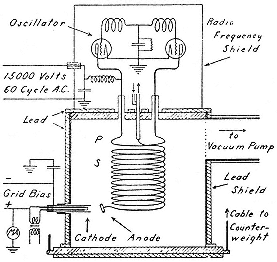 [
Full Size
]
same sort of beam that Lauritsen obtained from his huge installation, but at a fraction of the cost. It gave a beam with over three times the energy of the output of the largest x-ray plants in use in hospitals with about the same demands on space and power (about 200 kW). And it marked the beginnings of interdisciplinary work at the Laboratory. To proceed, however, it was necessary to raise the amounts necessary to harden Sloan's hundred-thousand volt rays to Lawrence's canonical million.
Lawrence turned to the Research Corporation with the tactics it had taught him. "I know that the General Electric Company would be only too glad to get behind the project because it has immediate commercial possibility, but, of course, I hope this can be avoided." He thought $500 or $1,000 would bring the matter well forward.[44] Sloan's personal needs were covered by his fellowship, which GE renewed. Lawrence longed to proceed; Sloan had no desire to study for his exams; the work stalled for want of a
---
$400 pump and a little something for contingencies. Vacation was coming, freeing Sloan from his already minimal studies; perhaps, at the end of the summer, he would have a commercially viable machine. And perhaps not. If not, Lawrence held out, Sloan might be able to generate million-volt x rays another way, by bombarding light elements with the intense ion beam from the x-ray machine when adapted to accelerate protons. "This is a possibility that may turn out to be much more important than the production of x rays by electrons. . . . The medical applications of these latter considerations are certainly of considerable importance." Poillon returned a check for $500.[45]
During July 1932 Sloan succeeded in producing plenty of hard x rays without the intervention of protons, x rays powerful enough to penetrate a centimeter of lead or half an inch of steel. Birge, now department chairman, esteemed Sloan's tube "the most important of the discoveries of the radiation laboratory," not excluding the cyclotron; he recognized it as "mainly a commercial proposition;" and he worried that it would result in a "patent war or something with G.E."[46] The University announced Sloan's success to the national press and a mixed pilgrimage of humanitarians and promoters trekked to Berkeley. GE's San Francisco representative came right over and declared that the tube had "very great commercial value, not only for medical work but for the examination of steel welds." The home office quickly confirmed his interest.[47] Meanwhile the chief engineer of the Kelley-Koett Company, a major constructor of x-ray apparatus in the Midwest, put in an appearance. He was followed by a representative of Westinghouse, then entering the x-ray business in
---
search of a market for its power tubes, by the officer in charge of x-ray work in army hospitals, and by the roentgenologist at the University hospital in San Francisco, Robert Stone, who crossed the Bay, saw Sloan's rays burn through steel, and desired to use them on his patients.[48]
Sloan, J.J. Livingood (a postdoc from Princeton "very anxious to get into [the] nuclear racket," for whose services Lawrence paid nothing), and others improved the apparatus of figure 3.3 until it gave out rays of perhaps 700 kV. Then Lawrence, like the ingénue in The Importance of Being Earnest , outdid his wooers; he advised Poillon to rush commercialization by engineering the tubes in the Research Corporation's laboratories even while Sloan and his unpaid helpers continued development at Berkeley. "Not only do I feel that the method is superior for the production of radiations above a half million volts, but also I am inclined to think that very inexpensive outfits can be manufactured for the production of radiation in the region of 200 or 300 kilovolts. I am told that there is a very big market for such deep therapy outfits."[49]