Blond Dawn (1934–1937)
---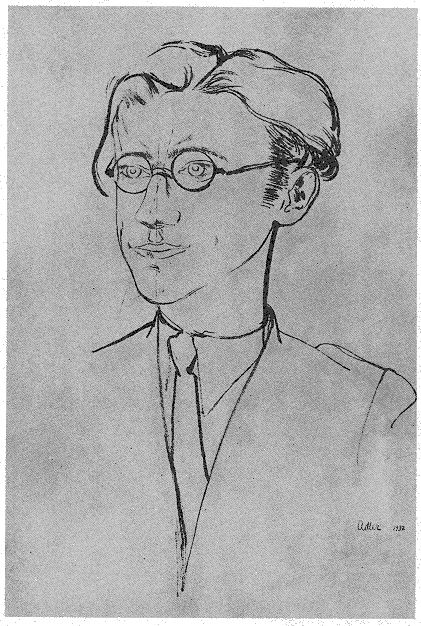 [
Full Size
]
---
Away From the Four Walls
Away from the four walls,
Where the traces of my footstep sear,
Vast panoramas of granite
Appear.
Fiery rocks. Abysses deep.
Music flows of melted gold:
— Beloved, your unknown name
Will be told!
I climb upward, climb
Over steps of stone, over gorges in sight,
To the blue gods of genesis
In the height.
My touch, in ecstasy, will melt
The colors — blue and violet —
On the face of a rock I etch
My portrait.
Strides and valor overwhelm me:
My gaze from granite's face.
I descend from rock to the earth,
Enveloped in grace.
---
White flame — a veil on the mountains,
My step — silver echoes on the planet.
Today I breathed my will
Into granite.
Here I Am
Here I am, blooming as big as I am,
Stung by songs as by fiery bees.
I heard you call me in the shining dawn
And rushed to you through night and dust and sweat.
Cities and villages tore off from me.
Lightning set thin fire to my old, gray home.
A rain washed away the red traces.
And I stood before your name
As before the blue mirror of conscience.
Like flayed branches, my hands
Rap hastily on your bright door.
My trembling and baffled eyes,
Like two sails, are drawn to you.
Suddenly: the door is open.
You're not there.
Everything's gone.
A poem left behind.
Silly weeping.
Incomprehension.
1935
---
In the Knapsack of the Wind
In evening-gold,
A barefoot wanderer on a stone
Casts off his body the dust of the world.
Out of the forest
Darts a bird,
Catches the last morsel of sun.
A willow on the riverbank is also there.
A road.
A field.
A quivering meadow.
Sly steps
Of hungry clouds.
Where are the hands that create wonders?
A living fiddle is also there.
So what remains for me to do at such an hour,
Oh, world mine in thousand colors?
Just
To gather in the knapsack of the wind
The red beauty
And bring it home for supper.
Solitude like a mountain is also there.
1935
---
from Autumn Dances
I
Give me your hand, sister, I'll lead you
To autumn. From its jug shall arise
Flaming punch, we shall drink it until
We grow ripe like the autumn, and wise.
Over there on the hill lies a shepherd.
A windwolf has devoured all his sheep.
Sunglow freezes on his pale hands,
At his feet, a tree bows deep.
In the field — a bright sheaf, embracing
A lady sheaf, strolling by in the light —
A bridegroom leads his bride where a cloud
Faithfully makes them a bed for the night.
But a windmill is already grinding their sunset,
Grinding legends, grinding the wind on the run,
And paints with dream-color your brow
Till you yourself go down in the late sun.
Rolling stones shiver like lyres,
Rolling words grow drunk and rancid.
Let us scatter our cares in the field,
Let us dance the autumn dances!
IV
Noisily, zestfully, in haste,
Cavalcades of trees on the road —
Entwine me in their branching fantastics,
In a treetop vision of halfdream.
I become a part of their tangle,
Gallop along with the trees —
To the stars! I, their friend, slice
With my head through the horizons.
---
Over fields, beam-children are dozing.
(Whose hand has planted them here?)
Through shadows of bowing assemblies
I ride with the riders in the night.
Rivers. Villages. I hover over them.
What I hover over becomes mine.
Just a boy, I grow up to be a hero
With a new goal, a new being.
Suddenly — an amazing moment:
Wild swaying. Shoving. Terrors range.
Over me — the diamond Vega,
Close to me — my life, large and strange.
Gypsy Autumn
On spungolden horseshoes the autumn is galloping through.
A wind with red blood on its fingers gropes every hue
And sings over fields a sad drunken ballad of old.
A gypsy band huddles together like sheep in a fold
Around sunset's bonfire, spraying its sparks all about.
A heart weeps away in the broad sorrow-dome and goes out …
An old gypsy sits, with an earring of fine silver leaf,
With a knife from his belt he unravels his hoary gray grief,
The dark cores of his eyes fill with blood, but no fear:
---
— Hey brothers, dear brothers, I see how the end's coming near
To our gypsy race. We shall sink in abyss and expire,
We shall be extinguished, die out, like the sparks of our fire.
Strum all mandolins! Let us scatter our dance to the wind!
Let us plait burning thorns into wreathes on our head, let them spin
Till the wintery snow covers up every spark, every trace.
For then there will be in this world no more gypsy race,
And only the howling wide steppe and the trees in the vale
Will see us in dreams and will tell of our colorful tale.
On spungolden horseshoes the autumn is galloping through.
A wind with red blood on its fingers gropes every hue
And sings over fields a sad drunken ballad of old.
A gypsy band huddles together like sheep in a fold.
1936
A Stack of Hay
A silvery stack of hay under my head,
In a meadow, I dream. No, I'm awake.
So many stars above — as drops
Of dew on earth. A white road
Rises in my stiffening eyes.
The stack of hay
Reminds me of my fate, she's close to me,
Rocking me slowly in her cradle.
---
Smell of blood like blooming honey.
Hot lust gushes from the raw plain.
The stack of hay washed in dew and moon,
And I — it seems I'm lying beside myself,
Breathing in fresh hay the smell
Of green time. I feel, walking through me
Flower and scythe. I lie on an altar
Of colors and smells. Every rustle and sound
Comes strangely close, streams through my limbs.
The tiniest blade of grass, I ache its pain …
I lie in hay — a weary wanderer,
Till I myself become a stack of hay.
1936
The Gates of the Ghetto[5]
I
A long arm of fire
Burst the gates of the ghetto.
A blind beggar, the day
Stands at the corner
Of an old wall,
Weeping pennies in his fists.
He would shake the old gates,
Bring down the walls,
Like imprisoned Samson
The marble columns,
And fall with the ghetto!
---
(Oh gates — wailing moons,
Caressed
By the fingers of my thoughts!)
This is the truth of the knife.
From green roofs
Stars take off —
Homeless children,
And hear
The fever of a mute generation.
A generation of fighters, singers, and hoodlums.
This is the truth of the knife.
In shards of windowpanes
The sun is a red toadstool.
Every face an autumn leaf,
Chains — every sound,
Unrest
Slithers up like a serpent —
Over roofs,
Over gates,
Higher!
II
An organ-grinder like a Purim clown
Clamors on his sick instrument.
A cross-eyed yellow parrot
Wobbles on his bony hands.
The man is a singer too
And he intones
A ballad flashing in your ear:
          "Seven brothers slaughtered in the pogrom,
          The eighth one fell at the gate."
---
Children touch
The dusty organ-grinder.
And he who cranks the song
And the children — blue and naked,
Along with the parrot
And the little water carrier
Carrying his prayer in a cracked bucket —
All tangled up
In a magic ring,
Each a mirror for the other.
III
But sometimes, the ghetto rocks in a trance,
Violet windows sway in a dance.
Through thin golden dust, like a brook in a valley,
Blue-eyed youngsters flooding the alley.
Sleeves rolled up, strong arms like a steeple:
"From their own ghetto, we shall free the people!"
The echo falls on the houses like thunder,
The ancient walls are amazed at the wonder.
A blinding flash. Eyes rising and bright.
And sounds reach out like bridges of light …
The alleys huddle, fearful and gray
Watching the blood of freedom's day.
A blinding flash. Extinguished the light.
The golden vision has vanished from sight …
---
IV
Evening. The ghetto turns blue.
Hot colors take their course.
The Gaon appears in the shul-yard  [6]  
From behind copper doors.
A girl sits on a stoop,
Inhales the letters of a book.
Dreams of a rare pleasure:
Bread and shoes in her nook.
The shadows grow thick and wide.
Like a peacock, the sun will depart.
A youth pulls a knife like a beam
Out of his boottop's heart.
The moon would have fit in this scene.
Aha! she's lurking in wait.
But it seems, a bullet-torn flag
Rises behind a gate …
June 1936
---