Faces in Swamps (June-July 1941)
---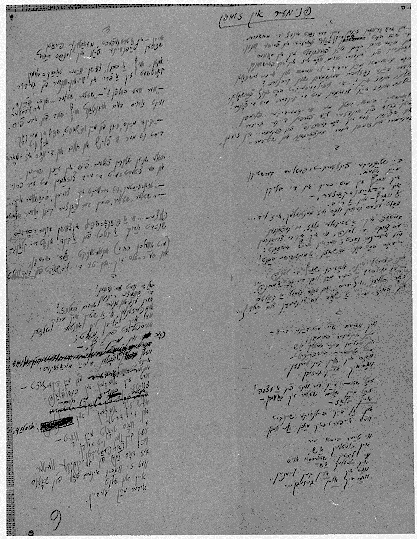 [
Full Size
]
---
Faces in Swamps
The cycle, "Faces in Swamps," was written in hiding during the first days of the Nazi occupation of Vilna. Subsequently, it was hidden in a ghetto cellar and discovered forty-nine years later in Vilnius. The manuscript contains nine poems with the following note in the poet's hand:
Note. I wrote the nine poems of "Faces in Swamps" in the first 10 days, when the Plague marched into Vilna. Approximately between June 25 and July 5. I wrote them lying stuck in a broken chimney in my old apartment on Wilkomirska Street 14. This way I hid from the Snatchers who dragged off every Jewish male they could find.
My wife carried the poems through all the horrors and tragedies. They were with her through the first provocation, were covered with blood, in prison under Schweinenberg's whip. Miraculously, my wife fled back to the ghetto with the poems, where I no longer was—I had fled in the middle of the night, during the Roundup of the Yellow Permits. When I returned, I found my wife in the hospital where she gave birth to a baby. In her labor pains, she was clutching the poems in her hands.
A.S.
Ghetto Vilna, May 16, 1942.
The text translated here is from the manuscript. The titles of two poems were added later.
---
I. Faces in Swamps
…And overnight our thoughts grew gray. The sun
Sowed poison salt on open wounds. We choke.
White doves turned into owls. They're poking fun,
Mocking our dream that disappeared in smoke.
Why tremor, earth? Did you crack too, in trance?
Your nostrils smelled the stench of victim's flesh?
Devour us! We were cursed by overconfidence,
Devour us with our children, with our flags so fresh!
You're thirsty, earth. We, wailing pumps, will fill
With gold of our young bodies your newly opened pits.
A spiderweb of faces in a swamp will spin to kill:
Faces in a swamp—over the sunset, over huts…
II
Serpents of darkness: nooses choke
My breath.
Horseradish in my eyes, I toss
In a grater dungeon—
Each toss grates my skin.
Were there anything human, familiar…
My hand gropes: a piece of glass, the moon
Trembles imprisoned like me in the vise
Of the iron night. I grow tense:
"This was created by a human hand!"
In the glass edge I stroke the moon:
"You want? — I give you my life as a gift!"
But life is hot and the glass is cold
And it's a shame to put it to my throat…
---
III. Leaves of Ash
I warm tea with your letters —
My only treasure,
Thin leaves of ash remain,
Sprinkled with glowworms
That I alone can read, can ask:
I warm tea with your  letters,
My only treasure?
Let the wind be mute as a tombstone!
Let my shadow stand still!
One puff—
And all your healing beauty
Will stir jealousy
On all the roads.
How dear are you to me in leaves of ash,
How shining do you die in leaves of ash,
That I alone can read, can ask:
I warm tea with your  letters,
My only treasure?
July 6, 1941
---
IV
Above — in a death swordplay, metal pirates
Spit whistling arrows into the heart of the moon.
Below, on a hill, among white tobacco flowers
A woman twisting on pain-and-wonder of birth.
"Who will help?"—"Hush, hush…" And her beloved
Weeps the glimmer of his eyes in the dust at her feet.
"My child, melody of my love, play on inside me, don't rush,
You are merely flesh and dream, and reality—is murder."
Slices of light swallow the fields. Fish in rivers scream.
The earth trembles along with the woman.
"Ghosts of death, don't dare touch, I beseech you…"
"Hush, hush, I am the armor against all evil."
Suddenly … like a piano playing among hordes of thunder,
A voice of a child slices through. And this sound —
(Whence the strength?) subjugates all fears,
And the love of the world turns the dew red.
V
Soon it will happen!
The black hoops
Grow tighter and tighter around my neck!
Impersonally, like a stone in a brook,
I shall remain lying under hooves,
Redeemed from the world.
But deep inside me —
Three ants still stray:
One,
---
Under the laurel of my childhood —
Will return to magicland.
The second,
Under the armor of my dream —
Will return to dreamland.
The third,
The one who carries my word —
Will have no path,
For the land of believing words
Is covered with plague.
In the valley of shadows, it will watch,
Alone and solitary,
Over my bones.
---
The Circus
Tell me, brother, our dog's struggle
What does it mean?
Our heart's gone mad.
All words fled —
Bees from a hive embraced by smoke.
But in a backstreet of the mind,
Still throbs
A flickering nerve saved from destruction,
A last groan
Defying that blind silence
Sealed by a handful of earth.
Who are we? What is
The sense of our suffering?
If only
To be victims of a bloodthirsty lord —
Let frogs be born instead of us!
The tongue is swollen with the rusty promise
That wolf and lamb will dwell together.
As a child resembles father-mother, we
Inherit the resemblances of generations' plague,
Of being waiters at the world's set table,
Grateful for a coin tossed to us.
Is this the golden chain that binds two thousand years,
The tear chain burdening our souls?
---
It seems, just yesterday,[13]  forms lost their measure,
Abysses straightened out their hunchback necks
And covered the unburied skulls of generations With hope —
          And we were ready
To accept the blooming wounds as medals,
Boast of them in a pagan parade:
— Ho, ho, we too take part in the dream-plundering,
With our blood, pay dues to revolutions!
We, we.
But a lion overlooks the branch-covered pit
Lurking at his paws.
Today — at dusk, in a circle,
Around bonfire's coppery wings,
Under whips of steel guards,
At the laughter of yesterday's comrade —
Naked, with striped backs,
We dance: I in the middle.
With our own hands, we are forced
To tear the silver parchment
And toss into the bonfire
Like our own limbs, singing
Happy Russian songs.
Look! Between sword and sheath
The voice of paradise looms,
Letters from Babylon flutter,
Inscribed on the blackboard of night.
And farther, on high coils —
Rising, the "I am"
From a consumed parchment,
And nothing —
He too went up in smoke.
---
Circle, circle, dancing round,
                    If you have a feeling — burn it,
                    If there is a bath in hell,
This is where it will be found.
And without a stick the lame
                    And the rabbi — blind and old,
                    They're all hopping in a ring
For the joy and for the game.
Peasant woman hops to see:
                    What a circus, God is One!
                    Says a neighbor: Pay them stones,
For a circus costs a fee.
One whore points out in the clatter
                    To another: See them naked!
                    Stones are falling. Fire devours.
Climbs a sheygets[ 14]  on a ladder.
Rabbi falls with stones that fall,
                    Kissing sparks in ashes flying.
                    And his Sh'ma[15]  is drowning too
In the coldness of the All.
---
And I, who was the clown in that disgraceful spectacle,
Had no courage to stammer a curse,
No strength to throw myself into the death,
As did my brothers in the time of Hadrian the Roman
When faith stifled in their body all the pain
(Though my heart is poisoned with coal glow
And the eyes of my spirit are speared with smoke).
Worse: I knelt naked before him,
Who defied my father in his grave,
And with tears like black pox,
I begged for mercy.
                    Cursed one! Where is your old shield
                    That bent the spears of nations?
                    The colors of that image, don't they reach you?
                    The blood of your forefathers, was it never revealed?
                    This is your punishment: to gasp half dead,
                    Gulping death rattles of your brothers, insane.
                    For you have not deserved the last bread
                    Of joy: being naught — which means: becoming again.
                     Written in a hiding place, early July 1941
---