"You Have to See It in a Theater"
An undergraduate film-appreciation class at the University of Southern California is taught on the basis that films, in order to be understood fully, must be seen under theatrical conditions. Great expense is taken to obtain good prints; screenings occur in a large facility analogous to first-run theaters in the Los Angeles area. Stress is placed on the larger-than-life aspect of filmgoing. And yet, when a scheduled film is unavailable in 35mm, dirty, murky, 16mm prints are used. Is this part of the theatrical experience?
Yes, although in ways not likely to be on the minds of anyone prejudiced toward theatrical exhibition. This attitude implies that theatrical viewing conditions, even at their worst, are preferable to viewing a decent video version at home. But film exhibition is subject to a range of factors—print quality, film gauge, optical vs. magnetic sound, stereo vs. mono, screen size, aspect ratio,
---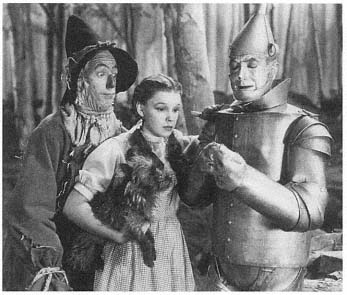 [
Full Size
]
the quality of the reproductive machinery—beyond the control of the consumer. So—which violates the film more, a good video or a bad print?
Most video transfers are made from technically superior film sources. At their best, the resulting tapes or discs have a uniform gloss that is generally not true of theatrical prints outside of initial runs. The benefit of this uniformity is a standardization of presentation, dependent only on the hardware used for reproduction. Of course, all forms of standardization involve loss as well as gain. The variability of theatrical projection can have unintended benefits, when elements not noticed in one circumstance show up under others. But it seems unlikely that anyone would prefer a scratchy, inaudible reduction print made from a third generation negative to a video copy made carefully from an early generation source.
Earlier, I introduced the concept of videobility to describe the ease of translating a film into video. But videobility involves more than just questions of whether or not a decent video image can be produced. Some films have high videobility (The Wizard of Oz probably seems more familiar on video than in a theatrical screening, since most of us know the film through television broadcast). Others strike us as impossible to imagine on video without significant loss (Bondarchuk's War and Peace , for example). Is there, then, something in the viewing experience that depends on theatrical conditions for full effect of a given film? Or, more properly, what does video lack that film possesses that makes the theatrical experience "essential"?
---
In "The Work of Art in the Age of Mechanical Reproduction," Walter Benjamin wrote that
The cult of the movie star, fostered by the money of the film industry, preserves not the unique aura of the person but the "spell of the personality," the phony spell of a commodity.[11]
Is the quasi-religious aspect of film viewing, induced by capital or not, "phony"? If a film succeeds in moving us to ecstasy, does it matter in experiential terms whether or not it is a "true" sensation? The ecstatic component of (some) filmgoing cannot be dismissed, particularly when discussing it in relationship to home video. For this religious aspect of filmgoing is clearly lacking in home video viewing.
One obvious reason for this lack is the difference in scale. As the cliché has it, film is larger than life, television smaller. And yet the difference between video and film experiences is not scale as such , but the depth that greater size gives to film's sensory extravagance. It is that richness, sensual saturation, and euphoria that video cannot duplicate. But if video is excluded from the Dionysian, it gives access to the excess that creates ecstasy through the capacity to repeat, slow, freeze, and contemplate. Savoring replaces rapture.