Bacchantes at Large
Albert Johnson
Not only is Thelma & Louise an entertaining and picaresque tragicomedy, but it is also a vivid portrait of contemporary Americana, where women are still struggling to redefine their individualities: it is a symbolic perusal of feminine inconsistencies. Louise Sawyer (Susan Sarandon) and Thelma Dickinson (Geena Davis) are aspects of female escapism, an urgent undercurrent in American society that seems to cultivate a mostly unfulfilled yearning for women to run away from the boredom and sexual entrapment to which they are condemned.
Here is a film that reveals a sad decline in American culture, with its facile acceptances of empty pleasures and demoralized sexual chauvinism toward women. Dennis Hopper's Easy Rider and Monte Hellman's Two-Lane Black-top displayed the male attraction for a wayward, motorized sort of outlaw wandering across America, with freedom of highways correlated to a promise of adventure and, most of all, hedonistic fun. The heroines of Thelma &
---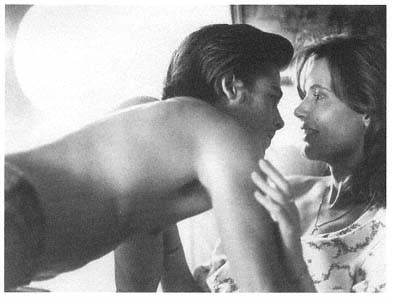 [
Full Size
]
Louise offer the same thing, but with the pathetic fallacy of American open spaces mainly representing precursors of doom beyond desire.
Callie Khouri's screenplay manages to offer detailed, believable characters in Thelma and Louise themselves and in the various men who surround them during their escapades. Sarandon had already captured the essence of hard-edged self-assurance as the tart-tongued waitress in White Palace , and her portrayal of Louise rounds out and explores feminine defiances. Davis's vulnerable Thelma (reminding one of a younger version of Shirley Booth's Lola in Inge's Come Back Little Sheba ) is a perfect complement to Louise's personality. The director (Ridley Scott at his most visual) deftly contrasts Louise's neat kitchen with Thelma's fridgefull of half-eaten Snickers bars, as well as their variant styles of packing suitcases. It is Thelma's jubilant rush toward freedom from her husband, Darryl (Christopher McDonald), a perfect example of the Playboy Philosopher, that sets the tone of recklessness as the women set forth. Thelma's near-rape by redneck Harlan (Timothy Carhart) at the Silver Bullet, a roadside country-western bar that is more-Texan-than-Texas, is the catalyst for sudden violence and death; this changes their original exuberance to anxieties which gradually strengthen bonds of love and loyalty between them as they continue their flight from the law.
Louise's version of the world around them is totally realistic, and her continued exasperations with Thelma's naiveté become bitter commentaries on the failure of her own hope and a particular world-weariness regarding any future happiness for either of them.
---
When Louise's boyfriend, Jimmy (Michael Madsen), finds them and offers her marriage she is too resigned by disillusioned romances to accept him, and Thelma finds the James Dean–Bruce Weber image of J.D. (Brad Pitt), a handsome drifter, too irresistible a sex symbol to dismiss, causing further disruption of Louise's plan for an escape to Mexico. The director and his cinematographer (Adrian Biddle) wrap beautiful visions around the errant women racing along in their dusty convertible, singing out their calls-of-the-wild.
Much attention is given to landscape; the imitation Hollywood motels off the highways; a conglomerate of oil wells in dusty twilights; and faces of aged, displaced people, seen briefly in doorways and windows, remnants of lost dreams (particularly for Louise, who notices them). The eternal desert monoliths add to the isolated status of the women's flight toward the border.
Thelma and Louise's ultimate gestures of feminine liberation are exemplified by their total humiliation of a lewd truck driver and the subsequent subjugation of an arrogant young state trooper (Jason Beghe), who is reduced to tears by their domination. These are episodes of high humor, leaving one unprepared for the denouement. The essential humanity of Thelma and Louise , for all their luckless travails, wins one's sympathies, and although a happy ending is desired, their leap into the void is a final stamp upon one's conscience: they are only two beautiful, easygoing women who recognize that they can no longer tolerate a deepshit status in a man-made American universe.