Thelma & Louise's Exuberant Polysemy
Harvey R. Greenberg
Like Robert Altman and Blake Edwards, Ridley Scott often works with popular genre toward revisionist ends. His first commercial effort (The Duellists , 1977) deployed the swashbuckler's derring-do to advance an ironic pacifism. He went on to critique the greed of contemporary corporate practice, first with a canny blending of horror and science-fiction strategies (Alien , 1979), then by marrying science-fiction conventions to the tropes of noir (Blade Runner , 1982).
The director's latest project, Thelma & Louise , arguably wins the prize for sheer number of genres interrogated against the grain in a single Scott picture. I mark the signature of classic and contemporary Westerns, sundry types of road film (doomed/outlaw/lovers subgenre in particular), and the seventies "buddy" movie.
Thelma & Louise 's ideological agenda has caused exceptionally polarized debate. The film has been variously interpreted as feminist manifesto (the heroines are ordinary women, driven to extraordinary ends by male oppression) and as profoundly antifeminist (the heroines are dangerous phallic caricatures of the very macho violence they're supposedly protesting). Some critics have discerned a lesbian subtext (that final soul kiss at the abyss); others interpret this reading
---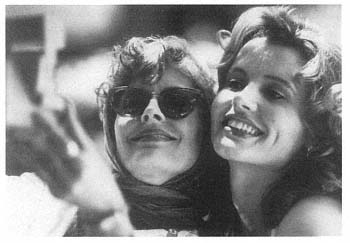 [
Full Size
]
as a demeaning negation of feminine friendship that flies in the face of patriarchal authority.
These vehemently opposed critiques own, as it were, a piece of the ideological action. One is reminded of the blind men in the folk tale, each of whom affirmed that his description of the elephant—based on the part he grasped—was the only true account of the beast. By the very historical grounds of their creation, big, popular entertainments like Thelma & Louise often contain both reactionary and progressive elements, more or less ajar.[1]
A director of liberal inclinations like Scott still functions within an industry and culture profoundly saturated with the premises of corporate capitalism. The latter may intrude upon a project directly, or through subtler invasions of the creator's psyche. The result is a highly polysemic text: such a film typically offers a wide range of possibility for contestation across the political spectrum over issues "whose time has come" out of one contemporary circumstance or another (e.g., Easy Rider , 1969; The Deer Hunter , 1978).
Thelma & Louise 's ideological polysemy is abetted by the director's characteristic dense cinematic and artistic intertextuality (central quotations on the latter score include Ansel Adams and the nineteen-eighties Hyperrealists). Callie Khouri's script also enhances the film's ambiguous openness for interpretation by sharply scanting information about the protagonists' prior lives, except for a few bold strokes. What one gets of the women is essentially what one sees.
Scott is a formidable entertainer, but he lacks Edwards' or Altman's subversive boldness (at their best). His critiques are increasingly vitiated by tidy "with the grain" resolutions (in this sense, Thelma & Louise 's unhappy ending is as problematic as Blade Runner 's infamous happy ending). It may nev-
---
ertheless be argued that we should feel lucky for Thelma & Louise 's raucous probe of the Second Sex's still dismal status in Bush-y America, given Hollywood's current gentler, kinder predilection for the bimbos (and bitches) of Working Girl and Pretty Woman .
But one must wonder if—Gramsci, thou art with us yet—we're supposed to feel lucky, and let it go at that. . . .
1. See my earlier critique of Star Trek in "In Search of Spock: A Psychoanalytic Inquiry," Journal of Popular Film and Television , vol.12 (1984), pp. 52–65; and Douglas Kellner's work along these lines in "Blade Runner : A Diagnostic Critique," Jump Cut , no. 29 (1984), pp. 6–8, and Michael Ryan and Douglas Kellner, Camera Politica: The Politics and Ideology of Contemporary Hollywood Film (Bloomington: Indiana University Press, 1988).