Terms of Endearment
"Everyone went to the movies in the late forties," claims critic Andrew Sarris: "A disaster like the Gable-Garson Adventure grossed five million domestic, and musical atrocities like Holiday in Mexico and The Dolly Sisters drew lines instead of the flies they would attract today."[10] Consequently most viewers out for an evening's entertainment weren't likely to be deterred by the almost unanimously unfavorable notices Desert Fury received when it made its debut.
"The picture as a whole makes you think of a magnificently decorated package inside which someone has forgotten to place the gift," wrote Archer Winsten in the New York Post . "If you can accept all these automobiles and clothes as a substitute for a story that makes good sense, here's your picture," noted Alton Cook in the World Telegraph . Forty years haven't altered
---
critical evaluations in any significant way. "Mild drama of love and mystery among gamblers, stolen by Astor in a bristling character portrayal," says the 1987 edition of Leonard Maltin's TV Movies .[11] Audiences exiting Desert Fury in 1947 would very likely have agreed with him. But these same audiences didn't in all likelihood go in to Desert Fury for Mary Astor. Their attention was directed elsewhere—to Lancaster and Scott.
Under contract to the film's producer, Hal Wallis, Lizabeth Scott (born Emma Matzo), with her dusky voice (doubtless modeled after Lauren Bacall) and wave-encrusted hair (echoing the likes of Veronica Lake), was clearly being promoted as the latest in a long line of sultry siren types. In 1941 she made her debut in an undistinguished programmer called Frightened Lady . After a brief hiatus she returned in You Came Along (1945), followed by The Strange Love of Martha Ivers (1946). She next made her biggest splash opposite Humphrey Bogart in Dead Reckoning (1947). The career of Burt Lancaster was progressing even faster at the time of Desert Fury though he had only two previous films to his credit—The Killers (1946) and Brute Force (1947). Inevitably Desert Fury 's ads boasted "That Killers guy and that Dead Reckoning dame come together as a team of dynamite-and-fire."
What the ads fail to mention is that as far as the film's scenario is concerned the "dynamite-and-fire" is supposedly between Scott and John Hodiak. Hodiak, curiously, gets top billing on the film's credits—over both Scott and Lancaster. One of a number of male not-quite-leads-not-quite-stars of that era, Hodiak's most notable appearances were in Lifeboat (1943), Marriage Is a Private Affair (1944), and The Harvey Girls (1946). His Desert Fury billing bespeaks a canny agent. Yet no agent, however influential, could forestall the onslaught of Scott-Lancaster associations that accrued round Desert Fury 's ads. Couples being the coin of the cinematic realm, Desert Fury 's promotional copy could not help but create one.[12]
But why Scott-Lancaster rather than Scott-Hodiak as the script clearly indicates? And what about those specially posed Scott-Lancaster photos that go even further in underscoring the relationship between characters who don't truly function as a couple until the film's last few shots? These ballyhoo glossies show Scott and Lancaster in a series of dramatic clinches that have no parallel within the diegesis that calls itself Desert Fury (Scott resting her head on Lancaster's chest, looking up at him rapturously—the "French seam" of her blouse slightly ripped. Lancaster struggling to wrest a gun from Scott's hand, her eyes closed shut as if in an erotic reverie). Clearly Scott-Lancaster are viewed as appealing in a way that Scott-Hodiak are not. Consider Scott's and Lancaster's comparably wavy hair. Consider Lancaster's strapping physique in comparison to Hodiak's, particularly as the latter's far less impressive chest is put on open display in a scene where Scott finds him taking the sun. What's going on here?
---
John Hodiak in Desert Fury offers us the spectacle of cinema at its most paradoxical. Lancaster is Hodiak's obvious superior on every level. How can Lizabeth Scott even so much as think of preferring John to Burt? One tries to imagine what the film might have been like had the contest been—for want of a better term—more evenly balanced. Imagine, for example, a Desert Fury with Kirk Douglas in the Hodiak role.[13] It certainly would have been a logical choice. Douglas was in fact posed between Scott and Lancaster in their next film, I Walk Alone . However, the center of I Walk Alone is Lancaster's character, not Scott's, and the Douglas character in that film is a wily on-his-game ganglord, not the testy indecisive neurotic played by Hodiak in Desert Fury . Moreover Desert Fury , need we be reminded, is entirely about Lizabeth Scott.
Scott's Paula has to choose between two men—one "good," one "bad." Consequently the concise logic of Hollywood dictates the terms for this choice by making it for her. Plainly the casting of as uncharismatic an actor as John Hodiak serves Desert Fury 's ends. Though the script and dialogue indicates a veritable torrent of passion flowing between Scott and Hodiak, what emerges is an almost palpable lack of lust—particularly in the scenes in which they're required to kiss. The pair set to work with the dogged determination of would-be outdoorsmen who've suddenly had a change of heart while white-water-rafting in the Rockies.
Still, Scott's comminglings with Lancaster aren't much of an improvement. They seem to salute one another like ships passing in a fog—icons of "Male" and "Female" more aware of their individual image power than any conjoined forces that might be negotiated to some other erotic end. Only when placed next to Astor does Scott really convey some sense of the passion the film's title suggests. But as far as Desert Fury 's plot is concerned, the Scott-Astor relationship is simply an engine driving Scott's character toward the resolution Lancaster provides. Dust-dry though it may be, this Scott-Lancaster pairing is the plateau on which Desert Fury is destined to settle.[14]
Desert Fury 's advertising is a lie. But this lie only serves to underscore a deeper truth. For like Poe's (and Lacan's and Derrida's) "Purloined Letter," the "message" of Desert Fury is always in plain sight. Even before the story begins, the discrimination of "desirable" Lancaster over "undesirable" Hodiak has been set in place. The performers' particular qualities (or in this case lack of same) are slipped into the folds of the scenario like a hand in a kidskin glove. The ads aid this effort, suggesting an atmosphere redolent with danger and intrigue—as it is in the film for Scott-Hodiak but not for Scott-Lancaster. Thus the "good" couple is iconographically intermingled with the "bad" one—safety conflating with danger the better to promote the product.
This "ideal" movie couple isn't the only cozily familiar element Desert Fury has to offer. Reassurance also figures in the narrative's echoes of other films. Here's a mother-daughter conflict right out of Mildred Pierce or Possessed .
---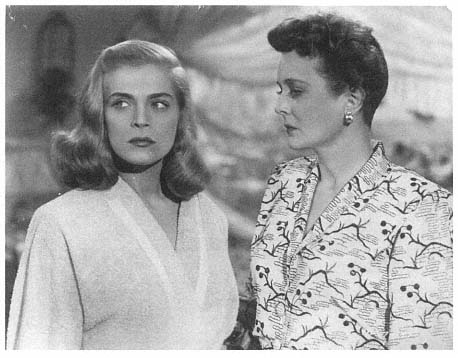 [
Full Size
]
The recurring automobile accident recalls The Postman Always Rings Twice . The criminal-out-of-his-element subplot harks back to High Sierra . The color cinematography, particularly in the scene where Scott and Lancaster go riding, recalls Leave Her to Heaven . And that's not all vis-à-vis the color.
"Luscious new colors will be introduced by Lizabeth Scott in her new film Desert Town which Hal Wallis is producing," gushes Paramount News .[15] "Armed with a set of artists' paints, Edith Head, Paramount's chief designer, spent several week-ends in the desert near Sedona, Arizona, where the cast of Desert Town was on location, in order to study some of nature's own colors." The results of her labors were the creation of no less than "16 gowns to be worn by Miss Scott in the film, which is in Technicolor." Thus the oddity of filming a minor potboiler like this one in color is explained—it's more than a melodrama, it's a fashion show.
Not surprisingly, in keeping with this new-found sense of splendor a title like Desert Town simply won't do anymore, and as Paramount News notes,[16]
---
it's changed to Desert Fury . "Producer Wallis and his associate, Joseph H. Hazen, with Paramount sales and advertising executives, decided upon the new title to underscore the strong dramatic action and emotional conflict in the story of a group of modern characters which is enacted in the colorful setting of today's desert country."