THREE—
NORMALIZATION
---
By multiplying perspectives Rabelais suggested the seesawing psychology and tendency to excess that was nearly inseparable from Carnival-Lent customs. Did his rather intricate way of explaining the consequences of such customs, as European life assumed more secular, individualistic forms, help bring about the failure to understand the episode from the later seventeenth century onward? Exactly when and how did the misconceptions arise? What allowed them to flourish? We can answer these questions by pursuing the history of Rabelais's reputation and readership.
Rabelais died in 1553. Religious wars and the Reformation and Counter-Reformation ideologies feeding those wars rent France and Europe for the next hundred years. One might think that encompassing laughter of the kind urged by Rabelais would have become difficult. Yet during the first two generations after Rabelais's death (1553–1610) his novels were published and republished forty times in small formats that would seem to have encouraged reading by many more and varied audiences than elite and wealthy bibliophiles. Then quite suddenly the editions nearly ceased. Between 1610 and 1660 Rabelais was reprinted only twice (1613, 1626). During the following half-century, ending in 1710, his works appeared seven times.[1]
The 1613 and 1626 editions were probably published in France, but they gave either a false address or no address on their title page. Six or
---
perhaps all seven of the later seventeenth-century printings were published outside France. In the first half of the eighteenth century a new, fully annotated edition was prepared by the Protestant Jacob Le Duchat. First published at Amsterdam in 1711, it was reprinted four times between that date and 1732 and revised in a second edition published in 1741. Another Amsterdam edition, first published by the Elzevier firm in 1663, was reprinted four times at Brussels between 1709 and 1758. Two Catholic editors, Abbé Pérau and Abbé de Marsy, published differently expurgated editions in 1752. Thus between 1711 and 1752 twelve reprintings of the novels occurred.
What happened during that century and a half, first to diminish and then to revive interest in Rabelais[2] The eclipse of publishers' willingness to print his works in France, at least openly, came after the Lyon editions of 1608, which appeared just before King Henry IV's assassination in 1610. During the regency of Marie de Médicis and the subsequent ministry of Cardinal Richelieu the government assumed a more publicly Catholic stance. From the point of view of Catholic reconciliation as well as of bienséance, Rabelais's texts were not suitable. Rabelais had been classified since 1564. in the Index of Prohibited Books endorsed by the Council of Trent as an author in the "first class," whose works were to be prohibited without exception and without hope of expurgation.[3]
Perhaps this very prohibition was responsible for Rabelais's posthumous fortune during the period of the sanguinary Religious Wars in France (1562–1596). The period was one of political no less than religious disunity. After the accidental death of Henry II in 1559 France was ruled by the queen mother of Henry's small sons, Catherine de Médicis. Great nobles seized the chance to resist the crown and frequently used religious revolt to that end, aiding the growth of Calvinism. What a revelation it therefore is to discover that all but five editions of Rabelais published in the half-century after his death can be shown to have been altered in their wording in such a way as to serve Protestantism!
The assertion is easy to prove. It is based on the superb new bibli-
---
ography of Rabelaisian editions published in 1987 by Stephen Rawles and Michael Screech. To distinguish the often undated, anonymously published editions Rawles and Screech chose a limited number of passages that they discovered through comparison to vary frequently. One of these was the passage in the Quaresmeprenant-Sausage episode denouncing Calvin. In thirty of the thirty-five editions of the Fourth Book published between 1553 and 1610 this passage has been altered.[4] Of the five editions that did faithfully reproduce Rabelais's words here, four were published in the 1550s before Henry II's death.[5]
Rabelais's words concerning this particular species of Anti-Nature's children were: Demoniacles Calvins, imposteurs de Geneve, that is, "demoniacal Calvins, Genevan imposters." Rabelais's reference to his Catholic detractor immediately follows: les enraigéz Putherbes, "the crazy Putherbes," that is, Putherbius, the Latin form of DuPuyherbault's name. In five of the thirty editions the unknown editors contented themselves with simply dropping the reference to Calvin and Geneva, so that redoubled thunder fell upon the monk Gabriel DuPuyherbault: "the demoniacal, crazy Putherbes." But because these editions included no footnotes and the relation of the monk's Latin name and writings to Rabelais had perhaps faded by the 1560s, this slander was probably inconsequential, however injust.[6] The other variant of this passage, found in twenty-four editions of Rabelais published between 1564 and 1608, points Pantagruel's wrath unerringly at the wicked Catholics: "the demoniacal writ-servers," it reads, "rakers-in of benefices" (les demoniacles Chicanous, aracleurs de benefices ).[7]
Calvinists like Lutherans made devastating use of the word against
---
their Catholic opponents in the sixteenth century, not only the holy word of the Gospel but also the satiric words of controversial literature. However ill-received Rabelais was in Geneva, he was obviously welcomed among French-speaking Protestant zealots elsewhere and by printers and booksellers exploiting this public.[8] If Rabelais continued to be popular after his death, it was because he was of service in the acid atmosphere of the Religious Wars. His mirthful ambivalence can be and obviously was interpreted in two ways, especially during this early period, as humanist hatred of bigotry by moderate Catholics and as anti-Catholic satire by moderate Protestants. Except for the most devout or self-interested leaders of the two religious factions, most Frenchmen probably were moderates, at least most of the time, and sought only release from the bloodshed. Rabelais's raillery provided at least mental release.
Over the long term, however, the unannounced emendations of editors and the confessional ambience in which the texts were sold and read boded ill. Rabelais's low humor and high irony came to seem less evenhanded and less intricately Christian than they were. The second part of this study concluded with a generalization from the particular case of Rabelais's strategies in the Quaresmeprenant-Sausage episode: making the text strange meant to multiply perspectives in such a way that readers are obliged to filter their reactions to what they read. But most readers do not filter their reactions, whatever the stimulus to do so. Preoccupied with their own purposes — with their context more than the text's — most readers simply turn the pages to get the story.
At the surface of the text readers interested in the story without bringing to it any special confessional prejudice would be led by the later sixteenth-century adulterated editions to regard the story as anti-Catholic or, worse still, as godless. The meaning of Rabelais's text was normalized in the seventeenth century not as carnivalesque ebullience, let alone as multidimensional morality, but as irreligious excess.
---
6—
Post-Renaissance Metatexts
As religious controversy became more covert, Rabelais's public presence declined. In the new cultural atmosphere of peace and propriety, Calvinists could no longer hope for undoing Catholicism through disseminating ecclesiastical satire. The more general import of the novels, Rabelais's narratively filtered approach to all manner of public and private questions, from marriage and medicine to Carnival and chicanery, had already been lost in the later sixteenth century. The loss was inevitable, with or without the work of unscrupulous editors, for the cultural context in which Rabelais wrote had disappeared. His expressions came to seem more salty or more silly than they were when first published, in some places more incisive and in others more obscure. Rabelais continued to be read, but only by the cultivated. The popular audience disappeared as the popular ambience from which he had derived his locutions and the popular manner in which he had clothed his tales went its own way. Those who did read Rabelais read rather lightly. Whether condemned and shunned — as in Father Garasse's three fulminatory books against him in the 1620s and 1630s[1] — or passed from hand to hand, epigrammatized, and adapted to the subjects of court ballets, it was for the same reasons and among the same restricted elites. Rabelais was discovered as a wit; he was witty, indeed, to the point of wickedness.[2]
---
The atmosphere of official sanctimony, which in the course of the seventeenth century waxed and waned but deepened considerably in the later years of Louis XIV's reign, enhanced Rabelais's appeal as a daring satirist. So the uses to which Rabelais was put by érudits, libertins, femmes savantes, and femmes galantes reinforced the narrowing comprehension wrought by both time and the moralistic atmosphere of official propriety. As neoclassic norms in art and manners chastened and polished the language, taste for broad and grotesque humor shriveled. Rabelais's gauloiserie came to appear peculiar, if not intolerable.[3] As cultural boundaries were tightened, so were the social frontiers. Nobles and notables took less part in village or artisan fun. They avoided festive occasions like Carnival. They stared at such behavior from afar and lost the sense of its rhythm and articulation with the church year. Awareness of the relation of such occasions to Rabelais's text disappeared.[4]
The misunderstandings of Rabelais's text, which flourished from the moment of his death, could have been mitigated by paratextual elements like those found in modern editions of Rabelais: notes, indexes, interpretive introductions, critical apparatus. Such paratexts became usual for classical and Biblical texts during the sixteenth and the seventeenth century. But they were rarely perceived as necessary for modern authors until it was too late — too late to acquire first-hand information about the author's own ambience. Such belated recognition of lost dimensions of the text is nearly inevitable, especially with reference to popular customs or locutions that seem to their users to be age-old or so locally peculiar that they are of no general interest. Only when the
---
meaning of such items has begun to disappear en masse, leaving considerable sections of the text obscure, does the interest of their culturally conditioned quality appear.[5]
The first metatexts that concern the Quaresmeprenant-Sausage episode in particular were published in the 1690s. They were concerned with explaining and defending Rabelais's religious opinions. For Jean Bernier, a Catholic, as for Pierre Le Motteux, a French Huguenot refugee in England, Quaresmeprenant has become Lent, and the Sausages no longer have any performative, ritual relation to Carnival, let alone to a combative or parading performance on mardi gras.
Jean Bernier's The True Rabelais Reformed, published at Paris in 1697, responded to the hyperbolic attacks on Rabelais by persons like Father Garasse. It was a measured defense, for Bernier found "both bad and good in this book as in many others." A moderate Catholic with an immoderate enthusiasm for Rabelais, his purpose was simply to maintain that Rabelais was no heretic and no atheist.[6] Bernier's book is only the second publication to discuss all Rabelais's novels episode by episode; Le Motteux's English translation of 1694, filled with copious notes, was the first. Before the extensive comments of Bernier and Le Motteux only two guides to the Carnival-Lent narrative existed: a few notes in the "Brief Clarification" of 1552 and an alphabetic list explaining difficult words and phrases, published in 1663 in the first edition of Rabelais's work at Amsterdam.
The notes about chapters 29 through 42 in the "Brief Clarification"
---
explain a few Greek and Hebrew words, two medical terms, and a term in geometry.[7] They make no reference to the puzzles preoccupying us here. The few allusions to the Carnival-Lent episode in the "Alphabet of the French author," as styled in the 1663 edition, are on the other hand fundamental. They were included in the reprints of that edition and studied by Bernier and Le Motteux for their commentaries. One allusion in the Alphabet indicates that Quaresmeprenant in Rabelais's text was still understood as Carnival at the time that the Alphabet was compiled, which was probably close to the time when the edition of 1663 was being prepared.[8]
The allusion of the Alphabet author explains the meaning of Tapinos Island, Quaresmeprenant's kingdom:
Tapinos: An old French word which means secretly, and in hiding [en cachette]. Some people derive it from the Greek verb tapeinoo, that is, to lower or put on the ground, from whence one usually says il s'est tapi, that is, he has lain down to hide himself; the Greek figurative word tapeinosis means humility, abasement. Now since Quaresmeprenant flees after the moveable feasts (since from the time they have arrived there is no more news about Quaresmeprenant), as the author says in chapter 29 of Book Four — and it seems that by this means [lying down to hide: tapeinoo] he would like to hide himself, now advancing and now retreating — this is why he [the author] makes him inhabit Tapinos Island.[9]
The grammatically awkward last sentence of this explanation, which I have clarified by the use of dashes to set off the long parenthetical phrase, refers to Friar John's comment in chapter 29: "I pray you [to describe Quaresmeprenant], my ballocky friend, for I have found him
---
in my breviary, and he follows(?)/flees(?) after the moveable feasts."[10] Modern commentators, supposing that Quaresmeprenant is Lent, apparently have no trouble explaining Friar John's phrase; after all, the liturgy for Lent is found in any breviary. But how would they make sense of the Alphabet author's idea that after the arrival of the moveable feasts there is no more news about Quaresmeprenant? The point is important to the argument developed here concerning the disappearance of the context in which Rabelais's text was written. It requires a fairly extended examination of different ways of interpreting Friar John's phrase.
Friar John's reference may not be a helpful clue to the monster's identity, not only due to the ambiguity of the phrase and the impulsive character of the man who says it,[11] but also for another purely material reason: Rabelais's text on this point is literally ambiguous. In the sixteenth and the seventeenth century the initial and medial s in words was printed in a manner that made it nearly indistinguishable from f; it was printed as f . The editions of Rabelais's Fourth Book made during his lifetime printed the word in Friar John's phrase sometimes as flees (s'enfuyt ) and sometimes as follows (s'enfuyt ). The only complete modern critical edition of the Fourth Book, that of Robert Marichal, "corrects" the reading of what he otherwise considers the two best of six editions of this chapter 29 published in 1552 and 1553. These two editions both read s'en fuyt, which Marichal changes to s'ensuyt .[12]
This tiny typographical difference may imply a large semantic shift, depending on how one interprets the meaning of Friar John's reference to the moveable feasts in his breviary. Many dates celebrated by the church, including Ascension, Pentecost, Corpus Christi, and Lent, are based on the date of Easter, a date that moves from year to year because it is determined by the shifting relation of the moon's phases to the spring equinox. The church year in Rabelais's time as in the twentieth century began with Advent, the Sunday on or closest to November 30;
---
so the beginning of Advent is also a moveable feast. The lay year began at various times, at some places on January 1 while at others on March 1, March 25 (Annunciation), or Easter.
The different ways of dating the church and lay year, taken in conjunction with the indeterminacy of s'ensuyt/s'enfuyt and the ambiguity of the phrase "after the moveable feasts yield multiple modes of interpreting Friar John's phrase. The friar may be referring to where the word Quaresmeprenant literally occurs in his breviary, on such and such a page, in which case s'ensuyt would seem the most likely reading of the text. Or he may be referring to where the metaphorical equivalent of Quaresmeprenant — be it Carnival or Lent — appears in the breviary, in which case s'ensuyt or s'enfuyt would be equally possible readings. The ambiguity of Friar John's remark is further increased by the fact that the first effective standardization of breviaries took place after Rabelais's time. As a consequence of decrees passed at the Council of Trent, Pope Pius V issued a Roman breviary in 1568 whose order and substance were henceforth to be universally observed, as indeed they still are within the Roman Catholic church, although allowance for observance of local saints' days was and is admitted. When one examines the differences of breviaries before and after 1568, and one combines these differences with the uncertainty of the correct reading of s'ensuyt/s'enfuyt, one realizes how difficult it is to determine the meaning of what Friar John says with such easy definiteness.
In treating this problem three kinds of difficulty are best kept separate, that arising from the typographical ambiguity, that concerning possible differences of the breviaries Rabelais had in mind from those subsequently authorized, and that deriving from textual analysis, including the interpretation of Rabelais's purposes. With respect to the third kind of difficulty, a general conclusion can be stated in advance: Rabelais here as elsewhere offers a seemingly concrete detail that intentionally opens on an abyss of uncertainty. The means by which he produces this effect reside in the texts relation to context, as we will see.
The first difficulty also can be unraveled by reference to context. Typographical errors were very frequent in sixteenth-century printing, and indeed Rabelais used this fact in the dedicatory letter to the Fourth Book in order to defend himself from heresy.[13] The error involved here,
---
whichever it is, is tiny. One can probably assume that Rabelais proofread at least the first two editions of 1552, which read s'enfuyt; but this is no guarantee that s'enfuyt is correct, for Rabelais might easily have misread the word as its look-alike. He died in March 1553, only a year after the second edition appeared. Other editions of the Fourth Book in 1552 and 1553 seem to be piracies.[14] The printing history of the Fourth Book gives a presumption, but only slight, in favor of the reading s'enfuyt . If semantic reasons argued strongly in favor of s'ensuyt, they would outweigh typographical evidence.
The second kind of difficulty, that concerning the content and arrangement of breviaries, is of interest because the pages where anything resembling Quaresmeprenant might have been found before 1568 are not the same as those where it might be found since that date. This difficulty thus involves the main subject of this chapter, the evolution of readers' contexts away from Rabelais's context of writing.[15]
Long before Friar John claims to have found Quaresmeprenant in his breviary, readers have become accustomed to his phrase, "that's breviary stuff" (matière de breviaire ). Insofar as readers bring this phrase to bear upon Friar John's utterance about Quaresmeprenant, they would tend to think that Friar John has found the monster as part of the contents of his breviary, perhaps even on a particular page or pages that he seems to designate, "after the moveable feasts." What pages would they be?
If critics have decided that Quaresmeprenant represents Lent, they have a strong motive at this point to read the text as "follows," not "flees." It would be strange for Lent to flee moveable feasts of which it is itself a prime example. If the text reads "follows," then critics equating Quaresmeprenant with Lent might read Friar John's phrase loosely, interpreting it to say simply that Lent comes along calendrically in the midst of all the pages concerned with the moveable feast days to which a breviary is, among other things, devoted. This is a possible reading. But it is not very likely for people of Rabelais's time; for reasons already explored, Quaresmeprenant as a word meant Carnival. There is a sec-
---
ond reason why contemporary readers would have been puzzled by Friar John's phrase, as soon as they tried to associate it with anything they might know of breviaries. Nearly everyone knew at least that it would be impossible to find Quaresmeprenant materially or literally in breviaries, for the content of breviaries, which are devoted to performance of the church's liturgy, is in Latin. Friar John must mean that he finds in his breviary a Latin equivalent to the French word. If Quaresmeprenant signifies Carnival to Friar John, then he is hallucinating: Carnisprivium, the chief Latin word for Carnival, would scarcely be found in a breviary, nor would the Latin equivalent of Fat Tuesday. The only word resembling Quaresmeprenant in fifteenth-century or later breviaries is Quadragesima . This word was created to designate the Sunday, which in most parts of Europe before the year 1000 was the beginning of forty days' fasting for the laity, Dominica Quadragesima, "Fortieth Sunday." But at least as early as the ninth century it became customary to exempt from fasting all the Sundays in Lent, including Quadragesima Sunday; four days fasting from Ash Wednesday up to the following Quadragesima Sunday were then added, making the sum of forty days. At the same time the term Quadragesima by itself came to be used in breviaries and elsewhere to designate the whole term of Lent rather than the first Sunday in Lent.
Is this then the equation Friar John is using? It seems to be the one most modern commentators assume. They believe that Friar John is saying: I have found Quadragesima, the equivalent of Quaresmeprenant, in my breviary; this word "follows" (s'ensuyt ) somewhere "after" (après ), or perhaps among, the pages dealing with moveable feasts.
There were and are three main parts to breviaries, before as after 1568: a calendar and/or a series of calendrical tables with instructions as to how to calculate the varying dates of moveable feasts from year to year and indications as to when saints' days occur; a long section called the temporal, listing the liturgy to be read and chanted from day to day through the year; and a section called the sanctoral, indicating additions and alterations in the liturgy for saints' days. Saints' days are fixed feasts, occurring each year on the anniversary regarded as the day of the birth or martyrdom or other signal event in a saint's life. But the liturgy of the year is organized around the days leading up to and away from Easter, the summit of the ecclesiastical year. Hence use of the bulkiest part of a breviary, its temporal, required calculation of the moveable date of Easter from the calendrical tables so as to establish actual dates
---
of Easter and all other liturgical performances and so as to be able to integrate the temporal and the sanctoral.[16]
Neither Quadragesima Sunday nor Quadragesima to mean Lent in general is found in those breviary calendars or calendrical tables, before and after 1568, that I have checked. In a breviary calendar made in Paris for Duke Philip the Good of Burgundy about 1450, as in modern tables of moveable feasts, there is no indication of Lent or Lent's beginning. These must be calculated from Septuagesima Sunday, the Sunday three weeks before Quadragesima Sunday; Septuagesima Sunday is indicated in both Duke Philip's calendar and in modern breviary tables.
If Friar John said "follows" after moveable feasts and if he meant by this that Quadragesima occurs on a page of his breviary after the pages devoted to a table or calendar of moveable feasts, then his statement makes sense. He could find Quadragesima in either the general or particular meaning of the word in the temporal, or at least he could find it in all breviaries after 1568 and in some before that date. But Friar John "died" in 1553, when Rabelais did. And if Friar John's breviary was like that of Duke Philip the Good, he could not have found Quadragesima. after the calendar there because this calendar occurs in the middle of the breviary, after the temporal. I have not chosen this particular fifteenth-century breviary abusively. The modern editor of this breviary points out that the habit of putting the calendar in the middle rather than at the beginning of the breviary was customary in many places, including Rome, Paris, and Tours (the latter a town near where Rabelais himself served in a monastery).[17]
Hence the objections to this plausible interpretation of Friar John's phrase are that it would not apply to breviaries with calendars in the middle and so would confuse some readers, and, worse still, that it requires adding words to the text: follows after a table of, or a calendar of moveable feasts. If words are not added, then Friar John thinks he has found Quaresmeprenant after the end of the temporal section of the breviary, in the sanctoral. Maybe he did; considering his jovial proclivities, perhaps his breviary included Saint Pansart![18]
---
Perhaps Friar John, interpreting Quaresmeprenant as Quadragesima and uttering "follows," not "flees," merely meant that Quadragesima comes after the beginning of the pages in his breviary that are devoted to moveable feasts, whether Septuagesima or Advent. The first moveable feast in the church year is Advent, while the first one in the lay year, if it is considered to begin on January 1, is Septuagesima Sunday. In this case too one adds words to the text, something like follows after the beginning of or the arrival of the moveable feasts. The Alphabet author, adopting the reading "flees," added such words: "Quaresmeprenant flees after the moveable feasts (since from the time they have arrived there is no more news about Quaresmeprenant)."[19] As the Alphabet author saw, one must add words like arrival or beginning because Quaresmeprenant, whether it means Carnival or Lent or Lent-taking-hold to Friar John, cannot be said to have fled after the moveable feasts generally, which continue until Corpus Christi Day, occurring in May or June. Whatever Quaresmeprenant means to the monk, it falls in the middle of the moveable feasts, long before they are all over for the year. But if for the sake of making sense one adds such words as these after "flees," then one necessarily eliminates one of Quaresmeprenant's three probable meanings: Lent. The Alphabet author must have thought Quaresmeprenant meant Carnival or Lent-taking-hold, not Lent, because after the arrival of Quaresmeprenant-as-Lent there would continue to be news of him until Easter, when Lent ends.
The Alphabet author's interpretation envisions Quaresmeprenant as "now advancing and now retreating" in consonance with the passage of the liturgical year, very much in the festive manner in which Carnival and Lent advanced to do battle on Fat Tuesday, retreated to exile, and then advanced again as the seasons rolled around to a new year. The Alphabet author's comments presuppose a lay-calendrical point of view: the year begins with January 1, not Advent, so that the first moveable feast, Septuagesima, does not arrive for several months. Friar John, making his way from day to day through the breviary, arrives first at
---
Septuagesima and then several weeks afterward at Ash Wednesday. From that time, the time when in a loose sense the "moveable feasts  . . .  have arrived," there is "no more news about Quaresmeprenant" because Lent has begun: the advance of that being is over. Can one push the Alphabet author's words further and say that he can only be thinking of Quaresmeprenant as Carnival because one may well regard the whole period from Septuagesima to Ash Wednesday as Carnival but not all of this two and one-half weeks as a transition period, Lent-taking-hold? The psychologizing and etymologizing conclusion to the Alphabet author's comment seems to argue in precisely the opposite sense: Quaresmeprenant, lowering himself in accordance with the meaning of the Greek verb from which his islands name is derived, "would like to hide himself." Carnival desirous of hiding during Lent? Possibly. Carnival as Lent-taking-hold, desirous of hiding after the arrival of Septuagesima, with its increased tension over the ambivalence between desire and duty as Ash Wednesday comes closer? Quite plausible.
The disadvantages of the Alphabet author's interpretation are obvious. He carries anthropomorphosis so far with his psychological interpretation that the monster loses much of its looming half-human, half-puppet aura. He disregards Friar John's clerical identity and attributes to him a lay way of thinking about the relation of the beginning of the year to the moveable feasts, precisely when Friar John is talking about a clerical book, the breviary.[20] And like those who read the text as s'ensuyt , he adds words to the text.
Of all the critics writing about this particular phrase, the Alphabet author was closest in time and space to Rabelais's context. But he still wrote, it seems, a full century after the first publication of the Fourth Book; readers" contexts had radically changed. To return to the typographical question, the reader must conclude that semantic reasons for one or the other are not overwhelming. A slight presumption in favor of s'enfuyt remains, for the evidence of early editions is also more in consonance with the expectations of readers who recognized the au-
---
thor's references to Carnival-Lent combats. The end of the plays and poems depicting the victory of one or the other typically described the departure of the defeated. If Carnival was defeated, he or she fled, was banished for the duration of Lent, or was exiled for an entire year until the return of Carnival time. If Lent was defeated, he or she was given forty days to leave or, as in the thirteenth-century French poem about the victory of Fleshliness over Lent, the latter was granted an annual return of six weeks and three days.
Sometimes Lent fled and sometimes Carnival. Knowledge of the conventions of Carnival-Lent combat reinforces the idea that Friar John's sure and easy identification of Quaresmeprenant is a comic snare: he may mean either party. In fact, in the light of what one is eventually led to understand about Rabelais's ideas of Carnival and Lent as the episode unfolds, it seems probable that he wished readers to consider Friar John's statement just enough to be thrown into confusion.
The Alphabet author's explanation of the Greek root of Tapinos, taken together with his psychological interpretation of Quaresmeprenant's fleeing so as to mean that the monster desired to hide himself, was destined for a long life. It attached itself tenaciously to Rabelais's text, inspiring false readings of this passage by Bernier and Le Motteux, which became influential in their turn. Bernier writes:
Some wish that Tapinos Island should be interpreted as the land of hypocrites because of its name, for tapinosis means humility (tapinoo, I lie down on the ground [these words, in Greek and Latin, are printed in the margin]). It is said that Quaresmeprenant reigns there because Lent [sic: le carême ] disappears after the movable feasts.
Quaresmeprenant reigns on Tapinos Island because it is the sort of place where carême can "disappear" — that is, neither flee nor follow after but lie down and even hide under the ground.[21]
What does it mean for Lent to disappear in this underground sense after the moveable feasts? Bernier, who attributes to some unnamed person this reading of Friar John's words, does not himself explain it. The unnamed person was almost certainly Pierre Le Motteux, a Hugue-
---
not refugee in London since the revocation of the Edict of Nantes in 1685, whose English translations and annotations of Rabelais's Fourth Book and Fifth Book appeared in 1694. How he rationalized the equation of Quaresmeprenant with le carême is ingenious.
"The Sneaking Island which Pantagruel sailed by," writes Le Motteux, "is the dwelling of Shrovetide, by which we must understand Lent" Thus at the very outset the ambivalence that remains liminally present in Bernier's account is abolished from Le Motteux's Rabelais. Quaresmeprenant personifies Lent, in spite of the monster's name. The name was chosen not to express ambivalence but to hide Rabelais's intentions. One well understands how this seemed plausible to not only Protestants but also those who saw Rabelais as generally anti-Christian. Rabelais, writes Le Motteux, wished to "expose the Superstition of the Papists about Lent." But he was obliged to do it in such a way as to "secure himself from the informations of his prying enemies." This is how he did so.
"The Ecclesiasticks of the Church of Rome," Le Motteaux explains, "begin their Lent before the Layety; Shrove-Tuesday is to them a Day of Humiliation; and is properly the time when men are shriven. Our author calls it Quaresmeprenant, that is, the Beginning of Quadragesima; in opposition to Mardi Gras, Shrove-Tuesday."[22] Le Motteux nearly admits that Quaresmeprenant might have two meanings, depending on whether one is lay or cleric. For if Quaresmeprenant means Lent-taking-hold or Carnival-full-of-Lent and one is lay, then Quaresmeprenant means one last fling, Shrove Tuesday as mardi gras, the time of feasting; if it means the same things but one is of the clergy, Quaresmeprenant signifies Shrove Tuesday as the beginning of Quadragesima, a time of shriving and fasting. Something of the ambivalence Le Motteux wants to eliminate from Rabelais's intentions remains in the way he reasons about the text. But he does not reason enough, for we have seen that the text shows the word has at least four meanings to persons aware of its French and Latin, ecclesiastic and lay dimensions: one thing etymologically (moving toward, taking up, being pregnant with Lent), another in popular parlance (Carnival time generally, and espe-
---
cially Carnival's last day or days before Ash Wednesday), and a third and fourth when its French form is related to Latin Quadragesima (Lent generally; or alternatively the first Sunday in Lent, Quadragesima Sunday, and hence the first days of Lent).
Le Motteux ranks and reduces the word's meanings; having done so, he easily explains the name of Quaresmeprenant's residence, Tapinos Island. Quaresmeprenant hides himself because he, like the "ecclesiastics of the church of Rome," has already begun his Lenten fasting, perhaps as early as Septuagesima.[23] The approach of Ash Wednesday is shameful because it is preceded by Shrove Tuesday, which, although it should be a "day of humiliation," is in fact a time of gaiety. He therefore flees underground on Tapinos Island after the moveable feasts have begun — for him — before Shrove Tuesday. Apart from the intentionalism that moves Le Motteux to tie the meaning of Tapinos so closely to a name reductively regarded as signifying only Lent, Le Motteux's interpretation is useful because it highlights the difference between lay and clerical points of view and thereby directs attention, if only inadvertently, less to Carnival and Lent as fixed and separate entities than to the zone of transition between them.
It is difficult in the anthropologically oriented late twentieth century to recapture the mentality prompting these exegetic twists and turns of argument. Their essential character is their confessionalism, their inwardly oriented understanding of religion as credal belief and moral codes more than as everyday activity, in which belief, morality, and behavior are more reflexively intertwined. Rabelais's sensitivity to the ambivalences of religious observance in daily life was, like that of many of his contemporaries, quickened by participating in the humanistic and evangelical movements of his time. For him the mixture of secular and sacred custom and creed, derived from fifteen hundred years of Christian battle with ethnic and antique ideologies, was a richly conflictual matter of daily experience, which prompted delight, humor, and despair by turns. For Le Motteux and Bernier such fullness of response had receded. But it had not yet disappeared or become — as in the twentieth century — part of a primarily intellectual effort to understand the
---
text. Both Le Motteux and Bernier find the significance of the Carnival-Lent episode worth arguing about.
The details Rabelais offered about Quaresmeprenant, however, scarcely engaged Le Motteux's attention. He found them "odd." They seemed irrelevant to Rabelais's general purposes, which to him were grand and unambiguous:
His Design seems rather to expose the Superstition of the Papists about Lent, and how much the practice of it, their way, shocked good sense: This made him run on for two or three chapters with an odd description of this ridiculous Monster; and probably also to secure himself from the informations of his prying enemies, by this mixture of Carnival seeming Nonsense. For as in the time of Luther, the Superstition, Grimaces, and Hypocrisy of the Papists are most observable, and they look on it in a manner as the basis of the Christian Religion, twould have been dangerous to have attacked them openly in Point [sic: presumably for "in Print"][24]
How extraordinary it is that Le Motteux sensed the spirit of Rabelais's episode, "this Carnival seeming Nonsense," even while introducing an interpretation of Quaresmeprenant that did much to confirm erasure of the passage's context. Le Motteux's influence on Rabelaisian criticism, although indirect, was great. His commentary became the "cornerstone of historico-allegorical exegesis" until the early nineteenth century.[25]
Le Motteux's reference to the "Hypocrisy of the Papists" in the passage just quoted is probably the phrase that led Bernier to say that some" affirm that Tapinos Island is the land of "hypocrites? For Bernier such an attitude toward Catholicism on the part of Rabelais is not cunning but surprising:
The rest [of this chapter 29], down to chapter 30 is nothing but raillery about Lent made by libertines, if they are not by Rabelais . . . . But if all that is by Rabelais, I am the more surprised since, being a capable man, he must have known that Lent is a holy and ancient institution.[26]
Bernier is surprised at the raillery. But what bothers him is not that the enigmas posed by the text are sheared away by such an interpreta-
---
tion. Like Le Motteux, Bernier is thinking in confessional terms. The question has become whether Rabelais is pro- or anti-Catholic. For this episode at least the confessional question has so stripped away the other dimensions of Rabelais's writing that, confronted with what he, following Le Motteux, views as sharp and prolonged satire of "a holy and ancient institution," Bernier turns to the possibility that the text may be corrupt. Rather than abandon his notion of Rabelais's Catholicism and the bienséance it implies, he is ready to assume that chapter 29 may have been written by "libertines" without Rabelais's authority.
Few people in the 1690s could have known how much Rabelais's text had varied in detail over the previous century and a half, due to both the author's attempts to quiet his censors during his lifetime and the vagaries of his many editors. Bernier's suspicion that the text might have been changed was verified by Le Duchat, who pointed out that in three unspecified Lyon editions the phrase referring to the "demoniacal Calvin" was changed to the "demoniacal writ-servers, takers-in of benefices," which I have already discussed.[27]
Jacob Le Duchat's edition, made in exile at Berlin by the émigré French Protestant and published in 1711, was the first to offer readers some awareness of the variant readings. His view of Rabelais's work was less militantly Protestant than Le Motteux's, and his scholarship was impressive. Double-column annotations in small type occupy one-third or more of nearly every page of his five-volume edition. Although he is, like Le Motteux, aware of the everyday meaning of Quaresmeprenant, Le Duchat also decides that the word refers to Lent or Ash Wednesday: "Ordinarily one refers to Carnival and in particular to Mardi Gras with the name of Quaresmeprenant. But here it must be Ash Wednesday or even Lent in person, since Quaresmeprenant is put in opposition to Mardi Gras, protector of the Sausages." In spite of his use of a logic of dichotomous pairs to conclude that Quaresmeprenant must mean Lent, Le Duchat further understands the references in the
---
"grotesque portrait of Quaresmeprenant, in chapters 30 through 32 as normally applying to Carnival masquerades. To make this observation compatible with his previous conclusion, he decides that the grotesqueness cannot refer to anything other than the bizarre qualities of mistaken Catholic custom:
Since the grotesque portrait of the figure of Quaresmeprenant made here by Xenomanes cannot be related to the extravagant masquerades of Carnival, this portrait must on one hand refer to the bizarreness of monkish customs generally, whose rules prescribe a perpetual Lent, and on the other refer to the error of those who make a good part of Christian religion consist in the observance of Lent and its devotions.[28]
For Le Duchat there is even less ambivalence — because less deception — in the figure of Quaresmeprenant than for Le Motteux. He does not refer to Le Motteux's interpretation of Tapinos Island, annotating it bluntly: "Tapinos Island. The home of monks, whom Rabelais calls Taupetiers [molelike folk] in Book 3, chap. 46 and in the Prologue of Book, 4 . . . . Lent [sic: le Carême] is said to have chosen his dwelling in their convents, where abstinence from meat is the rule."[29]
In spite of their knowledge of popular customs and their occasional historical details about them, the confessionalism of their interpretative position led Le Motteux and Le Duchat also to see the physeter episode and the Sausage-people chapters as essentially distinct from the chapters about Quaresmeprenant.[30] The monster makes war against the "zany Sausages," writes Le Motteux, "because in Lent all kinds of flesh, or at least dead flesh, are prohibited for people." The Sausages are, as far as their relation to Quaresmeprenant is concerned, just a category of food that has its ritual role; they are not a representational form of
---
Carnival, let alone part of Rabelais's reflections, in this and other episodes of the Fourth Book, about alimentary habits. But when he treats materials connected with the third enigma in the episode, the war between two allies or vassals of Mardi Gras, Le Motteux develops Rabelais's occasional references to the Swiss Protestants and the German war of 1546–1547 into a full-blown allegory, elucidated with a mass of details. "The French Protestants, if my conjecture is true," he concludes, "would be represented by Pantagruel's men, while the Sausages would represent the Swiss or the Germans."[31]
Le Duchat does not develop this historicization of the second half of the episode with the allegorical luxury of his predecessor but he accepts its main contention, while modifying the particular identities involved:
I do not doubt that these Sausages [Andouilles] and mountain-dwelling Sausages [Saucissons montigènes] refer to the English, principally those in the mountains, whom Mary [queen of England 1553–1558, Catholic daughter of Henry VIII] had burned for the religion which they professed. The intrigues of some cardinals to bring these people [the English] back into the Roman communion are well known . . . . Down to the Council of Trent they did not entirely give up hope of succeeding, but [finally] they proceeded to anathematize these people formally. This is what, in Rabelais's style, renders Lent [sic: Le Duchat writes Carême for Quaresmeprenant here] breneux, halbrené, and stocfisé, that is, without any allies and excommunicated, in case he were to form a friendship or alliance with the Sausages of Ferocious Island.[32]
The hallucinations brought about by reducing the context of the text to religious controversy could not be better illustrated. In such a situation perhaps it was wisest to treat the Sausages as just sausages, as the Abbé de Marsy insisted on doing in his expurgated Catholic edition of 1752. To pretend that they are mountain-dwelling English Protestants like Le Duchat or Swiss Protestants like Le Motteux, he writes, is to "lose oneself in vague ideas" and to "entangle Rabelais rather than clarify him." But de Marsy did not avoid another kind of allegory, spiced
---
with nationalism. In this passage the Pantagruelians wage war against "foreign-made saveloy," he writes, particularly against those "made at Bologna in Italy"![33]
Caught as he was in his own confessionalism, de Marsy saw himself compelled to accept the Protestant commentators' idea of Quaresmeprenant, even though he too was bothered by the clash of that idea with the word's colloquial meaning:[34] "Rabelais  . . .  gives to Lent the name of Quaresmeprenant, which ordinarily refers to the last days of Carnival. Xenomanes, who represents Luther [!], goes on to explain Lent with the same temerity as that reformer. According to Luther, Lent and many other austerities of that kind are useless practices . . . . Rabelais thought like Luther on this matter."[35]
If the process of elision of Rabelais's context were merely a tale of ideologically motivated misreading, it would be superfluous to have pursued it in this detail. I have sought to illustrate a more general principle: understanding the history of a text's interpretation is part of understanding the text itself. Readers' contexts are not merely different from those of authors because they concern different times and places; they should be categorically distinguished from authors' contexts because they evolve indefinitely, unlike authors' contexts, which cease to evolve with authors' last revision of their texts. The distinction makes — or should make — readers aware that their understanding of the closed set of authors' contexts is of necessity open-ended and indefinite. The means readers have of achieving closer understanding of a text are thus two, not one: reconstructing the text/context through study of the text and its sources, and reconstructing the always unfinished evolution of the interpretation of the text, with its revelations of readers' always too finished conceptions of text/context. The sum of one and the other kind of reconstruction constitutes a text's metatexts.
Metatexts include interpretations and exegesis, editorial apparatuses and critical analyses. I use the term in loose analogy to Louis Hjelmslev's and Rudolf Carnap's references to metalanguage as language de-
---
scribing or commenting on another language. Metatexts are as inevitable an element of communication through print as are paratexts.[36] But they do not intertwine themselves with the text in the same manner as paratexts do.[37]
Paratextual elements — such as prefaces, typeface, and footnotes, created tacitly or explicitly by joint decisions of authors, publishers, and editors — are physically adjacent to and inseparable from text. They cooperate with the text to bring it into being. Metatexts juxtapose themselves to text. They are only partly and never necessarily adjacent to or inseparable from the text physically.[38] Some metatexts — Calvin's and DuPuyherbault's, for instance — are even dedicated to annihilating a
---
text. It would be well for the text if metatexts were always clearly situated beyond the text, as one way of interpreting the Greek proposition meta - suggests. Readers would then have a better chance of judging their intent. Instead of this, metatextual elements only too often weigh upon the text, which indeed may be just as good a way of translating meta - in this and some other cases. Metatextual ideas produce critical introductions, footnotes, and commentaries like those I have been considering. They encourage tampering with the text and emending it with the best of intentions. Thus Robert Marichal in the only complete twentieth-century edition of the Fourth Book which deals systematically with at least some of the editions published in Rabelais's lifetime, explains his impeccable, impersonal rules:
Our criterion has been as a general rule to consider as a typographical error in E [the second edition of the Fourth Book in 1552, apparently made under Rabelais's supervision], anything which violated sense or grammar and in addition had been corrected in I [published in 1553, falsely advertised by its publisher as a second edition reviewed and corrected by Rabelais[39] ]. We have violated this rule only three or four times and corrected readings obviously false which were found in both E and I.
One of those times corrects the "obviously false" reading "flees," found in both E and I, to "follows."[40]
A critical edition like Marichal's allows readers to judge matters for themselves if they will take the trouble to consult the critical apparatus. "Obvious" emendations can then be rejected or at least made problematical. This example is useful because it shows how difficult it may be to discern the metatextual biases determining editorial decisions (why did this emendation seem so obvious?). It is also useful because it shows the interaction of these two forms of mediation between text and reader. The evolution of paratext has made the instrument of critical apparatuses customary in the twentieth century, and so paratext in Marichal's case here parries his metatext. In the eighteenth century the instrument was not customary. Le Duchat, like Marichal, went to great trouble to compare editions of Rabelais, but his paratextual customs led him simply to note the variants in cases that struck him as
---
critically important, whereupon he wrote an explanatory note about that case.[41]
Classical texts like Rabelais's are deformed, compared to the way they looked in the author's day, when printers' and publishers' customs and technology evolve. But they are bound to evolve, and, when they do, the changes induce altered perceptions of the text, quite independently of any interest in changing the text on the part of new editors or publishers. Paratextual participants like editors are always in fact interested, commercially if not ideologically. The function of paratext is to facilitate the communication of the text. In so doing, the paratext also interprets it.
The early editions of Pantagruel and Gargantua were printed with clumsily lettered, cluttered title pages and set in a typeface called "bastard gothic an altered version of the writing hand used in fifteenth-century manuscript books.[42] About 1544 Pierre de Tours of Lyon published, apparently with Rabelais's agreement, a new edition of Gargantua and Pantagruel set in roman typeface and prefaced with more elegant and less crowded title pages than previously employed (see Fig. 5). The cherubs, garlands of leaves and flowers, and classicizing architectural elements turn aside the popularizing bombast of the long title of Gargantua; they suggest instead that the reader take a light, ironic attitude to the text that follows.[43] What is the reason for this shift? Has the author changed the audience at which he aims, or has the publisher? It is likely that both Rabelais and his publishers had changed their ideas of their readers after ten years of sales, the condemnation by the Sorbonne of 1543, the praise of Rabelais as a Democritus reborn, and so on. Paratext is compromise. Paratext will always reflect in some degree the author's context, a context that in the case of new editions by the
---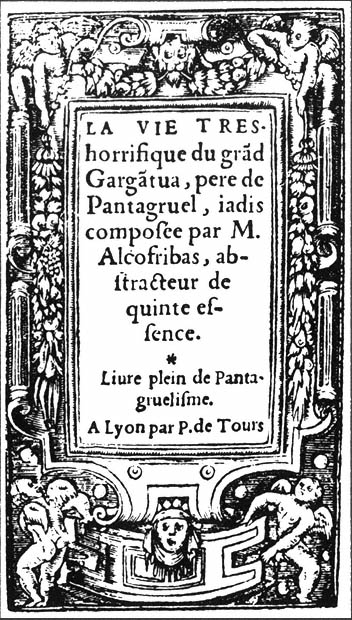 [
Full Size
]
---
author in his lifetime includes representing the metatexts of which the author is aware.[44]
Metatexts, existing essentially beyond the text, do not compromise. They emend the text (Marichal), assault it (DuPuyherbault), or laud it (Bakhtin) in ways that only too frequently turn out to be falsifying. This is appropriate, for the function of metatexts is less to communicate the text than to make it interesting. Metatexts define what is at stake for us in what we read. They are always as reflective of the critic's context as of the author's. That is no less inevitable than the evolving paratext's deformations of the text's physical form.
Metatexts are divisive. Whatever their objectifying pose, in fact they ask readers to take sides. Critics write for coteries. However broad the synthesis they attempt, they always favor some things over others, and they cultivate some kinds of readers over others. If they did not, they would not bother to write. Metatexts excite us: they tell us how and why the text is related to who we are. They also tell us how and why the text is differently written from anything that we or our contemporaries might write. This is the double function of criticism and editing: to make the text accessible and to place it at a distance, to expose its limits as an artifact, complete and finished only in relation to a certain state of opinion, a certain cultural context, and at the same time to reveal its unexpected relevance to something in our times which connects us to that particular past. Metatexts are interpretations; they are also insights.[45]
To their double salutary effect corresponds, with the passage of time, a double distortion. Metatextual insights collect like barnacles on specific passages of text, passages that were, for the critic or editor, points of access to their insights. What was a source of revelation for one critic cannot be so for others. Others' contexts are different, for times and critical coteries evolve. The points of entry to the text become barnacles (Le Motteux's Tapinos Island; Kinser's s'enfuyt/s'ensuyt ) because they eventually obstruct apprehension of the text's general character. They interfere with one's sense of the text's structure. They need to be scraped off, and they are when new seawaves of opinion sweep in.
---
The other distortion that follows from metatexts' hold upon a text is generally rather than specifically located. When the critics' context disappears from a cultural milieu, replaced by other fashions, the general concepts to which the critics' context gave rise do not disappear with it. They remain like a residue, orienting succeeding studies and editions of the text, largely because — unlike barnacled points of opinion — they cannot readily be seen. The diffuse, often unwritten presence of critical principles passes unnoticed unless, as in the case of the criticism of Homer, Dante, or Rabelais, a long-term history of metatext becomes possible, which makes visible the slow staining of the text's colors through the collection over centuries of such residues of critical insight.
The socioreligious commitments of Rabelais's seventeenth-century critics are so easy to discern at three centuries' distance that they seem absurdly prejudiced. But they are no more so than our own obscure proclivities. "You" here — you people who have received the Fourth Book with vinous affability in the spring of some fortunate year — receive it with critical notes, indexes, introductions, and bibliographies which in various ways deliver to you not exactly Rabelais's words but a colored and accented version of them.
Time-space and sociocultural change elide context and secrete metatext. But criticism can be used against its own thickening substance to restore context and modernize metatext, when the history of metatext is pursued at the same time. Criticism excavates the text/context relation, while the history of metatext explains the accumulation of debris around such mining sites and offers counsel about what to clear away. Carried on jointly, critical and historical work offer defense against the tendency to translate anachronistically and to annotate inertially, as contexts of communication continue to change.
During the seventeenth and the eighteenth century the double process of contextual elision and metatextual secretion around Rabelais's text went unperceived in the case of Rabelais's Fourth Book . Four types of annotation developed: the philological work on difficult words and phrases by the anonymous author of the Alphabet published in 1663, which left open the import of episodes like the one in Book 4; the confessional allegorism and biographism of Le Motteux and Bernier in the 1690s, which integrated single episodes into overall interpretations; the far more developed critical method of Le Duchat's 1711 edition,
---
which took some account of variant readings in previous editions and buried Le Duchat's mild Protestant confessionalism in a plethora of nearly phrase-by-phrase footnotes, thus returning to the more open-ended metatextuality of the Alphabet author; and the repressive confessionalism of de Marsy's edition of 1752, which, based upon Le Duchat's work, could for the first time expurgate Rabelais with thoroughness and authority.
The Alphabet author's kind of interpretation was not first attempted in the mid-seventeenth century. The Alphabet was adapted from the earlier work, apparently unpublished until the twentieth century, of a person named Perreau who wrote in 1611. His alphabetically ordered list of words and phrases can be considered the earliest example in Rabelaisian criticism of a philological allegorism. We do not know for certain who this Perreau was, except that he was familiar with medical terms and with folk customs in Poitou. The signature of one Franciscus Perrellus has been found in Rabelais's copy of Galen's medical writings. Is it this François Perreau who wrote the "Explanation of some Sayings Taken from the Works of François Rabelais"? The date 1611 as the time of composition can be determined from internal evidence in the manuscript. Perreau's "Explanation" came into the hands of the Parisian scholar Jacques Dupuy, who sometime before his death in 1656 made a copy that is the only presently existing manuscript of it.[46]
---
Perreau's "Explanation" includes no entries for Quaresmeprenant, the Sausages, or Tapinos Island. Was this because Perreau assumed that readers understood the festive references of these names? Perreau was interested in festive customs; he clarifies Rabelais's term "pamyle" (not a term used in the Carnival-Lent episode) by explaining a Carnival parading custom in Poitou, which was no doubt his native region.[47] It is Perreau, too, who explains Rabelais's reference to Quaresmeprenant's children, "locative adverbs," as a Lenten search for indulgences because such, it seems, was the practice in his time and place. Neither this entry nor one or two others dealing with terms in the Carnival-Lent episode show any sign that he supposed Quaresmeprenant to represent Lent or the Sausages to represent Carnival, or vice versa.[48]
The Alphabet author whose work was published in the 1663 Elzevier edition had little interest in folklore. He borrowed Perreau's explanations of Greek terms and dropped much of the rest. The difference between Perreau's sense of Rabelais's text in the early seventeenth century and that expressed in the Alphabet author and other readerly aids in the Elzevier edition seems due less to changes in Carnival-Lent customs than to destruction of the mixed social and cultural milieus characteristic of Renaissance France. The separations of elite and folk, of high and low culture that took hold after Henry IV's death (1610) shifted perception of popular customs.[49] In addition to obtaining or financing the Alphabet author's adaptation of Perreau's "Explanation."
---
the Elzevier editors republished the "Brief Clarification  . . .  of the Fourth Book" and two others aids: "A Clarification of Some Difficult Places in Rabelais" and a "Key to Rabelais." These aids make the Elzevier edition not only abusively allegorical, as in the exegesis of Tapinos Island, but simplistically positivist in its understanding of allegory. The Key identifies Gargantua as Francis I, Pantagruel as Henry II, and the land of the Sausages, for example, as Rabelais's home province of Touraine.[50] Even if they were courtiers and beaux esprits, people in the mid-seventeenth century no longer possessed through personal or family memory the knowledge of Rabelais's political and social ambience that Perreau in 1611, it seems, still took for granted.
The new cultural milieu that took shape in the early seventeenth century (moralism, neoclassicism, and the separation of elite from popular classes) was seconded in Rabelaisian criticism by the sheer historical distance between 1550 and 1650. Even though something of Rabelais's embracing exuberance continued to be apprehended by persons like Madame de Sévigné and her cousin Bussy-Rabutin as late as the 1670s, such readers needed clarification of the profuse topical references in Rabelais's text.[51] That clarification was offered in the form of keys and alphabets dealing with individual words and characters because editors like those who made up the Elzevier edition assumed that they and their readers knew what Rabelais was generally about. Meanwhile, however, a third factor to which I have already referred was eliminating that general knowledge: the successful efforts of French authorities in church and state to prevent open publication of Rabelais's work in France. From 1613 to 1783 no edition appeared with a French place name on its title page.[52]
---
Another aspect of this political factor, the resurgence of officially endorsed Catholicism that culminated in the revocation of religious and civil rights to French Protestants in 1685, pulled interpretation of Rabelais's text toward simplified religious alternatives. It concentrated readers' attention on the text's ideological implications and on how to match particular passages with the religious image of a man called — sometimes approvingly, sometimes contemptuously, but always irrelevantly — "the priest of Meudon."[53]
This combination of forces made possible and perhaps inevitable the allegorizing mistakes in interpreting Rabelais's Carnival-Lent episode by the 1690s. The rebirth and extension in the late seventeenth century of the philological method initiated by Renaissance humanists occurred just when an ill-informed, confessionally inspired allegorism completed the dissociation of the text from its context. The misunderstandings that had grown in the hollow places left by seventeenth-century arrogance toward and ignorance of Rabelais were systematized. An industriously Protestant critical tradition acted in combination with the defensiveness of Catholic scholars to reduce Rabelais to bits and pieces. In this setting La Bruyère's mixed reaction of puzzlement and disgust was representative and would continue to be so for another century:
---
Rabelais is incomprehensible  . . .  inexplicable  . . .  a monstrous assemblage of fine, witty moralism and foul corruption."[54]
Le Duchat's dutiful scholarship, because it embalmed the partitive approach to Rabelais, had a double effect. It contributed to the continuing disregard of Rabelais's literary qualities during the Enlightenment and early Romantic era because it was concerned to explain Rabelais's ideas, not his language. But it also contributed to the gradual disappearance of simplistic, alphabetized "keys" to his "satires." As early as 1737 John Ozell, an English editor of Rabelais, praised Le Duchat "because we now see that Motteux is wrong in many things."[55] Silently the mental space was cleared for the nineteenth-century discovery of a Rabelais once more made whole, this time as a genial embodiment of Humanity.
Others have traced the manner in which the eloquence of Balzac, Michelet, and above all Hugo apotheosized Rabelais.[56] The exaltation did little to aid understanding of the Carnival-Lent episode, which, as it lost its confessional color, became an amusing but rather long-winded and opaque farce. The conservatism of scholarship — sometimes a synonym for its inertia — combined with the disappearance of the ritual value of Lenten as well as Carnival customs in a lay society to insure that the passage's enigmas rarely even existed sufficiently to be footnoted except in repetition of what had long ago been said.[57]
Rabelais's textual tactics proved a failure. His welcoming-in has shut most readers out. His repeated shifts in representational strategy may fatigue the most diligent rabelaisant . What Rabelais could not foresee,
---
of course, was the way in which the climates of opinion affecting his book would change. But he seems to have taken little account of future readers. Aware as he was of vast cultural changes in the past, he apparently had less interest in what the future might think of his book. Perhaps he assumed that everyone, if they possessed good win and common sense, would understand.[58] This idea of several simple and unchanging qualities that Rabelais was apt to attribute to the community of his readers has affected his commentators. Critics have seen the necessity of situating the text historically, but they have assumed that the period stretching between them and Rabelais is essentially a fixed and stable duration and thus that their clear eyes, good will, and common sense suffice to penetrate Rabelais's era directly, without taking account of the echelons of intervening cultural change.
It is as if the very ambiguity of the text provoked its opposite, those two mirages that glimmer, now one and then the other, before the minds' eye of every enthusiast for Rabelais: the mirage of some unifying meaning to this large and diffuse text, caught in the amber of a past dead and gone, the glamorous European Renaissance; and the mirage of a past in continuity with the present, the sixteenth-century beginning of modern times, so that Rabelais's meaning is our meaning, and Rabelais's invitation to step in for a chat is indeed addressed to US.[59]
These fond visions are only that. Sooner or later they dissolve to reveal the fretful double truth: Rabelais's times are in continuity and discontinuity with our own, and hence his words have both the same and different meanings from ours; which words are the same and which are different is also something that changes.
---
7—
Semiotics and Criticism
After the seventeenth century the words comparing Rabelais's Carnival-Lent episode scarcely corresponded to what readers and critics experienced during Carnival. Changed contexts led critics to interpret the signs in the first part of these chapters so that they would refer to Lent and to separate them from the rest. If this version of the signs' referents still survives today, it is not only due to the tendency of metatextual elements to turn into barnacles and discoloring residues;[1] metatexts of course adhere to texts because of the somnolence with which a text is received, once it has been normalized by some prestigious editor. But the version also adheres because the way in which a text has been metatextually constructed makes it impossible to perceive many particular passages in any other way. Only a general reconstruction of the text will unveil its lost meanings, for the more powerfully a certain kind of critical instrument cuts into the text the more threads of meaning are severed, which can only be apprehended by dissecting it in another way. Paratextual constructions are conservative: the integrity of the inherited text tends to be respected as far as is economically and technologically convenient, out of allegiance to codes of impartiality and out of interest in profiting anew from modes of textual realization that have worked in the past. Metatexts may be conservative or not: that depends on the critic's situation, which in turn depends on general cultural conditions. But whether conservative or innovative, metatexts are always antago-
---
nistic. Consensus rarely lasts long, for critics must criticize, and they have ample impulse to do so: the Age of Print has steadily augmented the number of intersecting, competing cultural milieus.
A complex text that has become a classic text thus will have solicited over time the application of many kinds of tools. Discovery of the severed threads will always occur if interest in the text continues. What, then, is the nature of the sharp tools in use today? How has the play of interpretive antagonisms now arranged itself so as to buttress or hollow out inherited attitudes toward Rabelais's use and critique of Carnival-Lent customs?
In 1923 C. K. Ogden and L. A. Richards wrote a book about semantics called The Meaning of Meaning . They used a simple triangular model to illustrate their ideas, which were adapted from those of the American philosopher C. S. Peirce, a founder of the present-day disciplines loosely grouped under the name of semiotics, the study of sign systems. Ogden and Richards call the three points of their triangle "symbol," "thought" and "referent." The triangle represents the semantic process, the coming into being of meaning. This process is described by them as a single action made by one individual to another. A person uses some symbolic means, such as words, gestures, or facial expressions, to convey a thought to another person about some condition or thing.[2] The terms Ogden and Richards use to describe their model possess long histories; they are words more useful for their polyvalent suggestiveness than for their precision. The word "symbol" is particularly fraught with meanings at variance with Ogden and Richards's use of it, and I have sometimes substituted the phrase "linguistic vehicle" for it. Ogden and Richards's schema is pragmatic rather than theoretical, and I propose to adapt it in turn for pragmatic reasons. They ask how someone talking to another, for example, grasps the meaning of what the other person is saying. I ask how readers, and a fortiori critics, analyze a text viewed as a set of signs and conclude that its meaning is one thing rather than another.
Pluralizing the elements of Ogden and Richards's triangle, one might call it a simplified semiotic image of a text.[3] One could call em-
---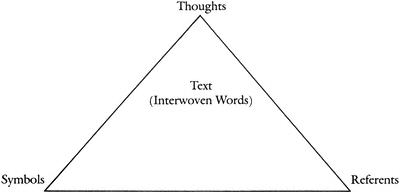 [
Full Size
]
phasis on one or another of its three angles a critical tendency and then ask how the development of a particular school of Rabelaisian criticism might be related to analysis of one aspect or angle of such a textual sign system at the expense of or even in polemic opposition to analysis of other aspects. (See Fig. 6.)
Texts, and above all fictional texts, are sign systems that create what W. H. Auden once called "secondary worlds."[4] The passage of a text's signs to readers is not taken up in the kind of immediate action-reaction-action chains that distinguish exchange of sensory signals and signs as one performs daily tasks and responds to one's environment in practical, short-term ways. Understanding a text presupposes some removal from such practical exchanges and tasks and demands complex and sometimes lengthy absorption in its artificial universe.
Once caught up in and fascinated by the secondary world of a text, readers are apt not simply to absorb what it says but to wonder about it. How did such a world come to be created? What were its ingredients? One wants to know, late or soon, not simply what but why Rabelais wrote what he did, and this questioning sends one in two directions, to his experience and to his skill. One wonders about Rabelais's place and his possibilities in the world to which he belonged, and one reflects upon how he wrote, as opposed to what he said, about this
---
experience. Readers are sent by the complexity and power of the whole text back to its parts to study the author's techniques; they are equally sent beyond the book to the "first" world of society, human history, and human culture to which it pertains. Critics, formalizing these tendencies, tend to produce metatexts that philosophize, historicize, or aestheticize.
When the relation between the Rabelaisian text's world of thought and that of the critic seems of most importance, metatexts are written that emphasize the author's ethical, religious, metaphysical, or otherwise philosophical message. When the text's referents to social, political, cultural, or other circumstances of its composition are most ardently pursued, metatexts have a strongly biographical or literary-historical character. When analysis of the writer's skills is pursued, the text's specifically literary or symbolic qualities begin to separate themselves from more general philological concerns. This last trend has emerged in Rabelais's case primarily in the twentieth century; it has arisen especially as part of the vogue of formalism and of the movement sustaining Ogden and Richards's enterprise, semiotics.
Formalist and semiotic emphasis on the symbol, the written vehicle of thoughts and referents, has been carried on a wave of anticontextualism, a salutory reaction to the excesses of late nineteenth- and early twentieth-century historical realism. Those who have sought to isolate what Russian formalist critics called "literariness", the specifically literary qualities of a text, have been the most exciting recent explorers of the text.[5]
It is Rabelais' use of language to obtain a total, complex emotional response which is essential. Yet the bulk of Rabelaisian scholarship is concerned with his "philosophy," his religion, his legal and medical authority, his humanism and his Christian-Stoic wisdom rather than with the words on the page . . . . Rabelais is a writer in love with his medium. His inspiration is primarily literary.[6]
Such has been the tenor of the battle cries (against philosophy, against moralizing criticism, against history) and such, often enough, the new biographic intentionalism (Rabelais in love with his medium), no less
---
tendentious in its way than those of earlier days concerning the priest of Meudon or the hero of humanity.
Perhaps the tendentiousness has been necessary. The task, in any case, is enormous. It has been no less than the definition of the aesthetic dimension of Rabelais's work, a task scarcely even thinkable, let alone possible to perform, in terms of the neoclassical norms dominating French literary judgment until the twentieth century. Even Sainte-Beuve, although he both attacked the absurdity of the biographically positivist approaches to Rabelais, which asserted one-to-one relations between life experiences and textual expression, and suggested that the roots of Rabelais's aesthetic lay in linguistic inventiveness, never formalized his intuitions and elaborated a methodology that could be used to extend his observations.[7]
Everyone interested in Rabelais has their own version of the Picrocholean Wars, which pit good interpretations against bad, frivolous, irresponsible ones. But I have proposed the trichotomy above for analytic not judgmental reasons, and I would urge that analysis be carried on in the mood of Epistemon's cry: "We all hold [fiefs] from Mardi Gras!" For in spite of the many differences between Spitzer, Lefebvre, and Saulnier; Glauser, Febvre, and Beaujour; Bakhtin, Demerson, and Gaignebet; Rigolot, Screech, and Defaux, none of these rabelaisants (pace Spitzer)[8] is so one-sided as to use none of the insights of his or her antagonists. Just as in Rabelais's Carnival-Lent combats, selecting one enemy seems to attract another antagonist who often turns out to be a confederate. Defining literariness demands, as Dorothy Coleman suggests, deliverance from historicizing philosophy, but in most cases it soon urges conciliation with some other brands of history to support one set of literary standards rather than another. Historicizing critics, concerned with establishing as full a context for the text as possible, find the ahistorical pose of strictly literary appreciation of the text prone to elementary misconceptions about the limits of the author's universe of discourse. Yet few such critics fail to comment on the more than historically predictable power of Rabelais's verbal magic. Philosophically inclined interpreters are often the most difficult treaty partners;
---
they are usually ready to acknowledge historical and literary qualities as long as they remain the arbiters of those qualities' place in the whole, that is, of their subordination to some overriding implication of the text.
A moments reflection about the communicative process, the means by which words are transferred from authors to readers, makes obvious the complementarity of the five or six major schools of criticism that have emerged or maintained themselves with force in the twentieth century.[9] It is not a person, Rabelais, who fabricates the message subsequently printed as a book, but rather a sign maker, one whose primary relation to the book is his literary behavior, his written manipulation of words. Whatever an author otherwise does, says, or suffers while making his text is only mediately connected to his text, and the nature of this mediated connection is sufficiently complex so that it remains forever opaque to both the author and others, however much authors themselves may feel certain about its nature and however copiously they leave behind them materials that seem to substantiate this view.
A printed text exists for its author, if it reflects with accuracy the manuscript he wished to be printed, as a set of words with their three aspects in a certain ordered relation to each other, but for readers that ordered relation is necessarily unclear. The readers' text is present first as symbols, a set of black marks upon the page, which can be decoded enough to be read if one is literate and knows the language in which the text is printed. The text is present secondarily as a set of referents with which readers are more or less familiar, depending on how his or her information matches that of the author. It will be tertially, and most obscurely, present to readers as an attempt to match the author's thoughts. Readers assemble meaning from their sense of grammatical, syntactical, phonological, rhetorical, and stylistic markers in the text, from their information about the representations in the text, and from
---
their knowledge of "intertexts" containing signs that seem to them related to the signs in question in any of the three semiotic ways.[10] Reaching out toward the three sources of textual understanding of course occurs with near simultaneity in complex feedback fashion, and any conclusions reached are constantly revised as readers pursue the text. But no matter how readers try, they cannot match with exactitude the way the author's intertextual awareness and contextual concerns led to his or her verbal arrangements so as to achieve meaningfulness. An author's behavior establishes the material aspect of a text; it does not by itself determine the meaning of the text, as Ogden and Richards's schema suggests. The relation of the text's linguistic vehicles to its thought and referent patterns is so opaque that readers are bound to substitute thought and referent patterns of their own for those they do not clearly see.
Linguistic behavior is accessible: the symbolic aspect of words codifies it for any particular book or other deposit of language made by the author. Authorial representation of people, experience, and events is semiaccessible: the referential aspect of signs can be apprehended as constituting a certain universe of things, but information about the referents available to the author when he fabricated his representations can only be onerously and approximately discovered. Hence the relation between referents that exist outside the text in the social, psychological, and natural worlds with which the author was in contact, and the author's sketches, recombinations, and fantasies of and about these referents — his textual representations — not only is initially but also will remain opaque.[11] Unlike French words, which exist in such massive quantities that it is at least hypothetically easy to compare other au-
---
thors' ways of using them with Rabelais's way, only a few sixteenth-century representations of Carnival puppets exist similar to that which may be one dimension of the description of Quaresmeprenant. I have found no representations, except for Rabelais's own description of Chewcrust, of Carnival puppets that Rabelais himself saw. But if authorial referents are therefore often difficult to interpret, authorial thoughts are nearly inaccessible to precise codification. An effort to mind read an author and to match exactly his or her semantic associations is possible, but it is no more likely to succeed than perfect telepathy.
In fact all three angles of the texts meaning are impossible to measure with exactitude. The words on the page are there, but their linguistic significance is no clearer than their ideational or referential character because each compositional decision by authors represents a set of rarely perfect compromises. Intratextual linguistic patterns adjust themselves to intertextual influences and possibilities. The world of ideas proper to the text, stated and implied, exists in tension with the not necessarily vaster but certainly more varied and conflictual world of all possible ideas characteristic of an author's time and place. The universe of objects, beings, and actions, stated and implied, determining the parameters of the work is erected against, no less than in consonance with, the universe of all possible objects, beings, and actions found in the author's time-space. The patterns, worlds, and universes upon which authors draw cannot possibly be enumerated by readers, let alone articulated in their word-to-word relations to the texts meaning; but it is true that the less inventive a work is, the closer one may come to an exhaustive listing.
One probes the limits of the possible meanings of a text by reading comparatively and by looking at all manner of documentation from the author's locale, archaeological no less than artistic, economic no less than ideological. The further distant from the author in time, space, and sociocultural condition the readers are who conduct such probes, the more they will need help in decodifying the diverse aspects of sign. Literary, philosophical, and historical modes of criticism are equally
---
necessary. We cannot unravel literary manners without expert aid, still less references to cabbages and kings four hundred years gone, and least of all can we correct the ideological preconceptions ordering twentieth-century semantic associations about the text without initiation into the very different modes of sixteenth-century thought, the swirl of meanings amid which Rabelais lived and moved.
When the three kinds of criticism function interdependently, they do much to prevent metatextual barnacles and much to reveal the staining of the text by limited and limiting critical principles. When they function separately, they allow these critical encumbrances to accumulate. The main encumbrance acquired from the labors of seventeenth- and eighteenth-century critics was historico-biographical: because they assumed a double equation (the author is what his narrators narrate — never mind his other writing — and what his narrators narrate is the meaning of the text's representations), they tended to believe that author and person were one and to bequeath that belief to others in the form of a growing body of biographical tales. This encumbrance did not disappear when legends about Rabelais, the jolly drunkard or exemplary priest, were dispelled. It continued to inspire the "realism" of Abel Lefranc and continues to undergird the allegorism of Claude Gaignebet.[12]
A secondary encumbrance acquired from early critics like Le Duchat and Le Motteux was politico-moralistic. The slippage from Rabelais's antimonastic barbs to his secret Protestantism was nearly inevitable because these critics' historico-biographical equations were seconded by what seemed to them obvious corollaries: an author is as sovereign over his text as a king over his subjects, and hence the author's personality, his beliefs, commitments, and proclivities, determine the relative importance of different parts of his text. For critics with a judgmental turn, the approach to the text through its thought patterns means distinguishing between good and bad, good and less good meaning. The text's significance lies neither outside the text, as it does for thoroughgoing historical "realists" nor at the surface of the text, but just beneath
---
it. For those whose concerns are politico-moralistic it is easy to slip into the place of the sovereign, which they attribute to the author. The hidden unity of the text that an ideologically insistent philosophical critic discerns with the unerring eye of a severe judge authorizes him to privilege parts of the text over others. But Rabelais, for all his humanism, populism, Platonism, evangelism, and any number of other things, did not argue for one or several of these at the expense of the others; to rank their importance merely reveals how the insights of philosophical critics entail blindnesses to which they cling as tenaciously as historians cling to their "facts."
What encumbrance, then, arises from literary or linguistic critics' insistence that the surface of the text is the whole of the text and that any move to classify some parts as more important, let alone to explain the text by reference to arbitrarily chosen contexts, forgets the basic reason for the texts continuing appeal to readers, its specifically verbal qualities? This emphasis on "literariness" engenders a new kind of positivism scarcely less reductive than older forms. Michael Riffaterre, we recall, understands the anatomical descriptions of Quaresmeprenant as a series of signifiers designed to make the monster "unspeakable." Refusing to explore the dimension of thought patterns as a domain of textuality with its own relative autonomy, he ignores the relation of Rabelais's words, for example, to contemporary medical practices and controversies of the kind explored by Fontaine: "We should not read it [the text] in search of a meaning, trying to see Quaresmeprenant, but  . . .  instead we should go with the flow of the words."[13] Eliminating investigation of referent patterns, he seems to deny any usefulness to knowing, for example, how Carnival puppets in Rabelais's time might have appeared:
The referent has no pertinence to the analysis . No advantage is to be gained by comparing literary expression to reality . . . . Critics have found themselves at an impasse whenever they have turned to an outside norm to define literature. So this leaves us with only signifiers and signifieds . . . . From my own perspective, which is phenomenological, the signified is deduced from the text . . . . The very way in which the score of the text is deciphered totally subordinates the signified to the signifier. Everything happens at the level of the signifier.[14]
---
In my discussion of the identity of Quaresmeprenant I also referred to Floyd Gray's view — similar to Riffaterre's — that each additional detail of anatomical description subtracts from the monster's organic, real existence. "Since few of the comparisons are brought about by phonemic play [amenées par la voie des phonèmes], Rabelais might have been determined in the writing of these litanies by the search for a new language which is caught up in looking for and exploring itself, and which tends to reproduce pure privation."[15] For Gray the Fourth Book generally unfolds in the direction of representing a purely verbal existence. Gray does not deny the relevance of "signified" and "referential" aspects of signs in polemic terms like Riffaterre, but like the latter his interpretation subordinates such aspects to the development of relations among the text's linguistic vehicles or symbols. The Fourth Book 's ostensible theme of a questing voyage is seen as essentially a verbal device, a stereotype by means of which the divagation of the text toward grammatical, rhythmic, phonemic, stylistic play becomes more visible.
Metatextuality of this kind is extremely valuable. But it is not the whole of criticism. Its exclusionary totalism, isolating the text from the vagaries of biography, ideology, and history, ends often enough in presentmindedness. If we see our world as desperately ambiguous, and envisage no happy or at any rate happily executable end to its polyvalence, we may easily find Rabelais's linguistic virtuosity forecasting this dilemma. "Behind the giant-hero [Pantagruel] and his opponents" — Terence Cave is speaking of the Sausages and other characters found in the Fourth Book — "lurks a more radically Protean figure — that of the discourse itself . . . . The medium of language might be said to contend gratuitously with itself."[16] Thus, more generally, concludes Cave:
---
Rabelais, Ronsard, and Montaigne are all caught, in their different ways, in the same problem: the resistance of alien fragments within a new formal context tends to disrupt the movement of the text towards a stable meaning, and thus draws attention to the mode of operation rather than to the product of the writing system . . . . Written in the shadow of an impossible ideal, they proliferate in order to question themselves and to lay bare their own mechanisms. Thus they inevitably represent copia, or the cornucopia,[17] as a centrifugal movement, a constantly renewed erasure of their origins.[18]
The author is caught? inevitably? — or the modern critic, so obsessed with text-as-text that he or she ignores the communicative mode that frames the Fourth Book, the author's offer to readers of a draught of wine and an exchange of amusing stories, and so ignores also the temporally and spatially embedded referential patterns such an offer presupposes[19]
Over and above their specific historical forms in Rabelaisian criticism three recurrent kinds of metatextual encumbrances may thus be discerned. Philosophico-ideological: the text is an intellectual pattern explained by ideas outside the text that offer a consistent measure for subordinating some parts of it to others. Aesthetico-semiological:[20] the text is a stylistic pattern explained by the coherence of the relations among the text's linguistic vehicles; facts and circumstances, ideas and feelings beyond the text provide only the set of commonplaces and verbal clichés against which the text erects itself. Historico-biographical: the text is a museum exhibit that reflects in a manner deter-
---
mined by the life and thoughts of the author the times and places in which it was composed.
These metatextual attitudes establish a relation between text and context, but the relation is one-sidedly dominant-subordinate, prescribing critical movement from outside toward or into the text or conversely urging the priority of the "inside" of the text against everything outside.[21] But con-text means what it says: it denotes combination with the text, participation in it in a variable way that can only be exemplified in detail, not by precept. The only general characteristics of the text/context relation are variability and involvement as opposed to the falsifying characteristics of textuality-as-sovereignty and of textuality-as-slavery, that is, the texts total domination over, subordination to, or autonomy from the context.
Even if Rabelaisian critics pursue complementary, mutually limiting approaches in an effort to avoid their metatextual heritage, the text when it arrives before the reader will always include some superfluous glosses and some empty critical space where metatextual aids should have been applied. This happens because the lapse of time and the distance of space between sending and receiving the text does not simply cut away the context of a text definitively, but rather shiftingly. Although no context ever remains exactly the same for long and none is ever revived in its entirety, some social circumstances involved in a text's context may disappear and then reappear, reproducing elements of understanding long vanished. Petrarch's letters to Cicero are an obvious case: elements of empathy became possible within the framework of Italian fourteenth-century city-state life that were not available to a monastic scribe at Monte Cassino in the sixth or the seventh century,
---
although the scribe read Cicero's letters at a time and in a place physically nearer to Republican Rome. The usefulness of metatextual commentary is not stable.
Metatext also falls out of date because, even as the text/context relationship disappears from critical view with respect to the particular circumstances involved in each section of a text, it begins to appear to the critic in the sense of large contours. The context of sending — planning a work, inventing it, contacting readers by means of a more or less complex mode of publication, receiving feedback on the text — is revealed by new and contrasting ways of doing the same things. The larger parameters of writing and publishing may not emerge until they become problematic.
Readers who try to understand a text whose context is not their own — a text, let us say, written more than two generations ago, or in another country, or in a sharply different social milieu — will construct a metatext, wittingly or unwittingly, if it is not offered to them. Even when metatexts are offered, readers will modify them because their angle of vision differs from anything anyone else writes about the text. Such personally constructed metatexts have the same deficiency as most professionally constructed commentaries; they juxtapose the writer's here-and-now to Rabelais's there-and-then as if it were a single opposition. But in fact we read Rabelais's text in relation to a sequential series of theres-and-thens, the series that has formed our cultural consciousness.
For example, if we use a metatext constructed in our time and geosocial environment, we acquire help from minds that have passed through the same or related contexts as we have. We find such metatextual commentaries from our time more relevant and insightful than older ones, not always because of what they say about the text but because they share our context. Writers of the best metatexts, conscious of this, assault our shared cultural proclivities instead of assuaging them. They draw attention to the ways our perceptions and conceptions of the semiotics of Rabelais's time have changed and to the fact that they have changed in an uneven manner. We read the text with the eyes of people who live and think as we do because of an irregular cultural passage from the sixteenth- to the twentieth-century West, full of bumps and hollows, with moments of high consciousness of Rabelais's messages followed by others where the text has been largely replaced by unlikely icons. Little of this irregularly shaped cultural evo-
---
lution constituting Rabelais's readerly contexts may be conscious knowledge in any given reader, but it is virtually there because the reader's twentieth-century sense of words stands in evolutionary relation with the words in the text. The falsehood of our reading is predictable, and it is seconded by the biases of a text's metatexts, insofar as we accept these metatexts unreflectively. If we know something of the history of and mutual relations among a text's metatexts, on the other hand, we may discover the incompleteness of our reading, and some of the reasons for it.
Maintaining and extending the relevance of metatext to text is the professional critic's accomplishment. If criticism can be described as the agon that goes on between the inertial, blinding power of critical tradition and the fresh power of new insights prompted by the evolution of readers' contexts, then it has a parallel in the irreducibly dual nature of the text's context. A text emerges from the context of composition not as the unclouded victory of linguistic power over recalcitrant materials but as the unstable and often externally prompted result of struggle between desire and possibility.
Desire, possibility: It is difficult — and finally dehumanizing — utterly to avoid the vagueness of psychological terminology when speaking of the text/context relationship. Critics who have warned against the intentional fallacy have too often been taken to mean that any exploration of the mental life of authors is irrelevant to understanding the text. The intentional fallacy emphasizes the absurdity of psychologism, not of psychology, the absurdity of the Romantic notion that the creative process is a simple movement from inside the brain and heart to outside on paper, of a flow from intention to achievement. If, however, psychological processes are understood as the mental work of sorting out and arbitrating between socially created alternatives, ideal or actual, then one may set aside the strict opposition between social and cultural work existing in the public world, and psychology, existing apart from the world in a wholly private place. Just as the context of the literary work of art should not be described as "outside" the text, so also should it not be described as "inside" the author.
The context of composition is conflictual and processive. The author works with physically existing but not always physically accessible
---
means, some of them in the body, like the nervous system, and some outside or on the body's edges, like the pen that scratches paper or the eyelids that flutter in dreams. This processively developed context has three aspects corresponding once again to the angles of the textual triangle. From the point of view of thought the author struggles to accommodate his experience to his vision, his vocabulary of ideas and feelings to his goals. From the referential point of view the author moves between his knowledge of the world as it is represented in his time, its natural and supernatural, historical and mythic, animal and human elements, and his intuition and feeling for what lies beyond the represented world, reality as it is not yet schematized by percepts and concepts, the world beyond signs, even though imagined solely by means of their representations. From the point of view of linguistic vehicles or symbols the conflict is between the verbal codes an author absorbs from family and society, the clichés that expedite everyday discourse, and the horizon of all possible linguistic play. At each moment of composition, too, whatever the semiotic angle to which primacy is given, the author envisions audience. Composition is directed toward certain kinds of readers always and everywhere, marginally or centrally, consciously or unconsciously; of course, the aim is not usually at the same kinds of readers throughout a text.
Desires, expectations, ideals on one hand; possibilities, practicalities, efficiencies on the other. The issue is a universe of ideas peculiar to the work, a special representation of the world, and a literariness, a linguistic strangeness. No solution is perfect, because each results from conflict between the field of perfection and the field of the practicable and realizable.
Each of these large battles presupposes dozens of minor skirmishes, for the fields of perfection and practice are infinitely divisible. The practicable is a closed space in theory, but its components are poorly known; they must be explored. The main component of the realizable is experience, that which has been tried, obtained, or lost: matters must be sorted out and some of them tried again. The ideal also has a limit, but it is like a horizon rather than a closed space: one knows that reaching for it, redefining it even in part, will reveal another horizon beyond.[22] Every writer hesitates — adds, subtracts, and substitutes. How
---
then does an author decide, with so many relations and conflicts to pursue, to join final battle and wrest away a text? "Nothing was ever created except in haste[23] The context of the achievement of text is more often that of something like printers' deadlines or personal crises than of leisured achievement of goals, let alone of supernally or genially inspired surety. The struggles of the context of composition are impossible to resolve with satisfaction. Even when the author supposes their solution peacefully acquired, the result may appear provisional in retrospect. The posterity which gazes upon works of art as if they were perfectly realized merely exhibits its ignorance of and unwillingness to imagine the context of composition.
Which semiotic aspect of words is given primacy by the author from passage to passage and even from phrase to phrase, then, is a result of sometimes delicate, sometimes brutal, sometimes negligent compromises taking place during composition. And just as the text may well veer at each point of its unfolding along now one and then another of the connecting lines in the textual triangle, so also does readerly attention change its focus. A book is never read as it seems to present itself, linearly, from beginning to end. We pause before we begin, as the horizon of our expectation spreads out above the printed page; we muse about what went before in relation to what we are reading now, and we fill in the spaces above, below, between each phrase with interfering memories, verbal and nonverbal, associating code to code, narrator's message with our experience, author's purposes with our desire.
The desire of readers to understand writing and not merely to enjoy its virtuosity points to the indissolubility of text/context. Analytically we would do well to separate the written from the writing, just as we should separate critical instruments from their object. But these are
---
counsels of perfection. As metatext tends to cling to a text because readers insist on props, which reassure them that by and large their normal verbal context is sufficient for reading purposes, so an author's context tends more and more to be disregarded. Thus context disappears not only because of lapse of time and critical ignorance but also and above all because readers, including critics, lose or refuse awareness of the text's status as a delayed, highly reflexive and reflective message.
A text represents a secondary world at some remove from daily practice. This fact, enshrined so nobly in the stateliness of print, obscures the text's existential origin. A text was first and so ever and again shall be an attempt to communicate a lengthy message from an author who writes with certain cultural equipment, while living in a certain social complex under certain now vanished bio-ecological conditions, to readers equally specifiable and also equally moving along in the course of change. Identifying the shifting relationship between two sets of communicative aspirations — one which evolved and ended, the other ever shifting, as a book passes from hand to hand and from age to age — is in the largest sense, the critic's charge.
---